Experimental / Avantgarde / Weird & Wired / Glitch / Noise / Field Recording
Edit (8127)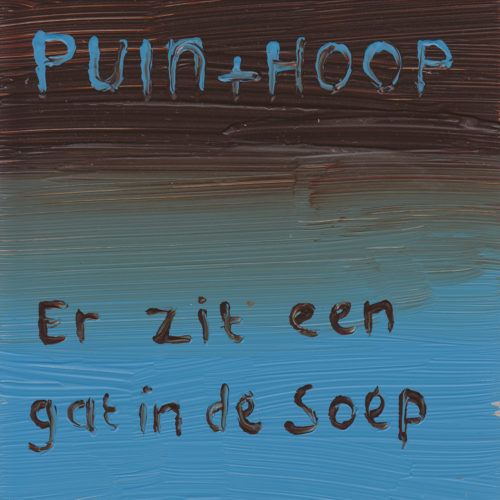 Artist:
Puin + Hoop
(@)
Title:
Er zit een gat in de soep
Format:
CD
Label:
Narrominded
(@)
Rated:
According to the linear notes this album starts as a live album that would explore a new live recording setup for a concert in Amersfoort. As the recording of the gig failed, the band remained with the recording of the test takes that is the content of this release. The musical result is a sort of EAI (electroacoustic improvisation) that, rather than showing his roots in free jazz, has his most evident influence in the meditative leafs of krautrock.
The drone of 'er zit' opens this release suddenly developing in a quiet noise and finally juxtaposing the two poles of this track: the bright drone and the dark noise. After an impressive first part where the layers of sound start to overwhelm the listener, gentle notes of synth takes 'een gat' in territories where a unstable, as the rhythm moves slowly, mood of meditation is the gravity center evolving in the last track 'in de soep' that closes this album juxtaposing drones and noises creating a mesmerizing mass of sounds.
This album, rather to search new grounds, evolves the genre in a new form juxtaposing elements with a clear view of the overall result escaping the void meditation of drone and the dull unilateral dimension of noise to reach a form that always change remaining the same. One of the records of the year.
Artist:
Son Of Chainsaw
Title:
License To Spill
Format:
CD & Vinyl
Label:
Clogsontronics
(@)
Rated:
I have to follow my instinct, S.O.C. a.k.a. Son Of Chainsaw seem to me to be a collective of people who decided to let go all the conventions and to experiment with music, media and visuals. Their story is epic and a hoax, both. Formed by Slim Pickled, Ozzy Darantino and Clark Kennie (real name Richard Neumoller), Son Of Chainsaw met ten years ago online at a place called "The Parallel Room". They started to work on their music without never met. After four years they decided to finally met each other and they picked up a symbolic place: the Dalai Lama palace in Tibet. After three months of meditation and musical experimentation with Tibetan Holy Chants, tribal Alaskan rhythms and real instruments such as drums, bass and guitar, on the new year's eve of 1998 they held an internet concert followed by two million of people. That was the first of their successes which they repeated with tours and other stuff you can read on their website. Musically I can talk about this album titled "License To Spill". Released by Clogsontronics after six years of hiatus from their latest release, the album presents eleven tracks of what the band calls "hydraulic jazz punk" and to my ears it sounds like a puzzle formed by midi music, jazz, electronic, spy music soundtracks. They seems to be a mix from Fripp and Zappa with no limits about their influences. Their info sheet reports that: "The music, gets derived from an Atari based midi setup, two Yamaha TX16W samplers, a drum machine and tone modules". They sample from cinema, TV, radio and 'scratch sessions' on Heino, Spike Jones and Carl Stalling records. The tracks tend to pass suddenly from a genre to another with piano, bass or blows solos just to add Chinese TV music samples. They are inspired and really crazy and it gets a little to get acquainted to their music. Released on a limited edition of 550 LP+CD, "License To Spill" is the "very best of the best of the greatest hits", as the cover reports. You can check some tracks at the label's and the band's websites.
Artist:
Sister Iodine
(@)
Title:
Blame
Format:
12"
Label:
Premier Sang
Rated:
I hope that French band Sister Iodine, one of the greatest exponents of emperimental noise scene, will forgive me for the fact that the smouldering noisy progress of the initial "Blanc Domaine" make me think about the terminal phase of some sick person while fighting against grievously maddening haemorrhoids - just have a listen and tell me that my idea is too hare-brained! -. A cruel amd iunusual punishment for such a supposedly hasty imagination comes on the following piercing shrill of "Druga Blaze", which is going to join with your voice Charles Lavenac shrills, and on the offbeat lashing of "OÌ". The well-sculpted sonic torture by Sister Iodine, where impressive guitar excoriations by Lionel Fernandez and wise mastering by Chris Le Dantec play their important part, carry on more agonizing atonal dsintegration, which reaches the best moments with the scary dismemberment of "Obscurity Call", the corrosive acid bath of "Odd Devaste", the powerful "Emprise", which features a masterly supply of drumming tremors by Florent Barbier, and the disruptive brutality of "Cuntre". My opening hallucination seems to find confirmation by "Ambulance" and above all by the final "Zone Anemie / Main Ocean" - another highlight of this release -, where I feel like allowed to imagine that ailing hero at death's door...
Experimental / Avantgarde / Weird & Wired / Glitch / Noise / Field Recording
Edit (8119)
image not
available
anymore
Artist:
F.ormal Logic D.ecay
Title:
His Master's Void
Format:
CD
Label:
Steinklang
(@)
Rated:
I suppose that important records (i.e., albums that have a meaning) are the ones posing important questions. This new one form Luigi M. Mennella, with the help from Nicola Savelli, is based upon the relationship between experimental and popular music. His most obvious reference is the Residents' 'George and James' where, after years of pranks about popular music, there's a sort of fascination of the peculiar quality of pop music to be a 'sign of the times'.
Starting from the elegiac 'Alabama Song' to the classic 'Are You Lonesome Tonight' and 'Summertime' and featuring even the almost romantic 'Guarda Che Luna' this album removes from the originals their catchy allure in the search of some disturbing or unexpected element. So orchestral string are replaced by synth, generators and drum machines and the voice is treated so translating this songs in a modern language.
As his title is a gentle mock, and the last of countless ones, of the most iconic record label name of all time, his content reveals the profound commitment of his author to praise the cultural importance of songs played. As this, after the Mike Patton's Mondo Cane project, is another example of the mutated attitude about pop music is more important that just another experimental repetition of known models. Recommended.
This new one from Zoharum is presented as an album of 'urban drone with delicate tints of post-rock' and depicting a city where 'your feeling that something is wrong is increasing'. The cover of this album features, in a gray tone picture, some people on top of a building with the hands cover their eyes as suggesting their intention to hear a city rather than see it.
All the tracks are constructed from gentle and slowly developing drones: to the initial 'Maľovanie Dúhy' to the ending 'All Souls (Will Be Born Again)' this album sounds as one track divided in nine movements featuring only an intersections of small noises in 'Zavtra'. So they are more oriented on small details than in any spectacular development so it's specified that they has to be listened with headphone and hopefully in a quiet environment. This tracks asks an attention to detail at risk to seem annoying or static in a first listen, but this is the game with drone music.
After repeated listening this album is hypnotic and is a soundtrack for walking trying to see the aspects of a city that one almost too often leaves behind. Highly Recommended.