Experimental / Avantgarde / Weird & Wired / Glitch / Noise / Field Recording
Edit (8581)
Artist:
Zeitkratzer + Keiji Haino
(@)
Title:
s/t
Format:
CD
Label:
Zeitkratzer Records
(@)
Rated:
The notorious Japanese songwriter/singer and experimental performer Keiji Haino brandishes his voice in an intriguingly engaging way, where he spins a number of vocal timbres faster than the way he spinds his notorious long hair on live stage, on the occasion of this impressive release with Zeitkratzer that its director Reinhardt Friedl spoke about on a recent interview for our zine. The outstanding approach to compositions by means of sometimes sinister intersections of amplified instruments, which got mainly played with extremely detailed extended techniques by a massive ensemble - including Marc Weiser (acoustic noises), Hilary Jeffery (trombone), Hild Sofie Tafjord (French horn), Frank Gratwoski (clarinets), Maurice de Martin (percussions), Burkhard Schlothauer (violin), Anton Lukoszevieze (cello) and Friedl himself on piano -, perfectly matches the color-shifting voice by Keiji who fluently handle the possessed shouting and screaming of "Ghost", the faintest lyrical heights of the piercing high pitches of "Roses", the Gollum-like idiosyncratic chattering and the sequence of hissing and hoarse scratching on "Smashine", the schizophrenic chirping of "Birdy", the otherworldly gasping and the alien timbres of "Wet Edge" - the track I like more! - and the freaking mutations of "Cryogen". A really wild assay of sonic beauty!
Artist:
The Pitch
(@)
Title:
Xenon & Argon
Format:
12"
Label:
Gaffer Records
(@)
Rated:
The Pitch is the guessed name that the fourtet by Morten Olsen (vibraphone), Koen Nutters (bass), Boris Baltschun (reed organ) and Michael Thielke (clarinet) have chosen for their band, whose sound is free from the rules of composition as well as from a certain promiscuity of improvisations by focusing on abstract tonal twines and the voice of their own instruments over a number of different superimposition and durations sets. The reference to xenon and argon, two chemical elements which belongs to the group of noble gases, is likewise guessed as each instrument sound like volatilizing without establishing any chemical bonding with other ones on the two long-lasting tracks of this release, so that listeners can only but appreciating the intrinsic characteristics of their sound - "the exaltation of a clarinet, the bruteness of a pump organ, the lushness of a vibraphone and the profoundness of a double bass" are considered as proper "navigational tools" in The Pitch's sonic streams in the introduction of the label - as well as their infusions within tonal clouds that sound risingly obsessive and vaguely entrancing on "Xenon" and deeply hypnotical on "Argon" - the tonal atomizer I prefer -, where the above-mentioned features got highlighted by a constant trembling of Baltschun's reed organ which will delight more demanding sonic brains.
Experimental / Avantgarde / Weird & Wired / Glitch / Noise / Field Recording
Edit (8574)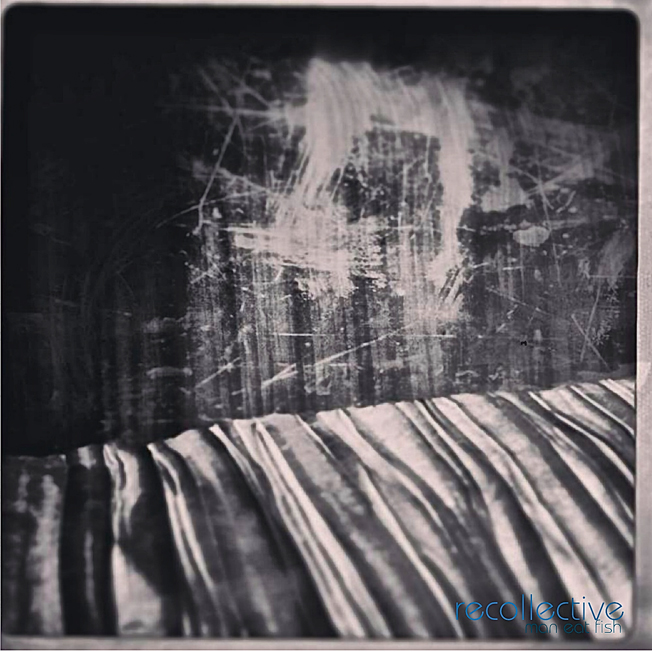 This new release from Audiobulb is presented as 'characterized by concrete sounds with a lot presence, combined with abstract electronic texture and newly written and recorded works for string quartet'. It's a true presentation of this work that features a strong coherence of musical development.
The metallic beat of 'The Breakdown' opens this release with a track focused on the juxtaposition of the synth drones and the metallic resonances that, in 'Between Sound', are basic composition's element while 'All That Is Solid Melts Into Air' explores the melodic possibilities of the metallic beat. The gentle theme of 'Duality', upon the water's dripping acts as an interlude, or a development, of a form that is the unifying element of this release. 'Reconstruction (The Silent Duck)' could sounds as a chamber music track if the sounds of a metallic balls falling on the ladder, almost present in all tracks, doesn't appears. The violins of 'The Doors' introduce the listener into the second part of this release and, with 'Material', appear even the human voice to further colorize the musical palette. 'Just Beens' sounds like a small intro to the final part of this release: 'Birds', that starts and ends as a noisy track but has an interlude based on gentle strings samples that are the foundation of 'The Arrival'. 'Corridor Slow' closes this release developing the resonances of the string instruments used in the previous tunes.
This release sounds more like a cohesive unit than a collection of track and, even if it's anything truly impressive, it's a release that acts as a quiet soundscape of everyday activities. A nice release.
Experimental / Avantgarde / Weird & Wired / Glitch / Noise / Field Recording
Edit (8568)
Artist:
Rooie Waas
(@)
Title:
Nu
Format:
12"
Label:
Blowpipe Records
(@)
Rated:
Rooie Waas is a Dutch electronic outfit from the Netherlands consisting of Gijs Borstlap ' vocals / cacophonator / weird sound generator / drum programmering; Mikael Szafirowski ' weird sound generator / synths / drum programming / vocals; Gerri Jäger ' shakers / drum programming; and Ofir Klemperer ' Korg MS20, with guest musicians on this album - Yedo Gibson - saxophone (on one track); Ibelisse Guardia Ferragutti - vocal (on one track). 'Nu' is their second album, the follow-up to 'Het is maar een constatering' (2012).

What the #$!% did I get myself into here taking on this review? Merely opening the shrinkwrap of the LP and putting it in the turntable I consigned my fate, and now I have to follow through even though I cannot pretend to comprehend, much less like this, yet there is a fascination for what this band is trying to accomplish, and likely succeeding on some level. To schluff Rooie Waas off as an avant garde electronic group would be doing them a disservice. Putting it plainly- this is anti-synthpop; there seems to be no other word for it. Stilted beats collide with crazy, off the wall synth sounds, with vocals in their native Dutch. It's hard, minimal but effective. Imagine the Kraftwerk of old discovering hip hop while on PCP, or Yello on crack. (The drug metaphors are not suggestive that this is "drug music; it most certainly is not!) This doesn't even begin to convey the weirdness of Rooie Waaas. Fuck the melody and tidy sequencer arpeggios, this is raw baby, very raw.

I'm at a loss for getting anything out of the lyrics as I don't speak Dutch and am too lazy to get them translated, but maybe that's okay because they sound even stranger with my lack of comprehension. The phonetic articulation and phrasing seems to indicate that this is a Dadist sort of thing, deconstructed for the people and spit out back at them in a primal way. It's not easy to take, but that's the point. The album is available from Blowpipe in (red or black) 12" vinyl accompanied by a download key card for high-quality download in MP3, FLAC and more. Or, if you prefer, CD digipack with the same download option. Got to hand oit to Blowpipe for their multi-platform release options. However, I'd first recommend previewing the album (free preview!) on Blowpipe's site so you'll know what you're in for. Eschewing my own personal musical tastes, four stars for artistic merit.
Experimental / Avantgarde / Weird & Wired / Glitch / Noise / Field Recording
Edit (8564)
Artist:
Novellino/Rosi/Mazurek/Barnes
Title:
Objects in mirror are closer than they appear
Format:
12"
Label:
Discreetrecords
(@)
Rated:
According to the linear notes this release 'starts from feld recording session made by Attilio Novellino and Saverio Rosi ['¦] at the woolen mill "Leo", the oldest textile factory active in Calabria'. So, the basic element of this album is the sound of old machines with their properties to produce objects and to evoke a perhaps waned era. In this context, Rob Mazurek and Tim Barnes attempt a dialogue with this sounds to channel it in the context of EAI.
This release is divided in two sides (it's a vinyl): 'Objects' and 'Mirrors'. The first one is opened by Mazurek's cornet and is suddenly substituted by the processed sounds of the machines with the evocation of the work done by the machine. When a distant voice appears, perhaps the voice of the owner of the machines, the cornet lies almost in opposition until the electric noise invades the spectrum and ends when a reverberated metallic beat marks a division in two parts of the track: the second one is based on noises, more or less highly pitched, ended by the return of the cornet heard at the beginning of the side. The second side is opened by an almost metallic resonance and samples that constitute the skeleton of the first part, as the second is based on drones and soundscapes that develop in a noisy dialog between glitches and the cornet.
This release it's an uneasy listening one but it's something courageous in his revelation of the properties of working tools to generate, with their sound, the soundscape of life in another century. Recommended for adventurous ears.