Artist:
tētēma (Mike Patton & Anthony Pateras)
Title:
Geocidal
Format:
CD
Label:
Ipecac Recordings
Rated:
tÄtÄma is a new duo formed by the unstoppable and untiring Mike Patton (Faith No More, Mr. Bungle, Fantômas, Mondo Cane, Tomahawk, John Zorn interpreter) and Australian pianist Anthony Pateras (Thymolphthalein, Pivixki, Pateras/Baxter/Brown, Beta Erko).
I have seen Pateras solo opening for Patton's Mondo Cane in Australia a few years ago I remember being impressed by the vigor with which he beat the shit out of the grand piano on stage. I knew they were friends, but that Patton would find the time to write a whole record with Pateras, all the while writing the new Faith No More record and doing a million other things was undoubtedly a surprise!
"Geocidal" is a concept record about the killing of a place, maybe because it was a created in so many different places, since the two artists live half way across the world from each other and most everything was recorded in a different country (mostly France, Australia and the US). It is an incredibly interesting, original and exciting concentrate of raw power, evil chants, shamanistic percussion, mysterious atmospheres and violent eruptions of screams, distortion and instrumental abuse.
The album features a cast of 12 special guest (including drummer WiIl Guthrie) and is just another testament to the originality, versatility and pipes of the amazing Patton and the quality of the collaborators and co-writers he surrounds himself with.
Absolutely not to be missed!
Experimental / Avantgarde / Weird & Wired / Glitch / Noise / Field Recording
Edit (8659)
Artist:
Francisco López
(@)
Title:
The Epoché Collection vol. 1 & 2
Format:
CD
Label:
Nowhere Worldwide
Distributor:
A Closer Listen
Rated:
I have very mixed feelings about these two releases. Here is why:
Francisco López's "Epoché Collection" is an ongoing series of untouched environmental field recordings from tropical forests all around the world.
Volume 1 ("Hyper-Rainforest") contains a continuous one hour long mix of recordings made between 1990 and 2010 in tropical, sub-tropical and cold rain forests in Argentina, Australia, Brazil, China, Costa Rica, Cuba, Gambia, Japan, Mexico, Myanmar (Burma), New Zealand, Paraguay, Peru, Senegal, South Africa, USA and Venezuela. These recordings also were the sonic part of a 2011 installation of 82 speakers at the EMPAC (Experimental Media and Performing Arts Center) in Troy, New York, where these sounds have been played back to an audience in the dark at the facility's large concert hall.
Volume 2 ("Yanayacu") contains unadulterated environmental sound matter from the Peruvian Amazon and is divided into 5 pieces totaling 51 minutes.
Both CDs are limited to 300 copies and their sonic imagery are as absolutely beautiful, soothing and relaxing as they come. I've listened to these CDs multiple times, at home and in planes, letting myself be transported to these remote locations and imagining the humid and lush vegetation surrounding me in this auditory voyage.
The reason I initially said that I had mixed feelings, which is also why I have given this 3.5 stars and not more, is that presenting non-transformed field recordings does not really require any particular artistry or skill, other than the skill of recording them properly and managing one's travel expenses to reach all these far away places. Of course I do appreciate the fact that Lopez has traveled far and wide to collect these sources and document them. Without him, there might be no such pristine recordings in the first place! But can one sound artist and composer really claim these as his own creations? Isn't it just the creation of nature that Lopez simply recorded? Isn't he just the recording engineer? The fact itself that he points out himself that these recordings are non-transformed, further validates my doubts about the artistic validity of such exploits. They certainly have historic and geographic validity, but their artistry is questionable in my opinion.
All that said I absolutely love the recordings and Lopez did a fantastic job capturing them and mixing them together on these CDs and I, for one, will continue listening to them over and over. Whether to waste mental energy over validity and purpose, I will leave up to the hopefully many other listener who will get to enjoy the sounds of these forests.
Experimental / Avantgarde / Weird & Wired / Glitch / Noise / Field Recording
Edit (8655)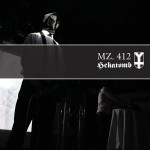 Artist:
MZ. 412
Title:
Hekatomb
Format:
CD
Label:
Cold Spring
(@)
Rated:
Almost nine years after their remarkable "infernal affairs", MZ.412 return with the recording of their 2011's performance for the Cold Spring's 21st Anniversary that, as they rarely performed live, was their first ever performance with the complete line-up. Instead of performing their tracks, they decided to reconstruct their musical opus as a ritual divided in XIV acts.
Instead of being a mess of noises constructed with the clear intention of underline the visceral impact, their music has more subtle effect as noise is used sparsely and has an evocative effect.
So the ritual starts almost quietly. with "Act I", as the three musician have to regulate their volume, as it's clearly audible in the middle of the track. With "Act II", instead of starting with noise, they return to the atmosphere of "nordik battle sign" with their almost martial music colored with filtered, and barely audible, voices while "Act III" is an articulated noise's development that develops in the beginning of "Act IV" that ends with an evocative soundscape closed by the beginning of "Act V" where the beats is the glue of the samples constructing an highly detailed sound that evolves in the first part of "Act VI" based on voice that introduce the aggressive second part. "Act VII" starts to explore the more aggressive part of their sound, explored in the first part of their career when they were more impact oriented, that is suddenly replaced, with "Act VIII", to the atmospheres of the beginning of the performance returning to the most ritualistic part of their opus and is followed by "Act IX" where the most industrial side, with the metallic beat, is explored while ending, with a child voice, in "Act X" where the drones begin to be used but in an abrasive rather than meditative way. The details of their sound lines are the focus of "Act XI" and develops, as in a single act, in the noises of "Act XII" and his ending voices. The beat of "Act XIII" is the base of the declamation that are the noise element, so it's the voice rather than a synth, of the track. The military, almost medieval, atmosphere of the long "Act XIV" closes this release ending with the almost esoteric atmosphere created by the voices that act as an interlude to the final, almost cathartic, part of the performance closed by a declamation barely audible as a statement that, sometimes, this music could perhaps be able to subdue evil by representing it.
Aided by the clever mastering that, instead of pumping the volume, uses a reasonable volume to capture the details of an evolved sound palette, This album reflects the importance of a musical thinking behind the performance and should be listen mostly by the project releasing a bunch of album per year using the same ideas. After all those years, they remain almost essentials.
Experimental / Avantgarde / Weird & Wired / Glitch / Noise / Field Recording
Edit (8654)
Artist:
Inner Vision Laboratory
(@)
Title:
Austeros
Format:
CD
Label:
Zoharum
(@)
Rated:
This new album from Karol Skrzypiec apparently takes his title by a poem by Pawel Krawczyk. As his text is almost impossible to find the question is if the music has the capability to have the consistency of cohesive whole, as a poem, rather than the diversity of a collection of lyrics.
Almost all tracks are based upon the dialectic between drones and sparse sounds, perhaps field recording as the noises that open "Stalker Trail" and evoke the ices and crackles of the cover while the drones of the second part the brightness of the light reflected by this surface. "Three Turns Until You See" is based upon a rhythmic pattern while "A Tunnel Too Twisted" is a long and complex track in two part: the first one is quiet and based on resonant voices while the second features the high resonances of small bells and depicts an uncontaminated landscape while "A Home to None" returns to more industrial-like menacing atmosphere using a bunch of samples and evolves in "Obey the Soil" with the use of almost all the characteristics of the previous tracks. "Rust Vermilion Faces" is a juxtaposition of drones that slowly evolves in a rhythmic track and "Bow Before Ancient Mother" closes this release with a multifaceted soundscape.
This is a cohesive album constructed with a clear musical design, perhaps a little bit too coherent, that would be enjoyed by all fans of this band. Really nice.
Experimental / Avantgarde / Weird & Wired / Glitch / Noise / Field Recording
Edit (8653)
Artist:
Machinefabriek
Title:
Measures Taken
Format:
CD
Label:
Zoharum
(@)
Rated:
This new release from Rutger Zuydervelt was composed for a dance performance by choreographer Alexander Whitley where the dancers interacted with the visual projected by Marshmallow Laser Feast. So the question is if the theme of man vs/with machine is evoked by the music in the absence of the visual side.
The small clicks of "Introduction" introduce the listener in a quiet musical universe where, obviously, the rhythm has a particular place as it's fundamental for dance movements. "Part I" starts quietly with drones and trumpet like samples and quietly evolves with noises and samples in an hypnotic track. "Part II" is made out on juxtaposed lines creating a mood of cinematic tension that is released in "Part III" where the soundscape created evoke a brighter, even optimistic, mood. Almost sadly, "Part IV" closes this release with a mood of melancholy and lost.
It's certainly grueling to rate this release without seeing the choreography referred by this score, as it's arduous to realize the theme of the project without the press notes. However it's as evocative as a good soundtrack. It's worth a listen.