Experimental / Avantgarde / Weird & Wired / Glitch / Noise / Field Recording
Edit (8757)
Artist:
Naoto Yamagishi
(@)
Title:
Hossu No Mori
Format:
CD
Label:
Creative Sources
(@)
Rated:
The title of this solo-release by Japanese (but currently living in Paris) drummer and percussionist Naoto Yamagishi, whose artistic range is not strictly limited to the fields of electro-acoustic and so-called non-idiomatic improvisation due to his collaboration with many kind of artists, is an interesting metaphor of his sonic art: the expression "Hossu No Mori" could be translated as "forest of Hossu", being the hossu that wood or bamboo "haired" stick, which is a sort of symbol of authority and a shield against desire (it's often used to keep flies and other insects away without killing them!) by Zen priests. You could imagine it as an enhanced drum stick, which can gently hit many objects , so that it could stand as a nice description of Naoto's style. Even if you have to consider it was recorded on 1st of June 2011 in Japan, some techniques could sound not really original as many other improv musicians could have widely tested some of them - for instance the sound which opens the initial track "kurohae" derives from the brushing of drum skin by means of metal objects or sheet as well as the squealing noises on the following track "Ukisu" -, but some camouflage of used instruments are really amazing and there are many moments where he's using horns or strings instead of drums and percussions, where the only unaltered and unperturbed element is the steady thud from an unidentified taiko that he often hits.
Experimental / Avantgarde / Weird & Wired / Glitch / Noise / Field Recording
Edit (8756)
Artist:
Hans Koch | Gaudenz Badrutt | Alexandre Babel (@)
Title:
Species-Appropriate Animal Husbandry
Format:
CD
Label:
Creative Sources
(@)
Rated:
Recorded at the well-known Faust Studio, Hans Joachim Irmler's studio in Scheer, Germany, in June 2012, this odd file in the huge archive of releases by Portuguese label Creative Sources comes from a trio of imaginative improvisers (Hans Kock on bass clarinet, Gaudenz Badrutt on electronics and Alexandre Babel on percussions), whose seemingly abstract stuff often sounds more concrete than you can guess: the somehow sinister whistle and its resounding arching on sneaking electronics and slight tremblings on the short introduction open up the hinged jaw of a claustrophobic and mysterious sonic world. The longest track "apartment" sounds like the fast track processing of a series of conventional domestic activity, as if listeners got invited to hear what happens in the house of a sped up SIM character's "life" and, as you can easily guess, noises of snoring, metallic hits, resounding keys, bottles and similar listenable entitites have wisely been included in the package. The first and more lasting interlude, where a squeaky sound that becomes thinner and thinner pierces a menacing nocturnal atmosphere, prepares the ground for the second main improvisation, "outside", where they seem to focus on the mirroring or the rendering of external sounds (including trains, interferences, buzzes and beeps) by means of their instruments where both electronics and percussions are surprisingly not so intrusive, even if its intermittent scrolling sounds like a gradual asphyxiation. If the first two main tracks of the album, the above-described "apartment" and "outside", could have been appeared like an unzipping file of sometimes indecipherable snapshots, the third main track "inside" is even more elusive in spite of its occasional pauses, which features the feeble whistles of the final track "end" as well.
Experimental / Avantgarde / Weird & Wired / Glitch / Noise / Field Recording
Edit (8755)
Artist:
Simon Crab
Title:
After America
Format:
CD
Label:
Fathom Distribution
Distributor:
Fathom Distribution
Rated:
Simon Crab has been making music since the late seventies and he is the founder of the experimental band Bourbonese Qualk, which was dismantled in 2002 when the band's guitarist died. Crab is now a member of Sunseastar, a musique concrete band, as well as the London's Gamelan orchestra. The music he creates is the outcome of his experience: "After America" is dense, rich in tones and superbly produced. The album is reminiscent of Bourbonese Qualk discography, being eclectic and mastered at the same time, something not a lot of people can accomplish. Simon Crab learned traditional African and Middle Eastern music and it shows: you can clearly hear that he's a knowledgeable musician, the rhythms on the album are skillfully carried out, be it live played or electronic. Crab also has the ability to fuse the acoustic with the electronic in a very natural way. Everything fits very well together

On this first solo effort, Crab mixes traditional tribal percussion with deep electronic tones (using SuperCollider among other tools) and sound collage with thick layers of acoustic and electronic rhythms. The result is exciting to say the least, and the sonic landscapes on the album have a truly immersive effect because of the quality of the recording. Some of the tracks are definitely beat oriented while others are ambient and sometimes even melodic! My favorite track being a melodic almost idm affair: 'For Jian-an' could have been written by Aphex Twin or Multiplex (Christian Dormon and Roland Dormon). While he juggles with multiple genre of music of various origins (occidental electronic music, traditional African rhythms, Indonesian gamelan ensemble music), every track is well executed. Various genre also means various instruments, mixed with electronic music, we can hear guitar, clarinet, acoustic drums, synthesizers, congas, bongos, accordion, flute and more.

While I've never heard of Simon Crab before, I was pleasantly surprise by the quality of this album. Overall, this is an excellent release beautifully produced by Simon Crab himself.

Standout tracks: For Jian-an, Kropotkin, Cobra Mist.
Artist:
Sonae
(@)
Title:
Far away is right around the Corner
Format:
12"
Label:
Monika Enterprise
(@)
Rated:
The first release for 2015 from Gudrun Gut's label Monika Enterprise uncovers the talent of Koln-based sound-artist Sonia Guttler aka Sonae, whose sonic embroidery on his debut album includes many field recordings from freesound.org that she wisely modified and integrated within nine interesting cameos that she made between 2012 and 2014 in between abstract and glitch isolationist ambient. Nothing was left to chance in her sound, whose strong connection with emotional processing and perception was already clear on "Entmutigt" (German for 'discouraged'), the free release she made for Spanish netlabel Modismo just before "Far away is right around the Corner": the opening track "Gewittspaziergang" (German for "storm-walking") seems to render the electrified air where electronic collisions and distant menacing deafening roar of a thunderstroms finds an echo in the mood of the sentient beings; the following title track sounds to be about the meeting of distance and proximity by means of amazing transformations of micromelodies that she supposedly made from the ring of a telephone from caller's side which got "imitated" by a sort of tinker bell, while "Wandering" sounds like an amalgamation of sonic clues of different kind of whereabouts, where nomadic sensations as well as a certain vague anxiety equalize distance and transporting vectors as if the idea of wandering could be a sort of existential dimension. The biomechanical blips of "Einfach SO" precedes the touching remix of Cio D'Or's "Distanz", the track that Cio Dorbandt made for a piece inspired by the dead victims on their way on overcrowded makeshift boats to Lampedusa, the austere and gradually burning piano chords of "Song of Hate and Anger" and the lovely "Hot Summerday", an interesting crossbreed between French piano impressionist, field recordings and nocturnal trip-hop detours. The aquatic daydreaming of "I Know a Fish" and the crepuscolar corpuscles of "Not The Moon/I Don't See Any Flowers There" and "Uberwindung" conclude this awesome workout. If you enjoyed it, Sonae says on her website you can send flowers to her!
Experimental / Avantgarde / Weird & Wired / Glitch / Noise / Field Recording
Edit (8751)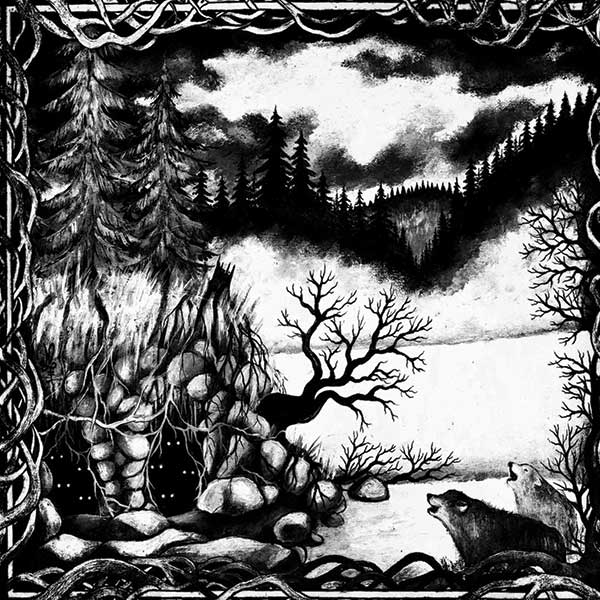 Artist:
Moloch
(@)
Title:
Die Isolation
Format:
CD
Label:
Cold Spring
(@)
Rated:
There's a sort of nostalgic mood emerging from the presentation of this release as "a despairing portrayal of the souls that are lost in the winter woods" as it reminds me of a time, seen today, where the so-called black metal became the last opportunity for metal for the renewing of his musical language. As the best Burzum moments, this band aims to create a bridge between metal and some forms of electronica searching for a form of soundscape rather to stun the listener with the exhibition of musical line played at highest speed or searching for pop allure.
The synth of "Das Uralte verweilt dazwischen" works as an introduction to "Depressive Visionen eines sterbenden Horizonts" where, at a closer listen, the buzzing guitar mimics his structure only to add a layer of more aggressive sound. "Sterben unter der Blässe der Unvermeidlichkeit" is a down tempo guitar introduction to "Die letzten Strahlen der Sonne verblassen in der Kälte der Apathie", a long dialogue between voice and guitar. "Wo der Winter unaufhörlich schlägt" acts as the first part of "Das Leben ist wie ein verwundeter Vogel der langsam vom Himmel fällt" where vocals depicts the landscape evoked in the linear notes. "Nebelwald" is a guitar solo and "E.Khu" is an abrasive track while "Abgrund meines Wesens" is a long meditative track based upon layers of synth.
Clearly along the path of the prime mover, this album balances fury and thought and is perhaps the first brick to something really remarkable. It's really worth a listen.