Canada is the home for some of the best experimental musicians, just think about Tim Hecker or Aidan Baker (also known as ARC and Nadja) . This new album by AUN goes straight to the olympus of canadian ambient virtuosi. "Motorsleep" shows some major changes from the past, you can read the review of his previous works on these pages. Martin did a tribute to Klaus Schulze's Irrlicht in collaboration with Allseits and i guess he's been listening a lot to the kosmische heroes because the music on "Motorsleep" points skyward. There are beautifully unsettling tracks like "Erzot" which sounds like Tangerine Dream on a bad acid trip! There are also some warm feedback based tracks like "Neiges", not so distant from the first works of the aforementioned Tim Hecker. No wonder if Martin describes his own music as "blight-metal", outsider metal mixed with shoegaze. This album is mixed by James Plotkin, a well known expert for bleak ambiences.
image not
available
anymore
Artist:
NIKOS VELIOTIS & ANASTAIS GRIVAS
(@)
Title:
vertical
Format:
CD
Label:
Low Impedence
Rated:
Right after having reviewed the mittle/north european duo Nörz featuring a cello and a guitar, here's another one composed by the same instrument for two greek musicians. The label itself is a good credential since what I've heard so far from their catalogue has always been kinda catchy or at least really intriguing and a with a melodic (whatever you mean for melody) nature and this mediterranean duo fits in the mold. I'm sorry after having written about the greek origin and the mediterranean provenience some of you may consider this release as openly melodic or more solar, but nothing is more wrong than this. The four tracks included in this album show the two musicians went for a drone based release and I'm sure it's easy to think this cello and guitar can revive the idea that gave glory to musicians like Fernando Grillo or in the likes, the fact is they sometimes develop a linear monochord drone by playing in unison for the mare taste of atmosphere and trance. It's just with the fourth track that the result changes a bit while the atmosphere remains the same and that's just good, since they reach easily the climax many listeners like me are searching for while dealing with a cd like that. Globally we're talking about a quite minimalist, quasi soft work that joins a bit off contemporary classic music with a bit of ambient. The global atmosphere is damn good and at the same time it's an interesting release and something to relax with while listening at.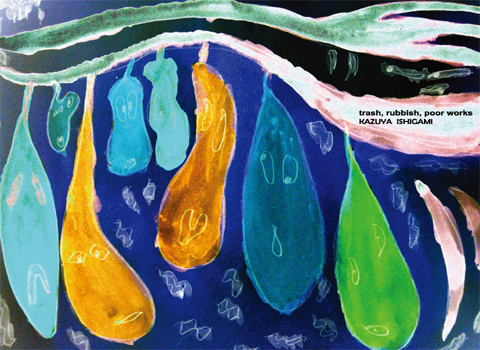 Artist:
KAZUYA ISHIGAMI
Title:
trash, rubbish, poor works
Format:
CD
Label:
NEUS
(@)
Rated:
Despite its title this one is far from being cheap, rubbish and above all trash music, Ishigami is a smart musician and even thought this one is not exactly accessible I can bet many of the know it all out there will find intensity and a sense of melody. I've found many of the characteristics I've always found in some of the japanese weirdoes dealing with electronic music, I mean there's both this crazy side of electronic music and at the same time their deep spirituality. This works starts by showing some glitchy tracks with a strange structure, can still be interesting but I beg you to avoid mistaking it for a dance-electronic work, this' experimental music with crescendos, tensions, field-recordings a strong experimental savor but at the same time this' not so cold. Some tracks of this cd reminded me of the collaboration involving KK Null and Deison, just a bit more minimalistic and a bit more naive, but not less suggestive: believe me. "Trash, rubbish, poor works" is adopting a sharp electronic profile to plunge in a evocative experimental journey, and I can assure you the music of mister Ishigami can be really suggestive (Story of Assaji for example). These tracks ranges from 2004 to 2006 but the whole release is quite homogeneous since this artist has developed his own style. We're not taliking exactly of japanese electronic for all ears, but if you're into experimental works with a great sound definition and a strong idea I'm sure you will agree Ishigami has his own personality. Give it a try.

image not
available
anymore
For what concerns this nice work on Schraum, I can't but grant we're dealing with an interesting couple of performers that will surprise many listeners thinking a duo release involving a cellist and guitarist wouldn't add anything new to the small/big world of experimental music. The fact is Jihannes Trondle and Andreas Trobollowitsch have been able to put together some interesting tracks of modern music with a deep contemporary/experimental taste by throwing in some varied but really focused influences. From the dramatic feel of the second composition you'll pass to a quiet but still fragmented song, at the same time it's nice to hear how they combined electronic-interventions, melodic solutions and tension-building crescendos. "(also known as) acker velt" sails exactly on the verge between electronic music with a contemporary classic feel and experimental music with a post-ambient, avant-garde flavor. Sometimes its really hard to associate this cd with a cellist and a guitarist since, despite some clean interventions and some elctro-acustic pastiches, the majority of the symphonies have been subjected to a heavy use of electronic. I imagine some will find it really rarefied and simple, but I've found it has been a really intriguing listening, you just need the time and the patience to let it grow on you. Even if it has blossomed listening after listening I swear this cd captured my attention from the very early play and it has a lot to do with its subtle melodic essence.


Artist:
VV.AA.
Title:
Il Circolo Della Vela Vol.6
Format:
CD
Label:
Il Circolo Della Vela
Rated:
Used as a card of a mysterious club called Il Circolo Della Vela, the sixth volume of the compilation with the same name offers twelve bands/tracks of the Italian industrial/wave/experimental scenes. The major change from the old volumes is that this time participated also bands that have already released different albums or who are kinda historical (see Rinf, MGZ and Maurizio Bianchi). The compilations opens with a new Rinf track: "Panic trotter". Their sound is always tense and nervous and someway it recalled me a bit the late Einsturzende Neubauten. Next we have a great electro ambient track by Keith, a dark e.b.m. tune by Klonavenus and an experimental feedback/guitar based track by Carlomargot. Ius Primae Noctis with "Change forever" give their version of electro aggro grind. Condanna is next with "Cranio loop", a track based on a noisy loop with variations. Next we have Spargle In Grey & Maurizio Bianchi with a live track recorded in Graz titled "The sky gets grey" which is based on violins, samples and guitars. Sandro Codazzi with "Aftermath" proposes a nice retro electro tune titled "Aftermath". Teatrino Elettrico with "Senza titolo" pass from experimental acoustic noises to semi power electronics sounds. DJ Pellegrino Ernetti with "Fuori day musei" gives his idea of sampleism as musical art creating a sort of reverse sounding 80's electro tune which didn't impressed me that much. Sinclair is next with "The routine song (London dub factory mix)", a nice pop electronic tune with dub intuitions. MGZ closes the compilation with a remix of his "Non basta mai" coming from "Ho visto tempi migliori" album.