Artist:
The Necks
(@)
Title:
Vertigo
Format:
CD
Label:
ReR Megacorp
(@)
Rated:
The Australian super-group by Chris Abrahams (piano, keyboards), Lloyd Swanton (bass) and Tony Buck (drums, percussions, guitar) left aside the groove that features some past entries and live performances of The Necks in order to dive into something remarkably different on their elegant declension of "Vertigo", whose main similarity to past workouts is the unpredictability of their sonic journey, where listeners clearly recognizes the starting point but can't really say where they will land. An intentional and extremely lucid process in spite of their seemingly abstract melting of different sonic strategies, as you can guess from Lloyd's words about "Vertigo": "The discussion this time really begun in earnest in the session itself, where we started to pursue the idea of having a drone running from start to finish, off which we could hang ideas...but like all Necks album we ended up in a very different place from whatever our initial notion of it had been". I don't want to spoil it in details in order to ruin the joy of surprise, but that sort of low-key driven drone, around which more or less oblique piano and keyboard sequences by Chris Abrahams that seem to permeate and evoke different emotional states in between confusion, suspension, paralyzing relativism, hesitancy and sudden spurs and unpredictable percussive strokes by Tony Buck, is going to carry listeners over subtle changes of colour, mood swings, air-tight narrow corrider that little by little lead to airy sonic landscapes, where the alternance of dark and light doesn't touch upon the sense of freedom, which got rendered by their surfing over stylistical forms.
Experimental / Avantgarde / Weird & Wired / Glitch / Noise / Field Recording
Edit (9052)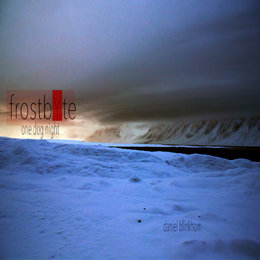 Artist:
Daniel Blinkhorn
Title:
frostbYte – one dog night
Format:
Download Only (MP3 + Lossless)
Label:
Audiobulb
(@)
Rated:
This new Audiobulb's release is from Daniel Blinkhorn, an Australian sound artist whose creative works seems unnoticed even if he has received various recognitions. As the title suggests, it's inspired by the cold temperatures in the night and it's an except from the 'frostbYte cycle', a collection of tracks based location-based field recordings in the Arctic region of Svalbard. The result is an astonishing sound quality whose clearness let every resonance appears in a precise place in the aural field so it's one of the best release in this field that I've heard.
"Red sound" opens this release with a mise en scène of a bunch of small sounds whose dynamics create a sense of tension while the movement is space is best observed with headphones; during the development of the track there's a constant progression to sparse sounds to a filled space with their juxtaposition. "cHatTer" is focused instead on the exploration of the details of the source samples so the result seems a quiet track but the noises of object under the effect of low temperature is frightening. "Wildflower" is sequence of bright sounds moved in space to generate a sense of immersion in a wide space. "Anthozoa" closes this release using a wide dynamics obtained with elements at the threshold of audibility to evoke that sense, at night, that everything ruins that thing called silence.
This is an aurally extreme release that is fully enjoyed with headphones or in a surround hi-fi environment so it's mainly a release for fans of sound art and for them is a truly recommended release. I wonder how the casual listener could rate this release as it lacks a proper narrative element but who cares? This release is a reminder about why there's the concept of hi-fi.
Experimental / Avantgarde / Weird & Wired / Glitch / Noise / Field Recording
Edit (9050)
Once upon time brotherhood in music was mainly associated to blues, rock and pop. This reunion between Norwegian sonic siblings Fredrik Wallumrod, who mainly borrowed his skills on drums and electronics to rock and metal bands such as Dog Almighty, Span and El Caco, and Christian Wallumrod, who became one of the most appreciated musician of the Nordic improv scene - I recently introduced the amazing output "Pianokammer" by this musician, whose name got mainly matched to his own acoustic ensemble and the quartet Dans Les Arbres - extends the concept to the more experimental side of improv music. Forget the piano tones, harmonic moulding and melodic mutations you met on the above-mentioned "Pianokammer", as Christian mainly works on likewise freaky sonic palettes over the three tracks of "Brutter" by a pile of percussive plugs, hits and filters according to evasive logical paths, where Frederik adds some electronic foil, whose amalgamation can't really provide a semblance of order to the resounding elements. The initial "Geigered" sounds like a set of false starts, where any "regular" rhythmical pattern got immediately disbanded within hiccuping and sometimes chaotic surges, which are the dominant aspect of Brutter's sound on the interplay "Radiopuls", an intentionally impossible attempt of matching between drum machines and live drums, which seem to be part of an impossible interlocking puzzle. Any possible synchronization between the two halves of the drumming got broken in the asynchronous slow syncopations of the final "Badminton Break", where you could imagine Wallumrod Bros dragging rhythm like the body of a drunken fool into a temporary shelter.
Formerly known for his amazing project Hapsburg Braganza, melting electric guitar modulations, electroacoustic techniques and experimental hooks, Newcastle-Upon-Tyne-based skilled sound designer, producer and composer Phil Begg recently brought his big-band long-term studio project Midnight Doctors that seems to have been evolved by a series of gigs to the attention of my ears and my ears really enjoyed it. The emotional lukewarm wrapping of the preface of this album, the opening track "Life and Light Apart", kicks this borderline sonic experience off by melting faint rattling violins and a somberly hushed melody on guitar, piano and John Pope's double bass, which becomes more and more solemn as violins highlights the mood and drums begin to crawl over sonorities that could resemble some stuff in between Bohren & Der Club Of Gore and Roy Orbison; Joe Posset's nice tape jams and first electroacoustic entities by Begg himself ignite the following "Chump Change", a wisely crooked movement where the occasional absence of drumming seems to upset the weak balance of other instruments, which seem to find a new balance in the almost peaceful ventricular fibrillation of the following "Long Sands Black Labrador", a fragile balance that got dissolved in the obliquely sinister electroacoustic echoes and peremptory glacial percussions of "Death of Similaun Man". The foggy and raggedly seducing jazzadelic atmospheres of "Rust Coloured Smoke" opens the second half of the record, where Midnight Doctors unwind the brooding interferences and tape artifacts of "My Forsyth (Demonic Frequency)", the delicate fragile beauty of "Climatic Loss", where the big band seems to puff emotionally driven sporadic breaths into a crystalline motionless scene, and the final lukewarm intimacy of "The Slow Way Home", where the cinematic tricks that hooked listeners got sharpened by Americana-folk hints.
Artist:
Kapital
Title:
Chaos To Chaos
Format:
CD
Label:
Instant Classic
(@)
Rated:
Kapital, the bicephalous project by Rafal Iwanski (playing or controlling a tone generator, an analog synthesizer, a rhythm machine, a sampling unit, a sampling pad, congas, metallophones, rattles, found objects, horns as well as his own voice and other special effects!) and Jakub Kuba Ziotek (another great sonic mind under an electric guitar, 6- and 12-stringc acoustic guitars, analog and digital synths, loop station, clarinet, gongs, another sampling unit, a dvojnica double flute - a woodwind instrument from Serbia and Southern Hungary -), forges its second output after the praiseworthy debut release "No New Age" (coming out on Polish experimental label Boclan Records) by referring to the illustrious genius of their fellow countryman Stanislaw Lem as a fitted framework for their impressive stylistic symmetries. The novel they quote Lem's "Memoirs Found in a Bathtub" in the inlay of "Chaos To Chaos" - if you carefully see that diamond on the cover artwork, you can consider it a quotation or a reflection of well-known ocean of memories on planet Solaris, maybe the most known work by Lem -, a little pearl of modern science-fiction where the somehow paranoid dystopian setting intersects that kind of bitter satire that could be injected by means of more or less hidden allusions to social science and political themes, inspired by the finding of some notes (Notes from the Neogene) by a narrator, who was losing his mind when he understood that the only ruler of the days he was living was chaos and that such an awareness fed social life by paranoid thoughts. It is rather odd that the first edition of this novel has a drawn ear on the cover and if you imagine that Kapital's music could have been made for the paranoid pleasure of the protagonist of Lem's novel, who could have some similarities to contemporary human beings, can improve the listening experience they provided. The oblique technoid movement of the opening Kap-Eh-Thaal, where the deceptively abstractions of shining sounds sweeten the tightness of the first part of the track, the scented wool over listener's ears on the lukewarm psychedelia of "Paradis Electronique", the flavoured malaise evoked by "Kolaps", the rising pressurization counterbalanced by the anaesthetic effected guitars on "Trans-Mania", the delusional nuance of the only proper song of the album "The Music Of Goodbye", the estranging hybrid of peaceful ambient and disquieting mechanical roaring of Cyborg Interchaos", the time-delay switch that seems to clock human emotions on "M.I.T." and the otherworldly landing of "Zona Incognita" render that kind of drugged feeling of oppression, where artificial illusions seem to rule human behaviour, where even the awareness of being controlled immunises any attempt of self-releasing.