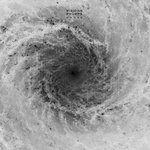 Artist:
Visions & Phurpa
Title:
Monad
Format:
CD
Label:
Cyclic Law
(@)
Rated:
This release is a collaboration between Visions, the experimental project of Frederic Arbour, and Phurpa which is one of the most radical and arduous project of these days. The result is an expanded musical spectrum where time has the property to let all musical resonances express their potential to be a sort of trigger for meditation.
The well known low frequencies which characterize the music of Phurpa opens "Ascendance" but the contribution of Vison is audible after a few seconds as their rather minimalistic approach is evidently filtered and juxtaposed as applying color to a black and white musical picture. The dark ambient form of Visions is more prominent in "Fohat" as only Purpha's percussion are clearly audible in the final part adding a sort of religious mood to an overall meditative atmosphere. "Monad" is based on a frequency separation between the two project: Vision has the higher frequencies while Phurpa has the higher one but instead of be a trivial juxtaposition there's a real dialectic between the two musical streams and this is further enhanced in "Reminiscense" which closes this release with an impressive audio spectrum of rare evocativeness.
This release could be seen as an introduction to Phurpa's music as it's a lot easier listening to their music or as the addition of a spiritual element to the processual framework of Visions. However, it's one of the releases of the year for the genre.
Artist:
Distant Animals
Title:
Lines
Format:
12" vinyl + Download
Label:
Hallow Ground
Daniel Alexander Hignell, as Distant Animals, has created a 34-minute work that's conceptually quite complex, involving a 130 page text-score, the social function of art-making, a land-art intervention enacted in parallel with the composition process, and citing La Monte Young as an influence.

Sonically however it is somewhat less complex, though I wouldn't go as far as calling it simple. Generated mostly from modular synthesis, it's a bit of dramatic drone work (which prior to this listen might have sounded like a contradiction in terms), at the core of which is relentless deep alienating rumbling sounds and thick, distorting textures. Over the top of this are layered some organic percussion noises, higher-pitched synth pads giving off choral-style sounds, noise washes and a variety of clicks and glitches.

In two parts, first part "A Pure Drone" is (as the name implies) the simpler of the two, deep and rich and purposefully uneventful, before "Line Made By Walking" uses the listener's acclimatisation to the drone base as an opportunity to pull in expected directions, systematically becoming louder, more dramatic and dynamic, and with tubular-bell-esque percussive hits and pitch-shifting analogue synth calls that almost border on melody. A couple of well-timed sonic drops have a strong impact that provide real culture shock for those who thought they were still listening to pure drone.

It's interesting to hear how this work morphs itself over time without losing its sonic identity, and while the conceptual origin of it frankly flies well over my head, as a short LP of powerful experimental synthesis, it's absolutely worthy of a listen, contextually or otherwise.
Experimental / Avantgarde / Weird & Wired / Glitch / Noise / Field Recording
Edit (10449)
Artist:
The International Nothing
(@)
Title:
In Doubt We Trust
Format:
CD
Label:
Ftarri
(@)
Rated:
I already talked about this Berlin-based project founded by psycho-acoustic clarinet players Michael Thieke and Kai Fagaschinski almost twenty years ago on the occasion of the release of the nicely titled (and performed) "The Power Of Negative Thinking" on Monotype. Besides showing an appreciable wit in the choice of titles, "In Doubt We Trust" features a format that someone would label as 'epic': no more snippets or short tracks, but just one long-lasting (37 minutes and 37 seconds) track, that follow the same publishing periodicity (they highlighted the fact that The International Nothing drop an album out on the Japanese label Ftarri every four years). Even if it's one single track, "In Doubt We Trust" can be ideally detached into different moments: one of the watersheds of their tonal experimental streams - the whole record got based on almost three years of psychoacoustic research - occurs for instance around the 15th minute, where they play with muted tones and salivation after a crescendo of experiments where they almost reach cacophonous dissonances. They mostly focus on so-called Tartini effect, an aural illusion caused by the combination of two different tones of a similar source: the two players "placed" themselves on the two pans (Kai on the right, Michael on the left) and the combination of the tones they play on the two sides of the listeners renders a sort of ghost tone, a third one that comes from their juxtaposition (you can try listening to the same snippet by balancing the pan of your mixer before playing them simultaneously). The effect is so well exploited that the listener can interpret the title of this record, as a reference to a doubt which sounds more reasonable than the one about the existence of some God that these players cast: is this third tone a ghost tone or a real one? Have a listen to try answering to this puzzling question...
Artist:
Heidseck
(@)
Title:
Margins
Format:
CD
Label:
manyfeetunder
(@)
Rated:
Huge sediments of vinyl, CDs and paper buried this release for many months, so that some words about that are maybe too late, even if it should be available yet as a digital on the label/artist's Bandcamp... and if you missed like I did, I recommend to grab a copy. The use of the word 'sediments' and its connection to geology is not casual of course. I heard the sound by Fabrizio Matrone in the guise of Matter on the occasion of the release of "Biorhexistasy" on Kvitnu, whose title was a reference to the theory by Henri Erhart, a pedologist who proposed a general theory about the relation between climate changes and soil transformation on the basis of the alternation of biostasy and rhexistasy, a set of climatic conditions causing soil formation and soil erosion. The coexistence of the tangibility of stones, rocks, mud and weather events as well as their seemingly chaotic interaction in the seemingly ordered box of an abstract theory mirrors the feature of the sounds explored by Fabrizio on "Margins" as Heidseck, as well. The seven tracks are mainly based on glacial drones, that could vaguely resemble those field recordings that some adventurous forgers of the genre grabbed in extremely cold regions, whose gradual but continuous progressions over a gravel bed of muffled thundering of very low frequencies and white noise. These streams of abstract sounds sometimes extinguish like a candle in a room without oxygen (on tracks like "Medial" or "Blockfield"), sometimes evolve into something else like dim brighter whispers ("Lateral") or crumbling implosions ("End"), but any transformation keeps on rendering an idea of a subtly deceptive impermanence under an obscure mantle which doesn't succeed in covering the jagged edges of Heidseck's sound.
Experimental / Avantgarde / Weird & Wired / Glitch / Noise / Field Recording
Edit (10437)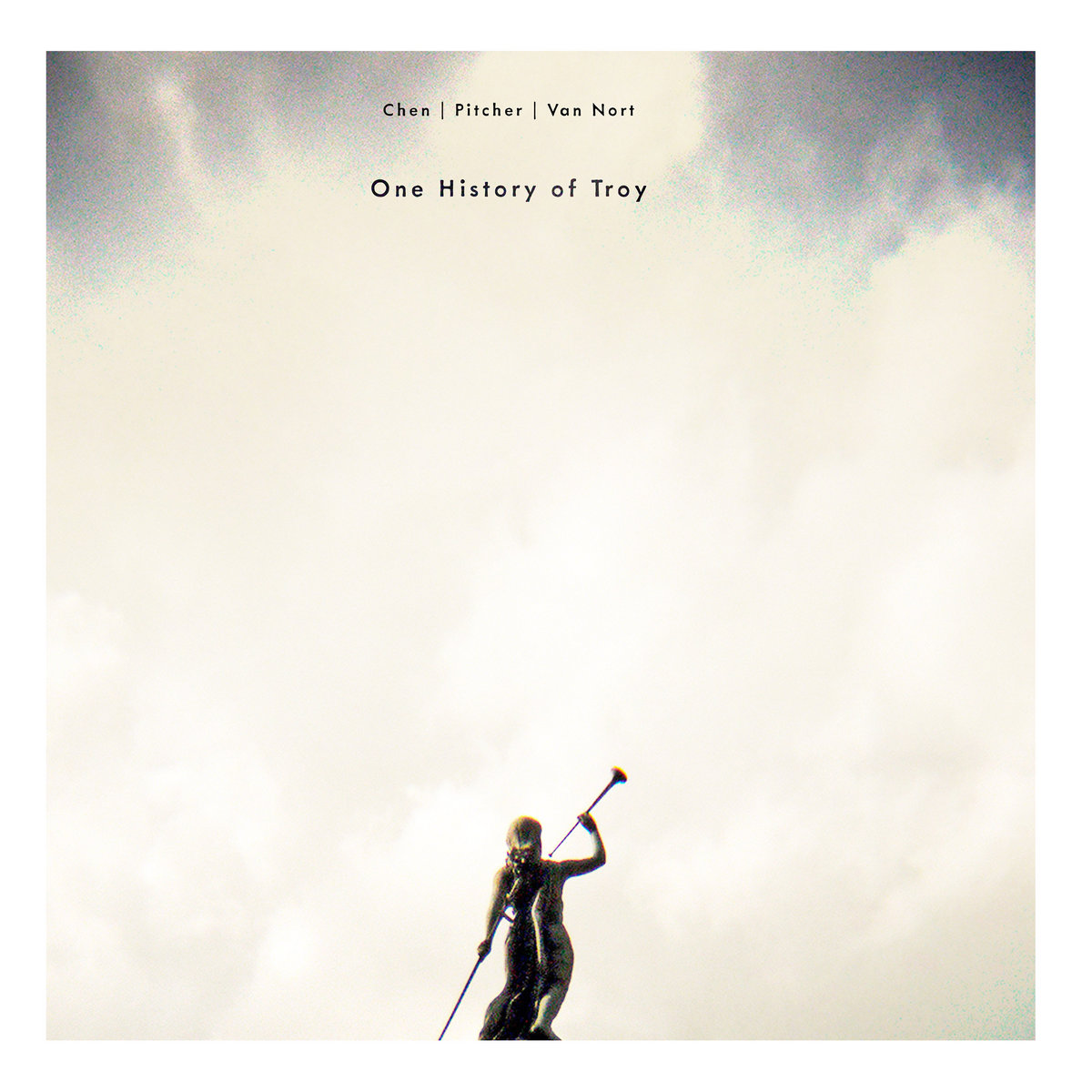 Artist:
Chen I Pitcher I Van Nort
(@)
Title:
One History of Troy
Format:
LP
Label:
Attenuation Circuit
(@)
Rated:
This release is based on a compromise between composition and improvisation made by Jonathan Chen on violin and viola, Jefferson Pitcher on guitar, clarinet and field recordings and Doug Van Nort on GREIS which is a custom patch made in Max/MSP to process live sound input. This kind of open form i.e., a written composition with large margins for improvisation, could be a little hard to follow but lets to the performers the musical space to disorient the listener.
The first track "Sailing I Open Water I Land" is obtained by a rhythmic first part, a second part based mostly on field recordings and a quiet third part based on guitar notes. Strings are the main element of "Moving I Stone" with both guitar and violin while the electronic element is of tie and underline the parts. The voices of the field recordings that open "Residue I European Bells" introduces droning elements which are juxtaposed in a meditative way to let the listener enjoy the subtle tone's nuance. "The Hudson" oscillates between quiet parts and more lyrical ones. "Northern White Pine" uses silence to focus on various small noises generated by the instruments. "Chefchaouen Province I American Town" closes this release with a sort of long crescendo where all players has his moment of focus until they begin to juxtapose their line to close this release fading each other.
A relatively short but dense release based on a subtle interplay which requires a certain listener's commitment to be fully appreciated. Fans of EAI will enjoy this release but the others should be aware of its content.