Experimental / Avantgarde / Weird & Wired / Glitch / Noise / Field Recording
Edit (10944)
After being live for just over a decade, Ian Rawes' London Sound Survey, an online collection of over 2000 field recordings of environments in and around the capital city, has purportedly documented a substantial change in London's soundscape since the project began. "Thames" is a collection of eight unprocessed and original field recordings, from different times during the last decade, presented with explanation but without comment.

As such they stand alone as eight mini soundscapes- between three and seven minutes long each- that fall generally into two categories (in my opinion). The first of these is the "Tower Bridge" category. From one angle, this is the epitome of music concrete. The harmonious, almost-melodic drone of final track "Tower Bridge: Machine Room" is accidentally more musical than some intention compositions, mirroring first track "Tower Bridge: North Bascule Chamber" which with its distant tannoy announcements and more percussive sounds of everyday life, feels like a staple work of ambient music as practised years ago by dance acts like The JAMs or The Art Of Noise. The sightseeing boat horn audible on "Tower Bridge: South Bascule Chamber" almost feels like cheating, since it is a deliberately composed three-note warning siren where the melody has not arisen purely by accident.

The second category is calmer, wildlife environments- as though setting out to show the ecological health of the city by the volume of its natural sounds, or wandering into twitcher territory. There's a neat juxtaposition between "Allhallows Marshes: Day"- a very purist bit of wildlife sound recording, full of busy birdsong- and "Coryton Refinery Siren", the note of a siren at a now-closed oil refinery which is so tuneful and strangely emotive that you might initially believe it's a rare birdsong. Following it with "Maplin Sands", a quieter and possibly more dusky bit of birdsong soundscape, is a smart bit of intentional compilation.

The exception to the above categories is "The Albert Basin", a short recording of weighted halyards clanking against metal flagpoles which have been removed since the recording- it's a sort of off-key wind chime effect, fairly relaxing, and also potentially quite nostalgic for anyone who used to live close enough to hear it.

It's a neat and accessible found sound collection which, while it could never claim to make any broader claims about the city as a whole or what it sonically represents, provides us with some thoughtful set pieces and which should provide strong encouragement to wear headphones less often when wandering around the greater London area.
Experimental / Avantgarde / Weird & Wired / Glitch / Noise / Field Recording
Edit (10932)
Artist:
Spoelstra
Title:
West Side Story Winner of Ten Academy Awards
Format:
CD + Download
Label:
Narrowminded
(@)
Rated:
I guess I sort of made the mistake of popping this into the CD player before reading the accompanying one-sheet, searching the internet for info, or doing any kind of homework on this at all. To me, it sounded like Captain Beefheart without the Captain; plenty of beef though. Avant-garde mayhem tempered with some temper but I just didn't get that it was dekonstruketed West Side Story, that Bernstein B'way musical that is the most truly American romantic tragedies ever foisted on the public. I suppose it took a deep underground Dutch avant garde band – Spoelstra, to pull it off, or even attempt such a thing. On the bandcamp site (where you can listen to the album) there is a lengthy description of each track that begins "Gross misrepresentations of all songs of the musical West Side Story as performed in seven chapters," which of course, I read in its entirety. If you want to be spared reading it yourself, it's a satirical take on the plot of WSS in minute detail, without mentioning any names. While this purports to be an avant garde take on the music of 'West Side Story,' in actuality there are only some passages where form and melody resemble anything approximating Bernstein's creation. It's all instrumental, so you don't have to worry about anybody warbling "Maria," "America," or "Somewhere". Yet sometimes those melodies do surface amidst "hysterical prog events, discordant guitar alarms, polyrhythmic pile-ups, untrue country and fluffy drones" as the one-sheet put it. In spite of its chaotic off-kilter rhythm and fractious-frantic guitar beginning after the arrhythmic finger-snaps, this is a deeper, more rewarding listening experience than conceptually it has any right to be. The sheer variety of quirky moods, sonic insanity, bizarre rhythms, repetitive mind-fuckness and bending over backwards to execute this crazy mess is something that deserves a REALLY BIG round of applause. Unfortunately, like most avant-garde works by marginal artists it will either go unnoticed, unappreciated or held in contempt. There is more of worth here though than a good dozen modern avant-garde groups that I can think of.
Italian Von Tesla takes the sonic palette of synth sounds more commonly found in more mainstream electronica and techno, and, by more conventionally musical methods and also via custom software development, breaks them down and disassembles them into structures that go beyond glitchy electronica and into more experimental and even randomised territory. However instead of the aggressive, gritty, "smash the system" attitude that this is sometimes handled with, this is a much much gentler affair- almost passive in its steady, undramatic layout.

Among the more accessible tracks are "Everything" (sorry, "E v e r y t h i n g"), an endearing bit of awkward-beat glitch that twists and warps in a generally cheery manner which is about as unchallenging as glitch gets. Similarly "Out Of The Surface" uses the familiar device of super-soft melodic chords contrasting with fairly frenetic high-pitched clicks and bleeps for a result which ought not to be mellow, but somehow is. "Lighted Room", by contrast, is darker and sparser and could readily soundtrack the sinister alien landscape part of a game. Grumbling eighteen-minute piece "Echoes Of The End" is the most industrial-sounding moment here, a semi-robotic affair of arpeggiating proto-acid loops, while the slightly more stuttering approach of "Feedforward" is also interesting.

There are tracks which use their duration to draw you in- the thirteen minute "E-e" is a loose assembly of seemingly random and sparse synth melody notes that initially seems gently broken but which, by the end, has begun to feel like a new definition of normal. Something about the washy atmospherics of "Infinity Reveal" and the brooding final track "In The Red" feel like a throwback a couple of decades to earlier days of electronic ambient- the former containing one noise in particular that triggers a Future Sound Of London comparison I just can't shake.

It's a release that perhaps could have been gently curated down into a single-CD format; the average track length is nine and a half minutes and that could certainly be accused of self-indulgence or an unwillingness to edit. Brevity issues aside though, it's a strong and accomplished bit of devolutionary electronica that explores the wiring under the board and comes up with something listenable and distinct.
Experimental / Avantgarde / Weird & Wired / Glitch / Noise / Field Recording
Edit (10918)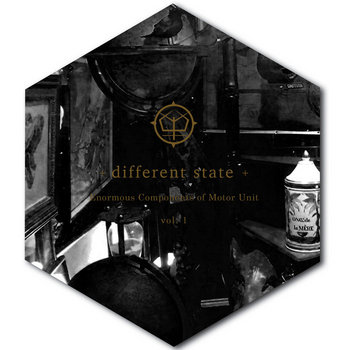 This release marks the return of Different State with new music after several reissues on Zoharum. While the other project by Marek Marchoff, 23Threads, has a clear sound, "Enormous Components of Motor Unit" is characterized by raw, and almost low-fi, textures so the music in an intermediate state between the song form and the experimental one.
The linear crescendo in amplitude of the static framework of "Motor Unit" introduces the listener towards "Electricus" where the voice of Ingrid Swen balances the noisy and mechanical accompaniment. "Knar | Rank" proceeds by accumulation with a mechanical beats, samples and loops until in the final part distorted note of bass closes the track. "Within" is almost a catchy pop tune based on the voice of Marek Marchoff upon a danceable loop. With a cleaner sound "Mental" is an incursion on psychedelic rock territories while "Additional Components" in post industrial one with a more claustrophile sound. "An Absolute Necessity" alternates hypnotic resonances with noisy interludes while "Effector (Zenial)" closes this release with a quiet atmospheric introduction to a main part based on a metallic beat and distant voices.
While it's not exactly easy listening, the wandering among genres implicates a multifaceted listening experience that will mainly be enjoyed by fans of industrial music but could well draw a larger audience. Recommended.
Experimental / Avantgarde / Weird & Wired / Glitch / Noise / Field Recording
Edit (10916)
Artist:
Alessandra Eramo
Title:
Tracing South
Format:
12" vinyl + Download
Label:
Corvo Records
On "Tracing South", Berlin-based sound artist Alessendra Eramo focuses very heavily on experiments with her own voice, in a theatrical and not over-processed manner that harks back several decades. Eramo repeats words and phrases, overlapping, looping, and counterpointing both linguistic and a-lingual vocal noises, often as the sole instrument. Around this work is a fairly light smattering of more modern-sounding electronic elements to add occasional extra textures- found sounds, and on rare occasions theremin and harmonica (all played by Eramo herself).

It all works best when it is either at its most playful, tinkering with sonic ideas, or most simple. "Really Very Gut!", with its over-effusive repetition of the 'really very', is bordering on childish, but very likeable, while the more electronics-heavy "My Favourite A Train" is probably both the most accomplished and most unusual piece here, while final piece "When I Look Into Your Eyes" is a purist singer's showcase.

When it 'goes serious' then it is perhaps more of a mixed bag. The juxtaposition of curt grunts with longer vocal drones on "Vacio" is very nicely executed, while the pure vocal performance at the root of "Primitive Bird" is both beautiful and impressive. However at times, such as on "I Cannot Neglect The Sea", there's a certain amount of self-indulgence to the introspection, which doesn't seem to sit as well as it might.

"Song For The Sun (Carnival Rites)" takes a totally different tack, blending together recordings of carnival music and celebration that devolve weirdly into radio white noise for a middle-of-the-album track that sounds like it's been lifted from a totally different work, but which is intriguing in its own right.

An applaudable collection of pieces from a very strong experimental vocalist.