Artist:
Cluster Lizard
(@)
Title:
Prophecy
Format:
CD
Label:
Prostir
Rated:
The focus on the fact that Cluster Lizard, the bicephalous project by Kvitnu boss and skilled sound forger Dmytro Fedorenko and the brilliant audio and visual artist Kateryna Zavoloka (the mind between the cover artworks of Kvitnu releases and author of the simple, but elegant one for this output in the guise of Cluster Lizard), haven't released anything under Kvitnu, as their debut came under the mark of French label Le Cabanon Records and this second album is the release number one for a newly founded imprint, they called Prostir, isn't a really relevant aspect of this ... I think that the fact it has the same name of the national electronic payment system, developed by Central Bank in Ukraine in 2016, their native land, is not a casual choice. Similarly, the choice of the title for their album, "Prophecy", is not casual at all. Would it refer to a prophecy for their country or something that could be spread to all our planet? Maybe the answer is in the middle, due to the choice of the quoted lines in the title of each track, grouping different examples of visionary and somehow prophetic writers, poets (including Lesya Ukrainka, one of the key figure of modern Ukrainian history - besides her fascinating poems, she became known for getting arrested by zarists due to its strong activism in the Marxist movement... hers is the first Ukrainian translation of Communist Manifesto) and even sci-fi movie makers (the title for the third track is nothing but an English transcription of the Brunnen-G fight chant, taken from Lexx, a Canadian-German sci-fi series, also known as Tales from a Parallel Universe). The conceptual framework is surely interesting, but it wouldn't eclipse the skills of these guys in translating into sounds and masterfully grasped noises of the ideas and images they arise with their prophetic visions, as it's clear since the very first track. Quoting a line by Blake, that the visionary English poet himself used for the frontispiece of a print on the origins of man, the ambivalence within a line like "The Sun's Light When He Unfolds It Depends On The Organ That he Beholds It" gets fully mirrored by the sounds of Cluster Lizard, where the same sound evokes different images on the basis of the organ sound by which they wrap it! The other tracks follow similar strategies and paths, along which this consolidated duo fills those lines by electro-industrial gizmos, awesome sonic engraving and wise usage of filters, that reaches really high peaks (not so far from the art of masters like Autechre) on "Come From Forever, And You Will Go Everywhere" (quoting Rimbaud) and the last "This Happened Before and It Will Happen Again".
Experimental / Avantgarde / Weird & Wired / Glitch / Noise / Field Recording
Edit (10851)
Artist:
Dafna Naphtali / Gordon Beeferman
(@)
Title:
Pulsing Dot
Format:
CD
Label:
Clang
(@)
Rated:
According to the press release, "Gordon Beeferman and Dafna Naphtali perform duet pieces and improvisations for piano and voice with kinetic sound processing, fractal rhythms, and general polyphonic/kaleidophonic disturbances." Now let's see what this sounds like. With Beeferman on the piano and Napthali credited with voice, live sound processing, and electronics, I had hopes that this would not be another classical recording masquerading as experimental music, and thankfully I was not disappointed. The disc opens with heavily processed vocals and sparse piano in "Transmission." Analogue noise bursts break through as the piano takes center stage, becoming increasingly more animated as the voice is reduced to pure tone, which then becomes more grist for the processing mill. Although this began rather minimal it ended up being quite interesting in the end. Next up, we have "Surface Disturbances." Animated piano, warbling analogue filter buzz, and theremin-like sweeps, mixed with snippets of voice give this the feel of a mashup of Looney Tunes incidental music and 1950s sci-fi movie sound effects. In other words, it was a fun listen. "Ozone Tongues" has a much more improvised feel to it, with the first part seeming somewhat disjointed. In some ways this segment is reminiscent of Bob Ostertag's "Attention Span." The second half brings in voice and rapid-fire piano. At 5:32, "Elegy for Bones" is the shortest track on the album. Here, voice comes to the forefront, and the piano is much more subdued, with sparse playing that is then processed and looped. In contrast, the voice is left virtually untouched, as Napthali sings in tones like an avant-garde scat singer. The disc concludes with "Orbiter," bringing insistent, frantic piano to the forefront. Overall, this was a good listen, but at times the vocals were completely overshadowed by the piano. For me, this was fine, because I enjoyed the piano more than the vocals (this is just my personal preference, and your mileage may vary, of course). This album weighs in at around 52 minutes.
Experimental / Avantgarde / Weird & Wired / Glitch / Noise / Field Recording
Edit (10846)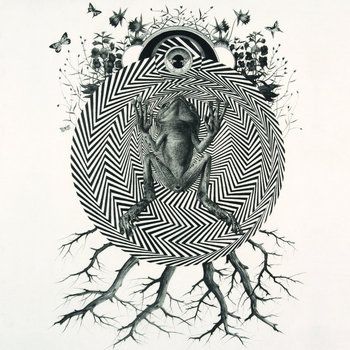 Artist:
Benjamin Finger / James Plotkin / Mia Zabelka
(@)
Title:
Pleasure-Voltage
Format:
12"
Label:
Karlrecords
(@)
Rated:
This release is the result of the collaboration between Benjamin Finger, whose "Into Light" was favorably reviewed a couple of months ago, James Plotkin, mostly known as a former member of Khanate, and Mia Zabelka, whose work in sound art is probably as important as unknown to the masses. "Pleasure-Voltage" is not a release based on a rather complex premise but it's simply, so to speak, a juxtaposition between the different musical language of the artist involved: ambient, industrial and sound art.
The A side is occupied by "Hostile Structures" which starts with a suspended atmosphere made out of the wide chords of guitar, the short notes of the violin and the piano using reverb to fill the sonic spectrum, then the second part features a dryer sound as the elements are in a quieter background while the third is almost ethereal approaching drone and the final part makes use of noises to create a precarious equilibrium between psychedelia, drone and EAI.
The B side is instead occupied by "Kaleidoscopic Nerves" which has a more linear structure based on reverberated tones and samples to obtain an equilibrium between a noisy background and a droning foreground, a stop and quiet notes of piano marks the beginning of the second part of the track that is a journey from a rain of notes to a wide drone horizon.
This is an impressive release created with already known elements and a widely used framework, but the quality of writing and the crafting of sound is of so high profile that could even give the impression to be innovative. It's really a work of art.
Artist:
Klās'tĭk
Title:
Night's Highest Noon
Format:
CD
Label:
KrysaliSound
(@)
Rated:
It's really difficult to sound original without falling in the basin of cliches or already heard or in the dangerous pools of stylistical nonsense, where the stable of sharks of revieweres angrily surf. This duo, named in a way whose pronunciation is pretty obscure to me, consisting of Berlin-based Andrea Koch (giving voice and a set of electronic devices and FXs) and Warszaw-based Masaya Hijikata (hitting acoustic drums on this record), invites joining to a very stimulating sonic journey, during which they overlap more or less modified vocal modulations (and sparse singing), jazzy drumming, metamorphic electronic entities. Complying with the obsession of labeling styles, I could consider their music a sort of ambient-jazz, a label that could be somehow confusing. Complying with the other obsession (sometimes necessary to render an idea of what's going to reach your aural nerves, to be honest) of searching for some vague references, the task becomes harder to be fully fulfilled. Some puzzling rhythmical patterns, that these nice guys let collide with computational blurs as in a gargling of a prolonged mouthwash (like the one occurring over the title-track "Night's Highest Noon") or the way by which they juxtapose the same vocal layers to saturate the sound in a sort of spooky transmissions (really amazing the one matched to a drum-driven crescendo on "Commuters"), vaguely resembles some experiments by some Japanese avantagarde musicians of the first years of current millenium (such as Bisk or Yoshihiro Hanno). Similarly, some quiet moments over the album could resemble some ambient classics by Steve Roach or Brian Eno and other ones get closer to holy music, but speaking in general what this bipolar entity assembled over three years of recordings (between 2014 and 2016) is significantly original and interesting. Mixing in their own words "from one side Japanese martial arts, Butoh dance and quantum physics time mapping drumming; from the other one choir music, artificial philosophy and disorienting computer sampling", the definition of their bipolar sound could be easily grabbed by skipping the tracks till track 6 to be listened before track 7, a significant sequence between the blissful standstill of "Delle Marianne" and the chaotic futuristic storm of "Regina Coel". It's pretty rare a debut album pleased my demanding ears like this one did.
Experimental / Avantgarde / Weird & Wired / Glitch / Noise / Field Recording
Edit (10839)
Artist:
Felipe Araya
(@)
Title:
Punata
Format:
Tape
Label:
Eh?
(@)
Rated:
We start off with "Punata," a 26-minute track that, according to the liner notes, was recorded to mobile phone in Bolivia. From the very beginning, there is a rawness to the piece, as you hear conversations taking place in the street, and snippets of music. Suddenly, there is hardly any sound, with bits of wind noise the only clue that the tape has not stopped. There are sparse sounds of the cajon, Araya's signature instrument, and other bits of noise. Everything is quiet, until a parade blasts through your speakers. The parade ends, to be replaced by quiet scraping and clinking metal and a slight rumble. One can view this as the juxtaposition of quiet moments of reflection and experimentation with the vibrant noise of the street. Back and forth, never staying with one side for very long. Turning over the tape, we are greeted with a peaceful flute followed by low beating on the cajon and clinking metal. Gone are the field recordings and loops. For a while, it has the feel of incidental music, but as the track goes on, it is dominated more and more by the cajon, with a heavy bass presence. This becomes increasingly animated as Araya scrapes and vigorously pounds on the cajon. With both tracks there is a good use of quiet passages to draw attention to the rest of the composition. If you enjoy field recordings, Punata will be up your alley, and percussion aficionados will enjoy a track featuring an instrument that is not often seen in experimental music.