Experimental / Avantgarde / Weird & Wired / Glitch / Noise / Field Recording
Edit (8995)
problems
with image
availability
Artist:
Brett Carson
(@)
Title:
Quattuor Elephantis
Format:
CD
Label:
Edgetone Records
Rated:
Quattuor Elephantis is the work of four musicians: Brett Carson on keyboard and compositions, Robert Lopez on drums, Mateo Lugo on electric guitar, and Scott Siler on vibraphone and percussion. This gives some indication of what we're in for. The label description seems a bit pretentious. 'A project of pianist Brett Carson, Quattuor Elephantis represents an intelligible entirety, dynamic and volatile, perceived through the kaleidoscopic effluence of the Four Cosmic Pillars. A brew of primeval energy is parsed and made available for consumption. Four musicians navigating constructed worlds. Psychic debris accumulates in corners of sound-space and crystallizes into intricate compositional/improvisational structures. Creation appears to organize itself, only to return once again to the Void.' Let's see if it holds up. After a long fade in, 'The Crater' unleashes a chaotic piece where different instruments come to the foreground at different times. The one that really shines here is the vibraphone, while the drums come in short bursts and everything just barely holds together. So far, we're off to a good start. 'Aluminum Elephant Machine' provides a 48 second intermission where they play a staccato piece generally in unison. 'Death Drives A Porsche' brings back the dissonance as vibraphone gives way to grinding, distorted guitar. But there is a lot of variety here, as everything goes quiet, with sparse, dreamy tones before taking off again. Next up, we have the radio-friendly title 'The Silver Amoebas Were Silent Yet Lovely in Their Exquisite Passion,' which is more sparse than the previous tracks, with bits of guitar and drums. At times musicians seem to jump out, play a bit, then recede into the background. As a drummer, I was happy to hear an honest to goodness drum solo toward the end. 'Inside Darkness / Wet Fins' is the most 'normal' composition on the track, and continues to illustrate the ease with which these musicians shift styles. The move seamlessly between dreamy, contemplative drone to spastic improve to some funk. 'And Thus The Fuzzy Trapezoid Was Born' finishes it off with sparse, staccato stabs in unison, which eventually opens up toward the end. So what do we make of the label's description? Perceived through the kaleidoscopic effluence of the Four Cosmic Pillars? Perhaps not, but they definitely fit the bill of 'an intelligible entirety, dynamic and volatile' with 'intricate compositional / improvisational structures.' If you like experimental jazz, this is one to check out.
Experimental / Avantgarde / Weird & Wired / Glitch / Noise / Field Recording
Edit (8994)
Artist:
Oa
(@)
Title:
s/t
Format:
CD
Label:
Edgetone Records
Rated:
Oa is the work of Hugh Behm-Steinberg and Matt Davignon, who are assisted by a host of individuals who provided spoken word for this release. The label describes the album as such: Oa 'uses spoken stories, phrases, words and phonemes as the building blocks for improvised experimental music. Matt has been electronically manipulating sounds for over 20 years, including building an organic voice for drum machine,' and 'Hugh's poetry has been published in [various] books... Oa's debut CD compiles improvisations for samplers and digital turntables, mixing all the voices into a musical soup with ebbing and flowing narratives.' Sounds promising ' let's get into the music. We start with 'George,' which features spoken word about a 7-year-old, non-verbal, autistic boy. When it begins skipping, I first thought that it was a problem with the disc, but as it became increasingly glitch I realized that this as intentional. The voice slowly becomes enveloped in drone and vocal tones as it drags you into its disjointed narrative. 'Horsehead' features a different voice and a more processed, less lucid feel. Buzzing drone wash over overdubbed voices that tell a vaguely sinister story in which we find that she gave a horse head as a gift. 'Travel' continues this trajectory toward noisiness with a pulsing, repetitive melody over a story about a cat which becomes processed beyond recognition. The rest of the album follows a similar track between these extremes of clarity and noise, all with stories that you wish you could hear the end of. Overall, this was an interesting album and the stories, which range from the typical spoken word already discussed to the distorted answering machine messages of 'I'll Wait' provides a nice thread of continuity throughout. Well worth checking out.
Experimental / Avantgarde / Weird & Wired / Glitch / Noise / Field Recording
Edit (8991)
Artist:
HATI
(@)
Title:
Metanous
Format:
CD
Label:
Zoharum
(@)
Distributor:
Alchembria
Rated:
In this release, based on recording made in 2011-2012, HATI performed as a trio with Robert Darowski and this change from the usual duo formation permits the insertion of wind instruments with the usual barrage of percussions. As RafaÅ IwaÅski and RafaÅ KoÅacki are now the only members of HATI this album is mainly a document however it's an hypnotic release as the insertion of Dabrowski's drone creates a particular musical configuration.
When "Cascades" starts, it's almost clear that the rhythm is the basic elements of this release but, instead of being a fixed element, it's slowly but inexorably moving. "Thalu" is instead based on a didgeridoo used as a canvas colored by the metal percussions. "Passage" is an almost silent track that uses resonances of the bells and quiet rattles. The flute and the didgeridoo of the first part of "Alpha at Omega" are mirrored by the cymbal and bells of the second part. "Fusion" is a dialogue for didgeridoo and percussions. "Wangga" is a dialogue for didgeridoo and flues in the first part, for didgeridoo and rattles in the second part and for percussions and horn in the third part. "Purga" is an exploration of the resonances of metallic percussion above wind instruments.
An hypnotic and charming release revealing how percussions could create a sort of spiritual music environment and escape the feeling of repetitiveness with the use of flute and the didgeridoo but mainly treating the rhythmic pattern as something to evolve rather than something to follow. A must for fans of the genre.
Experimental / Avantgarde / Weird & Wired / Glitch / Noise / Field Recording
Edit (8990)
image not
available
anymore
Artist:
Randal Collier-Ford
Title:
Remnants
Format:
CD
Label:
Cryo Chamber
(@)
Rated:
This new album from Randal Collier-Ford on Cryo Chamber is presented shortly as an album able to "soothe the listener into a black whirlpool of unexpected evolving sound design", but in fact is a clever reworking of the usual dark ambient format of this label. The form is consistently altered to search an almost new path in soundscape construction.
The stereo field is used as an element of bearing in "Monument", "Horns of Eden" uses small fractions of silence. "Remnants" is focused on rhythms in their relationship with drones. "Dies Illa" is a sort of reworking of martial removing all the rhetoric. "Suspension of Icarus" is based on ebb and flows of the drone pitch. "Eye of the West" uses a drone as a glue for the sample. "Black Garden" lets the samples emerge when the drones ends. "Pale Horse" is the more aggressive track as it uses noisy samples. "Decaying Sun" has a sort of sci-fi influence as it uses sharp samples. "Revelations" closes this release with a sort of dance beat.
The remarkable use of dynamics, the craft in sound construction and the variety of musical path earn this release a spot in the end of the year's list as it's an example on how to renew a genre using influence of other musical paths. The use of headphone is truly recommended to enjoy all the musical subtleties of this release. A must to hear.
Experimental / Avantgarde / Weird & Wired / Glitch / Noise / Field Recording
Edit (8989)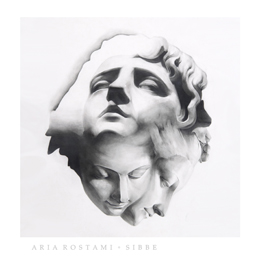 Artist:
Aria Rostami
(@)
Title:
Sibbe
Format:
Download Only (MP3 + Lossless)
Label:
Audiobulb
(@)
Rated:
As stated in the liner notes, this album is based on the relationship between America and Iran from the viewpoint on the artist's status of being a child of immigrants from Iran. This is related to the concern that his viewpoint is based on how Iran is narrated from other immigrants or media. So, this album is partly based on field recordings sent to Aria Rostami from Tehran or other Iranian cities and it's a demonstration of how technology can connect different cultures.
The gentle texture of "Delta" introduces the listener in a sonic environment centered on little bells suddenly covered by noise samples until their return in the final part of the song. "Sibbe" features recordings of folk iranian music, or so it seems. "Sibbe II" is developed from layers of samples and "Sibbe III" is a static soundscape featuring small distant beats. The sequence of the three part of this track reveals how some sounds are culturally associated to media's vision of middle east. The first part of "Nosferatuva" is based on a sample played as it's a punctuation mark while his second part is a quiet but dark soundscape. "Vietnamoses" is based on field recordings used as an introduction of a sort of oriental beat or the occidental perception of it. "Crwthrúd" closes this release reworking that sound of string instruments mostly known to be present in the OST of some iranian movie.
This is a release which reminds how sound is bound to some cultural codes of habit based on what is absent in another one. So, this is not only an enjoyable release but also an important one. It's really worth a listen.