Artist:
Simon Scott
(@)
Title:
Insomni
Format:
CD
Label:
Ash International
Rated:
British multi-instrumentalist and sound ecologist Simon Scott, whose name is well-known to many Slowdive fans as he's been the drummer of the recently regrouped shoegaze band since 1991, mainly focuses on awesome tonal studios on his solo workouts. In spite of some connections to the sound and the concept of his recent output "Below Sea Level" for Wozencroft's label Touch - many tracks of this output, such as "Holme Posts" or "Fen Drove", features environmental sounds that he supposedly grabbed in Cambridgeshire and Huntingdonshire, where there's the lowest point in Great Britain (if I remember well around 3 metres below sea level) -, "Insomni" is an output on Touch sister-label Ash International which has not a proper conceptual framework, even if someone could confuse the fact it was made during a sleepless night as a concept. The way by which Simon combines effected guitars, electronics, digital signal processing, field recordings - lovely the above-mentioned ones that he grabbed in Home Fen Posts - as well as the sounds he made from a series of found objects (including the humming of his fridge mirror, the hissing of a DVD player, a broken laptop and other domestic resounding entities, which have been some of the sparkles for Simon's creativity) could let you imagine he tried to mic any air flow between his sensorial sphere and the environment blowing into his personal circadian pinwheel: I particularly enjoyed the moments where some lucid dreams seem to gush out of majestic artifacts of a masterful dronegazer like Simon such as the opening "An Angel From The Sea Kissed Me" or the likewise catchy "Confusion In Her Eyes", as the transitions between almost ecstatic sound-sets towards saturations and distortions, where the seemingly peaceful doldrums of the opening waves turn into stormy waters, are a remarkable aural pleasure, well as the moments where the interferences of "concrete" sounds and circling reverie result into a sort of dirty ecstasy as it happens on "Oaks Grow Stronger". In the second part of "Insomni", Simon focuses on the sound of acoustic guitar in a way that could let you think that the first lights of dawn gradually manage to brighten up the sound by means of a sort of catharsis, which vanishes the disturbances which previously harnessed the rendering of the emotional carousel by means of really lovely tracks like "Far From The Tree", "Nettle Bed", "Ternal" and the sweet lulling of the final "Swanbark".
Artist:
Miguel Frasconi
(@)
Title:
Standing Breakage (for Stan Brakhage)
Format:
Download Only (MP3 + Lossless)
Label:
clang
(@)
Rated:
It's a known fact that many interesting and sometimes really important discoveries are purely accidental. It's what occurred to American composer Miguel Frasconi on the occasion of the first "score" of this composition, as while he was working on sounds he keeps on making from glass instruments or objects - he was one of the founders of The Glass Orchestra in late 70ies and some of his sonic findings were borrowed to well-known composers, musicians and sound artists such as John Cage, Jon Hassell and Morton Subotnick -, a quartz crystal glass bowl got damaged, but instead of replacing it, he decided to check how it could sound and this aspect if the first relevant one of this output; according to his own words, "almost all the sound in this particular piece come from one quartz crystal glass bowl which had been struck a bit too forcefully during a rehearsal a few months before. The instrument was still whole but there was a clean fracture from its rim to its base. Right away I knew I needed to record the attempts to complete the breakage.". The second relevant and somehow surprising element of "Standing Breakage" is what happened after this discovery: "I was curious to hear which new pitches would result from splitting apart the original pitch of G#. But once again glass proved to be unpredictable, this time in its refusal to break further. As hard as I tried throughout the recordings for this project, the bowl would not continue to crack. Many wonderful sounds were coaxed from this one object in its unusual state, particularly the vibrations resulting from rubbing and striking near the fissure". The manipulation and the alteration of these sounds provided new stuff for this 20-minutes lasting suite, whose title is a play on words and an appropriate dedication to the late experimental filmmaker Stan Brakhage, who occasionally filmed breaking glass objects for some of his outputs.
Experimental / Avantgarde / Weird & Wired / Glitch / Noise / Field Recording
Edit (9095)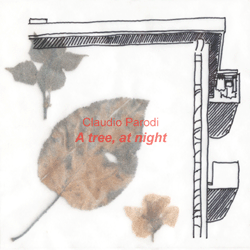 Artist:
Claudio Parodi
(@)
Title:
A tree, at night
Format:
CD
Label:
luscinia discos
(@)
Rated:
Claudio Parodi seems the typical example of an errant composer always searching for new path; after album of rigorous, and abstract, music research arrives at a sort of narrative album closer to the Residents' releases of the '80s. The relocation in a new house is the excuse to make a portrait of the new neighborhood which is a mirror of a part of the country and a social reflection as our cities became empty as book shops and cinemas close. So, the album is completely focused on the voices of Luigi Marangoni and Bobby Soul while Claudio Parodi set a quiet musical background with thumb piano and shakers overtly influenced by the african tradition of accompany a narrator which entertains the listeners.
The thumb piano that opens 'A tree, at night' introduces the listener into a sound field closer to some forms of radio drama as it aims to underline the voices; and the line "feather of an eagle" sounds as a loop which will recur along the album. 'Il Sediosauro' enacts the figure of the meddler living in a bench observing everything while 'corridoio, la Donna bicipite' portrays the figure of a smoking woman. The female cook of 'scale, Foglia rinsecchita' talks about the altercation heard in a condominium. 'Sutra di Guscio di Lumaca' features the most complex writing of this release as it compares the cyclist to the snail as only who travels slowly has the time to know the places and it could be a metaphor of the writer. 'Il Maniaco della Pulizia' is a mockery of the kind of person obsessed with cleanliness seen as someone who sees the world out of control. 'Sentenza n. 2255' orders the tree's cut that deprives the snail of an home. 'The red bad cat gang' is an interlude which reminds of some old cartoon about cats. 'Feather of an eagle' closes this release depicting the sense of relocating in a new home.
This release is another shift in the musical output of this artist as it's a work completely focused on words and is an half-serious portrait of a condominium so it's truly recommended to follow the music with the booklet to enjoy the search of the musicality of the speech. Truly recommended.
Experimental / Avantgarde / Weird & Wired / Glitch / Noise / Field Recording
Edit (9087)
Artist:
Marco Scarassatti
Title:
Novelo Elétrico
Format:
CD
Label:
Creative Sources
(@)
Rated:
The fact I'm writing one day before the 103rd "birthday" (even if passed away in 1984) of the Swiss-born sound artist, composer and brilliant inventor of new instrument Walter Smetak is a pure coincidence. As the well-informed should know, he mainly lived and worked in Brasil and his inventiveness as well as his "pioneering spirit", spurred by the alchemical belief that music and sound were nothing but mediums to reach different levels of knowledge and awareness, had a strong influence on the birth of the so-called Tropicalia or Tropicalismo - named after "Tropicália: ou Panis et Circencis", a collaborative album by Caetano Veloso and Gilberto Gil - in the late 60ies, which fused popular and traditional aspects of Brazilian culture with avant-garde and "exotic" elements. Walter Smetak could be considered the main source of inspiration of Marco Scarassatti, who inherited both the spiritual framework, which has been the subject of his essay "Walter Smetak, the alchemist of sounds" (Perspective/SESC, 2008), and his knack of making new musical instruments, but after listening to this "Novelo Eletrico", where he used some of his inventions, I could say there are even some stylistic similarities - if you check Smetak's self-named album that came out on Philips in 1974, you can easily notice them -. I can't really say how a flugelsax cretino, a magnum chaos, an ikebana-flor, an ovni or an harpa paleolitica - some of the instruments used by Marco - work, but I can check how they sound in the five tracks of this album: I particularly enjoyed "dream work", a tribute to the well-known short film by Peter Tscherkassky, as it sounds as hypnotical and hallucinatory as that kind of video art, and the oblique sonorities of the final "magnum chaos's portrait", but the other moments of this release are likewise interesting.
Experimental / Avantgarde / Weird & Wired / Glitch / Noise / Field Recording
Edit (9086)
Artist:
Ferran Fages & Ernesto Rodrigues
(@)
Title:
CRU
Format:
CD
Label:
Creative Sources
(@)
Rated:
Anytime I listen to something by Spanish sound artist Ferran Fages, who gained some acknowledgements in the improv scene for a set of interesting experiments mainly on electronic devices but also on turntables and guitars, I have the impression he manages to enhance silent brakes in between more or less drone-like sounds. On the occasion of this release, he co-signed with Ernesto Rodrigues, who inserted some snippet of more or less modified tones of his viola, you could imagine that those silent brakes is the field recording they took in the middle of some street, which features the 37-minutes lasting track and is the really pervasive elements of this recording, where their inserts (I'm not sure they recorded and inserted in different moments or simultaneously, even if I could guess Ferran and Ernesto put their resounding stuff in different moments as the linear notes say that "CRU" was recorded in Barcelona in 2013 and in Lisbon in 2014) could be like thoughts or feelings in between the overwhelming and somehow disturbing "silence" of road traffic noise, which managed to interrupt the stream of consciousness of the sentient passer-by or bystander. It's neither an exhibition of samples nor of compositional skills, but it could be considered a likewise fascinating listening experience.