Artist:
Venetian Snares
Title:
Traditional Synthesizer Music
Format:
CD
Label:
Timesig
Rated:
I've heard that the expectations of many fans of Winnipeg-born electronic music composer Aaron Funk, better known as Venetian Snares, weren't fully fulfilled by "My Love Is A Bulldozer", the album by which he broke a silence that was lasting more than four years. I honestly don't understand the reason and I can't believe that some followers opted for s sort of puritanical ostracism after having listened to the more romantic refrain of that output on the title-track ("Only you / can make my dick feel like this"... I won't scandalize by the fact that some words could come from an overexcited hippocentaur, the image chosen for the cover artwork!). Coached in a title that sounds like the one of a collection of mawkishly tedious folk songs, his new output by the Canadian giant, who can boast of both his remarkably physical height as well as by his likewise high creative flair, seems to remain faithful to a couple of "traditions", which manage to bring reciprocal benefits to the point they can't sound too aged. I'm obviously referring to the instrument that he widely handled on this collection of tracks that he exclusively created and performed on live stage, his own modular synthesizer, whose sound taste like those traditional flavours, that keep on charming many electronic composers, including Richard James (Aphex Twin), a sort of sonic kindred spirit of Vsnares - tracks like "Decembers" or "She Married A Chess Computer In The End" could resemble AFX's "Analords" -, but I also refers to the "template" of many moments of this collection, which is close to the style of his very first outputs, where polymorphic breaks and deconstructed rhythmical patterns - in between breakcore and IDM - cling to likewise frantically mutations of acid sounds and bleeps. You'll see the reference to a numbered sequence of version after the title of some songs (e.g."Dreamnt person v3", "Magnificent Stumble v2", "Can't Vote For Yourself v1", "Anxattack Boss Level19 v3" and so on); they supposedly refer to the fact that Aaron made many different variations of each song and the one you'll find is the take he selected. Highly recommended!
Artist:
Le Révélateur
(@)
Title:
Hyper
Format:
12"
Label:
Dekorder
Rated:
Dekorder's griffin seems to have been rested for a while after its 10th birthday, but its first flutters over the rugged land of electronics of 2016 are really interesting and feed the Hybrid Vinyl Series that came after the celebration of the first decade of Marc Richter's imprint. One of these flutters - the ninth of the above-mentioned series - came from Le Révélateur, a project I've never heard before, led by Roger Tellier-Craig, formerly a collaborator of many Montreal-based bands (Set Fire To Flames, Godspeed You! Black Emperor and Fly Pan Am) and soundtrack of many nice clips by video artist Sabrina Ratté. This picture single-sided vinyl includes just a couple of tracks, where he digs into interesting (supposedly laptop-driven) electronic explorations, where sets of seemingly amorphous and sometimes disorganized buzzes, bleeps and clangs sound like ascending and finding a sort of ethereal mirroring in the initial "Imagineers Are Governed" and shaking like crazily unstable particles in a molecular accelerator, whose structures are like fractured holograms that got pushed towards annihilation on "Fakeaway Haptics". Once upon a time, someone could have labelled releases (or revelations) like Roger's ones as "glitch"...
Experimental / Avantgarde / Weird & Wired / Glitch / Noise / Field Recording
Edit (9134)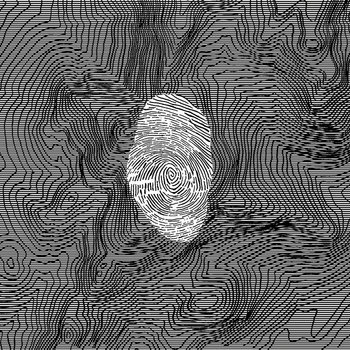 Artist:
Strom Noir / Micromelancolié
(@)
Title:
49°05'19,3"N 22°34'04,0"E
Format:
CD
Label:
Zoharum
(@)
Distributor:
Alchembria
Rated:
The coordinates of the enigmatic title "49°05'19,3"N22°34'04,0'E", according to Google Maps, refers to a place at the borders between Poland and Ukraine or it could be a place between Poland and Slovakia, the countries of the two artists responsible from this release, Strom Noir and Micromelancolié. The cover art is an hint on fingerprint as the theme of the release, not only cartography as it's based on an altimetric chart, so it could be a metaphor of security concerns related to migratory flux.
The first track, or part, of this release starts with a drone which is juxtaposed by field recording from something walking and a whistle introduces the first sparse note of the guitar of Strom Noir and suddenly the atmosphere became darker and a sense of stillness pervades the listening as something has to happen. In fact, there the depiction of the exploration of an uninhabited area or a moving from a city and, so, the track ends with sparse noise and the reverberated sound of the guitar upon a bright drone which slowly evolves and fades. The second part of this release starts with a drone that evolves on a crescendo while the underlying field recordings continues to generate that sense of exploration and, after its peak, it became to descend upon some metallic samples as someone plants a pole or a fence as this recording is present when the drone ends to close this release with the last beat on the fence.
The sense of work of art is on the ambiguity which alludes to something outside of it and challenges the listener. This release could be a report of an exploration or about a reflection on borders that are strengthening every day passing. This is obtained from a series of subtle interactions between samples, sound and artwork and it's something aiming to something else than a mere work on a codified form. Almost a masterpiece.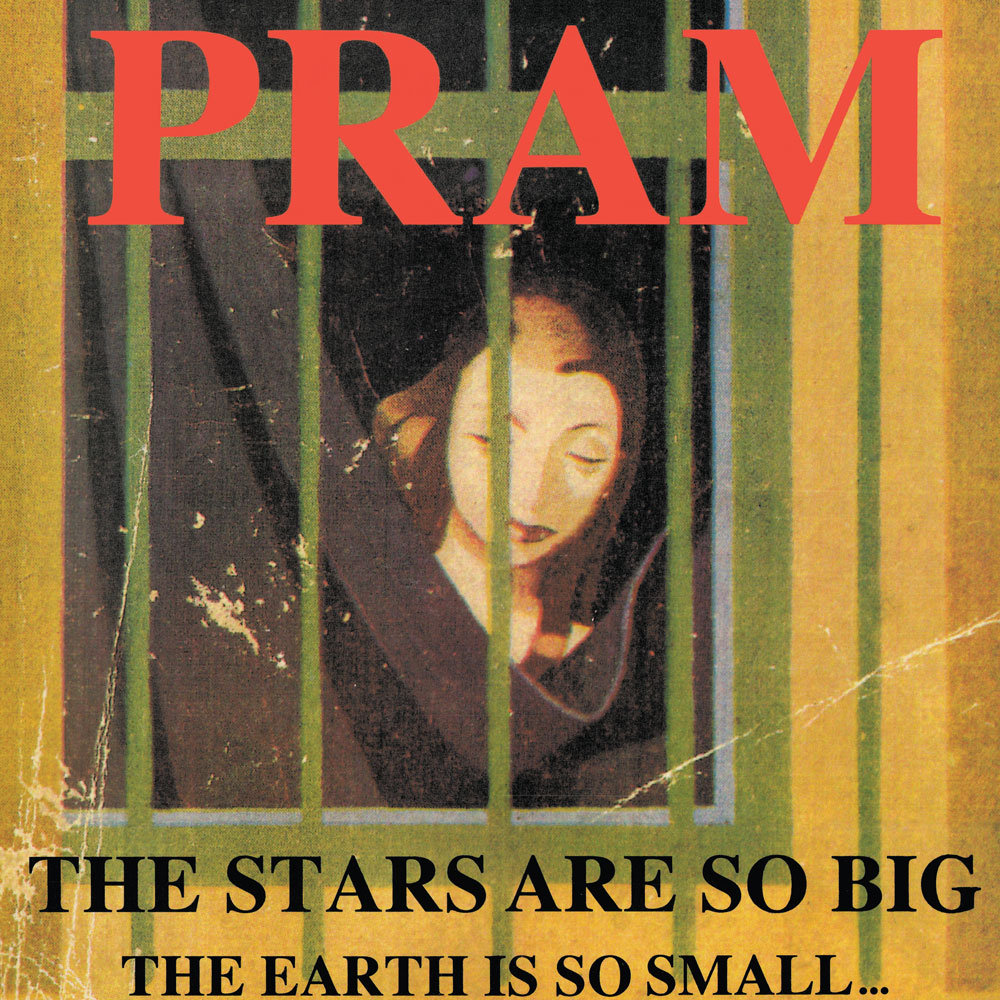 Artist:
Pram
Title:
The Stars Are So Big... The Earth Is So Small... Stay As You Are
Format:
12"
Label:
Medical Records
I missed this album the first time around, being four years old, and managed never in the years since to come into contact with the works of Pram at all. Now, thanks to present circumstances, I can at last get to know and enjoy this English band, who have turned out to be pretty superb.

First released in 1993 by Too Pure (also home to Stereolab and PJ Harvey), The Stars Are So Big... The Earth Is So Small... Stay As You Are was Pram's second LP. It's the first of two to have been reissued this year by Seattle's Medical Records, as part of a continuing project by the label to celebrate "seminal works" put out by Too Pure in the 1990s. In the case of The Stars Are So Big..., this reissue project takes the form of a red 180g vinyl repress, which I have not yet seen, but expect is a worthy labour of love.

Immediately evident when listening to this reissue is that it has not been remastered. This is distinct from some of Medical Records' other reissues, whose remasters have even been laudably restrained and clearly sensitive to the production of the original audio - showing taste and trustworthiness on the part of the label.
However, in this case, somebody involved decided a remaster wasn't necessary. The timbre of The Stars Are So Big... sounds soft and dated, muffled and a bit flat. It's possible that this sound was intentional even at the time, and that retaining it now is a conscious goal of the band's. I must agree, in any case, that there is no need to modernise these recordings. And this is likely true in most cases of reissuing music, however it was supposed to sound originally, unless we admit to participating in this period's fetishism for loudness and reappropriation, or devoting excessive energy to our commercial interests (if there's a difference). There is no 'right' way at all to do these things. But a listener's active acclimatisation to different kinds of recording and production styles, with their distinct historical and other kinds of grain, can be of great significance to the basic analyses and pleasures of musical experience. Both the process and any respect for it carry with them aesthetic as well as ethical importance.

To get to a more pertinent matter - the music itself - this album feels like a faintly twee, but rather opaque, mixture of dreamy art rock, kraut-like psychedelia and a little shoegaze. Through a filter of what sounds like no-budget, living-room production, the band's attention to detail and sonic experimentation are quite evident. Most generally, the album comprises distinct articulations of bass, guitar, electronics and drums, as well as the voice of Rosie Cuckson. On the opener 'Loco', she is nearly drowned out by noisy guitar and a throbbing, stop-start bassline. For the next tune, 'Radio Freak in a Storm', she spends the verses competing with a brilliant, metallic mallet synth motif; the guitar, this time, manifests as muted plucking. The sixteen-minute "In Dreams You Too Can Fly" is a splendid, relaxed jam. It falls quietly somewhere between jazzy stoner rock and what would later become known as post-rock, with horns provided by a guest musician known only as Verdigris. 'Milky' and the final piece 'Cape St. Vincent' are sweet and dreamy numbers, with Cuckson accompanied by cute melodies on glockenspiel, sprightly sinewave synth and, in the latter track, furry filtered piano.

Cuckson is often quite low in the mix on this record, a feature vaguely reminiscent of Belinder Butcher on MBV's Loveless. Another similarity is a prevalent emotional ambiguity, which at times Pram seem to take into outright obfuscation. Cuckson sings with an airy, aloof and shy manner, as if murmuring absently to herself. Particularly on 'Loredo Venus' and 'Dorothy', she conspires with the rest of the instrumentation to produce a beguiling, awkward and unsettling tone. It all feels fun and heartfelt, but also wry and quite uneasy. Somehow impenetrable, but deeply varied and enjoyable altogether.
Artist:
Mauoq & Medika
(@)
Title:
The First/Equator/Clusterfunk
Format:
Download Only (MP3 + Lossless)
Label:
Aluminium Shiny Shin Side Shack Out Music
Rated:
Many bass-driven music fans guessed that the so-called drumstep should have been another passing fad, but more or less hidden outputs like the one that recently come out on the newborn label Aluminium Shiny Shin Side Shack Out are suggestive of the fact that many reviewers announced the death of this branch too hastily. This short ammo of drumstep bullets is co-signed by Rome-born Mauro Campana aka Maouq - I firstly met his name and his sound on labels like Diffrent and Dispatch - and Brixtonian DJ and VJ Milena Lukic aka Medika - I've honestly never heard her name before - and includes three very good tracks (two solo and one bicephalous) that could fade the above-described premature obit out. "Clusterfunk", the first tune by lady Medika, features somehow claustrophobic sonorities by means of a catchy blend of rising breaks running like a rusty train over cracks, hits, splitting rails and alien growls, where the insertion of a spooky female voice (Medika's one?) could let you think she made this tune after setting a VPN up in order to chat with the ghost of a girl found dead under a train in some peripheral station of the subway. The (bass)line by Mauoq on his solo tune "Equator" seems to render a sort of sonic parade through the imaginary red-hot belt of our planet by a sequence of liquefying sounds, muffled metallic hits and more or less disguised clues from inhabitants of equatorial forests. A couple of good tunes, but the best moment of this sonic cookie, in my opinion, is "The First", the co-signed one, even if its somehow creepy nuance could remind the thrilling atmosphere of the scariest videogames by Monolith.