Experimental / Avantgarde / Weird & Wired / Glitch / Noise / Field Recording
Edit (10303)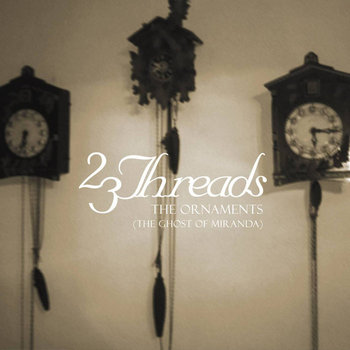 Artist:
23 Threads
Title:
The Ornaments (The Ghost of Miranda)
Format:
CD
Label:
Zoharum
(@)
Distributor:
Alchembria
Rated:
The return of 23 Threads with a new release is another work in balance between the neofolk and industrial but, while in their previous 'Conspicuous Unobstructed Path' they searched a sort of crossover between the two path, this time the tracks could be divided in two sections: the "song" and the "experiments". While half of the track could well be defined as proper, even if weird, neofolk songs, the other are centered upon more abstract and electronic elements.
The words by Ingrid Swen written in the inner sleeve are the center of "On This Darkest Night" where the background is as minimal as evocative. A track like "Rainy" based on voice and quiet guitar is peculiar with his ability to create something with nothing. If there wasn't the electronic treatments "No More Flesh for You" and "An Abyss" could sound as a neo folk track but they evolve in almost experimental territories, especially the first one. The almost noisy and evocative interlude of "My Name is Miranda" introduces the listener into the second part of this release. "Embrace the Stone" borders almost industrial territories as it doesn't feature any acoustic instrument, but "Now It Is Too Late" reassures the listener with the remarkable voice of Ingrid Swen. "Talisman-Only the Fog" borders almost pop territories but closes with an ambient final part. "Scattering of Storm/Sins" closes this release almost as cover of a Different State (the other project of Marek X. Marchoff) or as an hint of how the musical framework of the two band could collide in the near future.
Oscillating between neo folk and experimental aim, this time their musical influence could be perhaps too evident, and the album lacks a true unifying element, but it's so well written and executed that could well be appreciated by fans as they would realize that this is perhaps a transitional release. It's really worth a listen.
Artist:
Samuel Rohrer
(@)
Title:
Range of Regularity
Format:
CD
Label:
arjunamusic
(@)
Rated:
The open-minded attitude by Swiss-born (but Berlin-based) producer and improviser Samuel Rohrer can be easily guessed by the impressive diversity of festivals and their audience, where he performed (CTM Berlin, MoldeJazz in Norway, Nuits Sonores Lyon, Huddersfield Contemporary Music Festival, Vancouver International Festival, Sunwaves Festival in Romania and many more), as well as the variegated bunch of stylistic differences of the artists he works or worked with (Ricardo Villalobos, Nils Petter Molvaer, laurie Anderson, Eivind Aarset, Mark Feldman, Sidsel Endresen, just to name a few of them) and the collaborative projects (the one with Claudio Puntin and Max Loderbauer, AMBIQ, is maybe the most known). Such a grandiloquent CV could let you think that his solo work could be something snooty for an elitarian niche of listeners, but I don't think Samuel turned his nose up by this debut album, even it's something really classy. He forged six amazing movements, whose "regularity" made them easy to chew to listeners who prefer a certain immediacy in music, but this apparent simplicity got refined by intricate webs of overlaps and an impressive diversification of timbres through a wide kit of acoustic and electronic tools (including prepared drums, detuned ziter, found objects, mini synths, Moog-driven bass, cymbals and many percussions). Such a sophistication, that together with a clear stylistic refinement and a sort of functional slit by the author (looking like something in between a sound sculpturist and a live performer) in every single track, is going to delight more demanding listeners as well. The opening "Microcosmism" is a good starter, while the following "Lenina" (the first of the three longest - lasting more than ten minutes - suites) is a first assay of the skills of mirroring the apparent contrast between tradition and modernity of tools (electronic and acoustic) by the style (a sort of accelerated adaptation of traditional afrobeat!), but the first real evidence of Rohrer's rhythmical dexterity is clearer on the third track "Nimbus" (in spite of some rough presets). Samuel turns his sonic textures into a light-tight item on the contemplative 4-minutes lasting parenthesis of "Sunclue" (something good for meditation), before the aural pleasures he forged by the other two long-lasting suites (the obscure dub dim light of "War On Consciousness" - close to some stuff by Jah Wobble - and the awesome interplay between kraut and electronic dub of the final "Uncertain grace"). Check it out together with the outputs of his personal imprint arjunamusic.

Experimental / Avantgarde / Weird & Wired / Glitch / Noise / Field Recording
Edit (10300)
Artist:
TriAngular Bent
(@)
Title:
s/t
Format:
CD
Label:
self-released
Rated:
TriAngular Bent is a trio composed of Don Preston on piano, computer, electronics and gong; Jeff Boynton on cello and custom bent circuit instruments; and Philip Mantione on computer, custom software, electronics and guitar. With this list of instruments, we get some sense of what we are in for. My attention was immediately piqued when I realized that Don Preston had worked with Frank Zappa and the Mothers of Invention, so I had high hopes for this disc. Thankfully, TriAngular Bent delivered. "Set 1" opens it off, and sounds like soundtrack music that goes off the rails, with peaceful drone mixed with high pitched noises and the occasional gong hit. This is the music of a hallucination that hasn't decided if it's going to be a good trip or a bad trip. Next up, we have rapid fire bass and bears that keep "Set 2" aggressive from the start. Analog noises filter in and out, giving it the feel of a 1950s sci-fi film. "Don and Jeff" switches gears, opening with a melancholy cello, but then dominated by piano and snippets of strings. "Set 1B" takes a kitchen sink approach, with a lot going on. Take some cello, loops of someone yelling about jealousy, random bleeps and bloops, a malfunctioning drum machine, and put it all over a bed of circuit bent electronics. Fun stuff. "Guitar and Other Stuff," is like an incredibly long guitar solo over the 60-cycle hum of an overdriven amp.Partway through, we get some appegiated analog sounds. This is what it would sound like if Zoviet France suddenly decided in the middle of an album to invite Def Leppard to do a solo. "Don and the Voyager" is probably the low point on the album, and pretty much consists of Preston noodling around on a Moog. Not terribly interesting. "Set 7" is more minimal than the other "sets." If a video game company commissioned Oval to write a funk soundtrack to an 8-bit game, I imagine that it would sound something like this. "Piano Solo" closes it off with a jazzy piano solo. Overall, this is a lot of fun, and well worth picking up. This album weighs in at around 60 minutes.
Experimental / Avantgarde / Weird & Wired / Glitch / Noise / Field Recording
Edit (10298)
Artist:
Eleonore Oppenheim
Title:
Home
Format:
CD
Label:
Innova
(@)
Rated:
Bassist Eleonore Oppenheim has already worked with a variety of artists and groups, including the Philip Glass Ensemble, Norah Jones, Bryce Dessner of the National, Jeff Mangum of Neutral Milk Hotel, Steve Reich, and Jonny Greenwood of Radiohead. This is her debut solo album, and the label describes this disc as "a musical core sample in which each track represents a different approach to the double bass as a modern solo instrument, and to the ways in which it can interact with electronic media. By turns glitchy and pure, gritty and shimmering, Home releases the bass from its traditional obligations and takes the listener on a surprising, unfettered journey through several strata of sound which explore the breadth of the instrument's emotional and physical range." Sounds promising, so let's delve into the music. "La Isla Mágica" opens the disc with staccato strings mixed with quick runs down the keyboard, which then shifts to slow pulls on the strings. There is a lot going on here, and this is complex with a whimsical quality to it. Next up, "Crocodile" mixes strings and female spoken word (in French?) along with incidental noises that makes it sound like you are overhearing a conversation at someone's kitchen table. Later on, it shifts to a bass line with clapping sounds, before returning to the spoken word and field recording. "Heavy Beating" lives up to its name, as it begins with pounding and occasional strings. As a percussionist, I enjoyed this track immensely. Although the track is a bit more minimal, the rhythms are interesting and there is a skillful use of silence. The composition eventually descends into feedback and strings. "Home" is a slow-moving piece with a lot of tension and good use of dynamics. This slowly accelerates like a train under load, as the strings become increasingly frantic, with the musicians sawing away on the strings. Well done. Finally, we have "Home (Lorna Dune Remix)," which is like night and day from the previous incarnation. If "Home" chronicles the perilous journey, this is the joyful reunion of friends and family. Although this is the album of a bassist, this is not merely for those who appreciate the low end of sound. These are excellent compositions that would appeal to most who like finely crafted music. There is just enough dissonance and harshness to keep the Chain DLK crowd happy as well. This album weighs in at around 37 minutes.
Experimental / Avantgarde / Weird & Wired / Glitch / Noise / Field Recording
Edit (10297)
Artist:
Jonas Kocher
(@)
Title:
Jonas Kocher Plays Christian Kesten and Stefan Thut
Format:
CD
Label:
Bruit
(@)
Rated:
I grew up with my mom playing the accordion often, so I was interested to hear a new take on the instrument for experimental music beyond what I had heard from Miss Murgatroid. The disc opens up with Christian Kesten's Untitled (Solo for Accordion), which is pretty minimalist. We don't even hear anything until about 30 seconds in, and then it is mainly high-pitched tones. The skill is evident as Kocher manages to keep the pitches warbling over one another, but there is not much to this track. This seems more an exploration of the accordion; as Kocher explains in the liner notes, "In the highest register of the right hand, the last few buttons don't play the expected tones. The pitches are simply too high. The necessary reeds would be too small and fragile to produce them. These buttons transpose the tones an octave down. The buttons in the neighbouring octave do play the expected tones. One might assume that the two octave registers would actually play the same pitches. But as they play them on different reeds, there is a slight microtonal difference." This is pretty interesting as a concept, but for me it just didn't translate over to an engaging listening experience. That said, if you like it really minimalist, this might be up your alley. Next up, we have Stefan Thut's eine/r 1-6. This one starts off with some low bass and some field recording that actually made me stop and go back to see if it was coming from outside or if it was part of the track. Muffled voices and someone pounding on a door then gives way to low bass drone, then silence interspersed with field recordings. This is also pretty minimal, sparsely alternating between high and low pitched drones, but in a different, more interesting way. The use of silence brings you in and makes the drone that much more engaging. Overall, this is a mixed bag for me. "eine/r 1-6" was great, and it is interesting to hear someone really push the limits of their instrument. If you are a fan of the accordion, this is one to check out. This album weighs in at around 55 minutes.