It seems that the inventive Italian sound-maker Andrea Gastaldello, the real name of the man behind the Mingle curtains, picks single adjectives to describe the "property" of the tracks he embeds in his releases. It's just a personal impression and it's valid only for the stuff he dropped on Ukrainian label Kvitnu. The first output, "Static", featured somehow 'static' (or seemingly calm) tracks, and well 'ephemeral' sounds like a suitable tag to describe the features of this new bunch of tracks (again masterfully mastered by Eraldo Bernocchi). Any resounding entity in the eight (plus the ninth one "Vaporized", available as a bonus for the digital format only) tracks of this psychoactive listening experience seems to fade away after their appearance, but this process is rarely abrupt. The only "solid" entities are the digital hits, but the rhythmical pattern act like an anode and a cathode in electrolysis, as they seem to attract the ions he dissolves in his wisely controlled sonic pools. Even in tracks where this process doesn't lie on digital hits or clicks (as on "Lost", where the 'rhythm' gets built on short bursts of an electric current and a bleep that is similar to ones for cardiac monitoring), the other entities get somehow dissolved. The final step of this process, "Ancestral", has something lukewarmly mystical and willingly uncodified, as if Mingle wants to keep secret the result of this full awareness of ephemeral nature of things (maybe the genuine awareness of self?). It seems such an 'ephemeral' nature of Mingle's sonic explorations in this release (the last one of a four-chapter series, including "Movements" and "Masks" on Tannen Records, besides the above-mentioned "Static"), as the attached notes let guess: "The ticking of an old alarm clock, keeping the time, relentless... Certain vanishing moments, they become dreams that you can't seize - dreams pass, weightless. They don't happen. that very instant - it's when you're looking for relief, detached from anguish, far from reality. The daily ephemeral dose speeds up, it becomes frantic and doesn't stop. Desire translates to immediate enjoyment. Everything goes quickly, everything vanishes into some fresh ambition, in the illusion of something new, fast. The true essence of desire lies in absence". Wise description for a listening experience that I recommend in an ephemerally warm (vanishing into a frosting...?) way.
Artist:
Fred Lonberg-Holm / Adam Golebiewski
(@)
Title:
Relephant
Format:
CD
Label:
Bocian Records
Rated:
In the huge pile of stuff that keeps on reaching impressive heights on my desk, there was this 1-year old awesome output (it was released Polish label Bocian on 18th Nov 2016, but I think it should be possible to find it somewhere on internet or specialized music shops, even if this label drops only 300 copies of each item) by the hyperactive American improv musician and performer Fred Lonberg-Holm and the inventive Polish drummer and percussionist Adam Golebiewski. The CVs and the experiences of both musicians are really impressive: I already heard many Fred's collaborative outputs (particularly on FMR Records), but I discovered that great people of modern music like Morton Feldman, Anthony Braxton and Pauline Oliveros taught him something when he was a student yet and that he also collaborated with likewise appreciated contemporary musicians such as Rob Mazurek, Jim O' Rourke or Peter Brotzmann after a more attentive check of his artistic path; Adam is younger than Fred (he was born 22 years after Fred), but he can brag about a likewise respectable bunch of experiences in improvisational and free jazz scene (including some performances with iconic characters of experimental music such as Yoko Ono and the brilliant American guitarist Thurston Moore). Fred and Adam officially met on a stage in Poznan, in Germany, where they also recorded the four tracks of "Relephant" (recorded on 12th and 13th May 2013 at Club MDX Dragon). The artwork could describe the intricacy and the complexity of the dynamics they forged, featuring a wide set of overlapping frictions and abrasive collisions. A title like "Obviously in the room", but mainly the recipes of its sound (highly distorted and extremely fast bowing over fragments of percussive metallic patterns) could let you think the desperate research of a key to unlock a killing machine by some "player" of Jonathan Kramer aka the Jigsaw's cruel games of the popular horror film series. The shortest track of the fourtet, "Disguised", featues an almost robotic 3-tonal wick melody, repeated by noises getting harscher and harscher, a weird parenthesis preceding the 14-minutes lasting "Being Run Around Inside", the track which has something closer to a proper structure (overlapping with other improvised micro-structures) and where the listener can notice even a sort of gradually cathartic process, but the more surprising track for its concision, its intensity and the impressive way by which the sonic tools by Adam and Fred played symbiotically is maybe the final pne, "Meeting three blind people". Have a check.
Experimental / Avantgarde / Weird & Wired / Glitch / Noise / Field Recording
Edit (10197)
Artist:
Spyros Polychronopoulos
Title:
Live Electronic Music
Format:
Download Only (MP3 + Lossless)
Label:
Room40
I've listed the format here as 'download only' here, but it's a little unclear, as I'll now attempt to explain.

"Live Electronic Music" is an arguably cynical deconstruction of what constitutes electronic music performance. It's literally music generated by a computer inside a polycarbonate box, which has been loaded with custom software and a sound effects library, and programmed to randomly select five samples at once and play them in parallel across the stereo landscape, whilst applying alternating randomised filters. There's no "music" in the traditional sense, just a random collection of layered noises. The box could run for thousands of years and logically never repeat itself.

Principally, Room 40 are selling 250 copies of the box itself, for around $75 each. So it's a music-making device you're buying, not a recorded music product, and I'm unclear whether you can also buy recordings of it.

So the recording I was sent is an arbitrary 22-minute slice of the box's output recorded earlier in 2017. Generally with online sound effects libraries you often find a mixture of very long ambiences lasting a minute or more, mixed in with super-short percussive sounds lasting only a second or so, and that library nature is discernible here. At times it's rapid-fire, stupendeously glitchy and harsh- at other times it's a more mellow soundscape of hum and drone, though any single drone never seems to last more than twenty seconds before something else cuts in.

It's an unusual piece of work. It would probably be more appealing to witness the box in situ in a gallery or exhibition space, coupled with the notion that what you're hearing won't ever repeat. Surprisingly the press and publicity material for the release didn't include a picture of the box itself, so it's hard to tell whether it would be nice to look at. As a piece of recorded audio, it has its enticing moments, but devoid of information about the concept behind it, it's arguably a bit too scatterbrained and rough-edged to make it a release you're likely to return to for many repeat listens.
Experimental / Avantgarde / Weird & Wired / Glitch / Noise / Field Recording
Edit (10194)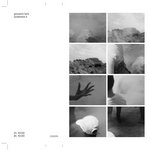 Artist:
Giovanni Lami
(@)
Title:
Hysteresis II
Format:
Tape
Label:
czaszka (rec.)
(@)
Rated:
The second part of this ongoing project was recorded on the volcanic site of Solfatara and, because of the sound similarities of those activities with the hiss of the tape, it's perhaps more organic than its predecessor. For those who missed the previous review, it should be said that this project is a series of field recording manipulated directly on a reel-to-reel tape without any other manipulations except editing.
While "Hysteresis I" was heavily focused on tape noises, the first side of this release starts with a more recognizable field recordings as the voices are in the foreground even if the noises of the tape manipulation are more audible than in the first chapter of this project, then the center of the composition became the tape manipulation to alter the pitch of the recording, then it ends trying to blend the noises of the tape with the noise of the ambience. The second side features even some music while it's not discernible if it's recording on the field or it's a memory of the tape, however it's more focused on the sound development than on the noises disposition in time and this approach creates a more enjoyable release as it's less orthodox in following his premises.
While it's could be viewed as a variation on the scenario of the previous chapter, it reveals how it could unfolds in different directions while sounding the same at first sight for the inattentive listener and this opus is something to be handled with care. Waiting for the next chapter with curiosity.
Artist:
X-Navi:Et
(@)
Title:
Machina Nova
Format:
CD
Label:
Beast Of Prey / Eter Records
(@)
Rated:
Co-produced by Beast Of Prey and Eter, this output by Rafal Iwanski (one of the main voices of HATI collective) side-project X-Navi:Et actually includes a new release ("Machina Nova") and a re-release ("Vox Paradox", previously on tape only). The level of visionary mysticism is higher like Iwanski's previous release, but the sound of X-Navi:Et on Machina Nova gets closer to the one of HATI. The key words to understand both the style, where Rafal wonderfully melts drone-like simple melodies, generated tones that envelop listeners in its pensive halo, ethnic instruments and percussions that constantly evoke something atavistic, as well as its spiritual ciphers can be caught in the title. The 'Machina Nova' (new machine, seemingly mirroring the obscure elegance of the disquieting 'Machina' on the attached album 'Vox Paradox') that Rafal seems to describe by means of sounds an almost mechanical process, where humans are unaware or unsuspecting gears, gradually leading to a regression to forgotten deities and beliefs, a sort of "new primitivism", quoted in the awesome track that follows the opening title-track. The mystical tension and hypnotical hooks of each track are almost palpable: the sneaking violin by Anna Zielinska (resembling Eastern folk music) over a thundering march and the surprising final where the surrounding melody of the first minutes gets played backwards, the chirping Shanti chimes rendering a seducing maze of crystals on "Pseudo", the abrasive sonic flaking around the hypnotical phrasing of the hulusi on "Weltschmerz" are just parts of the process leading to the catharsis of the final "Fiasko". "Vox Paradox" on the second half of the release sounds the specular and more tormented image of "Machina Nova" and each step of the process (every single track) doesn't really bring to a sort of liberation, but to the resolution of a more or less vague anxiety pervading the whole artifact.