Experimental / Avantgarde / Weird & Wired / Glitch / Noise / Field Recording
Edit (10638)
After tendinitis interfered with his career as a jazz guitarist, Bill Thompson turned to experimental noise-making, drone and avantgarde. Adopting his 'perfect instrument', a Moog guitar capable of infinite sustain and foot-pedal-driven overtone blending, he is now producing single-take, super-long evolving sound experiments in which drones and metallic overtones slowly shift, twist and mesmerise over very long periods, with every track on this release around forty minutes long or more.

"Stillness" charts an ambitious curve, both starting and ending in a mellow, soporific calm posture, particularly with the sparkling plucking sounds at the end, but inbetween it plots a course into harsh, atonal territory that creeps up so smoothly that you don't immediately realise how sonically uncomfortable it is becoming.

Second track "Solitude" doesn't share the same grit, instead wallowing more languidly in hollow sci-fi feedbacks that hint at howl-round without ever escalating. Twenty minutes in there's a growing hint of rhythm and gravelly pulse that weaves its way in, without ever really challenging for dominance.

"Shifting Currents Installation" is a bonus track, independently available as a tour merchandise CD and now attached as a close cousin to the main two pieces of this release. The structure and attitude is broadly the same, but this is a busier work, with several sonic layers overlapping and interweaving, including some slightly scratchier found-sound-ish noises and an electrical pattern that feels rooted in the sound of an incorrectly connected electric guitar that's been worked, EQ'ed and live-processed into something more complex. It's more sawtoothed and abrasive than the other tracks, sometimes decided squealy, but still traces the same arhythmic alien landscape.

Arguably a single idea writ extremely large at over two hours' worth of music, Thompson's work is bold and at times unwelcoming. But for lovers of electric drone and hum, it will certainly be welcomed as a luxuriant listening experience.
Experimental / Avantgarde / Weird & Wired / Glitch / Noise / Field Recording
Edit (10637)
Artist:
Tobias Meier / Dalia Donadio / Berni Doessegger
(@)
Title:
A Linear Thought
Format:
7"
Label:
Wide Ear
(@)
Rated:
Related somehow to the previous review (the one on Cold Voodoo), as for the presence of hyperactive musician and composer Tobias Meier, this release sees Tobias in the guise of composer or I'd rather say a voice director for a very unconventional project. The only performer on A Linear Thought is the vocalist Dalia Donadio, based on the explanatory words (in German) by Berni Doessegger. I said the role played by Tobias is more close to the one of a single-input orchestral director, as he seems to define the performative strategies for Dalia's vocals, each for one of the five parts of this composition, supercompressed in two short tracks (lasting 3 minutes and 20 seconds only). The most interesting aspect of this release (requiring two years to be completed, as it was reprised many times over this pretty long timeframe) is that is nothing but a sort of "act of awareness" on perception (in a certain sense, it could be considered as a sort of extension behind the surrounding concept of Wide Ear Records as well) and the importance and the uniqueness of human voice (as "an instrument common to all people" and as a primary "personal organ for communication and emotions"). Such a reflection got well explained by Berni's words and well translated into voice by Dalia for the fans of unconventional notations for music scores. Some sketches of Berni's words will render an idea of what I tried to describe: "...lungs, glottis, vocal cords, throat, tongue, lips. From the body's interior to the exterior and back into a hearing ear. This alone already explains the binding and touching power of the voice, its inner intimacy, its immense transference" - the text related to the first part. And again on the fourth part: "sound is the stretching of time. It folds time, in order to give time to time itself (this is what the ear does with sound). If temporality is the dimension of the act of sounding, this is because sounding defines itself as that which separates itself from there, from the other, from itself, so as to oscillate, to become itself and to become something else. Therefore, the voice, its inner and outer expansion, is an echo chamber, a body of time and space, a resonance that it places inside itself".
Experimental / Avantgarde / Weird & Wired / Glitch / Noise / Field Recording
Edit (10636)
Artist:
Cold Voodoo
Title:
AB+
Format:
Tape
Label:
Wide Ear
(@)
Rated:
The title of this collaborative release by Tobias Meier (playing alto saxophone... I often spoke about some of his outputs, also as a member of collaborative projects, such as the interesting Things to Sound) and Silvan Jeger (picking a bass and known by followers of improv and free jazz scenes to play it on Christoph Gallo's group Day & Taxi) looks like the name of some strange new blood type and both the red-coloured tape and the graphics of the cover, but it could be a reference to the side A and B or the format they've chosen. Whatever it refers, it includes two long-lasting recordings (one per side), whose sound mirrors their bipolar sonic strategy, based on the exploration of two different emotional frameworks poles: according to their own introduction, as Cold Voodoo "they explore the tension of physical presence and exhaustion on one hand and of an external perspective and serenity on the other hand". Even if the listening is pretty demanding and requires a certain focus and aptly trained ear, such a duality in their improvisations is easy to perceive and it can happen you enjoy a part of each session just after you yawned during the listening to another part: for instance I enjoyed the second half of A+ - definitively more nervous, while the first part doesn't really enthuse my ear; they reversed the process and the moods on B+, whose first minutes sound really thrilled and electrified before scattering its rough electricity on the second half.
Experimental / Avantgarde / Weird & Wired / Glitch / Noise / Field Recording
Edit (10635)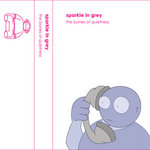 Artist:
Sparkle in Grey
(@)
Title:
The Bones of Quietness
Format:
CD
Label:
self-released
Rated:
Almost ten years after the publication of "A Quiet Place", which was a remarkable release even in its flaws, Sparkle in Grey try to remove its most evident character: the tendency to accumulate and the search of a romantic moment in an overall experimental framework. This was evident even in the covers by Matteo Uggeri whose drawings seems from a kid's publication to a distract sight. So "The Bones of Quietness" is "A Quiet Place" removed of all the catchy element and exposing the skeleton of the release.
"Bones of a Footprint" is mostly mode out of field recordings with only the distant sound of the violin and the cymbals to remind the original track, "L'impronta", while the "The Bones of a Goose" has no field recordings to expose the traditional musical elements of their sounds and "A Quiet Pig" removes the danceable melodies which was the main elements of "A Quiet Place". In its apparent stillness "Teachers Bones" hasn't even a second more than necessary and removes the kids songs which was the emotional center of "Teacher Song"- "Pim Bones in Delay" borders psychedelic rock while "An Unperfect Delusion Song" closes this release with the most suspended side of their sound shortened in time to escape and evolves in a quiet field recording which accompany the listener towards real life.
Removing even the first signs of rhetoric or romanticism to their music and focusing on even the small details of their sound, Sparkle in Grey have now another starting point for their music. Truly recommended.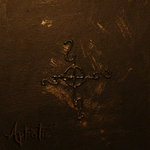 Artist:
Cut The Light
Title:
Aphotic
Format:
CD
Label:
Black Mara
(@)
Rated:
"Aphotic" is the debut album of Cut The Light, a project from Crimea whose dark ambient is mostly based on processed field recording aiming to create a somehow uncomfortable environment. Some tracks are very long and use this element to enhance the attention on sound details as the musical framework is based on stillness.
The first track, "I", starts as a noisy drone which is the background that ties together the other samples until the second part of the track based on samples of orchestral music, or so they sounds, reveals a sort of narrative behind a overall meditative structure. The field recordings of "II" are the base from the crescendo of a sharp drone which ends when it's time to focus the attention to the evocative noises of the final part of the track. After two long track, "III" is the first example of the second side of this release: short tracks divided in two or more sections where the focus is on the evocativeness of the samples. "IV" is a short interlude and introduction to "V" where a sort of slow melody slowly emerges from the static background. "VI" is the most static and canonic track of the album. "VII" reveals how can be reversed the canonical form: a static background based on drone and a moving foreground based on samples, exploiting the field recordings to create a repetitive pattern and focusing the movement on the underlying soundscape. "VIII" starts with a quiet and almost static background and ends with a sharp crescendo. "IX" closes this release with a short crescendo of a drone.
It's unusual that a debut album reveals a rather formed personality untied to his influences, so this is one of finest release of the genre that could be heard this year. Not for everyone but it's worth a listen.