Experimental / Avantgarde / Weird & Wired / Glitch / Noise / Field Recording
Edit (10083)
Artist:
Krzysztof Penderecki
(@)
Title:
Kosmogonia
Format:
CD
Label:
Cold Spring
(@)
Rated:
The importance of a composer could be seen when it's able to expand the boundaries of contemporary music; even a label as Cold Spring, devoted to post industrial and similar genres, can publish the reissue of a release by Penderecki. He's however well know to be one of the most noisy and abstract composer of the post-war period so it's not an issue to see him close to a Merzbow's reissue while it's strange to see that one of his landmark release was never released in a digital format after his vinyl release more than forty years ago but this is indication of the arduous nature of his music.
The first track "Kosmogonia" is based on the alternation of noisy moments, mostly obtained by fast and loud musical lines, and quieter ones so it's something close to the eruption of a volcano and after an instrumental first part, the voices are most prominent element of the second ones with movement close to mass of drones obtained by an unorthodox use of the chorus. While most composers would use electronics to obtain subtle masses of sounds, "De Natura Sonoris II" uses violins to obtain slow and detailed drones and other instruments to interrupt them with unexpected grain of noise or rhythmical ellipsis. Even in the same musical context, "Anaklasis" is more oriented toward the percussive element obtained by the instruments and with short sound lines so it's sequences of small events generating a complex overall schema. "Fluorescences" closes this release juxtaposing the two elements of the pieces collected in this release: the long textures and the short sound elements so quiet and noisy moments are in a dialectic form in the search of an (in)possible synthesis.
It doesn't make any sense to recommend or not this release as its importance is so huge to be an essential listening to those who have a minimal familiarity with contemporary music; however, for his sound properties it could even be an introduction for fans of drone or industrial music to a world that is often seen as boring or outdated but has covered similar path to this genres with other vehicles. Essential.
Experimental / Avantgarde / Weird & Wired / Glitch / Noise / Field Recording
Edit (10082)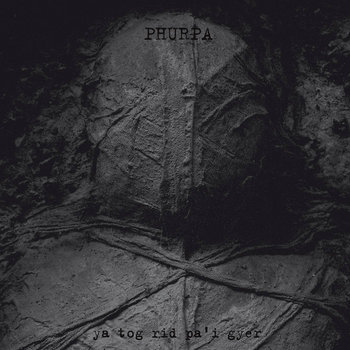 As a mirror to "Rituals of Bön II", this release is the successor of "Chöd" and, obviously, it moves towards the usual territories of band. As stated in the previous reviews, their music is based on traditional religious music, mainly from the Bön tradition, and so it requires meditation by the band to perform it and by the audience to hear it. It's not music based on modes or melodies but it's closer to certain musical tendencies where sound and his properties are more important than his path; it's contemplation rather than reasoning.
The first part starts quietly as based on bell's resonances which as introduction to the initial harmonic chant that introduces the listener into a rather familiar territory; then percussions and cymbals generates an almost "industrial" (in a broad sense) introduction to the aerophones (their name is not listed) whose bass drones and unusual sounds generates their usual sound field changing from quiet and meditative to cathartic and loud. Then, a long singing part takes the listener toward the end of this part with the accompaniment of the cymbals.
Just when the listener is certain of what he's going to listen, the second part starts with wooden percussions and a chordophone; so their sound is even more minimal and has his evocative character from the use of silence as a proper sound material. When the other elements of their sound returns are introduced by seconds of silence, creating the sense of hearing a ritual.
As few project, they creates the sense of developing a single opus out of separated fragments and it's so musically pure to be an absolutely essential listen even if it's not music for everyone. Unratable and to be heard in silence.
Artist:
Things To Sounds
Title:
3 [42:02] Live
Format:
CD
Label:
Wide Ear Records
(@)
Rated:
A possible keyword to tag this album - the third in their discography as you can easily guess by its title - by Things To Sounds - a trio free-improv grouping Tobias Meier (alto saxophone), Yves Theiler (piano and synth) and David Meier (drums and things making sounds...) - could be 'tension', as they managed to make something where they rendered a constant tension from the very first moments to the end. Live recorded at Limmitationes Festival - one of the nicest meeting in the field of free-jazz and improvisational music, organized by Udo Preis in Austria for many years - on 14th May 2016, their live session shows up a wide range of techniques (tapping, strangled phrasing, screeching, cave-like reverberations and many more over 42 minutes - another detail you can guess by the title) and an impressively wide set of unpredictable strategies to render a somehow palpably lively nervousness and a tension ranging from low to high voltages, which is going to meet the tastes of the lovers of free improvisations on live stages. Have a check if your ear is wide enough (to paraphrase the name of the amazing Swiss imprint that released this sonic object) and if it's accustomed enough to this kind of sonorities.
Experimental / Avantgarde / Weird & Wired / Glitch / Noise / Field Recording
Edit (10076)
Artist:
Stephanos Vassiliadis
Title:
En Pyri / Bacchae
Format:
LP + Download
Label:
Holotype Editions
"En Pyri" and "Bacchae" are a pair of 1970's electroacoustic experimental recordings, dusted down and remastered a decade after Vassiliadis's death with the support and facilitation of his family.

The first, "En Pyri" ('in fire'), from 1973 or 1976 depending on what you read, is an unreleased version of a composition previously released in other forms. It invokes the memory of a car crash which claimed the life of Vassiliadis' first wife, among others, and it's a violent and harsh anguish-ridden piece where drones turn into screams. Periods of awkward calm precede slowly mounting cacophonies of squeals and harsh brass and bass wails. It's a piece of sheer catharsis that's both attention-grabbing and alienating.

The second and longer piece "Bacchae" from 1974 is a more sedate piece, originally conceived and only ever performed live as part of a theatrical performance at the University of California. Adopting more of the ethnic Greek traditional music and organic natural drumming rhythms as a layer that wanders in and out among the other elements, there's a strong sense of proto-ambience here- a relatively classical form which acknowledges the melting pots of prog rock and electronic avantgarde of the time and which also seems to predict future chillout and Eno sounds, especially in the slightly dreamier, more sci-fi second half.

The two pieces manage to be both of their time, and slightly ahead of it, and are a real indicator that Stephanos Vassiliadis' work deserves more retrospective attention.
Experimental / Avantgarde / Weird & Wired / Glitch / Noise / Field Recording
Edit (10071)
Practically without any liner notes, this tape from Angelo Bignamini documents a single track in two part where both of them has three distinct movements. While this release was developed from tape loops and effects, the composer tries to avoid the typical rhythmic cage using noisy sound source which creates a sense of development rather than one of stasis. This elements is perhaps at the core of the decision of naming this release "decay" as it makes full use of the typical noise elements added by tape to sounds in the process of aging.
The first side of this tape, "Decay Pt. 1", starts with grain of noises creating an irregular rhythm while in the background a sort of loop emerges. As this mass of sound stops, an interlude introduces the listener towards a second part with cleaner sounds even if based in a rhythmic pattern based on echoes while, sometimes, noisier elements emerge from the background so, even if it could be classified as a noise track, it's at moments able to hypnotize the listener.
The second side, "Decay Pt. 2", starts with a fade in and a couple of loops creating a complex rhythm out of simple ones; just prior that the track became trivial a single loop is used as a bridge to a part where noise generators gradually have the key role. The final part of this release is for a tape loops of considerable meditative effects as the first loop is gradually juxtaposed by a second tape which adds noise and movement closing the opus in a complete silence after the final eruption of noise.
This is a complex and demanding release which requires a certain commitment to be fully enjoyed as it avoids all simple tricks to amuse an audience giving them what it's expected, even if it's aided by its relatively short duration. Fans of experimental music will enjoy this release and play it until the tape is consumed but the others could be really disappointed. Take care and listen.