Ambient / Electronica / Ethereal / Dub / Soundscapes / Abstract
Edit (9175)
Artist:
Atomine Elektrine
(@)
Title:
Laniakea
Format:
CD
Label:
Wrotycz Records
(@)
Rated:

There probably aren't too many people who read Chain D.L.K. reviews that aren't familiar with the work of Peter Andersson. He's the man behind Raison d'être, Stratvm Terror, Necrophorus, Atomine Elektrine, Panzar, Svasti-ayanam, Bocksholm, Cataclyst and Grismannen. Back in the early '90's when I was first investigating the dark side of electronic music I couldn't get enough of the music of artists on the Cold Meat Industry label. It was inevitable that I'd discover Andersson's astounding work, and over the years he's become one of the most influential artists in the dark ambient genre. I ate up this stuff like crazy buying anything of his (and other similar artists) I could get my hands on. For me, Atomine Elektrine, and the fist album, 'Elemental Severance' seemed to be one of his more unusual projects; a repository for ideas that didn't seem to fit in elswhere in his ouevre. It was a hodge-podge of experimental electronica and sampling that ran the gamut from Enigma-esque instrumentals to Tangerine Dream-like space music to Dead Can Dancey structures, and a smidge of Raison d'être archaic gothiness with plenty of dialogue samples thrown in for good measure. Listening to it again in the present day it sounds a bit dated but there are still great moments. I kind of wrote it off as a one-off project, little realizing that Andersson would produce a half-dozen more albums under the Atomine Elektrine moniker (including this one) over the years. Imagine my surptise and delight then in discovering a new Atomine Elektrine CD in the latest review batch, although I found I had some catching up to do when I checked out the discography. From the little I was able to sample it seemed as though Atomine Elektrine had taken on a definite identity- much more electronic and cosmic space oriented, and also at times much heavier.

That brings us to 'Laniakea,' the most recent Atomine Elektrine album, and what a wonderful thing it is. The name means "immeasurable heaven: deep, spacious, dark and ostensibly empty but still full of energy, matter, structures and bright objects." A perfectly approprite title if there ever was one. In essence though, 'Laniakea' is an homage to Tangerine Dream and the passing of founding memeber Edgar Froese (who I was lucky enough to meet and interview back in the late '70's) as well as other "kosmiche musik" artists of the era. The album has five tracks, with an additional three for the CD version, a definite inducement to buy the physical product. It begins gently with "Centaurus" easing you in with with some melodic electronic ambient, then builds up the deep atmosphere with "Abell 3521". It's about 3 minutes before that oh so familiar TD hypnotic sequencer comes to fore, but when it does, it's nostalgic and glorious! Every element employed supports and enhances this wave of cosmic bliss that you hope might never end. "Virgo" moves into even deeper terrain, far beyond thyis earthly realm, floating in the void of the infinite. Then, out of nowhere, or everywhere, the hypnotic sequencer takes over again, with motion that becomes your travel engine. You have to love the subtle sonic manipulations and permutations that ensue, all the while maintaining the integrity of the structure. "Hydra" is somewhat lighter but still sequencer driven, a little respite before the awesomeness of "Fornax". This is the last stop on the cosmic express for those of you buying the digital download as opposed to the CD.

For those continuing on the journey, welcome to "Achernar" where a more sublime (and slightly metallic) hypnotic sequencer awaits. "Acamar" uses a staccato yet sublte sequencer to transport you to "Zeta Normae" firmly rooted in TD territory. 'Laniakea' doesn't really break new ground in the kosmiche musik genre, but it will give you that (hypnotic sequencer) fix you've been craving, and really, what more could you ask for?
Artist:
Komora A
(@)
Title:
Crystal Dwarf
Format:
CD
Label:
Monotype Records
(@)
Rated:
Ambient music got sometimes matched to a set of chilling frequencies and ways of escapism in between artificial pleasure and idyllic reverie, but as most of you know, there's a darker side of the genre that sometimes deserves attention. This trio of Polish sound scouts and improvisers made up of Dominik 'Wolfram' Kowalczyk (computer and electronics), Karol Kosniec (sampler) and Jakub Mikoajczyk (modular synthesizer) assembled something which gets closer to these obscure territories of ambient (and improvisational) music. Many moments on "Crystal Dwarf" are closer to some experimental music by David Toop, where a sound or a noise grabbed from "real" world seems to feed paranoid emotional drifts and obsessive thoughts to the point they become the first bricks of a personally built mental universe. In spite of the fact they mainly improvised, the rich sets of knob-twiddled sounds and highly textured bunches of microsounds intertwined to concrete sounds by Komora A seem to become metaphysical splinters surrounding the listener. The isolated beeps and the lengthened bells over separate thuds, burned electronic squeaks on the opening "Waking Up" could let you imagine the human-like awakening of a robot and its crescendo till the almost traumatic impact with the routinary reality and a sort of hidden "desire" of prolonging the sleep; the emulsion of hypnotic undertows from "real" sounds and its defacing on the specular long-lasting "Drone of Reality" and "Drone of Unreality" are just stages of an homogeneous amalgamation, where the medley of "Beat & Memories" and the mutant whirlpool of scratchy hisses, crackling beats and flickering slow inflammations of "Inscape Module" seem to be transitional stages of a coherent process that leads to the ecstatic "Escape", where the two above-sketched definitions of ambient music finds their only possible point of intersection.
Ambient / Electronica / Ethereal / Dub / Soundscapes / Abstract
Edit (9171)
Artist:
Vlad Nedelin
(@)
Title:
Postante
Format:
CD
Label:
self-released
Rated:
Jazz drummer and composer Vlad Nedelin was born in the former Soviet Union, lived for a spell in Israel, and is now a resident of Sockholm, Sweden. On 'Postante,' his debut solo release, Nedelin explores some very interesting terrain in the active-ambient mode. Not exactly what you'd expect from a jazz drummer (being that most of 'Postante is comprised of sythesizers and samplers) but his attention to rhythm is precisely what makes this album stand out. Over nine tracks that blend together with the continuity of a movie, Vlad takes you on a trip through an ambient-industrial landscape with noirish overtones and a sci-fi undertone. The comparisons to a modern Blade Runner are inevitable, being a prime example of what we have here, though (overused) dialogue samples from that flick (or any other) are gratefully not employed.

The listener gradually eases into the Postante world with "Totally Ripe," comprised of gentle drones, a hint of melody and little electronic tidbits until the mechanical rhythm builds up. It's a soft, down-tempo sort of industrial atmosphere, but ultimately a cohesive once when you get used to it. This gradually fades into "Nothing Disappears," where a beautiful, semi-melodic slow theme is developed, blending mystery with intrigue. It's Eno-esque, but even better. Swept away by white noise we head into "Post Meridiem" with its rain-like crackling, heavy drones and industrial foley effects. This is a full-on dark ambient track that cries out for visual accompaniment, but is left to your imagination. "Yet to Be Told" begins with some electronic sequences in the vein of Biosphere and gradually morphs into a fuller (march) rhythm with Eastern-inspired melody. Before you know it, you're on "An Isle" where dark and mysterious drones provide the base while foley activity (doors opening and closing, tapping, clanking, metal scraping, squeaks, etc.) provides the activity. Strange, but very cool. Now you can go "Through the Tunnel," a track with very animated rhythm that implies somne sort of urgency, perhaps an escape or chase. For respite, you can take up "Temporary Residence" in the shadow realm where ghostly voices hover over the windswept terrain. But all too soon it's time to move on into the subterranean realm of the "Ante Meridiem," a transitional track that takes you to "Untouched," where bells ring in dulcet and possibly baleful tones. Somehow it's raining again in this bleak environ, and there is an aura of sadness as you slip away from the 'Postante' world.

This is one hell of an album that sparks the imagination like a movie in the mind, one that you have to write and direct yourself. Cinematic? Certainly! Dark, but not overly oppressive. For a debut album Vlad Nedelin has composed an impressive and compelling soundscape which many seasoned electronic music composers could only dream about. Highly recommended!
Artist:
Quentin Hiatus
(@)
Title:
Saiyan Spirit EP
Format:
Download Only (MP3 + Lossless)
Label:
Free Love Digi
Rated:
After looking at the cover artwork and checking the title of this new tidbit on his own imprint Free Love Digi, I should ask to the appreciated producer Quentin Hiatus, one of the most forerunning at the moment in the scene of bass-driven music according to many ear responses, if he or his beloved son is a fan of well-known manga series and anime Dragon Ball by Akira Toriyama. Well, he could even have some mysterious connection with some of the inhabitants of Nappa or maybe Vegeta - if you followed that manga, you should say what I'm referring to -, but what really matters to all the listeners, who are thirsting for new sonorities, are the secret weapons and the sonic spells he cast on the two track he included in this release. Named after a solitary and kind-hearted character appeared on Dragon Ball Z, wielding a magical sword and an ocarina, "Tapion" is the first set of chopped electronic beats, flashing bolts and brilliantly executed cuts and could be attached to a muted off vision of the above-mentioned series. The second track "Saiyan Spirit" moves towards more chilled, but likewise whimsical, directions over impressive knots of synth-chords, bumpy chaining and fluffy electronic reverberations. I would label it as a Kaio-ken imbued continuous Kamehameha of Qigong bullets, indeed! Hasshu-ken!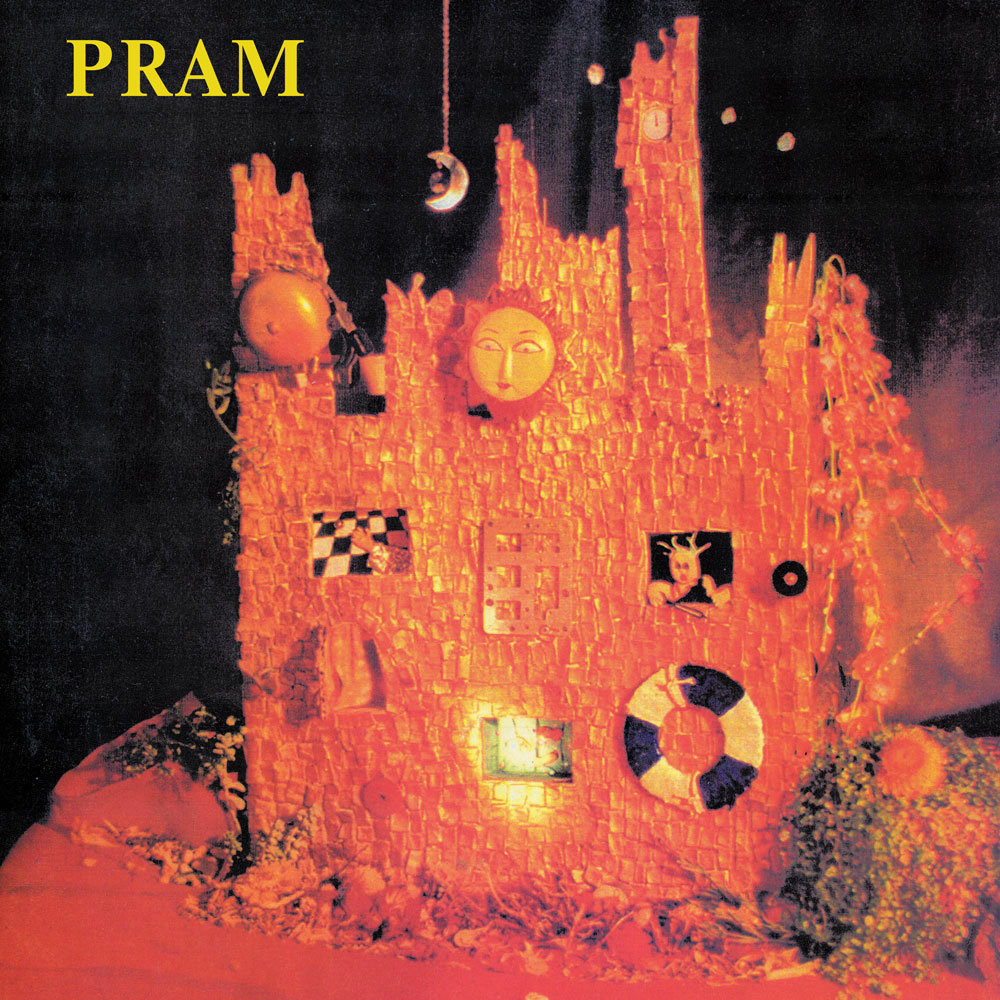 My better-late-than-never journey into the discography of Pram continues with their second reissue on Medical Records: 1994's Helium. This time around, the deluxe reissue is on yellow wax. Like the previous reissue (The Stars Are So Big, The Earth Is So Small, Stay As You Are) there has been no remaster. Again as before, it's a welcome decision, for music exuding a similarly dynamic, low-fi mixture of mild aloofness, humour and instrumental experimentation.

'Gravity' seems to begin the album in a similar vein to The Stars Are So Big..., with a tense atmosphere somewhat analogous to that of its opener 'Loco'. There's clearer audio this time, which brings out and bumps up across the spectrum the rapid drumming and dramatic, quick motifs of the keys. Between them wavers a similarly climactic, fraught cello line that eventually descends into pulsing lows and upper squeals.

But with the second number, 'Dancing on a Star', the band find a much more satisfying balance between accessible songwriting and odd, exploratory experimentation. The strange, rather improbable mix of sounds makes plausible the idea of many different potential versions of the song; of a kind of arbitrariness. Yet at the same time, these individual elements really complement one another surprisingly well. The thin bubbles of the ascending bassline, the bold and varied synth play ranging from Radiophonic Workshop-esque spacey wobbles and bloops (an MS-20 perhaps? I'm no expert) to the stop-start tinkling of miniature bells; the characteristically restless drumming; Rosie Cuckson's usual bashful, dreamy vocals. Overall, it's bewildering, but also captivatingly energetic and warm. The other outstanding songs are 'My Father the Clown', with its uneasy waltz and smokey, beatless, instrumental final section; the handsome, protracted, jazzy "Blue" and the closer "Shadows", which blends verses of synthesised traditional folk with a fidgeting, instrumental chorus of metallic rhythms, brass and synth.

In the liner notes to the vinyl reissue of The Stars Are So Big, Cuckson recalls that the music of the band was "democratic" in the sense of representing every member's individual interests to the point of compromise, with nobody completely satisfied at the end. This explanation undoubtedly applies to Helium as well. It's the sound of multiple interpretations and interests wrestling over the songs' themes. The result is ambiguity; like the kind associated with shoegaze, only expressed in complex, ineffable, proggy nuance rather than an arresting overload of output. The fabulously queasy 'Little Angel, Little Monkey', which resembles some demented, speedy descendant of lounge lizard music, is the most impressive example of this.

In spite of all the supposed tension, there's something about the predominantly gentle, wry messiness of this unpredictable, ambitious and lovely music that convinces me the band were probably having a great deal of fun.