Ambient / Electronica / Ethereal / Dub / Soundscapes / Abstract
Edit (9277)
Jeff Mills needs no introduction- IT'S JEFF MILLS. His legendary status is such that he could release the sound of him eating his breakfast and brushing his teeth and it would still sell in numbers that most of the other artists reviewed on this site would be envious of. The danger of course is that once you reach such a level, there's no obligation to put any effort in, and a half-baked artist album can be knocked out on a whim.

Luckily though, nothing like that has happened here. Mr Mills- or perhaps I should just call him 'sir'- has clearly put together "Free Fall Galaxy" as a labour of love, a deeply sincere artistic project on the head-bending sci-fi theme of a chaotic galaxy operating outside of the usual physical laws. It's a fictional concept that Mills has completely made up, as far as I can tell, but both the music and the accompanying promo tackle the subject with not only a straight face, but a downright stern face.

So here are thirteen tracks which sound like they have been moulded out of radio telescope data of this distant galaxy, fed into Mills' synths and arpeggiators and translated into frequencies we can hear. Much of it is deeply experimental, some of it is borderline drone, and while there are loops and patterns in it in tracks like the rather bleepy "Aurora", more often than not it bears more of a resemblance to a modern-day reimagining of the Radiophonic Workshop than to techno as we know it (captain).

Several of the tracks recall Tangerine Dream, none more so than the 17-minute epic "Entering (The Free Fall Galaxy)", with some others being more reminiscent of Jean Michel-Jarre in their production, except with a sometimes stoic determination to avoid melody.

"Inner Synthesis" has a pressing synth bassline building throughout, threatening to invite its big buddy the kick drum, but the kick drum never appears, the sense of urgency drifts and we wander back into the ethereal. The kick does finally make cameo appearances in "Solar Crossroads", "Tri-angularism" and the three-minute workout "Rabid Star Clusters". These are among the shortest tracks on the album, rare and strangely unexplained foray into club sounds- and the sounds people may more commonly associate with Jeff Mills. It's as though we stop off at a stellar disco on our way through deep space. The structure of the album makes these numbers stand out like a sore thumb, and anyone planning a truly mesmeric relaxing experience with the album will need to set up a playlist with those tracks excluded.

The production quality is exemplary throughout, this is expert stuff with all the polish of a project that's been a long time in the making. Hit this release at the wrong angle and you might find it self-indulgent and pretentious, but if you're in the right mood, a classic spaced out, chilled out, zen mentality with a yearning for digital sci-fi, this is an epic journey. The only real mystery around it is with the slightly schizophrenic ordering, that bounces us chaotically between ambience and rhythm.
Artist:
Conduct
(@)
Title:
Borderlands
Format:
CD
Label:
Blu Mar Ten Music
(@)
Rated:
Even if Robin Andrews and Chris Edwards, the men behind the curtains of Conduct, don't actually wink at dance floors by catchy sonorities, you will easily realize why many well-known big names of drum'n'bass scene - including Noisia, London Elektricity, Reso or Doc Scott, to name a few of them) - keep on supporting their outputs after an attentive listening to their recent release on the appreciated imprint Blu Mar Ten. Their music tries to intertwine more or less fast-rolling patterns, which sometimes get closer to 170 bpm, and masterfully crafted harmonies or soundtrack-like melodies. "Borderlands" could be considered their very first album, but their skills in handling two symbiotic and seemingly contrasting entities in their sound could be more spontaneously feature more trained sound makers as you can easily guess since the opening tune "Meraki" - the title is maybe a reference to the well-known company founded by two former MIT PhD students -, where touching orchestral cinematic samples peacefully share the same nest with more aggressive percussive patterns. Their passion for soundtracks spurts on the following track "Archaic", where echoes of Western movies got evoked by an excellent guitar sound and drum patterns that seem to evoke the battle of two gunfighters while their bullets melts as a consequence of the red-hot temperature of a forgotten desert place, the place where this imaginary scene could occur, and this kind of reverie and sonic interferences occur here and there in many moments of the album, such the brilliant "Bat Country" - a track inspired by a scenic place in between Los Angeles and Las Vegas -. The grandiose appearance of a piano in "Piano Tunes", spiced by robotic hiccups and catchy mid-tempo, and the likewise emotional breaching of African scents over the hyper-real melancholic breezes of "Turmoil" precede the title-track "Borderlands", one of the highest moment of the whole album that is going to meet the tastes of the lovers of the most "scientific" side of drum'n'bass (Photek, Teebee). Tunes like "Faux", "Grand Panjadrum" or the bizarre hybrid between Vivaldi-like aria, alien vocals over smashing hits of kalimba and wooshing synths in "Beta's Error" as well as "Silkworm" - maybe the more predictable moment of the whole album - could resemble the very first steps of The Upbeats or Faun. Last but not least - even doubly important - the final track "Divergence", where the overlapping between natural and artificial sonorities, severe seriousness and light-heartedness, yin and yang, light and shade complete such a bipolar consecration.
Artist:
Oren Ambarchi / Stefano Pilia / Massimo Pupillo
Title:
Aithein
Format:
12"
Label:
Karlrecords
(@)
Rated:
The name of the brilliant Australian composer and multi-instrumentalist Oren Ambarchi is maybe the better known name of this trio, having been one of the most incontinent musician in the last 20 years by means of an incredible number of collaborations - the most famous ones are maybe those with John Zorn, Phil Niblock, Sunn O))), Evan Parker, Jim O'Rourke, Keiji Haino, Z'EV, Otomo Yoshihide and Richard Pinhas - and solo works, but it could be a matter of statistics as the Italian virtuosos that grouped together Oren have a likewise enviable musical path. Electric bass player Massimo Pupillo was one of the founding member of jazz-core trio ZU and could brag about excellent collaborations such as the ones with Mats Gustafsson, Paul Nilssen-Love, Lasse Marhaug and both Brötzmann (father Peter and son Caspar), while Stefano Pilia worked on many awesome sound installation after a strong activism in the Italian punk and rock more or less underground area and grouping together two other big names of the contemporary scene like David Grubbs and Andrea Belfi. I could have been influenced by the inspiring cover artwork that Sara D'Uva made for the silk-screened sleeve of this release, but their guitar-driven blend in between progressive, avant-garde, post-rock and drone sound to me as a possible soundtrack for this sort of Kali Yuga that mankind is currently experiencing at the mercy of the numbing power of media and technology. A plenty of whirling emotions and thoughts are going to run over the 33 minutes lasting suite from the very first sonic slices of the first titled "Burn" - whose preface sounds like the one of a sci-fi movie - to the rising shimmering explosions of the last minutes of "Shine". Have a check.
Ambient / Electronica / Ethereal / Dub / Soundscapes / Abstract
Edit (9268)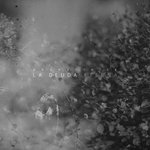 Artist:
Dramavinile
Title:
La Deuda [Eterna]
Format:
CD
Label:
manyfeetunderconcrete
(@)
Rated:
Dramavinile is the project from Vincenzo Nava based on a sort of Lo Fi personal aesthetic which refuses the crystal clear digital sound in favor of a warmer one influenced by the typical background noise of analogic equipment that creates some charming aural artifacts.
The soundscape of the first part of "La Deuda [Eterna]" which opens this release is an almost complex juxtaposition of drone, samples and small noises whose result oscillates between ambient and glitch while the guitar's insertions reminds to some electoacoustic's fields which are at the core of the meditative second part of this track that is based on small samples upon sparse guitar noted immersed in a relative silence. "UP-Nea" is instead a short track based upon a couple of drones and field recordings creating a sense of displacement. "Elephant" oscillates between quiet drones and distorted guitar taking the listener's attention. "Untitled" is a quiet soundscape while "Seven" seems to be his continuation until the guitar start as a reminiscence of a certain post rock. "Ropes" closes this release as an almost pure guitar track developed as the juxtaposition of long tones and melancholic phrases.
Whilst he reworks well known elements and forms, Vincenzo Nava tries to develop a personal form exorcising the ghost of his influences with a work focused on atmosphere and narrative which captures the listener's attention. Recommended.
Ambient / Electronica / Ethereal / Dub / Soundscapes / Abstract
Edit (9259)
Acoustic-electronic and electro-acoustic modulating duo Jospeph Cramer and Noe Cuellar aka Coppice, recorded Cores/Eruct, the audio equivalent of wandering through a vast robot fabrication and repair facility. Things start slowly with opening track, "Bluing", as if the facility is just starting-up first thing in the morning with more tentative machine noises going through a boot-up sequence. Yet, one can almost feel high voltage power build up, a kind of omnipresent hum permeates. The closest analogy is when one approaches a power transformer or power lines where electricity is felt as much heard. The power build up and tension is strong, looking for the machines to fully awaken for the discharge. "Son Form" is more animated with machines going through a preliminary integrity check, but the following "Seam (Kinder)" is where the facility is in full swing. If you put Cores/Eruct on a decent home stereo, you really can give your neighbors the impression you are running a mechanical factory from home. "While Like Teem Or Bloom Comes (Tipping)" is where I realize that Coppice reminds me of Pan Sonic, albeit less software and more electronics as they use Transmitters, a "modified boom box", a "prepared pump organ", "funnels" and "tape processes" though I do see a laptop in promotional documentation so I figure there is some software manipulation. These electronics are arranged in clever melodies and rhythmic compositions, much like Pan Sonic, only Coppice works with more visceral textures. The final track "Blueing", is similar to opening "Bluing", only it gives the impression of the plant winding down instead of up. End of work day. If you are into Pan Sonic but prefer more 'acoustic' mechanical textures, as in real machines, this disc is for you.