Ambient / Electronica / Ethereal / Dub / Soundscapes / Abstract
Edit (9537)
Artist:
Tom Eaton
(@)
Title:
Indesterren (Into the Stars)
Format:
CD
Label:
Riverwide Records
(@)
Rated:
The second, and more recent release by Tom Eaton (assuming you've read my previous review on 'Abendromen') is in some ways similar, yet in other ways different than 'Abendromen'. This one, as the subtitle might suggest is more space-oriented. From the opening track, "red blazer" Eaton uses touches of cosmic synth, Jade Warrior style atmospheric guitar and even some sequenced synth toward the end. The melody is bloody simple, but you don't need anything more here. I think on "vervagen" Eaton was striving for the mood he came up with on "tuesday/the compass" from 'Abendromen,' but nice as it is, it doesn't quite have the impact. There's a lot more synthesizer overall on 'Indesterren' and while it's varied in tonality, it still falls into that "Hearts of Space" new-agey sound more often than not. Eaton's guitar playing here is another matter. Think of guitarists along the lines of Michael Brook and Tony Duhig and you will get some idea. On the track "midnight clouds and the great bear" Eaton combines all his elements to form something completely different, that isn't New Age but rather cinematic. It's impressive, and achingly beautiful. Although piano is often the main instrument throughout may of these compositions, it's the backing orchestrations that create the moods and textures that really shine on 'Indesterren'. There is also more percussion used on the album which keeps the album from being all herbal tea and woolly sweaters. The Spanish-flavored "venus' is a particularly nice track, and while I wouldn't call it ambient (too much structure), it has a noirish smooth jazz feel to it. Unfortunately, there are lapses into New Age territory, as on "the raven" where piano and synth get new-agey again. As on 'Abendromen,' Eaton saves the real ambient tracks for last, four this time, and these are wonderful atmospheres. In a couple of places I was reminded of Harold Budd, just a little. Over all, 'Indesterren' is a little better album than 'Abendromen' in my opinion, in that it's spacier and has more variety. I think if Eaton starts leaning more towards real ambient and begins to use his piano more for effect than melody, it will spend more time on my playlist, and perhaps yours too.
Ambient / Electronica / Ethereal / Dub / Soundscapes / Abstract
Edit (9536)
Artist:
Tom Eaton
(@)
Title:
Abendromen (Seven Evening Dreams)
Format:
CD
Label:
Riverwide Records
(@)
Rated:
To anyone who has ever bought a Windham Hill album, the name Will Ackerman should ring some bells. He founded the label (along with Anne Robinson) and as a guitarist, has numerous releases on it. Turns out that Tom Eaton has worked with Will as a studio engineer and often co-producer on over 50 records in the past six years. Tom is a multi-instrumentalist (mainly piano on these recordings) originally from Exeter, New Hampshire, now located in Newburyport, Massachusetts, although he spends a third of his time at Imaginary Road Studios in Widndham County, Vermont. Now I know what you must be thinking - jeez, this is "New Age" music, isn't it? Well, yeah, it kinda is. But it's also kinda ambient, in some places more than others. Although Eaton describes himself as an "ambient pianist" I think of him more as an "atmospheric pianist". For me, an ambient pianist would be Harold Budd, not George Winston (in his Windham Hill output), and stylistically and compositionally, Eaton leans a lot more towards Mr. Winston than Mr. Budd. On a number of compositions on 'Abendromen' Eaton uses what I could only describe as "Hearts of Space" synthesizer backing. If you ever heard that radio show, surely you know what I mean, definitely "New Age synth". Most of the music on the album is contemplative, herbal tea, warm woolly sweater and crackling fireplace music. It goes down easy with just the right amount of wistfulness and never rocks the boat. The melodic structure is simple; little melodies that are slightly embellished on over time. There was one piece I was particularly struck by - "tuesday/the compass" which has a very nice melody and is beautifully orchestrated with bass, drums synth and percussion. I haven't heard anything this moving in this vein since Schonherz & Scott's version of "Sentimental Walk" (from the movie 'Diva'). The sparse Pink Floydian slide guitar is particularly effective on this track. Perfectly moody with no sap on the tree. The real ambient music on this album shows up on tracks 8, 9 and 10 which are comprised of ambient guitar beds. This is actually the best stuff on the album, very Enoesque in its gentle droning, and saves 'Abendromen' from becoming just another New Age piano album. Worth a listen.
Ambient / Electronica / Ethereal / Dub / Soundscapes / Abstract
Edit (9534)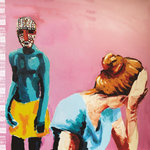 Artist:
Mirt
(@)
Title:
Random Soundtrack
Format:
CD
Label:
Kosmodrone
(@)
Distributor:
Alchembria
Rated:
This new release from Tomek Mirt is that sort of release which sounds as a personal divertissement of his author. Described in the liner notes as a sonic experiment of écriture automatique, it's a collection of catchy tunes supported by a well crafted soundscape based on field recordings.
The quiet sounds of "Second Track" slowly evolve into a rhythmic and hypnotic track while "Must Be Something from Asia" is a concise track based on a small melodic figure. "Ambient Interlude I" uses the synth to underline the field recordings while "Night Sequence" uses them to support the rhythmic structure. "Love Theme" is an evocative field recording with the synth creating a dreamy atmosphere while "Motorboat Chase" returns to more danceable territories and "Sri Maha Mariamman" is an interlude based on field recordings to "Michael's Theme" whose use of voice creates a sense closer to a cinematic experience. "Rush on South" is a simple and short rhythmic track which evolves in the ambient watercolor of "Sunrise on the Beach". The loop of "Main Theme" underline his rhythmic structure whose atmospheric rendition, "Main Theme (reprise)", closes this release.
Repeated listenings reveal the role of field recordings which is the glue collecting the track in a coherent whole; this album could be devoid of memorable moments but it gives the listener the will to press the replay button. It's worth a listening.
Ambient / Electronica / Ethereal / Dub / Soundscapes / Abstract
Edit (9532)
Artist:
Eluvium
Title:
False Readings On
Format:
CD
Label:
Temporary Residence
(@)
Rated:
Being sublimely lyrical without lyrics is one of the relevant and maybe the most outstanding feature of "False Readings On", the eight full-length studio album by Matthew Cooper in the guise of Eluvium. Voices of benevolent entities, moaning like they got grabbed during an EVP tape recording, soothing tonal elongation, a fragile set of piano chords and a thrilling opera-like singing immediately catch listener's attention on the opening "Strangeworks", which delicately flows up to the folk-tinged lukewarm tones and the neighing high-pitched (artificial?) singing of the lovely "Fugue State" - it could be imagined a make-up of earlier songs by Sigur Ros or Mum featuring the way of singing of first outputs by Goldfrapp -. After the medley of "Drowning Tone" - the title well describes its content -, "Regenerative Being" seems to be the festive dedication to some natural "miracle" by following more or less the same ascending path (peaking over stunning ecstatic singing and gently brighten pad-synth melodies); such an ascension occurs earlier on "Washer Logistics", but such an effect got rendered by a sound that looks like the most critical phase of the cleaning process of a washing machine (!). Its mechanical cathartic explosion got counterbalanced by the quiet elegance of "Movie Night Revisited", built on the guessed combination of a sort of thin electronic wave, a church-like choir, and a synth flute soothing line. The following 9 minutes of "Beyond The Moon For Someone In Reverse" are one of the best listening choices during the drinking of your favorite magic sleeping herbal potion to relieve anxiety and help beautiful dreams. The title-track "False Readings On" is maybe the more cryptic moment of the whole album - a set of morse-like sings, reversed melodies and distant voices (speaking in Russian?) - and comes before the glaring delicacy and the yelling beauty of "Rorschach Pavan", the pillow talk-like hug of "Individuation" and the long lasting final suite "Posturing Through Metaphysical Collapse". The whole sound Eluvium developed looks like the flooding of a balanced combination of ecstatic beauty and controlled fading, a mixture that someone would call love...
Ambient / Electronica / Ethereal / Dub / Soundscapes / Abstract
Edit (9530)
Artist:
Siyanie
(@)
Title:
Mystery of Life
Format:
CD
Label:
Moonsun Productions
(@)
Distributor:
Zhelezobeton
Rated:
'Mystery of Life' is the third full-length album by Syanie, the project of Sergey Ilchuk (ex-Vresnit, ex-Vetvei) and Dimitry Shilov (Neznamo, Peal Grim, Magical Things) comprised of material recorded at three live gigs in 2012-13 and completed in the studio 2012-15. Now I've heard and enjoyed Vresnit and Neznamo before, both exponents of the New Russian Ambient Music scene, but Siyanie is new to me. However from the moment I saw this CD I knew I was going to like it. It's cosmic ambient to the max, and nearly 80 minutes of pure aural bliss. A bodacious blend of electro-acoustic environments that you can just let your mind float away with. I especially like the use of sitar that crops up now and then in the music giving a kind of Eastern transcendental flavor. The textures of Siyanie are sublime and ever shifting within their cosmic drones. At times ultra placid, at others mildly intense, it bodes well for a musical trip into a higher state of consciousness. Voices that arise in some pieces sound absolutely other-worldly. The nine tracks (track 9, "Shine If You Will" has three parts) are somewhat lengthy (nothing under 6 minutes) and evolve nicely over time. The grossly overused term "psychedelic" might be applicable in the sense of mind expansion for what the listener may experience with this album, but no drugs are required. Although if I had to equate it with one, it would probably be DMT, although that trip is much more brief than the album, from what I've read. (Never tried it.) If you're looking for an aural equivalent of utopia though, this has to be it. One of the reasons why the album sounds so good is that it was mastered by Sergey Bulychov (Kshatriy), another Russian ambient artist I've reviewed here before. The colorful artwork on this 6-panel CD slipcase is by Sergey Ilchuk and certainly reflects the music. This is one of those albums that really needs to go on your "must have" list, and since it's limited to only 300 copies, I wouldn't wait too long to acquire it.