Artist:
Oiseaux-Tempête
(@)
Title:
Unworks & Rarities (2012-2015)
Format:
CD
Label:
Sub Rosa
(@)
Rated:
Despite the substantial lack of stylistic and conceptual uniformity, this collection of b-sides and unreleased stuff - recorded between 2012 and 2015 - by Oiseaux-Tempête, the brainchild of French musicians Frédéric D. Oberland and Stéphane Pigneul crystallises significant collaborative outputs in the development of their sound. The opening 10 minutes of the gently morphed ambient suite "Eclipse & Scirocco" manages to evoke the matching of ideas of its title: occasional distortions of delicate layers, which sound like sedimenting layers of vapor fading the hallucinations within the fading lights of twilight, bright melodies getting dimmer and dimmer in the act of entangling the listener till the rising of Christine Ott's Ondes Martenot voice. The obscure and bluesy Americana-like guitar phrasing on the following "Quai De L'Exil" seems to tighten the stronghold and to wither at the same time until these two processes find their highest peak at the end of the track. The sound of the same dim guitar slips away from the worrying echoes of riots and urban battles like a silent mist, an amplifier of the thought of "No Go(l)d No Master", a transliteration of the well-known anarchist slogan "No God No Master", tangling the political theme they explored in their recent album "ÜTOPIYA?". The bluesy declension of post-rock evokes bitter sips of dust and whiskey in "Black As Midnight On A Moonless Night", the track that precedes "The Strangest Creature On Earth", one of the most touching moment of the album - particularly after the recent sad news from Istambul -, named after a poem by Turkish poet N'zm Hikmet Ran, interpreted by former The Ex frontman and singer GW Sok. Another hook to recent facts occurred in Paris cut the grinding guitar, bass and drum lines of the final "Nec Mergitur", where Oiseaux-Tempête's music seems to summarize the first part of Paris coat of arms "Fluctuat Nec Mergiter", meaning "Tossed But Not Sunk". Very good collection of unreleased tweets of rising fury...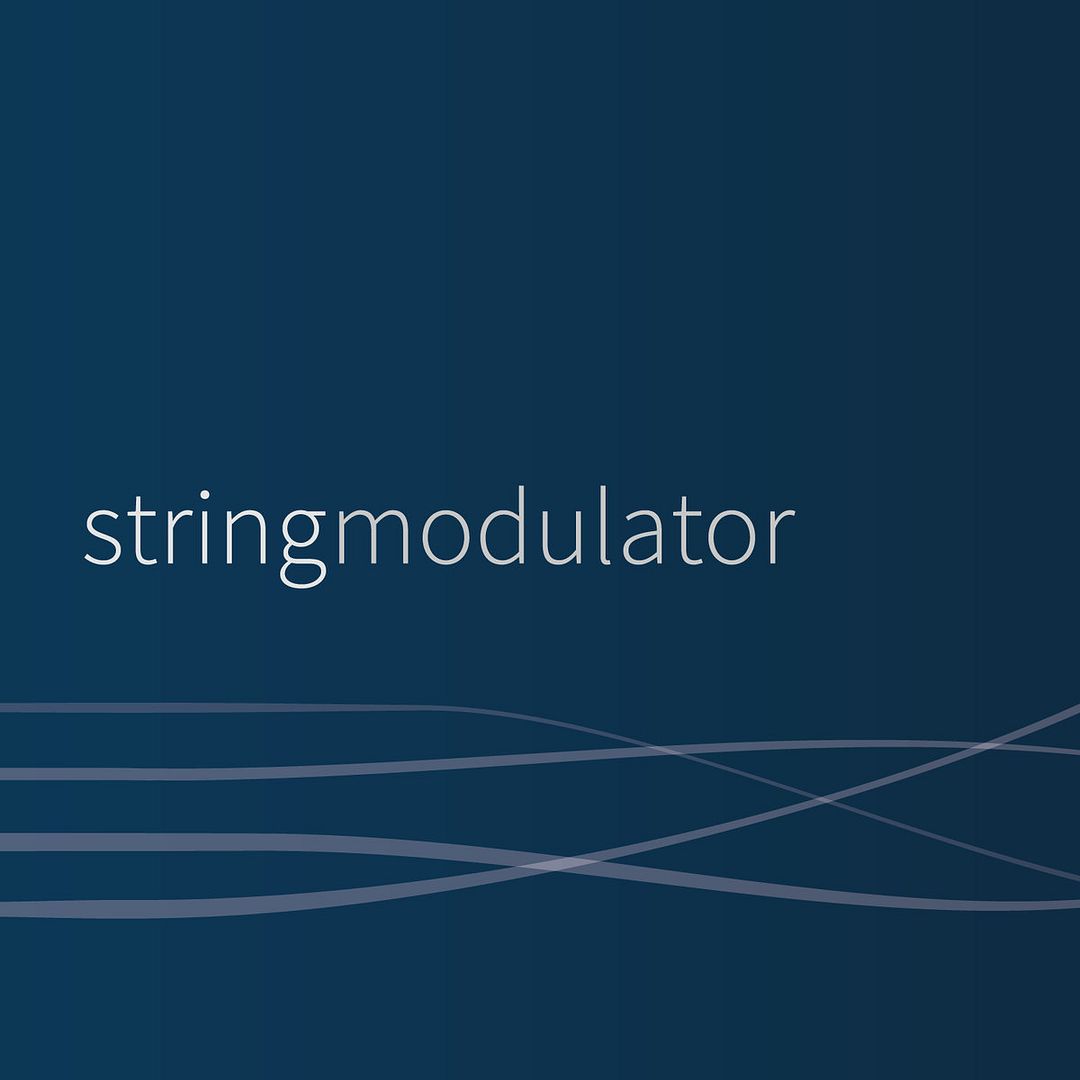 Artist:
stringmodulator
(@)
Title:
stringmodulator [EP]
Format:
CD
Label:
self-released
Distributor:
Bandcamp
Rated:
German musicians Jan Quednau (bass) and Fabian Chmielewski (guitar) compromise stringmodulator, an experimental music duo limited to ten strings. At 41 minutes, their first EP is quite possibly the longest EP I've encountered to-date, though in fairness the time spent listening flew by.

Lengthy initial track 'flow' does just that; at nearly 19 minutes, a number of motifs and patterns are established for a few minutes, never over-staying their welcome, and enveloping an organic continuance that is steady as a river (flows). At numerous times I found myself marrying 'flow' to an imagined crime-thriller film. For example, I could envision it functioning as dramatic underscore to certain scenes in Michael Mann's 1995 film "Heat," especially during the more pulsating/grooving moments.

Second composition 'OZEaN' is more contemplative and solemn. Almost call-and-response in nature, Quednau frequently sets the tonal stage with highly-treated, wandering basslines which Chmielewski answers with various guitar utterances that range from driven harmonics, feedback yelps, and clean, jazz-voiced chords. And then, somehow, we ultimately end up modulating into a miniature funk workout in the final minutes.

The final track is a live version of 'flow' that coalesces the most brash moments of the studio version and pushes them closer to extremes, alluding to an everyday four-on-the-floor pulse. Though purposefully limited by its instrumentation, the debut EP by stringmodlulator takes enough left turns to be enthralling, and overall satisfying.
Artist:
Matt Davignon
(@)
Title:
Pink Earth
Format:
CD
Label:
Ribosome Music
Distributor:
Bandcamp
Rated:
With "Pink Earth", Matt Davignon continues his experiments with rhythmic-devoid, amoebic-tinged drum machine treatments. It is a curious endeavor to utilize devices intended to create patterns and mostly sounds with a very specific function for virtually everything but. Still, the end result sounds made-to-measure and fits perfectly within the confines of a concept album that, "represents the experiences of an expedition team on a strange new planet, and their impressions of the landscape, flora, and primitive fauna that they encountered."

19+ minute opener 'Arrival / Pink Earth' percolates unhurriedly, beginning with the rising/descending sound similar to that of a buzzing insect, purposeful in its virtual-sounding complexion. Gradually we digress into spiraled, mildly-distorted long tones accompanied by percussive accents, and then a near orgy of subdued blips accompanied by sped-up-/slowed-down fragments of what I'd guess are treated field recordings. The end result of the multifarious, disjointed particles is surprising: an organic-sounding, sonic thicket of sorts.

Most of the other tracks follow suite; some, such as 'Lepidoptera', are more congested than others, featuring acute, concentrated thwacks tirelessly layered to forge yet another fabricated environment. 'Departure' effectively arrests the team's expedition with sampled singing coupled with the sound of radio tuning. It's a concise, fitting end to the album's prolonged aural exploration.

At numerous moments traversing "Pink Earth," visions of a synthetic woodland at nighttime were conjured. I'd wager that's a mission accomplished.
Ambient / Electronica / Ethereal / Dub / Soundscapes / Abstract
Edit (9236)
image not
available
anymore
Artist:
Keosz
(@)
Title:
Be Left to Oneself
Format:
CD
Label:
Cryo Chamber
(@)
Rated:
Sometimes a label as Cryo Chamber, whose output is rooted in a strongly codified genre, tries to escape the limits of this approach signing a project with a slightly different approach. Keosz is a project from Slovakia which is not so concerned with darkness and sonic details as other artists of this label and is, instead, closer to the canonical approach of Ambient music so the "analogue touch" of the liner notes sounds like a reference to the roots of this genre.
The soundscape full of details of "Be Left to Oneself" opens this release without the elements shown in "Occurred" which is the core of this release: instead of relying in sonic crafts, Erik Osvald decides to develop a sort of melody so it sound closer to so called Modern Classical than Dark Ambient, as it inserts some violin lines and it doesn't rely too much on drones. "Forfeited" is quiet return to the canonical form while "Forlorn" tries almost a full melody that couldn't be catched as the listener's attention in on the drone rather than in the elements in the background. "Traitor" shows how the violin voice of the synth is treated in an almost orchestral way and "Insecure" is a dreamy ambient track. While "Clearance" is almost an slow orchestral tune, "Low Down" is based on slowly developing melody using tones rather than drones. Above the drone at the base of "Before the End" there's a clear recording of rain giving a vague sense of sadness to the track.
This release is almost a surprise as it marks a sort of crossover of some elements of Dark Ambient and more pop elements so the result is an enjoyable release that tries a melodically approach to the genre which could attract fans of other musical styles. A really nice release.
Artist:
Pinkcourtesyphone + Gwyneth Wentink
Title:
Elision
Format:
CD
Label:
Farmacia901
(@)
Rated:
Elision is the result of a collaboration between Richard Chartier, in his Pinkcourtesyphone alias, and Gwyneth Wentink, a classically trained harpist. The sound of a triple harp, a 1600's variant of this instrument with three rows of string instead of the usual single row so it has a richer set of timbres and harmonics.
This track sound with a background noise interrupted by the melody of the harp enhanced by the effects applied by Chartier. In the first part of the track, while the sound artist develops his soundscape using drones and tones which are the base of his well known style, the harp prefers to develop arpeggios creating an hypnotic effect mirroring, in part, the resonances of the electronics. In the second part the Chartier's sonic backdrop is the main element which relegates the harp in the background except for a small moment as a solitary reprise of the first part that is an interlude for the final part where the drone accompanies the listener towards the end of the release.
As Pinkcourtesyphone is a project less austere than the releases that built an entire genre, it's a statement on how an artist can evolve without forswear his aesthetics by the dialogue with the characteristics of his collaborators. Another remarkable release.