Ambient / Electronica / Ethereal / Dub / Soundscapes / Abstract
Edit (9330)
Assign or relate a function to music - a song for having a coffee with friends, a song for letting your children sleep, a song for a pervert night, a song for an elevator, a song to charm snakes or beetles - is an old-fashioned way of advertising records that gradually disappeared and made me smile. Many musicians have reasonable arguments against this method of introducing music, which was widely used by first ambient labels and got massively reprised by new age-focused labels and compilation pushers, that expanded the types of situation to fit sounds, songs, and any supposedly suitable audible products. Welsh label Serein introduced this collection of beautiful tracks by highlighting the perfect usability during a journey, but the quality of each track is so high and elevating for the mood and thought of listeners that most of the reviewers could turn a blind eye against this grossly hackneyed manner of speaking about music. Most of the tracks are close to that traditional interbreeding between ambient music, contemporary classical and tonal spraying that featured stylistic grounds that got fertilized in the recent past by other labels as well, such as London-based Just Music through the releases by artists such as Jon Hopkins, Echaskech, Honeyroot and Leo Abrahams, but there are many variations on the theme of escapism in this selection widening the stylistic range: tracks like Benoit Pioulard's "Alogia" or The Inventors of Aircraft's "No Returns" lap upon Boards of Canada's ethereal shores, some similarities to the pianism by Ludovico Einaudi, can be caught in the beautifully melancholic opening by Otto A Totland on "Selon", the ecstatic tension by Brambles on "Petrichor" could be matched by some divagations by Johann Johannsson, some stuff that rearranged sounds according to a fuzzier logic such as Ametsub's "Blue Loop" - I already introduced "All is Silence", one of the best output by this sound artist in this space - or the entrancing "Solaris", co-signed by Yui Onodera and Chihei Hatakeyama - other known names to Chain DLK followers - or the warm thin sonic vapor by Imprints' "Roy" or the crepuscular intercrossing with field recordings by Donato Wharton on "A Lightless Volume of Water". The mentioned tracks and the whole content of this excellent compilation will demonstrate that your mind could reach unpredictable space orbits using well-selected tunes whether or not physically traveling on rails, wheels or feet.
Ambient / Electronica / Ethereal / Dub / Soundscapes / Abstract
Edit (9328)
Artist:
Mira Drevo
Title:
Sledy na Snegu
Format:
CD
Label:
Zhelezobeton
(@)
Rated:
Mira Drevo is the electro-acoustic ambient project of Dimitriy "Skald" of St. Petersburg, Russia, and along with Pavel of the post-rock doom metal band Sequoian Aequison, they made this live recording titled 'Sledy na Snegu' ('Footprints in the Snow') on December 25, 2015 in the St. Petersburg Sound Museum (formerly Experimental Sound Gallery, ESG-21) for one of the nights of the "Alchemy of Noise" party series. One this recording Dimitriy uses synthesizers, a sampler, authentic field and ethnographic recordings along with acoustic instruments - flute, mouth harp, and percussion. Pavel contributes some gentle guitar, quite different from the band that he's in.

Considering that this is a single,lengthy track (a little over 32 minutes), and in all probability largely improvised, this is one remarkable piece of music. This isn't just your "drone on, and add a few other sounds to the mix" kind of ambient. This is musical ambient that seems almost an outgrowth of nature; a kind of melodic environment. And of course, performed on Christmas night (well, our Christmas, Russian Christmas is January 7th) what else would you expect but a winter piece? From the music though, you don't get the impression of icy cold, but rather a calm, placid, and nearly cheerful environment. I can picture snow gently falling, hear people walking through the streets conversing, the occasional cry of a snow-bird flying overhead, and other things you might associate with the lighter side of the season. Throughout the piece there is a slow-moving melodicism that is subtly woven through the ambience. This to me is what raises this piece above a lot of the ambient music of this kind that I've heard previously. In a way too, it is rather hallucinatory, but never what might be described as "mind-bending," but more "mind-flowing". Most of 'Sledy na Snegu' has no real rhythm track, except the last few minutes where there is a minimal beat, and the culmination of a psychedelic melody, like very, very laid back Pink Floyd. The only vocals are incidental dialogue in Russian, indistinct enough to just be part of the ambience. The whole thing is quite remarkable, and fortunately no applause was recorded, so unless you already knew (as I have told you) you would never know that it was live. This is the first and only thing that I've heard from Mira Drevo, but after this, I'm certainly up for more. A limited release available in two formats: 77 copies on pro-CDR in a cardboard slipcase, or 55 copies on cassette (even numbers white, odd numbers black). Worthy.
Ambient / Electronica / Ethereal / Dub / Soundscapes / Abstract
Edit (9327)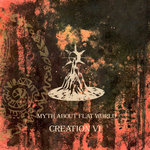 Artist:
Creation VI
(@)
Title:
Myth About Flat World
Format:
CD
Label:
Black Mara
(@)
Rated:
This release from Creation VI is based on the symbol of the Flat World which, according to the liner notes, was chosen as it's tied to a whole mythology whose sense emerged from the idea of a bounded territory whose third dimension, the mountains, was the dimension of Gods. The overall music results stand on that form of post industrial where the use of drone is mediated by the use of almost ethnic elements which give a sense of displacement as it were recorded on another continent.
A quiet drone opens "The Flat World" and the listener is slowly introduced into a sonic landscape where elements unfold from an apparently quiet ground. "Ancient Wind" uses sparse drum and flute sections to give a distant element of reality into a structure that could seem constructed. "Mountain Roots" starts as a sort of song as it features whispers as a sort of ritual. While the first part of "Keepers of Existence" is focused on the evocative properties of sound, his second part is focused on deep drone, in an almost didgeridoo register, to underline a sort of religious setting. "Beside The Tree of Life" closes this release with layers of drone to generate a sense of departure.
While it's not a ground-breaking release, this release features an almost mature sense of form and bases his form of the evocative properties of sound and a recognizable, almost reassuring, form. Perhaps not only for fans of the genre.
Artist:
David Toop
Title:
Entities Inertias Faint Beings
Format:
LP
Label:
Room40
(@)
Rated:
It's not the first time that while listening to some outputs by David Toop, I vividly perceived the sensation that he's one of those swimmers who could never tread water in his imaginary "Ocean of Sound", as his relation with sound (with any kind of sound) seems to be almost symbiotic. He could turn or translate into sounds, that he mostly grabs from surrounding reality, is not limited to data taken from sensorial overloads, but also to the highest spheres of critical thinking, philosophical reflections, mental fugues or spiritual alignments or misalignments. This skill has not been invalidated by three periods of solitude, which seem to have inspired the sonic rings he drew on the aural grounds of "Entities Inertias Faint Beings". In line with his thoughts on the essay as mentioned earlier "Ocean of Sound", he stated that the music of this release already existed in the form of spores or dormant clusters of digital files and the way by which he woke these clusters up is utterly enthralling from the intellectual point of view. The description of one of the above-mentioned three periods of solitude could render the stunning slideshows coming from his intriguing sonic aesthetics: "The first was in Queensland, on Tamborine Mountain (an aboriginal name), so silent at night that I listened to recorded music - Japanese gagaku, Buddhist ritual from Bhutan, Korean Confucian music – as if drifting into cavernous black space. Stepping into sleep, I saw a hypnagogic image - a transparent swimming pool suspended over the mouth of a volcano. I read Stephen Mansfield's book on Japanese stone gardens – "Successful stone arrangements seem almost alive, the elements conversing among themselves with an occult vitality, the call and response that has been noted between well-placed rocks resembling the chanting of Buddhist sutras"; daylight listening in chill air, hearing whip birds, butcher birds, noisy mynahs, kookaburra chatter, rainbow lorikeets; catapult elastic, I wrote, radio waves in a kettle, electric buzzers. On Queensland's Gold Coast I gazed at a distant humpback whale breaching out to sea, watched Yasujiro Ozu's 1934 silent version of A Story of Floating Weeds, listened to cicadas burst into life as a helicopter flew overhead.". A fascinating Plato-like sonic anamnesis produced by distillation and condensation of sleeping or just awaken beauty.
Artist:
drøne
(@)
Title:
Reversing Into The Future
Format:
12"
Label:
Pomperirossa
(@)
Rated:
"A very hot day in the hills above Los Angeles… only possible to work in the mornings because of the sweltering afternoon heat, so all a bit frantic, but with a kink in time. There is no wifi-controlled air conditioning; the car is electric-powered and charging up. It has barely rained for months, (if not years) and the hoses are working overtime. Its an analogue session; Mark's modular synth set up is working furiously and overheating. We are pushing sounds through and seeing what works… and things gradually take shape. The forms seem to determine themselves; how much control do we have? How much do we want? Some peculiar things start to happen and the haze bends. Some of the sounds seem alive and are quick to reform as we struggle to contain them, like trying to stuff snakes into a bag. The sounds moan and sing, forming their own phonemes.". I guess these words got written by Mike Harding, being the other half of this bicephalous project Mark Van Hoen, mentioned in the third person; if you try to render the described heat and the set and the setting where this recording sessions supposedly occurred, you'll better get deeper into the amazingly mutating drones these guys wisely forged before delivering them to Anna von Hausswolff's imprint Pomperipossa. Anna herself described it as "a unique jewel". The vinyl format they've chosen required a split into two parts, but it should get perceived as a continuous track, where the initial set sounds like a rising crescendo: the heating fed a sort of tightness and a burden that got mitigated by slightly "airy" moments of the drone recurring like temporary flurries. Some short wave radio disturbed voices in the second part sounds like ghostly entities that are parts of the hallucinatory torment, inspired by a mirage, which suddenly turns into like a kind of report from a mystical experience, whose phonemes gradually begin to get more and more intelligible...