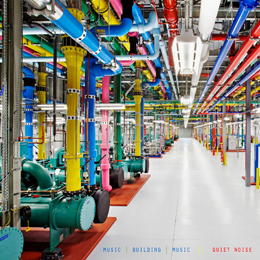 Artist:
Quiet Noise
(@)
Title:
Music | Building | Music
Format:
Download Only (MP3 + Lossless)
Label:
Audiobulb
(@)
Rated:
The follow-up of last year's 'Audible Life' is presented as "the story of a hard day's work" based on "the author's experience in labouring and carpentry" and is "a metaphor for our relentless drive for success". From a musical perspective this is something that could be classified as 'glitch-pop' or 'ambient-pop' as the experience is depicted with short tracks whose themes are absolutely catchy.
A track like "The Scenic Route" opens this release setting a musical structure where melodic appeal and rhythmic intensity sustain each other. While "Generating" develops the rhythmic elements using short samples, "Ideas of Steel Chord" develops the melodic element resulting in something between a pop song and an ambient track. A guitar loop is the main element of the first part of "Break it Down, Build it Better" while the second part is based upon the arrangement of short elements in a rhythmic structure. "Teamwork is Paramount" is almost a dance track while the guitar interlude of "Chiseling the Form" breaks a rhythmic development. The ambient miniature of "Need a Minute" is an introduction to "A Fresh Perspective" whose synth is a vague reminiscence of lost times. The aggression of the first part of "The Final Hour" is dissolved in a dreamy second part. "I Earned This" closes this release in a joyful mood.
This is that kind of release which is not ground-breaking, could not be in any playlist at the end of the year but it's something that it could be heard for month, it remains fresh and could be enjoyable by anyone. It's the magic of pop music.
Ambient / Electronica / Ethereal / Dub / Soundscapes / Abstract
Edit (9126)
problems
with image
availability
Artist:
Olga Wojciechowska
Title:
Maps and Mazes
Format:
CD
Label:
Time Released Sound
(@)
Rated:
An album consisting of eleven songs by Polish composer/violinist Olga Wojciechowska which were originally created for various dance, theatre and film projects over the last few years but have now been remastered and put together on the Time Released Sound label to produce this gem.
These are intricate and well crafted pieces of music which are allowed to grow, breathe and evolve invoking somewhat ghostly and sublime atmospheres. Mainly introspective, it's all about being touched and caressed by the late evening moods as the layers of background sounds and acoustic instruments whisper their way into your head. This music has depth, never harsh, it's beguiling components both tease and compel you to listen deeper to its nostalgic and mysterious pathways. Ever expanding and at times haunting, moments of utter beauty arrive and depart like long lost friends. Album highlight " I'm never not thinking about you " is close to classical ambient perfection, a melancholic and reflective backdrop to a yearning violin played with genuine emotion, it's only flaw is that it ends.
The three tracks from " Avenida Corrientes - the movie " have a more languid, laid back feel which, it my opinion, feel a little out of place with the general aesthetic of the other songs reminding the listener that this is a various collection of the artists works, but it does not detract from the quality of the album as a whole. It can't be argued that there is a huge talent on show here and it's a great pleasure to be able to immerse oneself and enjoy such a personal and heartfelt journey.
Artist:
Yiorgis Sakellariou
(@)
Title:
Everything Emanating From The Sun
Format:
Download Only (MP3 + Lossless)
Label:
Crónica
(@)
Rated:
"Everything emanating from the Sun which is Divine Love is called spiritual; everything emanating from the sun which is fire is natural.". Greek electronic music composer Yiorgis Sakellariou took the first sentence of these lines by which Swedish scientist, mystic, theologian and philosopher Emanuel Swedenborg tried to explain the link between spiritual world and natural one - he used the term 'correspondence' or 'relation' to describe it - as well as the Divine in his essay "Life in Animals and Plants", a sort of revisitation of Christian belief of Creation by means of ideas, which were close to Neoplatonist outlook, as a title for this release, the first one of Corollaries, a new series by which Portuguese label Cronica is going to compile some works that got produced during the Active Crossover: Mooste, the last (but not least) residency of Active Crossover, a sort of permanent cross-cultural laboratory British sound artist Simon Whetham established in Tallinn, Estonia in 2009 in order to search new performative sound-focused strategies and possibilities for a series of workshops and sessions, where a selection of sound artist could check new working methods - an interesting idea that got hosted in many different locations such as England, Chile, Colombia, Germany, Norway, Argentina and Australia and got already documented by a compilation on Cronica in 2012 -. On that occasion, MoKS studios and space opened his gates to the brilliant Greek sound artist, known by field recordings fans for many interesting essays of digitally manipulated environmental sounds that he sometimes performed in completely dark places - I like to think he tries to emulate the "veil" of Pythagorean akousmatikoi, in order to let listeners focus on sounds without any other sensory distractions -; he didn't make this 31 minutes and 13 seconds lasting field recordings-based composition as an aural postcard of his experience in Estonia, but it seems that his amazing way of compressing and decompressing concrete sounds got inspired by an idea that Igor Stravinski expressed in 1941, according to which natural sounds cannot become music until they are put into order and organized as "conscious human act", even if he can't explain the reason of the time-stretching, the pitch-shifting and the filtering of the sounds grabbed at Mooste. According to his own words, "it is about effectively placing sonic events in time and not submitting to any kind of pre-fixed rules about recorded sound". The dilation over time intervals of sounds is maybe the most relevant aspects: the first similarity I noticed is the one with some experiments on overdubbing of tapes that many performers tried and if you play this composition by changing tempo, what could sound like the slowed noise of a train could turn into the obsessive mechanical hammering of a power loom for example. At the end of his introductory words, Yiorgis returns to Stravinsky's thoughts by stating that maybe the conscious human act that he required could simply be the act of listening: "this activity, potentially profound and meaningful, establishes a form of communication between the listener and the environment but remains a personal experience. Music, besides making a connection to the cosmos, additionally sets a relationship between human beings, it is a social construction. As a shared activity, music brings together composer and listeners in a transitory time and space.". His words could even summarize the spirit of Active Crossover...
The sonic affinity between Taylor Deupree and Marcus Fischer was clear since their first output "In A Place Of Such Graceful Shapes" in 2011, which sprung out of four days of intensive sessions in the middle of a snow-covered frozen New York, just a few months after their meeting. The imaginary "plaster" of their debut release was remarkably influenced by their passion for photographic arts, while the sparkle of this new output seems to have been a series of looped tapes whose hissing effortlessly and harmoniously mingled with the crackles that resounded in the dim light of a room, where they retired after they spent the whole day in a studio for searching and recording new sounds during a visit to the west coast in the summer of 2015. The physical tiredness, which sometimes alters perception, didn't appear to be reflected by their hungry for aural findings of these sonic wizards, so that after 15-20 minutes of contemplation while the above-described loop was mingling with their creativity as well, it seems they understood that this input is what they were looking for in the studio during daytime. Unlike the above-mentioned debut album by this bicephalous collaboration, which strongly influenced the sound of Deupree's label, the "sensorial" focus is on aural perception more than on environmental aspects of sound, even if space and photography keep on playing an important role in the process - for instance, the mechanical noise of the tape machine you could hear on "Buoy" brought their mind to an abandoned dock they photographed in Iceland and its quiet knocking against the shore -. The name of this album, "Twine", doesn't only refer to the number of its authors, but mainly to the "symmetry" of its sonic sources: two mono tape loops, acting like knots or bridges, but also as a source of dynamics by means of their asynchrony, and four acoustic instruments (electric piano, bells and a couple of stringed instruments), which makes two different loops, recorded by means of microphones that Deupree and Fischer placed in the room. There are many projects, which focus on this sort of sonic fossilization, but the skills and the experience by Taylor and Marcus make the difference and turn it into a listening experience, which is going to feed and foster daydreaming.
The first seconds of "Final" - in spite of its name, it's the first track of this awesome album - could vaguely resemble the strings of "Yfirum" by Hilmar Ãrn Hilmarsson, but the direction that this output by Italian musician Andrea Gastaldello after dilutions of strings, that got wisely delayed and diluted over a metallic scratchy noise which could evoke the image of a painful laceration, is completely different and somehow unpredictable, even if the way by which he modelled his sound keeps on recalling some "deep" stuff of the Nordic scene that became remarkably popular in the first decade of the new millennium. The subterranean clicking, the ephemeral string-like whispers and the gradually ignited trigger of "Afterdark", the faint anxiety of the piercing narrow dynamics of the following "Words" and the almost chilling title-track "Static" wisely push listeners towards a sort of idle soul-scanning and such an introspective dimension doesn't really shows signs of subsidence during the first electro-mechanical subtle assault of the labyrinthine "Sevi Lwa", named after the branch of Voodoo which focuses on love spells. The thin air that sounds like getting excited by a crescendo of electronic percussions and sonic glare on "Dummies" and the temporary lukewarm quiet of "Slow" (featuring a sound which seems to come from old rotary dials) are the watersheds of "Static", whose temporary peace got definitively disturbed by the gloomy electrical throttling of "Conditions", which managed to hook some past listening memories such as Ltd.Noise, the almost unknown project by Paul Fishman - one of the founding members of Re-Flex - and Peter Gill - former drummer of Frankie Goes To Hollywood, or Danny Almonde. The cathartic defrosting on the beautiful "Solitude" and the humoral post-industrial traces on "Too Late" prepare the ground for the extremely catchy tones of "Fate", where the achieving of new insights seems to find a sort of sonic mirroring. Masterfully mastered by Eraldo Bernocchi.