Ambient / Electronica / Ethereal / Dub / Soundscapes / Abstract
Edit (9370)
Artist:
Phi Bui
(@)
Title:
Unnoticed Moments
Format:
CD
Label:
Eilean Rec.
Rated:
Almost simultaneously to the pin added by Daniel K.Böhm, French label Eilean Rec. added another point on its sonic map employing another debut, the one by San Francisco-based beatmaker, composer, and producer Phi Bui. His elegant combination of lo-fi trip-hop and ill-hop movement (in order to give you a vague idea of what you are going to listen, many tracks in "Unnoticed Moments" could stylistically resemble stuff by Naohiro Fujikawa aka Bisk - check in particular "Moonstruck Parade" - or some outputs by German label NON by Martin Eugene Raabenstein), concrete sounds and a set of samples, that sound like musical or sonic clips from more or less defined moments of the past, are the main ingredients of this beautiful record. The last aspect I described is maybe the most relevant, as Phi Bui seems to exhibit a set of watercolors or engravings taken from old pamphlets by an hybridization of tape or vinyl hissing, streaming of samples from a range of old TV movies, chiptunes, looping lullabies, harp, piano or guitar driven mini-melodies and other resounding entities, shuffling ages and "antiquating" each tune. Nuances of a vague melancholia don't sound off-key at all. It deserves an aural check.
Ambient / Electronica / Ethereal / Dub / Soundscapes / Abstract
Edit (9368)
image not
available
anymore
Artist:
Metatron Omega
(@)
Title:
Sanctum
Format:
CD
Label:
Cryo Chamber
(@)
Rated:
The follow up of "Gnosis Dei" is another exploration of esoteric and religious traditions in the framework of dark ambient and from the liner notes it seems influenced by templar like orders where elements of warrior's culture were mixed to monastic ones. So, tones vaguely similar to the gregorian ones are particulary evident but are balanced with menacing ones as if there was a hidden enemy.
The solemn opening of "Transductio" evolves from a background of field recording of birds into a drone in the second part of the part to generate a sense of journey to a place to another. "In Search of Lost Wisdom" exposes an inverted structure: while the first part is based on drones with a rich structure, the second one is based on long and sustained bass tones. While the first part of "Cultus" has a sort of religious atmosphere, the second one has a menacing one as sometimes the track approaches silence. The bells of "Trinitas" introduces another track with more or less the same structure and exposing an acute sense for small evocative noises. "The Eastern Star" slowly evolves as a sort of journey with all the elements of the previous track but a sharper sense of narrative. "Sanctum" closes this release juxtaposing drones until an apparent return to solemnity preludes to silence.
This is a solid release in the path of the previous by this label which continues to publish releases that could not apparently present particular differences between them but are developing a sense of narrative which lacks only a visual element. While "Gnosis Dei" lacked a variety of structures, this one shows a progress from this perspective so their next release could even be something remarkable but this one is recommended only for fans of the genre.
Ambient / Electronica / Ethereal / Dub / Soundscapes / Abstract
Edit (9367)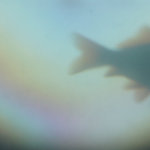 Artist:
Marco Marzuoli
(@)
Title:
Appunti
Format:
MCD (Mini CD)
Label:
éter
(@)
Rated:
After some really good releases with How To Cure Our Soul, it's time for the first solo release of Marco Marzuoli. "Appunti" is a quiet short sonic watercolor focused on loop rather than drones but the hypnotic effect of his output remains intact.
The track revolves around a melancholic bass guitar loop tying together another bass guitar loop and a fistful of effects which create an aural spectrum similar to the cover image i.e., while everything seem static, something begin to evolve. The structure is able to escape the boredom that could arise in a so minimal framework with a sort of poetical afflatus created by the underlying drone slowly generated by the resonance which is fully audible in the background of the second part of this release.
This is a release whose radical writing could be not so well received by listeners accustomed by entertaining sound that reawakens the attention as soon as possible in a sort of thought's privation. Music for humble meditations.
Artist:
Daniel K. Böhm
Title:
Carrier
Format:
CD
Label:
Eilean Rec.
Rated:
Another very interesting proposal by the excellent French label Eilean is the official debut release by American sound artist Daniel K.Böhm, introducing himself in his Bandcamp as a disgraced physicist whose career was remarkably compromised by the accidental melting of a reactor in Wüttenschlesig, who decided to live in a sort of self-isolated dimension in an abandoned cotton farm nearby Spur in Texas. As there are no official chronicles, documenting such a disaster in Germany, I could guess that Daniel invented this fictional identity just like many supposedly prodigious or particularly inventive teens do. The reason why I made such a comparison to explain such a bizarre mimicry derives from the listening of his album, which almost invariably recalls a childish dimension or I'd rather say a controlled regressive behavior. Besides the nostalgic hook, particularly vivid both when Daniel seems to invite listeners to an enchanted daydreaming over the sound of music boxes and pleasantly hypnotic vibraphones and when he creates trapping guitar-driven miniatures, such a regression got pushed by other interesting stylistic choices: the occasional recurrence of tape manipulation, a format that smells like regression; some melodies that could vaguely evoke similar returns to innocence by first steps by Kieran Hebden (Four Tet) - you could notice some similarities between vibraphone-driven Daniel's "Componium Orbit" and Four Tet's "Hands" -; the iterations of toytronics in tracks like "Mangrove" and "Critter"; the recursive use of injecting somehow old-fashioned synth loops that pushes memory back to German kosmische muzak, as if they were resurfacing memories (particularly in "Under Rhodes"). However Daniel doesn't let his head fall back on the soft and scented pillows of pre-puberty, but he rolls his sound behind with a recognisable sophistication, as you can easily guess by the sketched description of some tracks of this "Carrier" and even though the structure of many tracks is often quite simple, the whole album doesn't sound predictable or banal. It just demands devotional attention and its grace could persuade to make a fuss of his sound. Just like an innocent baby!
Ambient / Electronica / Ethereal / Dub / Soundscapes / Abstract
Edit (9359)
Artist:
Noctilucant
(@)
Title:
Oblivion to You All
Format:
Download Only (MP3 + Lossless)
Label:
self-released
Rated:
Noctilucant, the dark ambient project of Joseph Mlodik from Wisconsin is back with a new work titled 'Oblivion to You All'. After the excellent debut, 'Back to the Mud' which I reviewed a while ago, Noctilucant will have to raise the bar or lower the water to top that one. 'Oblivion to You All' is a conceptual album of ten tracks set in a
post-apocalyptic world. Beginning with "Introspective Dissolution" Noctilucant sets the stage with deep, rumbling space drones and a recitation by Kara Phillips of the symphonic power metal band Magma Dragon about how the world after its devastation, now without power, and a poisoned water supply has entered an ice age. I'm not big on these narrations (never much cared for any of those Moody Blues spoken word bits) but Kara's voice with what I detect to be an Aussie accent lends a certain sci-fi cred, like a sample lifted out of a movie. This foreboding piece is certainly the harbinger of bad things to come. "This Day Brings Forth Our Destiny" starts with what sounds like a film projector being switched on, then white noise wind in the distance underpinned by a rumbling drone ever drawing closer, then a frozen crystalline ambience that is beautiful in its form, yet terrifying in its isolation. In capturing the audial image of a frozen world, Noctilucant definitely succeeds. "The First Light of Morning" bestows more deep drone rumbling, and gives you the feeling that...something may be out there...but you know not what. "Where Snow Remains and Light Fades" explores the cold isolation a bit more subtly, but is actually far more frightening than the previous track. Here your mind begins to play tricks, and ghostly images of past seem to eerily float around you. There is a sense of activity; possibly some scavenging, foraging. A discovery is made - "The Old Machine Shop" that once produced vital goods now lies dormant as a museum piece, its mechanical song once a paean to an industrious future is now but a rusted relic of the past. "Those Peaceful Days of Our Past?" - where are they now? Do they exist in only fading memory? A vague melody that thrums in the recesses of the brain, a bittersweet reminder of life as it once was, the songs of life that are sung no more. To escape this blighted landscape, I crawl "Back Into the Hole Where I was Born," but there is no comfort there, only pictures of my family that fell victim to this catastrophe. Soon, in despair and death, I too will be gone. It is said, that when you stare into the abyss, the abyss stares back into you. The "Devouring
Night" absorbs all into its blackness. It is all-encompassing. There is no escape, no rescue, no reprieve. And so, this is the fate to which we've been consigned. In the final frozen gasps of life, "Oblivion To You All" are the only words that are uttered. In the aftermath, "And the Far Unlit Unknown," spirits wander the cosmos in search of succor and meaning. Is there any to be found? You will never know until you get there...

Well, that's it, the doomsday scenario is complete...or is it? There's a bonus track- "She Only Comes Out at Night," a rather terrifying little number designed to ensure all your dreams will be nightmares. If this doesn't scare the crap out of you, I don't know what will. Yes, Noctilucant has raised the bar in the dark ambient realm with 'Oblivion to You All'. The only question is, where do we go from here?