Ambient / Electronica / Ethereal / Dub / Soundscapes / Abstract
Edit (9443)
I was unfamiliar with this project, which is a duo of Dean Dennis and Jose Snook. I did a double take and wondered if this was THAT Dean Dennis from Clock DVA and Sector, and yes, it is. For those who missed out on some of the best music of the 80s and 90s, Clock DVA was an amazing group, who had albums on such labels as Wax Trax and Industrial Records. They were known as much for their intelligent approach to music as their music prowess. Nohno takes this same intelligence and channels it in a different direction. The label describes the album thus: "Through this we are investigating location: creating a musical travelogue that explores our experiences or imaginings of particular places. This double album is therefore diverse: journeying from more beat driven pieces through Classical and Jazz inspired works, to more ambient creations and musical poetry. Through these various approaches we hope not only to impart notions of place and narrative, but also, in some instances, attempt to provide the impression of time." So let's put this on and see what we get. At first listen, Longitude reminds me of such acts as the Orb, Orbital, and Tangerine Dream, but this is more than just 90's tinged techno. There is a lot going on here, with female vocals and complex rhythms that just barely keeps this from being played in the club. But overall, this is peaceful, pleasant listening. Latitude takes a slightly different tack. In contrast to the straightforward electronic compositions in Longitude, Latitude is a more abstract and experimental. The electric bass plays a more prominent role on this disc, as in the tracks "The Curve" and "Mid Point." Others have a strange melancholy feel, like "Into the Here" and Miodowa, which features spoken word from Italian poet Elena De Angeli. As a fan of Clock DVA, it is impossible to not compare this disc to Clock DVA's earlier, jazz-influenced works. Overall, this is interesting work and demonstrates a variety of musical styles without becoming disjointed. Well worth checking out. Disc 1 weighs in at 56 minutes and disc 2 at around 49 minutes.

Ambient / Electronica / Ethereal / Dub / Soundscapes / Abstract
Edit (9440)
Artist:
Anthony Child
Title:
Electronic Recordings from Maui Jungle Vol. 2
Format:
CD & Vinyl
Label:
Editions Mego
This album was recorded in Haiku-Pauwela in Northern Hawaii in February 2016. It features genuine jungle atmospheric sound as a backdrop to electronic improvisations. So, coupled with the picturesque landscape of the cover art, you might expect this to be a distinctly low-key, chill-out affair.

In practice it's somewhat more energetic and more sci-fi. The synth patterns, all sourced from Buchla instruments, are generally quite relentless, highly rhythmic, staccato and sometimes mildly abrasive loops. "Open Channeling" has parallels with Vangelis's Blade Runner. "Truth Is Healing", with its faintly choral chords, has Jean-Michel Jarre flavours. "Cellular Reintegration" is the closest the album comes to the old stereotypes of chill out music, with a synthesizer imitating an ethnic flute. From mellow beginnings, "Farthest Known Object" pushes towards feedback and discordance, trumpeting its way to the end of the album to ensure nobody mistakes this for a relaxing experience, before receding into distant ambience.

Each of the fourteen pieces is essentially a single idea or a single pattern, but developed, progressed and spontaneously reworked as it goes. Electronically it's beautiful in its simplicity, replacing drum sounds with looping patterns that root the meandering drones, chord washes and arpeggios. There's a shortage of sonic variety in the synth sounds, thanks to the focus on just one electronic instrument, but this is offset by changes in the arrangements. The production has an expansive, room-filling quality.

My only problem with this release is that it's a solid improvised synth album, and it's also got Hawaiian ambience, but there's no real connection between the two. They don't feel related and they just run in parallel. I would happily listen to just the synths, and I would also happily bask in the ambient noise for an hour as well, but often there seems little justification for doing both at the same time. The jungle noise is disregarded somewhat and might as well have been lifted from a sample CD. There are rare occasions when a jungle bird call adds an off-beat percussion, for example in "Old Technology", but this is rare within the work and the jungle becomes incidental rather than involved. This certainly doesn't ruin the listening experience, but it does border on false advertising.

An unusual, bold and strangely cathartic hybrid of an album.
Ambient / Electronica / Ethereal / Dub / Soundscapes / Abstract
Edit (9439)
Artist:
Premature Burial
Title:
F/a/c/t/i/o/n/s
Format:
Download Only (MP3 + Lossless)
Label:
Silber Records
(@)
Silber's neat bite-sized "5 in 5" series, in which an artist creates five tracks which have a combined length of only five minutes overall, continues its extensive run with this offering from Premature Burial.

This is five distinct pieces that act as a calling card for the breadth of Premature Burial's work. "Pull A Single Thread" is a gently scary overture seguing neatly into "Action", which has soft tribal drums and filmic synth lines and would make a great intro to a darkwave album, or to the villain's exotic lair in an action movie, whilst "Inaction" is a scratchy done with pained strings. "Conpromise" [sic] alludes to heavy metal but via the medium of synthwave, then "Divide" is a warm ambience that wraps it all up in a surprisingly snug manner.

It's something of a musical Curriculum Vitae rather than a coherent micro-album, but it's an impressive sampler.
Ambient / Electronica / Ethereal / Dub / Soundscapes / Abstract
Edit (9438)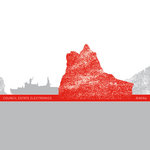 Artist:
COUNCIL ESTATE ELECTRONICS
Title:
Arktika
Format:
CD
Label:
Glacial Movements
(@)
Rated:
According to the liner notes, COUNCIL ESTATE ELECTRONICS is the attempt of Justin K Broadrick and Diarmuid Dalton to pay a tribute to the music of their youth which is basically dub and krautrock. Obviously, this project is musically close of the impressive releases as Techno Animal (with Kevin Martin) but without the rhythmic emphasis and with a sharper sense of the underlying soundscape.
"Urals" opens this release exposing the musical structure which ties all the tracks: a dub rhythmic cage containing samples and soundscape so it's something as listenable as danceable and features even some abrasive moments. "567 foot 33,500 ton" is implacable in his hammering development while developing the track at the dynamic level. "Type LK-60YA" is based on somehow nostalgic synth line while "Rosatom" returns to the industrial framework based around a mechanical beat and a fistful of loops while "50 Let Pobody" seems closer to dub as the noiser elements aren't present and "Polar Star" exposes sonic nuances typical of more avant-garde field. "Liquified natural gas" floats without the rhythmic cage tying all the sounds and "60 megawatts" closes this release moving even further the most abstract elements of the dub canon.
As usual, while apparently there's all the canonical elements of Broadrick's music, something new, at least a detail, emerges and gives a sense of not been the routine of someone without anything to prove. Another clue that he's perhaps one of the most underrated artist alive. Recommended.
Ambient / Electronica / Ethereal / Dub / Soundscapes / Abstract
Edit (9437)
image not
available
anymore
Artist:
ProtoU
Title:
Khmaoch
Format:
CD
Label:
Cryo Chamber
(@)
Rated:
ProtoU is the project of Sasha Cats focused on a relatively canonical dark ambient setting even closer to classic ambient as it's something really quiet and enjoyable. The research of images evoked by the sound is something really present during the listening of this release and it's the greatest quality of this release eclipsing the predictable development.
"Bridge of Storms" opens quietly this release with a sourceful of sounds moving in the aural field generating a sense of immersion in an somehow hostile field. "Stygian Vortex" is as simple in his structure as evocative in his palette. "Skar Mekh" is a physical journey rendered as a sonic journey. "Voices of the Water" use sparse element to generate an impressive soundscape. "Pel" is perhaps the only track with a marked rhythmic structure and without evocative sounds. "Dai Robsa Preah" slowly evolves unfolding drones while "Stones in Snow" closes this release revealing a subtle sense of sounds.
Honestly this is a somehow too derivative release at a structural level but it's so well crafted to let arise the question about how it could be if some of the efforts made at a sound level were done at writing level. Nice but only for fans.