Ambient / Electronica / Ethereal / Dub / Soundscapes / Abstract
Edit (9675)
Artist:
Hotel Hotel
Title:
Cactus Hands
Format:
Download Only (MP3 + Lossless)
Label:
Silber Media
(@)
Austin-based band Hotel Hotel broke up just as their album "The Sad Sea" was released, and this one twenty-four minute track is all that exists of what may have been their follow-up album.

It's a single, slowly unfolding piece of progressive post-rock built around slow drums, atmosphere-bathed guitars and a manic multi-tracked violin line skitting around almost at random. Piano and bass sit politely in the mix.

At times the track pulls you in two directions at once, at once both frenzied and sombre, with some stereo panning emphasising that even further. A quarter of the way through, the violin temporarily departs as we shift into another section, with a more traditional-ish broad Texan slide guitar noodling. Once the violin returns it drifts into a slightly folkier arrangement, before we come full circle; the manic line returns, then fades again as the twangy elements return. Just as you begin to wonder whether the whole thing is cyclical, the final quarter develops a slightly more determined rock swagger, building to an emphatic close.

It's a shame that this is a leftover from a longer work that will apparently never be finished, but it's good news that it saw the light of day.
Ambient / Electronica / Ethereal / Dub / Soundscapes / Abstract
Edit (9669)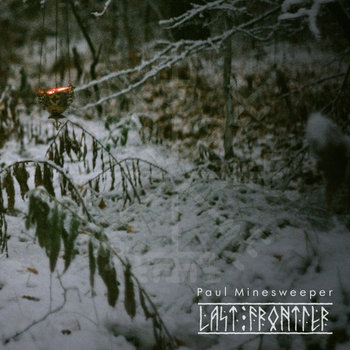 Artist:
Paul Minesweeper
Title:
Last Frontier
Format:
CD
Label:
Black Mara
(@)
Rated:
This release is described by a poem by M. Gidlevskiy about abyss as a symbol of something which pushes someone to begin a spiritual journey. The music by Paul Minesweeper stands in the school of dark ambient which adds ethnic elements i.e., traditional instruments, to the drone's infrastructure with the result of creating a link with his cultural heritage.
"Clarions Of Arrival" opens this release with a structure based on a drone acting as a gravity center for other musical elements as samples or guitar sections which remind to metal territories. "Siren" is instead a more canonical track based on a drone whose elements slowly unfold. The synth of "Icebound" starts to create a sort of solemn atmosphere that is doubled by the guitar as they are in two separate region of the spectrum, a low one for the guitar and a mid one for the synth. The drone of "Farewell" is so rapidly changing that is almost depicts a melody while "Solid Heaven" is developed upon distorted sound sources. "Oculatory" and "Dissolve Me" are relatively canonical dark ambient exercises while "Nomad Amongst Stars" is characterized by the present of samples in the background creating a sort of narrative about the theme of travel which found his rest in "Last Frontier". "Beyond" closes this release with a meditative drone.
This release has two sides, as it was a 12", the A side (the first five tracks) is impressive as it's able to craft the elements of dark ambient and drone metal in a cohesive whole revealing a defined personality while the second side is a little too predictable in his development. However, it's truly recommended for fans of drone music.
Artist:
Harold Nono
(@)
Title:
Ideeit
Format:
CD
Label:
Bearsuit
(@)
Rated:
Following a plenty of amazing collaborations - I warmly recommend to check the ones with Berlin-based elegant producer Me Raabenstein as Taub and the one with Japanese duo N-quia for the collaborative project Haq -, Edinburgh-based producer Harold Nono (real name David Hillary) comes back by a solo release on his own imprint, the excellent Bearsuit Records. If you've never heard something by this subliminal kid (a quotation), you should say sorry to your brain, as Harold Nono's style manages to combine samples, cinematic suggestions, witty references, neo-classical music, ambient and electronica in a very psychedelic way. The opening "Tahiik" immediately takes listening by a magnetizing carousel where a chattering by an adult and a kid got poured into a sweeping cinematic orchestration (close to the likes of the previously mentioned Me Raabenstein, but they could also surmise something by Murcof, Jan Jelinek or Venetian Snares). Such a perfect attacco prepares the ground for a swirling set of aural pearls, oscillating between the frenzy sentimentalism or the vague nostalgic nuances of tracks like "Dedy", "The King Tree" or "Running Down A Pipe", the lopsided surrealism of tunes like "Otosan" or "Dead Man's Fall", the hinky day-dreaming evoked by pieces like "I'm Disguised As An idiot" or the deeply emotional "Life Under The Lafayette", a track where Harold Nono seems to bare and give voice to the contrast between a majestic and naive elegance and some poisoning feeling of decadence. The final track "Watashi Wa Ie Ni Kaeritai" (Japanese for "I want to go home"!) is just seemingly sad: be patient, and after some minutes of silence, the ghost track will blossom and is going to uplift your soul by a delicate piano melody! Not to be left unlistened!
Artist:
Roman Leykam
Title:
Impressions
Format:
CD + Book
Label:
Frank Mark Arts
(@)
Rated:
As most of you maybe know, Roman Leykam is maybe one of the most incontinent artists belonging to the roster of Frank Mark Arts. He recently enriched the catalogue under this imprint by a series of more or less interesting outputs and the choice of focusing more carefully on the visual framework by the label has undoubtedly a plus for the comprehension of Leykam, particularly if you don't really care about aural details and real sonic pearls, which doesn'ìt lack in the musical explorations of this veteran of experimental ambient music. I could recommend having a check of "The Detection Of Slowness," the collaborative release with Frank Mark himself including an amazing video DVD, which could be a real guide to appreciating the listening more, for instance. "Impressions" follows this editorial strategy as well, as the label attached an internal booklet of beautiful snapshots (portraying natural landscapes or magnified details of plants, flowers, stones, ponds, lakes and so on) to its elegant digipak. You would quickly notice that Leykam's minimal textures of effected guitar, synth guitars and the amazing sounds he squeezed from his equipment (often looking like some other instruments such as a kind of hybrid between a brass and a cello in "Vision", the flute-like whispers in "The Leisure" or "Essence", a sort of alien dulcimer in "Weathered", the metallophone-like hits in "Abandoned" or the bizarre slapped glittering on tracks like "Pleasant Anticipation" or "Point of No Return") are somehow consonant with the pictures of the booklet. If you're searching for some new music for meditations, "Impressions" may be a guessed choice.
Artist:
X-Navi:Et
(@)
Title:
Technosis
Format:
CD
Label:
Instant Classic
(@)
Rated:
Despite the fact the phenomenon is still evolving, the theme of consequences of technology on humanity and the (also biological) mutations related to this unprecedented technological acceleration as well as the development of an addiction to technological devices is not so new as a plenty of sociologists, anthropologists, psychologist and many other expertises in different branches of human knowledge wrote a lot about this subject, but the way by which such a fear got translated into sound in this last output by Polish producer Rafal Iwanski (I already introduced many projects he's taking part of such as HATI, Innercity Ensemble and Alameda 5) is fascinating. The title "Technosis" itself is a quotation of the definition ("civilization disease related to technology"), taken from "Philosophy of Civilization", an essay by Polish philosopher and educator Jozef Marian Banka, who keeps on studying this phenomenon. The opening track "Matnia" (Polish word for the French expression "cul de sac", referring to a path of no return) immediately sets the mood by a well-balanced mix of rising crippling percussions and thrilling sounds (close to the ones you could hear in horror movies when the watcher expect the appearance of a dangerous entity from some dark place of the scene); the breath you'd hear in the following "Ex Homo Sap" seems to render the above mentioned human mutation with the burden of concern that it could imply, while the following "Oto Technosis" sounds like the summoning digitalization of some old African tune. The whispered murmuring of Ewa Binczyk in the sinister mist evoked by the sonorities that Rafal assembled in "Medium" could mirror that diaphragmatic phase when the expected changes are still in progress but could let you guess what the next stages are going to bring about. Rafal wisely absorbs different ethnical influences in this unusual rendering technology-driven civilization disease: besides the previously sketched connection of the described tracks, it becomes clear in the following "In Extremis" as well as in the disquieting chimes of "Orient: Melancholia". All ethnic percussions you could recognize in his melting pot (an Irish bodhran, a South African mbira, a Chinese hulusi, an Egyptian zummara and a Moroccan bendir) are real, but the whole release is made by real entities: a relevant feature of Rafal's sound in "Technosis" is the total lack of field recordings, synths, samples or drum machines (besides the list of ethnic instrument I already mentioned, he just used Shanti chimes, bells, metal objects, contact mics, analog filter machine, a tone generator, a loop system and so on ) and such an aspect can be logically related to the conceptual framework of the album. The natural soundscape in "Pseudo Ambient" could be considered as another claims of forgotten human roots, while the final "Alchemy of Sounds", whose length (23 minutes and 23 seconds seems to be a desired aspect, due to the "esoteric" meaning of number 23), could keep on feeding the in-depth meditation a listener could be absorbed by. Do you remember the "fearful symmetry" of William Blake's tiger? Well, "Technosis" could be the roaring of that tiger in a sense. After its genetical mutation, of course...