Ambient / Electronica / Ethereal / Dub / Soundscapes / Abstract
Edit (9545)
Artist:
Exit In Grey
(@)
Title:
Hysterics of the Eternal
Format:
CD
Label:
Frozen Light
(@)
Distributor:
Zhelezobeton
Rated:
Exit In Grey is Russian composer/producer Sergey Suhovik (otherwise simply known as [S] with numerous other projects to his credit such as Black Deal With Snow, Candyman And Evil Flowers, Five Elements Music, Radioson, Redhouse, Sister Loolomie. Exit In Grey's prolific output goes back to 2004, with at least 16 previous albums to the project's credit. Although 'Hysterics of the Eternal' is largely based on sounds of radio noises, other (electronic) elements and electric guitar are also employed. In comparison with Kryptogen Rundfunk's 'Liquid Circuits' that I just reviewed, 'Hysterics of the Eternal' is a much more placid ambient outing. The first time I auditioned this recording consisting of two lengthy tracks, I didn't much care for it. It sounded as interesting as being trapped at a Siberian Numbers Station forced to listen to UVB-76. Subsequently though, my opinion has changed (as it often does), and it seems as though [S] has managed to combine the arcane with the sublime. These are awfully cold and bleak environments. Some humanity bleeds through in the (manipulated) radio transmissions, but by far and large, the sonics give the impression of loneliness and singularity. 'Hysterics of the Eternal' may be one of those albums that grows on you the more you play it, but it might be likely you won't play it often. If desolate, semi-minimal audio works are your thing, you'll be right at home with this album. Recorded in 2011, and mastered in 2016 by Oleg Hurvatov (Interior Disposition), and limited to 300 copies.
Artist:
Amp Studio
Title:
Uncertainty Principles
Format:
2 x CD (double CD)
Label:
Ampbase
(@)
Rated:
It seems that the artwork for this new output by Amp Studio, the solo project by Richard 'AMP' Walker, the leading mind behind the space-rock/electronic rock project AMP - I wouldn't believe if someone will profess a devotional fan of contemporary shoegazing/psychedelic rock stuff like that coming out by bands like Spiritualized, Seefeel, Flying Saucer Attack or even Spaceman 3 without knowing AMP's sound -, got created by processes aimed to produce random images. In reality, it vaguely reminded me the cover artwork of 'Astral Moon Beam Projections', AMP's second album (featuring the hypnotical singing by Karine Charff and the drumming by Gareth Mitchell), a fantastic set of sort of space rock ballad, which was heavily influenced by Texan post-ambient, some codeine-like sounding psychedelic rock and some well-known reveries by My Bloody Valentine and Cocteau Twins. I am not so sure if such similarity was intentional or not, but many moments of this output by Richard reminded that feeling of confused bliss, inspired by or inspiring the above-mentioned album. The title 'Uncertainty Principles' is a dedication to that kind of unexpected beauty, coming from casual or complex processes that musicians can find out during long studio sessions - something similar to those scientific or medical breakthrough that happened and keep on happening by accident! -. The idea of assembling this album came after an unexpected request for a copy of "Tiller" - lovely ambient track that sounds one of the best choices to stare at northern lights -, a track included as a tail of the first lp/cd in 'Uncertainty Principles', and the subsequent research of the master where it was stored. Richard himself thought that some of the findings in that archive - including the chillingly borderline ambient of "Slip", the enchanting balance of "Misstype Dolittle" (a track whose sound vaguely reminds some moments of the above-mentioned 'Astral Moon Beam Projections') and the evocative "Sleep City Drone", one of that kind of tune fitting a nocturnal riding over the desert streets of a metropolis in wintertime - deserved a new life. So that he partially reworked and revamped them by adding some interesting new sonic spices, such as the use of an effected typewriter as a percussion in "Misstype Dolittle", the inclusion of noises from urban environments in "Sleep City Drone" or the dilatation of the blissful emotions inspired by "Slip" into different moments ("Sliptwo" and "Photon Sphere"). The randomised sequence of computational bleeps, splashes and electronic gurgling over the nine minutes of "Mort Irritées", an homage to 'musique concrete' and the amazing work by Pierre Henry, who can be considered the firestarter of that branch of electroacoustic music, is considerably different from other tracks of "Uncertainty Principles". "Uncertainly Alive" - the transcript version of a live performance that Richard made in Bethnal Green, East London under invitation -, the track that takes most of the second part of the album (it lasts more than half an hour), is one of the more exciting moments of the whole album: the first part reminds me something in between one of the earlier lucid raving by Edward Ka-Spel, an elemental evocation (as well as some of the highest lyrical peaks) by the well-known stalker (both in Tarkovskij's movie and Strugackij bros' novel) and a whispered prophecy in the middle of more or less ethereal sonic streams and icy blows, before it turns into a sort of self-exorcism or forced catharsis following the transmutation fo this sonic set into something closer to the mechanical cycles of a washing machine. The piano-driven final track "Flashbacks" got matched to a possible landfall following a situationist "derive".
Ambient / Electronica / Ethereal / Dub / Soundscapes / Abstract
Edit (9537)
Artist:
Tom Eaton
(@)
Title:
Indesterren (Into the Stars)
Format:
CD
Label:
Riverwide Records
(@)
Rated:
The second, and more recent release by Tom Eaton (assuming you've read my previous review on 'Abendromen') is in some ways similar, yet in other ways different than 'Abendromen'. This one, as the subtitle might suggest is more space-oriented. From the opening track, "red blazer" Eaton uses touches of cosmic synth, Jade Warrior style atmospheric guitar and even some sequenced synth toward the end. The melody is bloody simple, but you don't need anything more here. I think on "vervagen" Eaton was striving for the mood he came up with on "tuesday/the compass" from 'Abendromen,' but nice as it is, it doesn't quite have the impact. There's a lot more synthesizer overall on 'Indesterren' and while it's varied in tonality, it still falls into that "Hearts of Space" new-agey sound more often than not. Eaton's guitar playing here is another matter. Think of guitarists along the lines of Michael Brook and Tony Duhig and you will get some idea. On the track "midnight clouds and the great bear" Eaton combines all his elements to form something completely different, that isn't New Age but rather cinematic. It's impressive, and achingly beautiful. Although piano is often the main instrument throughout may of these compositions, it's the backing orchestrations that create the moods and textures that really shine on 'Indesterren'. There is also more percussion used on the album which keeps the album from being all herbal tea and woolly sweaters. The Spanish-flavored "venus' is a particularly nice track, and while I wouldn't call it ambient (too much structure), it has a noirish smooth jazz feel to it. Unfortunately, there are lapses into New Age territory, as on "the raven" where piano and synth get new-agey again. As on 'Abendromen,' Eaton saves the real ambient tracks for last, four this time, and these are wonderful atmospheres. In a couple of places I was reminded of Harold Budd, just a little. Over all, 'Indesterren' is a little better album than 'Abendromen' in my opinion, in that it's spacier and has more variety. I think if Eaton starts leaning more towards real ambient and begins to use his piano more for effect than melody, it will spend more time on my playlist, and perhaps yours too.
Ambient / Electronica / Ethereal / Dub / Soundscapes / Abstract
Edit (9536)
Artist:
Tom Eaton
(@)
Title:
Abendromen (Seven Evening Dreams)
Format:
CD
Label:
Riverwide Records
(@)
Rated:
To anyone who has ever bought a Windham Hill album, the name Will Ackerman should ring some bells. He founded the label (along with Anne Robinson) and as a guitarist, has numerous releases on it. Turns out that Tom Eaton has worked with Will as a studio engineer and often co-producer on over 50 records in the past six years. Tom is a multi-instrumentalist (mainly piano on these recordings) originally from Exeter, New Hampshire, now located in Newburyport, Massachusetts, although he spends a third of his time at Imaginary Road Studios in Widndham County, Vermont. Now I know what you must be thinking - jeez, this is "New Age" music, isn't it? Well, yeah, it kinda is. But it's also kinda ambient, in some places more than others. Although Eaton describes himself as an "ambient pianist" I think of him more as an "atmospheric pianist". For me, an ambient pianist would be Harold Budd, not George Winston (in his Windham Hill output), and stylistically and compositionally, Eaton leans a lot more towards Mr. Winston than Mr. Budd. On a number of compositions on 'Abendromen' Eaton uses what I could only describe as "Hearts of Space" synthesizer backing. If you ever heard that radio show, surely you know what I mean, definitely "New Age synth". Most of the music on the album is contemplative, herbal tea, warm woolly sweater and crackling fireplace music. It goes down easy with just the right amount of wistfulness and never rocks the boat. The melodic structure is simple; little melodies that are slightly embellished on over time. There was one piece I was particularly struck by - "tuesday/the compass" which has a very nice melody and is beautifully orchestrated with bass, drums synth and percussion. I haven't heard anything this moving in this vein since Schonherz & Scott's version of "Sentimental Walk" (from the movie 'Diva'). The sparse Pink Floydian slide guitar is particularly effective on this track. Perfectly moody with no sap on the tree. The real ambient music on this album shows up on tracks 8, 9 and 10 which are comprised of ambient guitar beds. This is actually the best stuff on the album, very Enoesque in its gentle droning, and saves 'Abendromen' from becoming just another New Age piano album. Worth a listen.
Ambient / Electronica / Ethereal / Dub / Soundscapes / Abstract
Edit (9534)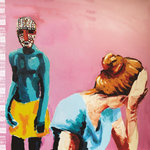 Artist:
Mirt
(@)
Title:
Random Soundtrack
Format:
CD
Label:
Kosmodrone
(@)
Distributor:
Alchembria
Rated:
This new release from Tomek Mirt is that sort of release which sounds as a personal divertissement of his author. Described in the liner notes as a sonic experiment of écriture automatique, it's a collection of catchy tunes supported by a well crafted soundscape based on field recordings.
The quiet sounds of "Second Track" slowly evolve into a rhythmic and hypnotic track while "Must Be Something from Asia" is a concise track based on a small melodic figure. "Ambient Interlude I" uses the synth to underline the field recordings while "Night Sequence" uses them to support the rhythmic structure. "Love Theme" is an evocative field recording with the synth creating a dreamy atmosphere while "Motorboat Chase" returns to more danceable territories and "Sri Maha Mariamman" is an interlude based on field recordings to "Michael's Theme" whose use of voice creates a sense closer to a cinematic experience. "Rush on South" is a simple and short rhythmic track which evolves in the ambient watercolor of "Sunrise on the Beach". The loop of "Main Theme" underline his rhythmic structure whose atmospheric rendition, "Main Theme (reprise)", closes this release.
Repeated listenings reveal the role of field recordings which is the glue collecting the track in a coherent whole; this album could be devoid of memorable moments but it gives the listener the will to press the replay button. It's worth a listening.