Ambient / Electronica / Ethereal / Dub / Soundscapes / Abstract
Edit (9640)
Artist:
Lyef
Title:
Introspections
Format:
CD
Label:
Krysalisound
(@)
Rated:
Some listeners could find some similarities (particularly in the way the voice got often recorded) against some bands belonging to the old-fashioned branch of ethereal wave or medieval-folk, other ones could match some moments of this recording to other possible similar sonorities such as the early outputs by Brian Eno (particularly his well-known album "Neroli") or Beaumont Hannant, but the strictest relation of this new bicephalous project by Milan-based Italian musician Francis M.Gri, whose transition from quite cliched dark style of All My Faith Lost (the musical nubbin of his youth) to a more personal, more pensive and somehow brighter one could be considered already completed, and talented singer Lilium is the one with Revglow, their previous project. I wouldn't say Lyef is entirely beatless, as a sense of movement is sometimes rendered by occasional slow piano stroking, but traditional percussions or rhythmical patterns have been removed. In spite of the rarefaction of their sound, I wouldn't either label it as minimalistic as Francis didn't skimp on aural items, as many field recordings and diluted sounds mantled the trilling voice coming out of Lilium's uvula, which sometimes becomes an accomplice in spreading soothing sonic balms like her subtle invitation to silence or imitations of delicate air breezes in "Air". I prefer the moments when Lilium's voice and Francis' sonic handling sounds more balanced such as on "Iron Trees" or "Unbrace" (particularly in the second lulling part), but the other tracks are interesting as well, particularly the enchanting fade-in of Lilium's voice in "Fire" and her sort of dream nursing in the initial suites "Water" and "Paper". A possible enhancer for your oneiric activity.
Artist:
Innercity Ensemble
(@)
Title:
III
Format:
CD
Label:
Instant Classic
(@)
Rated:
I don't know if the palace in Ostromecko, a village in the heart of Poland, where Innercity Ensemble got hosted between 10th and 12th July 2015 for a three-day lasting improvisational musical meeting, fostered the inspiration of this group of talented musicians playing a plenty of conventional and unconventional instruments, but this third output is just a confirmation of the incredible stylistic whirling carousel they already forged. I honestly have no idea of what titles mean, but the beautiful music they built sometimes speaks by itself. The opening "Pismo Powstaje Noc" evokes the atmosphere of a possible tale of a Thousand and One Night by its graceful percussive arabesques and the sudden grandiose entry of Wojciech Jachna's trumpet, sustaining the incredible textures where two darbukas sets the flow in a way that reminded to me some outputs by Mazurek's Sao Paulo Underground. Both the darbukas and the trumpet again are the columns of the following track "Gdy Oddech Gór Rozpoznany," which sounds like an entranced evocation during some mysterious shaman-driven dance, disgorging its energy in the narcosis of the following "W Przeswicie Gestego Powietrza" and the prog-tinged blissful nuances of "Namacalny." "Staje Sie Pradem Nieprzespanej Godziny" sounds like the awakening from the previously rendered bittersweet mental trip and its fantastic crossover between a sort of dirty samba and surf rock over sonorities that could fit the revenge of some wounded gringo is utterly catchy. The bridge between the bitter lullaby on the trumpet (close to Erik Truffaz style) and a sort of lopsided amalgamation of ambient and obscure electronics features "Przenika Przez Drewno I Stal", maybe the track where electronics are more clearly listenable, preceding the bright finale of "Godzi Nas Ze Swiatem", sounding like the moment when a sort of atonement got reached. Some aspects of what seems to be the sonic rendering of a collective spiritual journey could have been clearer if I understood what the Polish titles were meant to say, but Innercity Ensemble's music is pleasant.
Ambient / Electronica / Ethereal / Dub / Soundscapes / Abstract
Edit (9635)
Artist:
Astralfluidz
(@)
Title:
Mysterium Magnum
Format:
CD
Label:
Zhelezobeton
(@)
Rated:
I always look forward to receiving music packages from Russia. The quality and innovation of new music of this country never ceases to amaze me. Kicking off the latest batch of releases from Zhelezobeton is the debut release by Astralfluidz titled 'Mysterium Magnum,' and it is definitely a winner. According to their Facebook page, this project began in 2015 and consists of one classically trained musician (who presumably handles the synths, keyboards, percussion programming, etc.) and one self-taught musician (acoustic, electric guitars, bass) from Vladimir, Russia. According to the promo sheet, the music on 'Mysterium Magnum' is "entirely dedicated to Alchemy as Royal Art," and "the music language of this opus may be characterized as a combination of epic symbolism and thoughtful sonic occultism." The track titles and artwork in the accompanying booklet definitely support this - "Prima Materia" (I. Chaos); "Enigma Regis" (I. The Red King; II. The White Queen); "Tria Prima" (I. Sulphur; II. Salt; III. Mercury); Quinta Essentia" (I. Terra; II. Aqua; III. Aer; IV. Ignis; V. Aether).

Of course by now you're wondering what the music sounds like. Well, many things really. From the opening track it's cinematic dark ambient full of ominous spacey drones and cosmic effects. It had me hooked right from the get-go. It only gets better as you move deeper into this album. There is dark ambient juxtaposed by angelic voices. From this a somber, melodic musical theme emerges, orchestral with percussion, rich and vibrant, yet mysterious. And voices, lots of wordless voices. More dark ambient, sonic rumblings, tinkling of glass, wind chimes, water, cosmic drones, legato strings, and much more. A snippet of Russian liturgical choir, then the Goth-Industrial kicks in with a powerful and rhythmic intensity in the melodic progression, building and expanding to its inevitable industrial-neoclassical conclusion. The windswept plains of a wasteland appears, with ominous rumblings and the chittering of strange creatures. Something submerged yet melodic begins to rise in its inexorable climb to the surface. The tinkling of glass chimes, then the bellowing of what could be a great steamship horn, ominous thundering in the background and an airy lead synth before the percussion kick in and another melodic theme emerges. Lots of voices and drama, reminding me somewhat of Mike Oldfield's more orchestral work (forget "Tubular Bells", think more like Ommadawn"), and yes, kind of proggy symphonic. But I love it! The last track is just about impossible to describe; it just has so many elements. It is the culmination of everything that has gone before it, and then some.

It is rare that I come away from a listening experience saying, "WOW! That was incredible!!" but I just did. Comparisons pale in the wake of this - Tangerine Dream? Bah! Early Delerium? Not even close. Vangelis? Nah. This is its own duck. And to think - this is Astralfluidz's debut album. Where will they go from here? But for now you have 'Mysterium Magnum' and I highly recommend you buy it. It is ever so worthy.
Ambient / Electronica / Ethereal / Dub / Soundscapes / Abstract
Edit (9631)
image not
available
anymore
Artist:
Paleowolf
Title:
Genesis
Format:
CD
Label:
Cryo Chamber
(@)
Rated:
Paleowolf is the side project of Scorpio V of Metatron Omega and this release is presented as "a prehistoric journey from before civilization made its mark on the world". This means that a particular descriptive effort was made in the development of this release to resemble the cinematographic idea we have of those people so there's a palette heavy focused on those sounds we culturally perceive as primitive.
The heavy beats of "Call of Fire" introduce a sort of harmonic chant which set this release closer to certain ritual music rather than dark ambient. The wind instruments used in "Archaic Eon" creates an atmosphere of menace which is loosed by the chants. The field recordings of a river introduce "Hunter II", a track based on a strong rhythmic cage where the voices remind the hunt of the title and create a cinematic effect. "Earthspirit" is a meditative track focused on drones so the drums underline the atmosphere rather than drive it. "Eastern Tribes" continues the path of the previous track sounding as an interlude to the final tracks of this release: "Across the Mythic Ocean", a track whose atmosphere is often solemn, and "Permafrost" whose overall quietness reminds the phenomenon of the title.
An unusual release from this label that is usually really focused on a particular variant of dark ambient based on detailed drone and crafted sound. The use of chant, drums and the religious atmosphere created by the chants a sort of easy listening ritual music which will be enjoyed by most fans and is without pretentious ambition. It's worth more than a listen.
Ambient / Electronica / Ethereal / Dub / Soundscapes / Abstract
Edit (9630)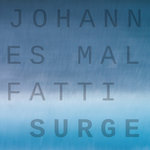 Artist:
Johannes Malfatti
(@)
Title:
Surge
Format:
CD
Label:
Glacial Movements
(@)
Rated:
The first release by Johannes Malfatti is described as inspired by geological processes which are slow and on another scale in respect of the event commonly perceivable by human senses. This approach of time closely resemble the late Morton Feldman but, instead of working on a time scale which is difficult to manage by the listener's memory, he works on sound structures which are simpler to decipher i.e., drones, and working on details which require a certain concentration to be appreciated.
The piece start quietly with the introduction of the main drone which will slowly evolve until the end of the track but, under this static canvas, a series of other sound events e.g., samples, other drones and even field recordings, or so they are perceivable, appears so it's something as a detailed landscape which is covered by a thick mass of fog; at first sight, there's only the perception of the fog but, after a little adaptation, the figures in the background appear. This is true until the clock marks the first half of the track which, after an interlude closely resembles a field recording on snow moved by wind, there's a return to the form of the first half of the track and, when the drone starts to develop, the underlying interlude reappears to introduce the final part for sustained tones of synth which close this release with a development on timbre and volume.
This release has two faces: the first one is that is compositionally a little too derivative from his models to be effective in the realization of his ambitious goals. The second one is the impressive craft in the sound construction which let all the details arise in the audial spectrum. Only for fans of minimalism and reductionism.