Ambient / Electronica / Ethereal / Dub / Soundscapes / Abstract
Edit (9649)
Only a couple of weeks after heaping praise on Andi Otto's "Via" album, I was very happy to see it rapidly followed up by a 10-track remix package that takes five tracks from the culturally diverse, top-notch ethno-electronica-but-in-a-good-way album and spins them off in a variety of directions with a broad and not too cliché international flavour. That said, the overriding tone of this release is slow, crisp, mellowed-out, thin house beats in the approximate 100bpm region, overlaid with light sprinklings of clean digital tones and organic and unusual instrumentation. None of the remixes tread very far from this template.

The Brazilian Peter Power slows down "Bangalore Whispers", maintaining the complex rhythms and deft electronic blend that the original album had, and setting the stall firmly out to demonstrate that "Via Remixes" is far more than just ten monotonous kick drums. The Ground Ground mix (or possibly the DJ Ground remix, due to labelling confusion) of the title track is similarly light-footed, a soft kick bed under bells and plucks that is almost stereotypical Japanese noises at times, yet mellow and extremely listenable. Similarly, Sundrenched, from California, goes a step further than your average remixer and adds sliding guitar notes that are pure Americana. Thankfully that's about as far as the geographical stereotyping goes, but it's never problematic.

Kirrin Island strip back "Kyoto Pebbles" into a rather bouncy stepping house number, before Otto himself reworks "Bangalore Whispers" by concentrating on the cut-up MD Pallavi vocal and playing around with it as a logical extension of the original album version.

Things pick up a little in the second half. Both Paradise Hippies' tackling of "Gianna Anna" and the Akizzbeatzz take on "Via" raise the club tempo just a little, adding a repeating-note baseline, hints of very slight tension build, and slightly more upbeat grooves with plenty of dub delay. Akizzbeatzz's vocal looping is particularly mesmeric.

The final block of mixes take things into more droney, glitchy territory, but initially without losing the rhythms. Lorin Strohm rearranges "Bangalore Whispers" into something more distorted and broken yet still somehow funky. Bug Lover's "Kyoto Pebbles" is the percussion-less exception to the rule, but still rooted in patterned loops of highly twisted saxophone samples to good atmospheric effect, before the Et Kin remix of "Dharti Cash Puke" is a fitting wrap-up, bringing the soft kicks and synth bass back, adjusting the silliest track from the original album into something that's still a little quirky but with tense rolling strings tempering it.

As a remix album it's extremely coherent, faithful but imaginative. It doesn't quite scale the heights of the album itself but it's a commendable companion piece. At the time of writing this remix album is a name-your-price release on Bandcamp, though that won't last long; snap it up while you can, and be sure to consider typing a number other than '0' and supporting some high-quality, deeply thoughtful tunes with a truly international flavour.
Ambient / Electronica / Ethereal / Dub / Soundscapes / Abstract
Edit (9647)
Multi-instrumentalist Janek Sprachta's second solo album fuses electronic soundscapes with more traditional piano, guitar, and drums, The clicks and warm hums of the electronica layers are very familiar, the typical and common noises of this light drone genre- beautifully smooth and deeply cathartic, a soothing bath of gentle sound and extremely reverberant, immersive atmosphere. What prevents this release from sounding wholly generic is the acoustic feel of the real instruments.

"Domi" has gamelan-like sounds and a touch of Eastern flavour, while the second track- whose name was badly mangled by the encoding in the promo I received so I'm not even sure what it's called- is a brief, gently electronica-sprinkled piano ballad.

Sprachta's primary musical day job is as a drummer, and it's on "Stones" that he indulges himself with a drum-led piece that's a masterful bit of balance- part show-off drum solo (light and jazzy, certainly not rock), but part carefully measured and controlled groove. Throughout the whole album, the temptation to show off, the prog rock indulgence of "look how good I am at all these instruments" is admirably and consistently resisted- even down to the modesty of the 36-minute total running time.

"Hello World", in two parts, opens with a particularly cinematic string-heavy tone of melancholy, before filling out to the album's busiest section, with a mood of concentration and a sense of passing time. It's crying out to be paired with a short animation film about loneliness.

The final track and title track "Grow" is more than twice as long as any other track and an opus in its own right. There are subtly William Orbit flavours in the synth arrangement but with a much wider sense of space. It opens with a couple of minutes of ballad piano which you expect to return towards the end, but instead, we drift off into a supremely long fade, as though finally succumbing to sleep.

The result is an album that just shines with quality. While not breaking any new ground and while not as experimental or avant garde as they might want you to believe, nevertheless it's a magnificent and beautiful bit of work.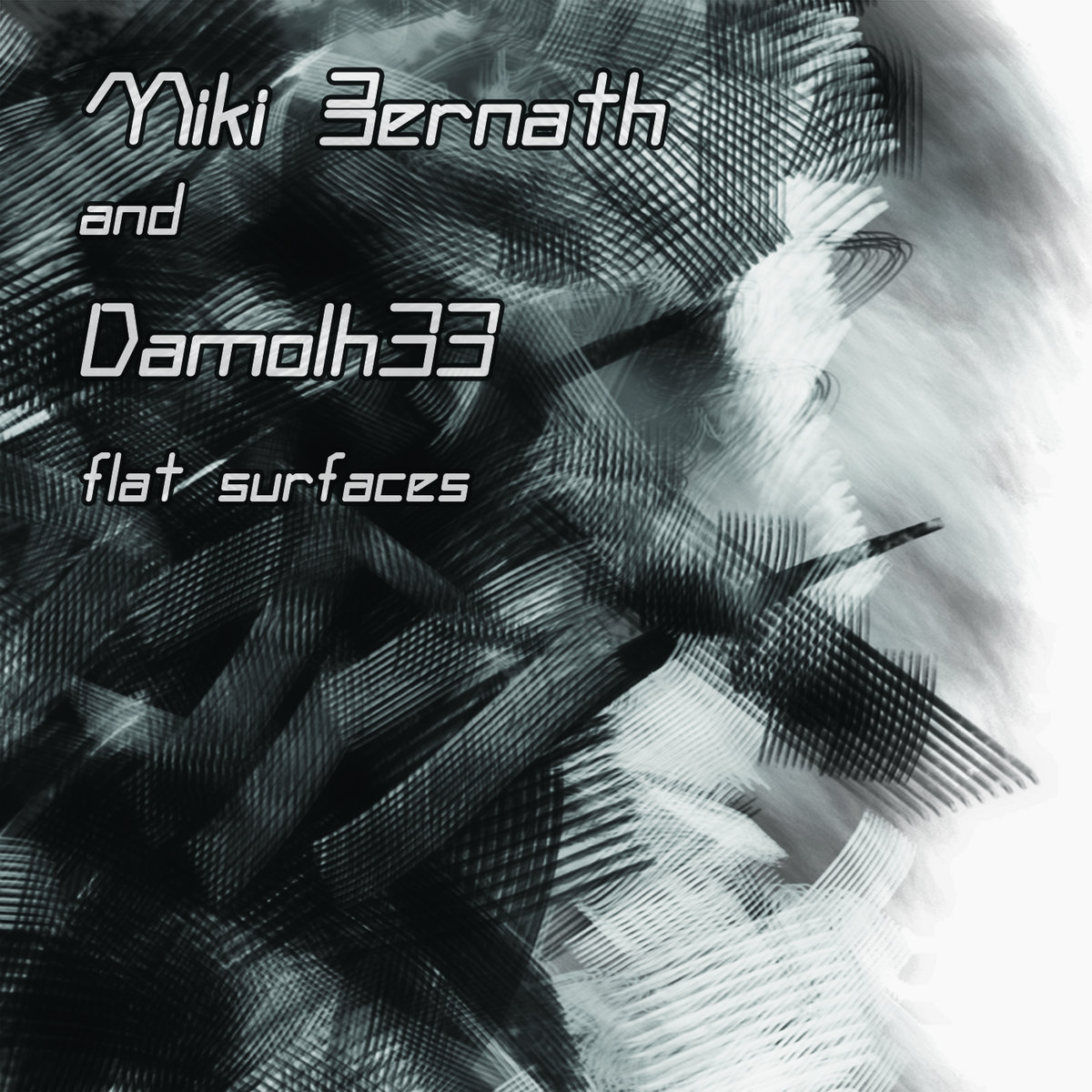 Artist:
Miki Bernath & Damolh33
Title:
Flat Surfaces
Format:
Tape
Label:
4mg Records
(@)
Rated:
After several digital EPs released in the last four years for their own Damolh Records, the Slovakian duo Miki Bernath* And Damolh33 are releasing on tape their first album titled "Flat Surfaces" for 4mg Records. Run by Imrich Vegh, 4mg Records always proposed interesting releases that mainly interested the retro electro scene fans. With this six tracks album (two bonus are included into the free digital download), Imi widened the spectrum of the music released by his label thanks to Gabriel Bernath and Mikuláš Bernáth. The tracks of "Flat Surfaces" span from ambient electronic with i.d.m. influences to 90s electro techno. If you are into early Biosphere but you like also the luscious sounds of the Soma Records rooster, like Slam or Oktogen, plus a touch of Warp stuff, this album could definitely find a place into your playlist. "Flat Surfaces" doesn't contain vocals neither dancefloor hits, but it's able to create a sonic world of its own and this is the main thing for someone who's making music! Preview here "https://4mgrecords.bandcamp.com/album/flat-surfaces" and contact Imi!
Artist:
Frank Meyer
Title:
Spuren
Format:
CD
Label:
Frank Mark Arts
(@)
Rated:
I heard some of the stuff by Frank Meyer on some collaborative releases, coming from Frank Mark Arts (the very first time I saw its name was on the occasion of "Levitation", a good album he made together with Roman Leykam). This debut album better highlights his interesting sonic searching, focusing on a well-balanced mixture of ethereal music, krautrock, prog rock and an assortment of tricks often used by composers of music scores. Despite its internal homogeneity, you could hear some sparse resemblances in "Spuren". For instance, I'm pretty sure that many listeners of the wisely titled "Klischee Und Wirklichkeit" (German for "Cliche and reality") would match it to the notorious Yann Tiersen's soundtrack for the likewise famous movie Amelie (even if its well-forged electronic sounds could befit a possible futuristic version when the main character of this film would be 40 years older at least). Other ones will imagine that "Hinter geschlossenen Augen" (meaning "Behind closed eyes") could have been grabbed in the imaginary garden of Klaus Schultze while automatic nozzles were watering the Japanese hydrangea or tracks like "Ein seltsames Wort" (eng."A strange word") could let you think about a cover of some prog rock classic song by Boards Of Canada after a transplant of a robotic heart or that robots themselves can feel and translate into music something closer to human love-driven depression while listening to the graceful "Tiefenbohrung". Tracks like the lovely "Fuge für Hoffnungsvolle" (meaning "Fugue for hopeful") could let you imagine that the famous herdsman appearing in an old spot by Marlboro has a promising future or maybe is already active in one of the supposedly newly discovered Earth-like planets. Besides possible and more or less fictitious similarities, the sound that Frank forged in this album by means of an impressive set of instruments (including acoustic and electric guitars, an electric bass, a diddley bow, a plenty of software synths and samplers, a glorious Doepfer Dark Energy monophonic synthesizer, an ukulele, a flute, some boom whackers, some field recordings, some toys for cats and even a lemonade bottle!) is really good and could be considered as one of the most interesting stylistic direction that a particular branch of the so-called psychedelic music could take.
Artist:
Quentin Sirjacq
Title:
far islands and near places
Format:
CD
Label:
Schole
(@)
Rated:
While introducing Akira Kosemura's "One Day", I was saying that 2016 was a great year for his imprint Schole. Even if there are more chances European and American readers will find it the version produced by Karaoke Kalk, here it is another release that fully justifies my feedback about this Japanese label - Japan itself was a source of inspiration for most of the tracks of this output -. Premiered one year ago in Lisbon, "Far Islands and Near Places" is the album by which French pianist, multi-instrumentalist and composer Quentin Sirjacq further enhanced the intense emotionality of his piano-driven sound by means of three guessed choices: the first one is the integration in the line-up of talented percussionist Arnaud Lassus, whose performance on marimba, vibraphone, and glockenspiel manages to highlight the dynamics of Sirjacq's declension of pianism, the second choice is the inclusion of electric piano and Fender Rhodes that Quentin combined to his beloved piano, two new entries that the French musician matches to "a certain musical style and era (namely 'amplified music' which began in the mid-twentieth century, from pop to electronic music)", according to his own explanatory words. The third "expedient" is the one that Quentin referred as "creative mixing" and its primary goal is acting as a bridge between "a modern aspect linked to technological devices and an old fashioned one based on piano and percussion which is not as contemporary." Besides the appreciated analytical explanation of its author, what matters is the beauty of the final result. There are some stylistic similarities of course: the opening "Aquarius" could resemble some compositions by notorious musicians like Niels Frahm or Yann Tiersen and the following and "Bodies", the delicate housey tune that follows, made me think of some stuff by Trentemoller or Matthew Herbert (a musical memory, the last one, maybe influenced by the soundalike of Sirjacq's track with Herbert's "Bodily Functions", one of his more famous albums). tracks like the daydreaming "Far Islands" or the delicate charm of the final "A Dream in a Dream" get closer to the style of the above-mentioned Kosemura and the nostalgic romanticism of "It's Raining In My House" make me think to some of the piano versions of the main theme of Last Tango In Paris (a reverie of a romantic meeting in a Paris cafe during a rainy autumn afternoon is almost logical during the listening of this lovely track), but besides all the possible connections that someone could find, Sirjacq's third album is simply an excellent release by which the author serves the purpose of contemporary music, according to his analysis and belief: "I believe the music of today should allow us to care more about our inner life and self-understanding in order to become more peaceful individuals and more able to acknowledge the complexity and mystery of the human condition". The only bug I found during the listening of "Far Islands and Near Places" is the typo of the plural for 'wolf' in the CD-text and printed tracklist!