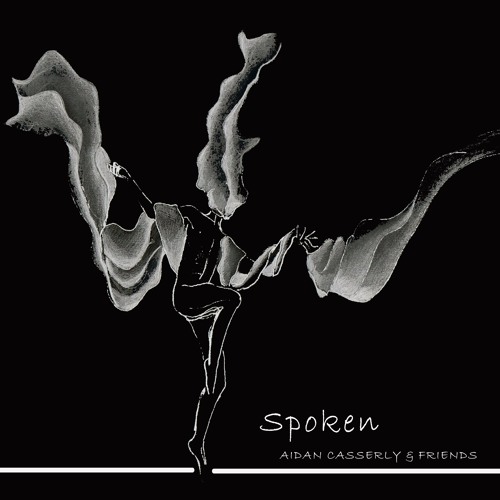 Artist:
Aidan Casserly & Friends
Title:
Spoken
Format:
Download Only (MP3 + Lossless)
Label:
House Of Analogue
Rated:
The new album by Aidan Casserly, who among the other hundred of things he does reformed his first band Empire State Human, is a particular and touchy one. "Spoken" has been released as Aidan Casserly & Friends as the fifteen tracks are spoken word performances with background music played by Aidan. For a little bit more than half hour this album will capture your attention totally. Each track has a different guest that give his voice and his interpretation to the lyrics reading them with transport and passion. Most of the tracks are piano driven ones but we have also some with a "creepy" atmosphere like the opening "Amaze Me" (with ambient synth lines), "Incubus II" (it sounds like an horror soundtrack with kettledrums, piano, synth lines and it's read by Attrition's Martin Bowes) or "We Are The Light" (this is probably the most experimental of the lot, thanks to a minimal approach to guitar distorted sounds and filtered vocals). You can check the whole album at the House Of Analogue soundcloud page at https://soundcloud.com/houseofanalogue, it's worth it!
Ambient / Electronica / Ethereal / Dub / Soundscapes / Abstract
Edit (9711)
Delving deep into the laptop, "Digital Junkies In Strange Times" is a genre-ignoring collection of electronic ambiences that draws ethereal samples shamelessly from any source that appeals. Most prominently this is R&B acapellas (some re-recorded presumably for legal reasons), processed to drift in out of our consciousness like a distant radio broadcast, but other found sounds are thrown in too. Under this, the core of this album is a gentle electronic soundscape which is soft yet glitchy.

"Turbulent Sphere", at 13 minutes, is a relatively steady piece with a digital heartbeat. Processed bell sounds and warm chords ebb above. The beginning and end of the piece are weirder than the middle; twisted attempts at key changes towards the end sound playful or positively tongue-in-cheek at parts.

At only a minute and a half long, "Acousmatis" is a wonky processed acoustic guitar loop that seems to be present for two reasons, firstly because it's a little silly, secondly to increase the track count. The other short track "Teen Haze" is more worthwhile, an almost radio-edit-y bit of anti-pop instrumental with deep flangey bass notes and a lightweight, crisp laptop-hip-hop beat, degenerating into metallic creaks as it develops.

The main meal of the release is the 41-minute "Moonlight Compilations", which walks a fine line between being a single electronic work and a mix album. There are some steady tempos and recurring elements throughout. Sometimes there's several layers in play, sometimes there's a pure single element standing alone. At points it drops to nothing more than distant birdsong, reminiscent of The KLF's "Chill Out", with which it shares a sense of live, improvised fader-riding. At other points, it's a heavier electronic throb, with a womb-like ambience, sometimes pale hisses and windy tones. The on-and-off languid female vocals are a little Leftfield-y. It evolves slowly and it's generally melancholic, but the electronic pulses are prominent enough that you're rarely allowed to proper relax in listening to it. Though it's never out-and-out silly, things do get more wig-out at the end with the brass sounds of some bizarre Latin-sounding TV theme and some random plucked harpsichord notes.

Arguably "Moonlight Compilations" is a little self-indulgent and is a little longer than is warranted, but as an improvised bit of electronic soundscape, there's a lush, rich feel to most of it that makes it an enjoyable listen.
Be careful if you decide to rise up the volume to catch the words by the disembodied voices, which seem to come out of a encrypted radiophonic transmission, while your mind is maybe getting ready to flow into the lulling stillness in the short opening track "Olm", as Brooklyn-based sound artist Brendan Landis aka Hey Exit will unexpectedly ignite a sonic blast that could let your eardrums bleed on the following "Irises", the harshest part of this excellent release, whose extreme and somehow magnetic virulence seems to be a preparatory storm to fertilize the listening soil for upcoming tunes. Residual electric charges and occasional muffled thunders fade out while the ambient layers, some chimes and a warming rising guitar tone begin to enfold listener in a soothing silent symphony on "But Is Not Consumed", a sort of anaesthetic following the previously described sonic fury. The metallic squeaking of sharpened blades and some scratches on scorched guitar chords are the elements that slightly disturb the static catalepsy of "So They Spoke", the track at the end of side A. The length of the last track I described is the same of "Small Burials", the almost ethereal mist which opens side B, leading to the catchy nostalgic sonorities of "Twin Moss", getting more and more "strangling" and estranging by the final short electric storm. The only moment where the listener can perceive a silent diving line is the one between these two tracks and the last "Lanterns, Chrysanthemum", the longest one where Hey Exit builds a sort of quiet cinematic drone over pulverised occasional resounding entities. In spite of the seasoned nuance of the sound rendered by the hissing of the tape, "Caudata" is a fascinating listening experience, including some field recording that Landis took in the desert of Arizona at the very end.
image not
available
anymore
Artist:
SiJ
Title:
The Time Machine
Format:
CD
Label:
Cryo Chamber
(@)
Rated:
According to the liner notes this release is based on the concept of time travel and, while it's not particularly evident during the listening of this release, this is the reason why there's a so massive use of field recordings. SiJ makes little use of drone as it's used mainly as a structural glue which ties together all tracks and relies instead on a descriptive musical language based on a the choice of samples with an evident influence from movie's sound design. In such choices samples are chosen not only for their technical properties but also for the fact that they are so culturally connoted to be even descriptive of a mood e.g., the sound of rain.
Over the usual drone which is the skeleton of this music, "Forwards in Time" exposes a series of small field recordings / samples whose technical craft is simply impressive. The childs' voices of "A Place to Live" amplify the sense of menace given by the soundscape. As the drone is almost inaudible, "In Ancient Times" sounds as a crossover between a field recording piece and an audio track of a movie while "Instantaneous" is a return to the canon of the genre that is even reassuring after all the previous deviations. "Floating Clouds" borders the territories of some new age with his peaceful atmosphere and the use of a flute while "Realm of Eternal Rain" is based on the juxtaposition of a drone and the field recording of the rain and "Particulate Matter" is a short and complex track where field recordings, drones and electronic effects are juxtaposed in a descriptive manner. "Morlock's Path" and "The Death of the World" are almost canonical dark ambient tracks that sounds as a sort of rest, while "Vision of Hell" marks a return to the use of field recordings and "Shine of Dark" closes this release with a return to the peaceful atmosphere of "Floating Clouds".
This is one of best release from this label at a technical level and it's even courageous to explore territories out of the canon of the genre. Truly recommended.
Artist:
Radio Free Clear Light
(@)
Title:
In The Company Of The White Rabbit
Format:
CD
Label:
Black Note Music
(@)
Rated:
Records like this one by San Francisco-based collective Radio Free Clear Light could get matched to those rare visitations by some supposed shamans or hippie veterans, whose magical potions (or poisons, depending on dosages) manage to liberate (or intoxicate, depending on dosages again) the entire community of an unknown village. "One might call it music", they say in the opening words about this enjoyable release. If we don't have to label as music, I guess we had to consider this unidentified strange round object (one might call it cd) as a sort of divinatory instrument to reach the enlightenment or maybe tear Maya's veil to shreds. And yet it sounds like something musical. I'd rather say that the similarities of the audible entities quote higher standards of electronic, post-rock and ambient trance music, particularly of the late 90ies, and all those resemblances could have been persuaded some reviewer to introduce them as Future Sound of San Francisco by establishing an imaginary bridge to Future Sound Of London, due to the psychedelic vibing of its sound. Some of the similarities/influences - Matmos, Jim O'Rourke, Supersilent... I honestly don't catch too many resemblances against Autechre they included in the "sounding-like" list - are quoted by themselves, other ones - maybe less known - could be easily deducted if you know some unknown underground blossoms of that period. For instance some similar sonorities that almost immediately to my mind are the ones by ATOI - Ambient Temple Of Imagination, another San Francisco-based collective project, founded in 1992 by Richard Sun and Seofun (melting ambient-trance, therapy music and that vague sense of transversality, close to be socially critical stings...) or the entrancing tribal-ambient by Jorge Reyes, but I wouldn't sayRadio Free Clear Light are a collective of plagiarists! There's a remarkable degree of stylistic heterogeneity (including the swirling lukewarm beat of "Underlying Macro Narrative", the hyperbolic clap-driven movement of "Change The Course", the hypnotical tribalism of "Children Of The Most Arcane" or the abstract blurring of piano sketches and oriental nuances in tracks like "In These Places" or "Undifferentiated Particles"), but there are some recursive items: besides the psychedelic halo wreathing the whole album, Radio Free Clear Light often uses inverted sounds, stereo effects based on rapid channel switching, catchy heavily distorted or gently reverberated female vocals, piercing theremin-driven oscillations and muffled bleeps. It's what the white rabbit would insert in your car stereo if you had to ride for miles to reach the Queen of Hearts on time.