Hidden Reverse, the name of this bicephalous project by Simon Balestrazzi (mostly known for his forerunning industrial project T.A.C., as most of our readers maybe know) and Massimo Olla - another appreciated artist of the experimental Italian scene -, could let you think of something related or referred to subliminal messages un-hidden by the reverse playing of some recordings. Well, it has nothing to do with this marketing gimmick by some bands, but it could somehow hit your subconscious. The source of inspiration, as you can easily guess, is the phenomenon of sleep disorders, but don't expect some therapy music or seemingly infinite bundles of narcoleptic ambient by these guys. Maybe fostered by the growingly notorious sleep concerts (Steve Stapleton's ones are a must), by a vast literature related to this interesting subject (eg.Jonathan Coe's "The House of Sleep") or by the narcolepsy or the sleeplessness (depending on individual reaction) often induced/inspired by sluggish cultural debates or by the the demeaning political and economic situation, the sleep, its deprivation or its disorders could be considered parts of a hot topic. More than narcolepsy or insomnia, Hidden Reverse creatures could inspire or induce nightmares, considering the matter Simon and Massimo focused on. A title like "Fatal Familial Insomnia" for the opening song, but above all its rising psychotic torsions, could let you think of some dreadful familiar dreadful crimes about parents, turned into killers by traumatic events reawakened by an infant's wailing or by stress. The slightly distorted barking and the siren-like crying are just some nightmarish entities resurfacing from the dumb drone-like movement of the following "Night Terrors", preceding the claustrophobic stealthy steps of "In That Liminal Space" and the scary "Obstructive Sleep Apnea", the track where Simon and Massimo get closer to that branch of industrial music, drawing inspiration from soundtracks of horror movies of the 70ies. The two raving minutes of "One More White Night" in between effete and hectic emotionality as well as the final "Entering The Empire of The Sleepless" let you guess they tried to follow a sort of plot in the sequence of tracks, that testify the amazing (and thrilling) chances of interaction between Simon's freaky entities and Massimo's creatures on his [d]Ronin tools.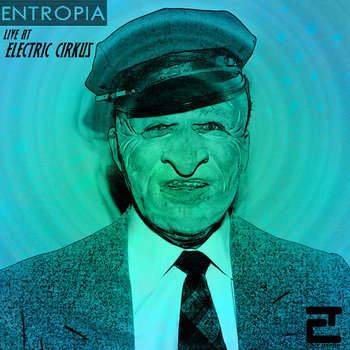 Artist:
Entropia
Title:
Live at Electric Cirkus
Format:
CD
Label:
Eclectic Productions
Rated:
There no introduction to this release except from the line up of the band (Dr.Lops: keys, modular synths; Ugo Vantini: electronic drums; Amptek:b synth guitars, analog sequencers; Carlo Micali: sound engineer) and the liner notes stating that this live was recorded on two tracks i.e., no overdubs. However Entropia's music could be roughly described as techno with a splash of ambient.
The release is divided in two parts: the first one is composed of four solo track: "The Great Escape From The Holographic Sanitarium" and "Fight The Winged Dragon" are from Ugo Vantini and they are minimal tracks based on the manipulation of the rhythmic sources and so they are more atmospheric than hypnotic. "Modular From Cassilde Hell" is from Doc Loops and is a crossover between a noise track and a sci-fi oriented synth track. "Supercluster Blaster" is from Amptek and it sounds as more oriented towards kosmische musik as the sound of the guitar is so effected that it's closer to a synth.
Then it starts the part featuring all the band and, instead of being the mere juxtaposition of the elements of the solo tracks, there's some elements emerging from the interaction: the rhythmic cages reminiscent of certain techno, with convincing results especially in "Memories Of An Electric Circus" and "Dance U Sob", which moves the result from the relatively meditative territories of the first part to more danceable one until "Nasty Tales From The Maudit Stage" marks a final part with a more attention towards the sonic construction until "Inner Spooky Universe Paraphernalia" closes this recording blending all the elements of the previous tracks.
This is a release oriented towards a very defined audience that could appreciate the craft of exploring this clearly defined genre while the others could be a little disappointed by the absence of any deviation from the canon. A nice release.
Ambient / Electronica / Ethereal / Dub / Soundscapes / Abstract
Edit (10218)
Artist: Stuart Bruce
Title: 3 Quintets for Treated Guitar
Format: Download Only (MP3 + Lossless)
Label: Outside Records

First of all, let me state categorically to eagle-eyed readers that this is NOT my work. The fact this reviewer's name matches the artist name on this release is one of life's little coincidences. We really, genuinely, aren't the same person. Google it. This Stuart Bruce was engineering Do They Know It's Christmas while I was still in primary school.

But this solo release, on Stuart's new label, falls well within the realm of the experimental sonics that I've reviewed plenty of on ChainDLK. Soft, mellow drone tones and pad-like sounds unfolding slow melodies complemented by lush and languid sustained and processed guitar notes, this is top quality avantgarde soundscaping with a strong pedigree.

After the smoothness of "Stillpunkt", with its dusting of gentle percussive twinkling like gentle wind chimes, "Klangfarben" as the name somewhat implies is a little more raw, with slightly harsher hits and percussive hits that may have been derived from pulling guitar strings in unexpected ways, though it could also be synthetic, it's hard to tell. Halfway through "Klangfarben" the sense of unease and alarm builds somewhat, it's decidedly the most sinister of the three pieces, and it's the reason why this release won't end up on my going-to-sleep playlist.

Final piece "The Moon In Your Head" is the most melodic, and the most akin to a conventional-sounding quintet in some ways, with separate and panned instruments complementing and counterpointing within an environment that still has the bass notes underpinning it, but yet overall is a little brighter and more optimistic, particularly in the near-euphoric patterns at the end.

There's quite a classic feel to it at times, a confident simplicity. When the synth bass drone ebbs forwards joined by careful use of delay it can sound like a particularly mellow Tangerine Dream track at points.

I did not make this (honestly I didn't), but I wish I did.
Artist:
Controlled Bleeding
Title:
Headcrack - remastered
Format:
LP
Label:
Artoffact
(@)
Rated:
One of the positive aspect/consequence of the launch of some new album by historical (but pretty unknown to younger generations) bands are the related reissue of some old entries. It's what happened on the occasion of the return of the legendary band Controlled Bleeding, whose recent album "Larva Lumps and Baby Bumps", followed by the remix collection of "Carving Song", was followed by the reissue by Artoffact of "Headcrack", the oddest (but maybe the best) release of Paul Lemos' brainchild, the album which was one of the turning point of their long history, when the band left the cacophonic style of their earlier outputs aside in order to develop a more original mixture of dark ambient and industrial. As I told, this turning point coincides with the alternation of remarkably bleak and creepy moments with paradoxically hopeful ones, to the point that you can't sometimes establish the exact separation of such a bipolarity. For instance, you can't really say the vocal chants they occasionally used belong to a hellish or a heavenly dimension, or if the ecstatic minimalism spread over the album are closer to the representation of deceitful illusions or, more likely, of a sort vividly blissful detachment. Under a more etheric point view (let's say so), it seems they translated into a necessarily bipolar sound the consequences of that fossilized rose (or the fossilization of love), portrayed on the cover artwork...damnation, blissful oblivion or maybe both. Cacophony sprouts again on the final tracks (the ones that have been left untitled in this remastered versions as well as on the head-banging and over-distorted noises of the last one, a remix introduced as "the missing Headcrack piece"), but such a resurface makes sense... Whatever you interpret this monumental industrial-ambient output, it's an essential building block of higher levels of modern music.
Ambient / Electronica / Ethereal / Dub / Soundscapes / Abstract
Edit (10206)
Artist:
Dream Weapon Ritual
Title:
The Uncanny Little Sparrows
Format:
LP
Label:
Boring Machines
Simon Balestrazzi and Monica Serra's music as Dream Weapon Ritual is an unusually textured blend of Middle Eastern-style folksy plaintive drone work with electronic hums and digitally sawtoothed noises. Long vocal notes, reverberant cymbal crashes, processed found sounds and metallic hits and scrapes meld into odd, deeply expressive and somewhat sinister atmospheres.

The first side of the LP is one 18-minute track, "Bird Mother", which is a melancholy and relatively busy affair with a sustained approach whereby the same elements fade and return in a variety of patterns but without any real sense of progression. It's quite guttural and wears its emotions on its sleeve, but it perhaps doesn't have quite enough variety in it to justify filling the whole side of vinyl.

The second side is four shorter tracks with greater breadth. "Mating Call" is bordering on playful, a short arrangement of vocal bird noise impressions that morph into an odd robotic tango rhythm. "Two Little Sparrows Sitting On A Bough And Waiting For Enlightenment" is a much tenser affair than the title suggests, with twanged melodies and tension notes that sound like a sort of horror / spaghetti western hybrid. "Tittle-Tattle Among Secret Devices" is more percussive and has a greater sense of urgency, underpinned by some almost anachronistic steady hand-drum patterns and a frankly bizarre breathy male vocal that sounds like at times like a cartoon animal impression, before "The One With The Iron Beak" is the most prog rock-like piece of the set, eerie with a slightly more retro and live feel.

It's an unusual release, oozing with character and probably an interesting live proposition, a sort of prog rock drone electronica that certainly stands out in a crowd.