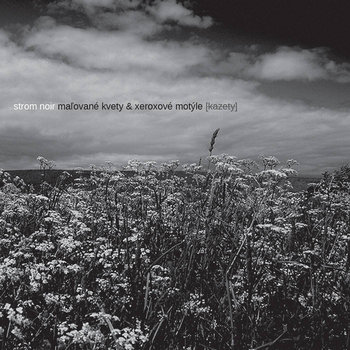 Artist:
Strom Noir
Title:
Maľované Kvety & Xeroxové Motýle
Format:
CD
Label:
Zoharum
(@)
Distributor:
Alchembria
Rated:
"Maované Kvety & Xeroxové Motýle" collects two unpublished works originally recorded with the intention of releasing them on cassettes. The first one, "against a dwarf", was completed in 2016 and is essentially a drone release while the second one, "painted flowers and xeroxed butterflies", is more oriented towards quiet noise territories as it's from 2011.
The first part is opened by "Widely Opened Window", a track based based on slowly moving drones juxtaposed in such a way that resonates each other and create a suspended atmosphere. "Rozkyv Duše" is based on a similar structure but the drones are substituted by noisy tones. "Saturday Is Gone" develops highly reverberated lines of guitars, or so they sound. "Against a Dwarf" proceeds by accumulation of drones until there's quiet and wide mass of sound that seems firm but it's constantly moving. "Echo v Tebe" closes the first part of this release with a static drone.
The second part is opened by "Tlkot Dreva & Bzukot Kovu" where the guitar tries to emerge from a background of small noises until it covers the sound spectrum becoming a drone. "Painted Flowers & Xeroxed Butterflies" seems to continue in the same path but it remains in a dialectic with the background evolving without a resolution. "Shattered Like a Glass Goblin" is an ambient track divided in a quiet first part and a noisier one. The almost unfiltered guitar of "Ttoollosk" is the base for the most evocative track as the overall sound search an impossible hook with a distant past using the reverb to obtain a sound vaguely similar of an old record's one. "Pure II" closes this release with a juxtaposition of guitar notes and a sort of noisy field recording.
This is a really good release for fans of the project as it doesn't sound at all as a collection of outtakes, as it's usual for this kind of operations, and the first part could be well received by fans of drone music and the second part by fans of experimental music. It's worth a listen.
Ambient / Electronica / Ethereal / Dub / Soundscapes / Abstract
Edit (9912)
image not
available
anymore
Pausal is an audio/visual duo from UK which could be classifiable as drone music if they only wouldn't escape the construction of a flat sonic surface using a series of elements to obtain a musical movement.
The first part of this release is made out of "Murmuration", a piece in three parts developed from a performance in Pembrokeshire using new material crafted for the show and new equipment including voice microphones used, perhaps, for the insertion of the sounds recorded into the large hall where it was performed. The first part,"Murmuration I", is developed using violin samples, the crackles of a turntable and the overall structure is a crescendo obtained by the sonic space which add resonances and the synths that, in the second part of the track, construct a loud drones rippled by the violin line. The second part, "Murmuration II", is much more meditative and based on synth whose structure is based on the development of small sustained tones with the background of small sound cells. "Murmuration III" proceeds by accumulating drones and generating movement underlining one of them until, in the final part of the track, they begin a sequence of subtraction until the track ends in silence.
The second part is formed by three track obtained reworking the recording sessions of "Murmuration" and taking the musical material into different territories."Spiral", an impressive bustle of sustained tones that give a great variety to the track, "Scatter", based on small sound elements, which could be tones or small metallic beats or small noisy cells, interacting to obtain a complex audial space and "Soar" that closes this release with a quiet soundscape obtained with slowly moving drones and an almost inaudible background noise giving movement to the most static parts.
Even if it could be unfair to say there's nothing ground-breaking here, there's a lot of work of creating a personal sound from a well established musical framework and there's a lot of ideas developed in the tracks. Absolutely recommended for fans of the genre.
Ambient / Electronica / Ethereal / Dub / Soundscapes / Abstract
Edit (9910)
Artist:
LCC
Title:
Bastet
Format:
12" vinyl + Download
Label:
Editions Mego
Accompanied by a press release which shuns talk of performance or instrumentation in favour of discussing the Egyptian goddess after which this release is named, and with cover artwork that frankly makes me squeamish, Ana Quiroga and Uge Pañeda's second album as "LCC" seems to be setting its stall out early as difficult and inaccessible. The audio behind it, however, is not nearly so harsh.

Almost purely electronic but with other ambient noises blended gently in, it's a mixed bag of synth-heavy pieces involving washes and oscillations that gently ebbs and flow, backwards and forwards in a mostly very relaxing fashion. It's sometimes arhythmic, but with tracks like the drum-heavy cinematic tension of "Ka" break it into distinct pieces.

Longest track "Ba" is to me the most successful, blending some analogue synth noises with some sparse heavy percussive hits and wailing higher tones, and utilising the classic grandfather clock tocking sound for steady heartbeat regulation.

Pieces like "He" have synths that move more towards 1970's Tangerine Dream territory, deceptively simple and slowly evolving, though sometimes cut a little short and deprived of the full prog rock experience, while final track "Us" is notable for its deeper and more mesmerising drone.

It's a fairly familiar-tasting blend of elements that doesn't really push the envelope, but as a dark synth work with a filmic ambience, it's smartly polished. One of those releases that really benefits from good headphones and a darkened room.
Ambient / Electronica / Ethereal / Dub / Soundscapes / Abstract
Edit (9909)
The sixth album from Saafi Brothers (five performers with different surnames) is a collection of up-tempo ambient dub (if that's not inherently a contradiction in terms), a series of tracks infused with the energy of 1990's crossovers when electronic music opened up to every multicultural influence you could think of. The result evokes memories of Dreadzone, Asian Dub Foundation, Afro Celt Sound System and the like. Rocksteady basslines, tight drum programming and plenty of Future Sound Of London-esque electronic sprinkles give the whole thing a lovely vibe that's part blissed-out Ibiza daytime beach party, part chill-out, part wig-out, and if I'm being critical, at times part wallpaper.

Every track is a lengthy journey in its own right. "Catch Me If You Can" is an eleven-minute meander that mixes lazy spoken-word poetry over a dub beat that dips in and out. The vocoded vocal on "Hippies In Trance" is knowing and playful, and a funky wah-wah guitar oozes a kind of tongue-in-cheek class that's rather infectious.

There's a good helping of diversity too. "Joy Of Mystery" is a little more unusual, finding a slightly unsettling breakbeat and bouncing around some slightly harsher and lo-fi bass noises among the standard delay-laden keys and pads. "Out On A Ride" plays like a trancey reimagining of Kraftwerk's "Autobahn" was the starting point. "Ta Tvam Asi" with its steadier, more techno-tinged beat is a highlight that mixes things up nicely, while "Dub No 9" and the beatless final track "Summer Travel" up the synth emphasis.

It's no coincidence that every band I've referenced here for comparison is heavily associated with the 1990's. Save for a bit of top-notch mastering, this album could have fallen through a wormhole from 1995 and the halcyon days of this genre and you wouldn't have questioned its authenticity. It's a very appropriate fit for a record label founded by Youth, with his associations with acts like The Orb. It's not a classic (contemporary or otherwise), but for people with fond memories of those days and those sounds, this album will go down very nicely indeed.
Ambient / Electronica / Ethereal / Dub / Soundscapes / Abstract
Edit (9906)
Artist:
SODA lite
Title:
In Eco
Format:
Tape
Label:
Constellation Tatsu
(@)
Rated:
The aural journey proposed by Melbourne-based musician and visual artist Alex Last aka Soda Lite is one of the closest to what was known as "new age music" I ever reviewed. To be honest, I've never been a fan of this kind of music as it's too strictly related to a marketing-driven system of belief, but Soda Lite's sound is well recorded and has a remarkable quality in spite of the typical hissing noise of cassettes. I can't say Alex made a sleep-inducing album due to the short length of each track (not enough time to fall into sleep...); any of them seems to be the aural postcard of some luckily uncontaminated place on this planet. As you can easily guess, the constant element of them is the presence of field recordings - chirping more or less exotic birds, croaking frogs, entrancing water streams and maybe some insects supposedly grabbed during his camping trips with friends and his dog Liffey or the contemplative sessions of frogs, lizards and kingfishers, his main hobby according to the attached biography... no ambitions to become a guru, as far as I know - as well as the typical set for this kind of "environmentalist" stuff (relaxing pad synths, Pan flutes, single hits on xylophones, overstretched guitar drones, oceans of reverb and slightly delayed sounds...), but there's a sense of blissful naivety in his aural postcards (as well as some really weel-assembled track like "Aurai" or "Lagoon" - oh, those lukewarm placental tones sounding like a telepathic chat with a dolphin found inside a Mesmer's pool!) that can let you indulge in some excessively predictable sonic amalgamations.