Ambient / Electronica / Ethereal / Dub / Soundscapes / Abstract
Edit (9917)
Artist:
Daimon
Title:
s/t
Format:
CD + Download
Label:
Metzger Therapie
(@)
Rated:
This one seemed to have slipped in when I wasn't looking; I can't find the one-sheet or any promo material on this CD if it was ever accompanied by any. Be that as it may, Daimon is an obscure deep drone audio-visual project run by Paolo Monti (The Star Pillow), Nicola Quiriconi (Vipcancro, Lisca Records), Simon Balestrazzi (T.A.C., Kirlian Camera, Dream Weapon Ritual, etc), and this is their self-titled debut release. Tracks are titled "a call," "he's seeing you," "take the telescope and go," "almost blind," and "by this basement." As you might surmise, they are fairly lengthy with nothing under nine minutes. The music is somewhere between dark ambient and dream ambient, fairly grey and minimal for the most part. Although there is a somber tone throughout, I would call it more ominous than malevolent. Sometimes these dronescapes have subtle incidents or events such as distant children's voices, whispers, clicks and taps, squeaks and squeals, and other nebulous indeterminate sounds. These are rather hazy isolationist environments best listened to at low volume. Some tracks give the impression of small workshop environments without being mechanical or machine-oriented, more along the lines of minor physical manual labor. Various types of reverberation as well as feedback play a role in making these ambiences sound dramatic and all-encompassing, It's possible that this was created to be accompanied by some type of visual stimuli, but you can imagine it in your own head. For a debut release, 'Daimon' has merit and is well worth seeking out.

Ambient / Electronica / Ethereal / Dub / Soundscapes / Abstract
Edit (9916)
Artist:
David Arkenstone
(@)
Title:
Beneath a Darkening Sky
Format:
CD
Label:
self-released
Rated:
Perhaps there is no other New Age artist who has a larger discography than David Arkenstone. With sixty-one studio albums, one live album, and four soundtracks, this is a composer to be reckoned with. Arkenstone has also been included on four compilation albums, and released an additional four albums with his trio, Troika. Additionally, he has composed a number of songs for the game World of Warcraft. He's been at this game a long time since 1987, and 'Beneath a Darkening Sky' is a long way off from the glimmering shimmer of albums such as 'Valley in the Clouds,' 'Spirit Wind,' and 'Atlantis.' Then again, without creating some of these symphonic opuses, Arkenstone would never have been able to come up with 'Beneath a Darkening Sky'. While not what I would call a true dark ambient album, Arkenstone embraces enough elements of shadow to make you think this couldn't possibly have been made by such a high profile New Age composer. There is less attention to melody and more to atmosphere than on many other Arkenstone releases giving him the opportunity to go in deep, and weave long sonorous ambiences that are not at all cheery and star-twinkly. For the most part, the seven tracks are cinematic, melancholic and Gothic; a certain sense of mystery, and ominous foreboding permeates the music. From the deep drones and breathy voices of "The Fog," to the swirling icy ambiance of "The Wind from the North," Arkenstone conjures chilling atmospheres that transport you to other realms; places where danger lurks and survival is something not taken for granted. Forget fairy castles and enchanted forests; Arkenstone's world in 'Beneath a Darkening Sky' is much gloomier and cimmerian. In a cinematic way it seems to relate more to a Game of Thrones than Lord of the Rings type environment. (Although David dedicated the track "They Are Coming" to J.R.R. Tolkien.) Celtic and Middle Eastern flavors are also combined here and there giving the music an exotic quality. Choral voices as well. Arkenstone spares no attention to detail with his sound palette here. I really don't care much for New Age, but this music is "Another Age," and for that we can be wistful Beneath a Darkening Sky.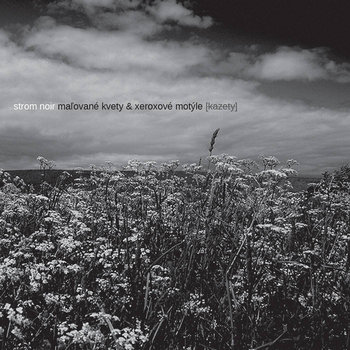 Artist:
Strom Noir
Title:
Maľované Kvety & Xeroxové Motýle
Format:
CD
Label:
Zoharum
(@)
Distributor:
Alchembria
Rated:
"Maované Kvety & Xeroxové Motýle" collects two unpublished works originally recorded with the intention of releasing them on cassettes. The first one, "against a dwarf", was completed in 2016 and is essentially a drone release while the second one, "painted flowers and xeroxed butterflies", is more oriented towards quiet noise territories as it's from 2011.
The first part is opened by "Widely Opened Window", a track based based on slowly moving drones juxtaposed in such a way that resonates each other and create a suspended atmosphere. "Rozkyv Duše" is based on a similar structure but the drones are substituted by noisy tones. "Saturday Is Gone" develops highly reverberated lines of guitars, or so they sound. "Against a Dwarf" proceeds by accumulation of drones until there's quiet and wide mass of sound that seems firm but it's constantly moving. "Echo v Tebe" closes the first part of this release with a static drone.
The second part is opened by "Tlkot Dreva & Bzukot Kovu" where the guitar tries to emerge from a background of small noises until it covers the sound spectrum becoming a drone. "Painted Flowers & Xeroxed Butterflies" seems to continue in the same path but it remains in a dialectic with the background evolving without a resolution. "Shattered Like a Glass Goblin" is an ambient track divided in a quiet first part and a noisier one. The almost unfiltered guitar of "Ttoollosk" is the base for the most evocative track as the overall sound search an impossible hook with a distant past using the reverb to obtain a sound vaguely similar of an old record's one. "Pure II" closes this release with a juxtaposition of guitar notes and a sort of noisy field recording.
This is a really good release for fans of the project as it doesn't sound at all as a collection of outtakes, as it's usual for this kind of operations, and the first part could be well received by fans of drone music and the second part by fans of experimental music. It's worth a listen.
Ambient / Electronica / Ethereal / Dub / Soundscapes / Abstract
Edit (9912)
image not
available
anymore
Pausal is an audio/visual duo from UK which could be classifiable as drone music if they only wouldn't escape the construction of a flat sonic surface using a series of elements to obtain a musical movement.
The first part of this release is made out of "Murmuration", a piece in three parts developed from a performance in Pembrokeshire using new material crafted for the show and new equipment including voice microphones used, perhaps, for the insertion of the sounds recorded into the large hall where it was performed. The first part,"Murmuration I", is developed using violin samples, the crackles of a turntable and the overall structure is a crescendo obtained by the sonic space which add resonances and the synths that, in the second part of the track, construct a loud drones rippled by the violin line. The second part, "Murmuration II", is much more meditative and based on synth whose structure is based on the development of small sustained tones with the background of small sound cells. "Murmuration III" proceeds by accumulating drones and generating movement underlining one of them until, in the final part of the track, they begin a sequence of subtraction until the track ends in silence.
The second part is formed by three track obtained reworking the recording sessions of "Murmuration" and taking the musical material into different territories."Spiral", an impressive bustle of sustained tones that give a great variety to the track, "Scatter", based on small sound elements, which could be tones or small metallic beats or small noisy cells, interacting to obtain a complex audial space and "Soar" that closes this release with a quiet soundscape obtained with slowly moving drones and an almost inaudible background noise giving movement to the most static parts.
Even if it could be unfair to say there's nothing ground-breaking here, there's a lot of work of creating a personal sound from a well established musical framework and there's a lot of ideas developed in the tracks. Absolutely recommended for fans of the genre.
Ambient / Electronica / Ethereal / Dub / Soundscapes / Abstract
Edit (9910)
Artist:
LCC
Title:
Bastet
Format:
12" vinyl + Download
Label:
Editions Mego
Accompanied by a press release which shuns talk of performance or instrumentation in favour of discussing the Egyptian goddess after which this release is named, and with cover artwork that frankly makes me squeamish, Ana Quiroga and Uge Pañeda's second album as "LCC" seems to be setting its stall out early as difficult and inaccessible. The audio behind it, however, is not nearly so harsh.

Almost purely electronic but with other ambient noises blended gently in, it's a mixed bag of synth-heavy pieces involving washes and oscillations that gently ebbs and flow, backwards and forwards in a mostly very relaxing fashion. It's sometimes arhythmic, but with tracks like the drum-heavy cinematic tension of "Ka" break it into distinct pieces.

Longest track "Ba" is to me the most successful, blending some analogue synth noises with some sparse heavy percussive hits and wailing higher tones, and utilising the classic grandfather clock tocking sound for steady heartbeat regulation.

Pieces like "He" have synths that move more towards 1970's Tangerine Dream territory, deceptively simple and slowly evolving, though sometimes cut a little short and deprived of the full prog rock experience, while final track "Us" is notable for its deeper and more mesmerising drone.

It's a fairly familiar-tasting blend of elements that doesn't really push the envelope, but as a dark synth work with a filmic ambience, it's smartly polished. One of those releases that really benefits from good headphones and a darkened room.