Ambient / Electronica / Ethereal / Dub / Soundscapes / Abstract
Edit (11056)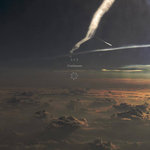 Artist:
Inner Vision Laboratory
(@)
Title:
Continuum
Format:
CD
Label:
Zoharum
(@)
Distributor:
Alchembria
Rated:
It's always nice to hear a release from a project which marks a difference from its previous ones; it's not a matter of evolution but of expectation. Especially in the dark ambient area, it's usual that a formula is repeated without any deviation but "Continuum" is somehow different from the previous efforts by Inner Vision Laboratory. Departing from the calm shores of dark ambient, Karol Skrzypiec explores new territories using a richer sound spectrum not using impressive sound effect but new musical elements from other genres.
The speech by Alan Watts, about how human unhappiness is based on the feeling that life is meaninglessness, introduces the listener towards an ambient release based on suspended slow tones and resonances. Some samples, maybe field recordings, gives the illusion of track being recorded in an open environment without the sense for special effects so common in dark ambient nowadays. The use of guitar and piano among the usual electronic equipment which is the base of the genre is the key to a link to certain minimalism which is the center of the second half of this release which seems an hint of a change of musical direction in the next releases.
In a precarious equilibrium between classic ambient, minimalism and experimental music, this new release by Karol Skrzypiec is a little gem that could be well received by most fans and demands a certain number of listening to catch all the grains hidden in an apparently canonical form. Highly recommended.
Artist:
Basic Biology
(@)
Title:
Melting Patterns
Format:
Download Only (MP3 + Lossless)
Label:
Free Love Digi
Rated:
Another intelligent shot by Quentin Hiatus' imprint Free Love Digi, which recently deployed the debut album by Basic Biology, the bicephalous creature by Thomas Brinson aka Thomas B (debuting as producer after more than 20 years on decks mixing drum'n'bass) and multi-instrumentalist Matthew Cassidy, propitiated by their common friend GHAST. Speaking in general they seem to liquefy mid-tempo and dubstep in order to forge a more emotional and soulful declension of what is commonly referred as 'liquid' in drum'n'bass jargon. Such a sonic research unveils unexpected pearls during its listening, such as the initial title track "Melting Patterns", one of the five songs where Matthew Cassidy brings his charmingly androgynous over a VT like arpeggio, smelling of Strange Things's Prophet 5-driven OST, the elegant sub dermal tension of "Sleeve" (Cassidy on mic again) or the nicely hopped "Dust" (featuring Megan McKay this time on the microphone... the fastest track of this debut album together with the bleached synth patterns of "Blue"). The stage of electronic mainstream music, when interrupted and glitchy rhythmical patterns were quite popular - the one when musicians like Funckarma, Proem or Funkstorung were riding the wave -, often comes to mind particularly while listening to the last episodes of this album, including the sweet closure of "Subtle", "Non Contempt" or "Let Me Be" (featuring another skilled guest like Blake Brady for vocal parts). Deserving a check.
As an adjunct to his 'proper' new album "Reflex", Jean-Philippe Gross has offered up a distinctly odd 22-minute track "Curling". Over a steady and regular drone tone, the only element that really differentiates this from just being late-night sports TV found sound, it's the sound of a series of curling teams discussing their shots, variously in English and what I think is either German or Dutch. The sound of scratching brushes and impacting picks (if they're called pucks?) adds the under-texture, with occasional crowd appreciation offering a kind of structure. It's a raw juxtaposition between the vocal tension- which at times turns into real shouting- and the low-level bass drone underneath.

The use of lengthy vocal samples reminds me of the first CNSNNT release, but without the techno underpinning. But ultimately this becomes something of an acquired taste. As a UK resident the equivalent I'd compare it to is like listening to snooker with your eyes closed- without a visual guide to what's happening, or a commentary, it's an exercise in tension without context- which I think is what Jean-Philippe Gross is aiming at.

Like dropping into some random sport on late-night TV because you can't sleep, 20 minutes is almost long enough to feel engaged even if you've never watched the sport ever before. I find myself beginning to relate to these players- one of whom seems to be called Caitlin- and wondering when this match was, and who won. But it seems I'll never know, which is oddly frustrating.

It's rare that any piece can make you feel so relaxed and so tense at the same time. A curious listening experience, if not entirely an enjoyable one.
Ambient / Electronica / Ethereal / Dub / Soundscapes / Abstract
Edit (11052)
Artist:
Gonzo
Title:
Ruído(s)
Format:
12" vinyl + Download
Label:
Discrepant
"Ruído(s)" is pitched as a farewell album from an artist purportedly retiring from music. This short 13-track collection blending thickly layered and densely mixed found sounds with a selection of both rhythmic and ambient synth work is, I'm told, a final goodbye and flourish, for reasons undisclosed.

At points it seems thickly emotive, with tracks like "Vinha Dalho" drawing on what seem like Portugeuse market sounds for something that manages to feel both nostalgic and unfamiliar at the same time. The pounding drum that underpins "São João XXX" channels traditional music sounds into a form of home-made acoustic techno, while "En(fado)" as the title suggests works in an acoustic guitar, but weirdly decorated with radio-like spoken word samples and bell noises. It's as though Gonzo is attempting to disassemble traditional music and then rebuild it in as unrecognisable a structure as possible.

Many of the pieces are more like sonic sketches than fully realised works, with only five tracks that tip over the three minute mark. For fear of dating myself with old comparisons, "Cantiga Parva" sounds like the political sampling attitude of Negativland crashed against the granular retriggering franticness of Bassnectar, while "Brilhante Cortejo"'s old-time song treatment has a tongue-in-cheek, almost Wagon Christ vibe.

Exceptions include the brooding echo-heavy "A Fuga Dos Grilos" and the curiously subversive "Arca Eulogia".

It's one of the most character-filled sonic collages I've heard in a long time, really exuding the Portuguese influence and reveling in the musical traditions whilst at the same time cutting them into pieces and exposing a dark underbelly on each of them. Farewell for now Gonzo, if this really is goodbye; there's obviously a pensive, reflective tone at play here, but there's also hints of a sense of fun that make me hope that the alias may return for more in the future.
Ambient / Electronica / Ethereal / Dub / Soundscapes / Abstract
Edit (11048)
Artist:
Wil Bolton
Title:
Surface Reflections
Format:
CD + Download
Label:
Sound In Silence Records
(@)
Rated:
London, UK based artist Wil Bolton is another sonic producer who's been around for a good long time (more than 15 years) making music of one stripe or another (predominantly ambient though), either by himself (also under the name CHEjU) or with groups such as Ashlar, Le Moors, Orphic Signals, Anzio Green, The Ashes of Piemonte, The Angling Loser, and others. He has also worked on installation projects with video artists, choreographers and dancers. Of course I never heard of him before, which isn't unusual; I chalk it up to not getting out much, and not actively searching out new music. Anyway, what we have here on 'Surface Reflections' is 5 ambient pieces clocking in at about 43 minutes. It's a blend of synth electronics, loops, guitars and field recordings (mostly from Hong Kong) mastered by George Mastrokostas (aka Absent Without Leave). The overall effect is nice, sort of Boards of Canada-ish, but I found the guitar to be rather distracting in places. It sort of sounded like aimless fingerpicking, overlaying the ambience. I found it difficult to get past that. Where it was more sparse and oblique it tended to work better blending in. In a certain sense the compositions on 'Surface Reflections' seem more active ambient than passive, possibly owing to the motion of the field recordings (birds, people, street sounds) and the changing tonalities of the instrumentation. The form is fairly consistent throughout, so I have to say there's not much to differentiate one piece from another, although certain subtleties indicate they're not all the same. I'm not familiar enough with Wil's other work to draw any comparisons, but if your taste leans toward minimal ambient, you might enjoy this. The physical edition is limited to 200 handmade numbered copies.