Ambient / Electronica / Ethereal / Dub / Soundscapes / Abstract
Edit (10622)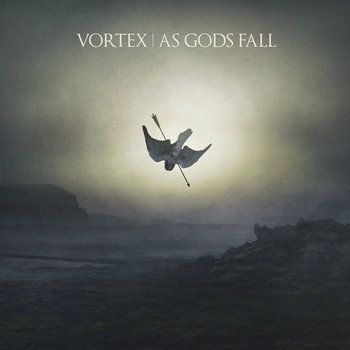 Artist:
Vortex
Title:
As Gods Fall
Format:
CD
Label:
Cyclic Law
(@)
Rated:
This release from the project by Marcus Stiglegger is the final part of a trilogy based on the Nordic mythology of the Edda used as metaphor for a world out of balance. This release features a bunch of guest which is a vital element of this release as they put other elements to the main framework which is essentially ritual dark ambient.
The first track, "Awakening", opens this release with a sort of harmonic chart introducing an almost martial second part and the blend of the two elements is rather evocative. "Awareness" is instead quite an instrumental neo folk track with the melodic line of the violin underlined by the rhythmic element. "War Is Coming" is a long track using a guitar line to incorporate metal element to the final result while "The Slain" is a quiet ambient track until the folk rhythmic element slowly emerges. The almost drone metal initial part of "Odhinn's Wrath" introduces a furious part based on drums and loops. "Hel On Earth" is a quiet ritual track with the use of harmonic chant and resonances upon a deep drone while "Valhalla" is a folk dance track upon a cinematic soundscape which emerges fully in the final part of the track. The ambient background of "The Priestess" is used for the female spoken words and "A New World" quietly closes this release with this lines of guitar and a final lullaby based on a glockenspiel.
The second CD is a collection of remixes which expose hidden elements of the tracks rather than be oriented towards dancehall and is a good companion for fans, even if it's somehow unrelated with the main CD.
"As Gods Fall…" is a remarkable release mostly because the great variety of influences which span from folk to metal is fused in a reasonably cohesive whole that maintain the listener's attention with apparently no efforts. Truly recommended.
Ambient / Electronica / Ethereal / Dub / Soundscapes / Abstract
Edit (10615)
Artist:
Lesa Listvy
(@)
Title:
Way Home
Format:
CD
Label:
Cryo Chamber
(@)
Rated:
Lesa Listvy is a Moscow based quartet which makes a large use of analogue tools and this it mirrored by the liner notes of this album. The history of tribe which return home, after a shaman persuaded them to go elsewhere, only to find nature fused with technology is a rather naive metaphor of a project which try to resist to the current trend of a genre plagued by the heavy use to digital technology used to create impressive sonic effect.
The first track, "Sunny Side", uses field recordings effectively in such a way drones merge in a cohesive whole bordering symphonic territories while "Reflection" uses the same framework in a more meditative way. "Evening by the Lake" is a more canonical crescendo based on drone's juxtapositions and "The Hedge" seems to follow the same steps when the introduction of a beat takes the track and reveals ambient house influences confirmed by the elaborated layers of "Obelisk" which create an evocative track and this musical direction is further confirmed by "Swarm" with its dub-like structure. The thick drone masses of "Lost Compass" mark a return to the dark ambient form and "Way Home" alternates ritualistic moments to ethereal ones. "Mechanism" closes this release with deep drones layered in the most canonical form of the genre.
This is a release which alternates canonical moments to more personal ones and reveal a project which is searching his own voice and it's a release that will be enjoyed by many with his variety. It's really worth a listen.
Ambient / Electronica / Ethereal / Dub / Soundscapes / Abstract
Edit (10613)
Artist:
Frore & Shane Morris
Title:
Eclipse
Format:
CDS (CD Single)
Label:
Spotted Peccary
(@)
Rated:
Frore & Shane Morris we're both new to me and after reading the press release I was a bit curious to see how well they would do because of comparisons to Vidna Obmana, Robert Rich and Steve Roach. That is some pretty big shoes to fill but o do have to say they succeed in walking those same paths while still standing out.

Eclipse is filled with 8 tracks most running right around 8-10 minutes a piece and lays down some excellent slow tribal drumming with some beautiful ambiance. It is very easy to throw the album on and zone out for the hour plus that this album runs and just enjoy the ride.
Artist:
Three Free Radicals
Title:
Travelogue
Format:
CD
Label:
Improtest Records
Rated:
This album is described as a collection of free improvisations. I will start by saying that it is a pair of talented individuals and the music on this album is quite enjoyable. The only issue I have with it for my own personal tastes is that it is all over the place, it is good but it doesn't have a consistent theme.

Experimental music should be challenging and this is for me because I often look to either chill out or put on something heavy when I'm listening to this genre of music and this goes back and forth. If you listen to this type of music and can switch back and forth between repetitive drones and guitar strums to noisy guitar fuzz then back again then this is a great album for you. I just could not find a consistent pace to get into it for myself.

I guess reflecting back this isn't a bad review, and maybe this just wasn't the right space for me at the time. I recognize the talent and effort put into this album but I felt slightly uneasy going through it.
Ambient / Electronica / Ethereal / Dub / Soundscapes / Abstract
Edit (10606)
Artist:
Kj
Title:
Spells
Format:
CDS (CD Single)
Label:
Lost Tribe Sound
Rated:
I confess it's the first time that I hear about Kj, also known as Kj Rottweiler. By looking at the website, it seems that Kj is not only a musician, but a video maker as well. The album 'Spells' has been produced by the label Lost Tribe Sound. I confess I have never heard of this label either, but it looks certainly a very interesting one - the type of label that produces whatever the owners like, with well-curated packagings (as it's the case with 'Spells').
However, I'm very disappointed at this album, despite very good reviews I read. How do ambient/dark ambient/drone albums usually work? What are their aims? I have been listening to this kind of music for a long time (almost 20 years), and the best albums are the ones that completely absorb you. Here are my two cents. You absorb someone else into your music by creating a sort of evolution of the song leading to a climax (and back again!): you start with a layer of sound, and then you fade in other layers, and while you have the new ones, you may subtract others. It can be dark ambient, new age, minimal, or whatever: I think the concept is exactly this. This is why ambient's songs tends to be pretty long - it is exactly to create this suspence. But this is not necessarily the case: there are pretty good artists who can do with short songs.
What about 'Spells'? This album is composed of brief songs (with some exceptions - more on this later). These songs are usually made of a couple of layers of sound - mostly pads, reverberated, creating the typical wide and open perception of ambient music. However, there is no construction, there is no evolution. Sometimes I had the impression of listening to only excerpts of the actual songs - when you want to introduce the listener to your album, and you made him/her listen to the songs when they have reached the climax. The only exceptions are the songs Dawyn and Spells. Interestingly, these are the longest songs.
What I want to say is that this album has amazing and well-curated sounds. However, it lacks structure and evolution - and I think structure and evolution are of paramount importance to ambient music. Without structure and evolution, it is very difficult to be absorbed by the music.