Ambient / Electronica / Ethereal / Dub / Soundscapes / Abstract
Edit (545)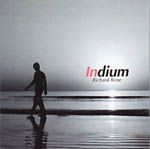 Without knowing founder of Aikido Morihei Ueshiba (1883-1969) described American composer Richard Bone's new album when explaining which the eight forces that sustain creation are: movement and stillness, solidification and fluidity, extension and contraction, unification and division. Translating those eight forces in sounds seems to be exactly Bone's mastery because you can feel those strengths. You can hear the absolutely still tranquillity move around you in a warping fashion, you can feel the fluid sounds solidify at times and then flow away with the same grace they were flowing in, you can sense the way the visions drawn by these aural sonics extend beyond imagination designing new landscapes that your mind has not yet conceived and then contract inside to change the surrounding environment, you can allow your mind and your soul to unify while dividing what is around you from what is inside you while listening to this. "Indium" (a soft, malleable, ductile, lustrous and silver-white metallic element that remains liquid over a wide range of temperatures) is the right title for such achievement and the beautiful artwork in helps conveying the message. If you are in search of your intimate universal balance and you want to deepen your research with some first-class organic ambience, "Indium" should be the next CD you accompany your voyage of exploration with. Beauty is mystified, stillness is actualized, quietness is spread and ethereal softness is solidified. Never boring (even without beats), quite simply excellent and utterly astonishing.
Ambient / Electronica / Ethereal / Dub / Soundscapes / Abstract
Edit (544)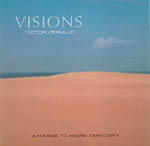 Beautiful photography that brings together the hot sand and the cold snow in the same way that Victor Cerullo's "Visions" bring together Italy and Russia along with their long-lasting musical traditions. "Visions" is a homage to film director Andrei Tarkovsky that presents an eclectic artist and his un-tiresome explorations in the hemispheres of field recordings, ambient experimentation and classical interceptions. Nine compositions and three long mostly synth-based "Timelapse" suites of majestic proportions that tie a bundle of sporadic choirs, analog floors, orchestral arrangements, cosmic sonorities with the same rope that pulls back all of the above when it comes down to portraying the perfect balance of nature with fluid samples of water, birds and the like. The coherent recurring synth sound helps you find the way to your own interpretation of Tarkovsky while Cerullo performs his oniric pieces of calm and personal psychedelia.
Ambient / Electronica / Ethereal / Dub / Soundscapes / Abstract
Edit (539)
The always active Canadian ex-Phycus Brian "Mr. Zero" Damage has a new moniker to release records under. Together with two other Canadian fellows (members of Kubelka and Daydream Square and Beautifuzz) and with no use of sequencers the "Katron" 12" EP came to life. Sort of a psychedelic krautrock moog-based experimental music project with an outer space soul: they call it post-retro-futurism! As The Unireverse (what a cool name!) they've already released two CD-R's with cover versions of Giorgio Moroder, NY Dj and musician Donna Summer, JJ Cale and Human League songs. Their space-electronic mixture with comics-like title will be heaven (or should I say space?) for the lovers of vintage synth sounds such as Moog MG1, Univox Minikorg, the legendary Casio SK1 and other gadgets such as Roland MC202, Acetone Rhythm Ace, Theremin etc. Both sides are pretty up-tempo and rhythmical nonetheless, so they manage to be entertaining and interesting all the way through, which is always a plus! Side B is the one with the fastest beats (can you imagine an attempt of vintage-space-psyche-moog-drum'n'bass??) and it sure is a bonus that it's all played live too, like back in the days! Total Zero also has a large selection of unusual sounds on a number of different formats so drop them a line for a free catalogue. I've also got a chance to check them out live and they are a real trip! Speaking of checking out, Brian sent me a couple of tracks he put together with his girlfriend under the name of Deep Lounge and you should check that out as well!
Ambient / Electronica / Ethereal / Dub / Soundscapes / Abstract
Edit (498)
image not
available
anymore
Submarine Fleet is a new project by TRANCE TO THE SUN founder, Ashkelon Sain. This seven instrumental tracks on cd is a collection from all the 2001 releases, accept one. Authentic live performances on audio, which is recorded on a dat machine. Guitar that's space-rock mixed with dark synth soundscapes. Experience a long journey that will spiral you into oblivion where no man has not been before. Ash's atmospheric dark psychedelic music will set your min in a deep trance, soothe your soul with ease and body floating in space.
Ambient / Electronica / Ethereal / Dub / Soundscapes / Abstract
Edit (488)
Second Perun release after The Blue Hour, and this is even better. One Inch of Shadow are a Polish quartet author of several DIY cd-r's and a single published by Polish label Nefryt; they've also contributed to the Cynfeirdd compilation "Songs of Landeric". No neo-folk here, though. Try and think of a fragile, intimistic song structure dissolved and dilated into an original form of psychedelic ambience. If I had to make a comparison, I'd say this sounds like the repertoire of a new wave band played by Sigur Ros, Labradford or some other Kranky artist, but this might be misleading too. There's an Italian project called Noosfera which is not that different from OIOS. Perun rightly writes: "Perfect, autumnal soundtrack to the picture of falling leaves and seething, rainy clouds". Chrysalids of songs which stretch their time in iterations and suspensions, sometimes magically building themselves around a single loop ("Things to change"), some others held in a slightly menacing wait ("Salt"). "Naked Gallows" has a dark dub cadence not that far from Pan American, while "Mannequin song" drifts away on piano and trumpet notes in a seemingly endless, half-voiced lament. An individual and extremely satisfactory release, coming in a nice layout, with separate panels featuring paintings and postcard-like layout with lyrics.