Ambient / Electronica / Ethereal / Dub / Soundscapes / Abstract
Edit (577)
image not
available
anymore
God, I have listened to this CD at least 5 times already and I still haven't crunched out a review... I like this CD so much that I keep listening to it with pleasure forgetting about what I should be doing, so here I am, playing it for the sixth time trying to get my thoughts together to make sure you understand the reason why you should let yourself be transported by this CD too. Originally from New Jersey, Jamie Myerson was a drummer and exported his knowledge to (or should I say imported into?) the computer to apply it to the practice of slicing and dicing and re-arranging his killer beats. After several 12"es on UK d'n'b 4 Hero member Dego's label Reinforced Records (whom he met ten years earlier in Philadelphia at 611 Records) and several records on Belgian Crammed Discs and New York City's Sm:)e, Jamie Myerson went back to Philadelphia, where it all started, to sign a deal with Ovum and record his ambitious and multi-style "The Listen Project". Eventually he went back to the big capital of groovy electronic lounge music, New York City (Brooklyn/Queens to be precise), where Sound Gizmo Audio picked him up to release their last but one "Lift Me Up" and of course "Going... Gone", which is an inspired and, according to Sound Gizmo, «moodier, more sweeping and deeper in sound» record. Personally I am quite in love with "Going... Gone" precisely because it keeps some of the multi-faceted and cross-style dynamism of "The Listen Project" as well as some of the more uncompromising rhythmical drives of "Lift Me Up". You'll get to hear the "classical" drum'n'bass sound of NYC's club sound (think Prohibited Beatz at Shine) on songs like "Nowhere to be Found" or more Portishead trip-hop ballads on songs like "That's How Much I Love You" and "Walk Alone" (including the characteristic chill out lounge female vocals by Ebba Forsberg) or "Love Can't Fail" and "Falling Down Again" (whose male vocals are by David Poe) or even a more ambient-trance electronica sound on songs like the title track, "Crater" or "See the Lights". Among other cool things about this record, Jamie also took the photo which makes the front cover, a beautiful night picture of a sun dawn and a gorgeous sky going from dark/bright blue to yellow/orange.Album will be in stores March 1st so you have to time make sure nobody gets there before you do!
Ambient / Electronica / Ethereal / Dub / Soundscapes / Abstract
Edit (569)
image not
available
anymore
American photographer and musician Feel-x recently released his third record as REbRO, in which he distances himself from the earlier material's song structure in order to approach the spheres of ambient-electronica. Occasional guitars and bass (like in the opening track) give it that very nice and smooth jazzy lounge music feel but even when it's just electronic music without the guitars, the wavy beats and the sonic curves have that particular chill-out warmth that makes it enjoyable and relaxing. Sparse elements of other musical genres (experimental noises mainly, an apple mac voice, distant orchestrations, but also trance music and hints of musique concrete) offer the musical blend that passport to eclecticism that turns "Naked" into a spicier and adventurous musical journey. I haven't heard his previous two CD releases but I like this one a lot indeed. And guess what? Proof of the fact that nude photography must be paying well, Feel-X (www.feel-x-art.com) hired two times Grammy Award winner Marcelo Anez to mix and master this beautiful record, whose sounds are deep, well-balanced and lovely. Last but not least if a great recording, great musicianship, great songwriting are not enough for you, you also get great black and white photography (nudes and outdoors, seem to be his main thing), so definitely check this out. It's for sale at CD Baby for 12 bucks (you can click on the BUY IT link above).
Ambient / Electronica / Ethereal / Dub / Soundscapes / Abstract
Edit (562)
Löwy/Javelin-Broken Surface

Yet another brilliant project from Harald Löwy, mastermind behind Chandeen, quite possibly the only contender's to La Floa Maldita's dream-pop throne. This CD also features the ex-singer of Moskwa TV (I dunno who that it though so your guess is as good as mine), painting out an image of a man from Europe and his maiden trip through the super city we call New York City. The CD mixes very gentle piano, trip hop, and a quiet, rainy day sense of pop, with a very Kerouac style of lyric writing and observation. This is the best CD for walking through the city streets on a rainy day, the kind of music I picture in a city film at parts where the characters realize the pivotal point of the film... ... ... or "Great Expectations" (more the modern film than the Dicken's novel itself). Gentle, never the least bit overpowering, and with that controlled, melancholy atmosphere that seemingly only Harald can bring to the table. And with Javelin's tongue in cheek lyrics and charismatic singing, it all brings a very unique atmosphere, painting at last a portrait of the city that never sleeps if one takes 9-11 out of the picture and looks at it from it's whole view. And even a couple of gorgeous dance tracks in the end for the clubbers out there, but done with the same exact emotion that is Harald's stamp of approval, bringing to mind Cleen's "Second Path" (we can only hope that he'll join forces with Daniel Myer one day!).
Rating:10. Also recommended are Chandeen, of course, and Massive Attack, whose work is a bit similar to this. Not to mention brilliant.

Ambient / Electronica / Ethereal / Dub / Soundscapes / Abstract
Edit (554)
image not
available
anymore
I saw TRS-80 play the Empty Bottle in 1999 and was instantly transfixed. At the time, it seemed as if I was the only one who felt that way: I had the floor to myself, and after the show, Deb, who plays bass for TRS-80, sheepishly told me that I was their biggest fan. Things have changed. Their shows are routinely packed now, and Mr. Kickass has earned critical attention. UR Chicago named them album of the month, May 2002.So, what do they sound like? This is melodic, hypnotic, idm-influenced electronic music. TRS-80 is not afraid of funky, catchy rhythms. The intensely cool video, which is displayed on a screen behind a real live drummer, is mesmerizing, flashing clips of exercise instruction, bees in the hive, vintage commercials. Video accompaniment is far from new, but rarely have I seen it executed so well in a live show.Backup: 01 offers a look at the studio work from TRS-80 from 1997-2001. This is a great disk to pick up if you've got Mr. Kickass and you think you'd like to hear more. It offers some of the best tracks from the radiograbadora ep (1998), remixes, and previously unreleased material. The majority of the vocal samples on Backup: 01 are subtle, coming from relaxation tapes, movies, '70s exercise albums and computer-speaking programs. The first track, Trap Set, starts off with a slow sample from an old horror movie score, then kicks into overdrive in a crackling beatbox style reminiscent of Art of Noise. This is the standout track on the album, but there's plenty here to like for those who prefer minimal, stripped-down dub. Moon Patrol is spacey and cool, if a bit long, coming in over six minutes. Community College trashes that spacey vibe in about a nanosecond, but TRS-80 loves itand besides, every band needs a theme song. You can even download the video from their website.Backup:01 falls somewhere between dub, ambient, and trip-hop, with homage to Art of Noise along the way. TRS-80 favor eclectic sound sources, using real drums, dirty drum loops, and an 808 drum machine. This disc is a must-have for any TRS-80 fan, and it's great background music for the martini crowd.
Ambient / Electronica / Ethereal / Dub / Soundscapes / Abstract
Edit (546)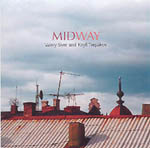 Starts out like a Michael Hedges composition with a Spanish flavour only to evolve into this electro-ambient soliloquies with deep lounge bass lines, lush beats, shy synth pads, world music instruments and tasty found sounds organized with meticulous artistry to originate a sophisticated spell of blended impressions and expressions. Valery Siver (composer as Migrator and dance remixer as Love Unlimited) is a multifaceted St. Petersburg native musician who has focused his career on the study of guitar and who brings the richness of his instrument in "Midway"'s playground to meet with Moscow based Kiryll Trepakov (part of K.U. Street and Medusa7 as well as founder of Expedition Zero) who also studied guitar but who later concentrated on folk string-instruments plucking, drums, audio engineering, sound research and manipulation and the study of the characteristics of sounds. From such team players you can of course expect great things in terms of quality of compositions, wideness of palette, variety of moods etc. Personally I'd expected or hoped for a little more of those enchanting Hedges-like atmospheres for acoustic guitar and reverb only, but the duo has decided to make use of such passages only as a mean to introduce more complex pictures of auditory elements, and the result is but gorgeous and regenerating. By the time I listened to this album half way down for the first time it had already become one of my new favourite soundtracks for relaxation and of the best ways I can think of to represent the essence of the electro-acoustic music that Electroshock so promptly and magnificently sorts out.