Ambient / Electronica / Ethereal / Dub / Soundscapes / Abstract
Edit (10413)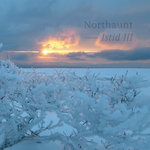 Artist:
Northaunt
(@)
Title:
Istid III
Format:
CD
Label:
Glacial Movements
(@)
Rated:
This release is presented in the liner notes as a reaction to modern lives imaging a place without any stress or noise in an uncontaminated icy place. Hærleif Langås, the artist behind this project, is from Norway and shares with other projects this sort of nostalgia for a silent nature before man; more importantly, it's a reflection on the role of man as a member of its environment and not a sort of his deus-ex-machina.
This opus is a single track in five parts: "Part I" is based upon a quiet loop while the underlying soundscape ebb and flow in audial field creating an immersive introduction for the listener. "Part II" is more focused on the development of an environment using a sort of field recording, or foley sounds, with a continuous tone to focus the listening attention. "Part III" tries an hint of melody with gentle notes of the piano and "Part IV" doubles this framework using instead a drone creating an atmosphere of surreal peace. "Part V" closes this release with a solemn and solar drone surrounding the listener as a sort of sonic depiction of the cover image.
It couldn't be anything ground-breaking but the quality of sonic construction is sometimes mesmerizing and this is a sure pick for fans of quiet and canonical ambient. It's really worth a careful listen.
Fourth album of this formerly bicephalous project (it was founded in 2008 by Gianclaudio Hashem 'Kaeba' Moniri and Giuseppe 'Agan' Carlini) on Kvitnu and the second one after one of the two heads fell down (Giuseppe left the project for a personal break in 2014 just before Plaster's release of 'Mainstream' in 2015), 'Transition' features a remarkably rougher sound than the above-mentioned predecessor, as Gianclaudio preferred that kind of approach that is closer to one of many electronic performers, who really improvise on live stage. In the author's own words, 'Transition' "comes from a different perspective of Plaster's past works in terms of emotions and sounds. My aim was to reduce the amount of complexity in order to maintain the tracks simple but effective. I wanted to be close to the people in daily life. Most of the tracks are pure improvisations using analog synths and hardware, there's no additional editing or post-production adopting the way of thinking 'Less Is More'." All tracks don't feature programmed beats or drums, but they are mostly based on masterfully distorted synth-line and overlapping distorted tones, but Gianclaudio manages to turn these swirling sonorities into something that often pierce listener's soul and ears than many percussive tracks. Many tracks (such as the splashy light distortions of "Unregistered Product", the smothered saturations of 'The Last Goodbye' or the slowly spooky synth-stabs of 'Caress From The Unknown') could resemble the ones that some known old foxes of Rome techno scene (D'Arcangelo brothers or Lorenzo D'Angelo, better known as Lory D) tried to explore by seducing the glorious Rephlex as well as many listeners, but they aren't isolated experiments, but are cohesive parts of a sort of narrative sonic flow, whose "skinniest" moments ("The Climbers", "Disconnected Heart" or the final "Children On The Cliff") are paradoxically the more significant moments...
Ambient / Electronica / Ethereal / Dub / Soundscapes / Abstract
Edit (10398)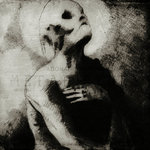 Artist:
Adonai Atrophia
(@)
Title:
Metahistory
Format:
Download Only (MP3 + Lossless)
Label:
Eighth Tower Records
(@)
Rated:
According to the short liner notes from the label this is an enhanced and remastered reissue of an obscure release form this Bulgarian project by Seraphim Veluvian. Inspired by esoteric and ancient religions, his music is an highly detailed idea of dark ambient, as the drone is just a unifying element for a series of elements borrowed mostly by '70s electronic music giving an unusual sense of variety to this release.
While "The Infinite She" seems to start an almost canonical dark ambient album, the relatively '70s oriented sound of the synth takes the track along the tracks of evocative music for film. "Al Awwal" revolves, instead, upon hypnotic and repetitive music figures hiding the complex soundscape which is the real focus of the piece. "Metahistory" is a crescendo from a quiet and islet part to a surrounding drone. To add another level of evocativness, "The First Sunset (Phosphorus)" uses samples from a sort of religious chant in latin. "Ain Soph Aur" is another crescendo for drones while the tonal compression of "Malah Ga-Mavet" creates the sense of black and white of the cover. "Nephesh" is a small interlude ending in a child's chant while "Egregores" closes this release with a detailed soundscape where various small samples are tied by a drone.
An impressive release enhanced by the remarkable quality of the production and the clear sound spectrum. Even without any ground breaking idea, the quality of writing reveals a talent to hear carefully. Recommended.
Ambient / Electronica / Ethereal / Dub / Soundscapes / Abstract
Edit (10396)
Artist:
Sean Julian
(@)
Title:
Sounds of the Birch Forest
Format:
Download Only (MP3 + Lossless)
Label:
Take It Easy Policy
(@)
Rated:
A while ago a guy dropped into my book & record store, and while perusing some of my more non-mainstream CDs, struck up a conversation about electronic music. His name is Sean Julian and he said he'd been working with a Buchla System (portable Music Easel model) and had made a recording at his cabin in the woods outside of Bath, N.Y. using synthesis in conjunction with field recordings of the surrounding environment. I promised I'd give it a listen and if conducive to our genre format, review it here. I should let you know that 'Sounds of the Birch Forest' is being distributed by the small Take It Easy Policy label out of Oslo, Norway. Originally available on cassette, the cassette sold out so now it is only available by digital download. 'SOTBF' is comprised of 16 (mostly brief) tracks that take some fairly expected field recording sounds (water, thunder, rain, birds, crickets, leaves rustling in the wind, footsteps trudging in the snow, crackling fire, etc.) and combines them with Buchla synthesized sounds. A number of the tracks are hinted at by the titles - "Thunder Beings," "Buchla Crickets," "Tending Fire," "Insects Swarming," etc., but there's still a lot left to your imagination. As for the synth programming, some of it is pretty basic synthesizer experimentation, and reminded me of the kind of stuff I was doing when I first acquired an ARP 2600 (long gone now). Some of it is a bit more elaborate employing sequencing and more advanced forms of modulation as well as overdubbing. Still, there is a minimalism here in the general simplicity of these pieces. Because of a certain musicality woven through a good number of these tracks I wouldn't call this work strictly ambient as some of it is melambient (my word; melodic-ambient) and other portions more or less experimental. The opener, "Thunder Beings" begins with the sounds of rain and thunder while an old piano plays a melancholy melody, and a bit later a voice comes in with a subtle recitation. The piano is the only real instrument I heard on this album and does not return; ie- not typical of the majority of the album. Later, a track called "Haunted" uses a Wendy Carlos style deep sawtooth bass riff (Think 'The Shining' soundtrack) while crows caw overhead and someone sounds like they're walking through the woods. A bit on the ominous side but welcome, and a good offset for some of the happier tracks. "Falling Leaves" uses Tangerine Dream style rapid multi-sequenced synth as its basis. Elsewhere on other tracks big bellish tones ring out (got that ring modulator working), melodic sequenced synth happily chugs along, high whistling tones swirl around, trilling, twittering and frequency sweep oscillators roiling, burbling, buzzing, zizzing, etc., etc. To some degree there is a touch of New Ageyness to parts of this work, but I wouldn't define it as New Age. Perhaps the high point on 'SOTBF' is the 9:10 "Night Sounds" track which is a neat excursion into darkside emanations. Overall though, I'm reminded of Wendy Carlos' 'Sonic Seasonings' album, a landmark ambient recording from 1972. That's definitely not a bad thing.
Ambient / Electronica / Ethereal / Dub / Soundscapes / Abstract
Edit (10383)
Artist:
Amalgamated
(@)
Title:
TO
Format:
CD + Download
Label:
Aubjects
(@)
Rated:
Somewhat recently I've reviewed solo projects by two member of Amalgamated - Phil Klampe (Homogenized Terrestrials) and Bob Newell (forM). Other members include Cory Bengsten and Mike Richards, with production assistance (mixing/mastering) by D. Petri of the Aubjects label. This Illinois-based collaborative makes some astonishing instrumental electronic music that crosses the genres of elctronica, industrial, psychedelic, ambient, dark ambient, noise, IDM, experimental, and what-have-you since about 2004. On their own, these guys are quite formidable. Together, just amazing and enigmatic. You really never know what you're going to get with an Amalgamated recording, and to be honest, this one almost slipped through the cracks, being accidentally tossed on my "already reviewed" pile. At first I wasn't even sure what it was. It comes with a piece of patterned vellum, a 36 page mini-booklet of mostly abstract black & white images and the CD has a fuchsia stenciled spray paint design on it. The printing on the vellum is hard to see, but it did have the basics on it to tell me that it was Amalgamated. (The physical version of this is limited to only 36 copies.)

'TO' consists of only five tracks - Euhedral (7:38); Chronometeorite (22:44); Phlebneutrics pt. 1 (4:48); Phlebneutrics pt. 2 (6:37); Stoichiometry (12:55) recorded in 2014-2015. Each is quite different from the other. "Euhedral" begins with a bassy, bouncy, springy synth amidst an atmosphere of noise pads, wild echoed oscillators and other spacey effects. Eventually it deconstructs into some type of randomized computer code, or so it would seem. There's an awful lot going on here and it's hard to keep your head above water through it all. "Chronometeorite" has a touch of the old Eno~Moebius~Roedelius to it with a sustained string synth, rhythmic bass synth sequence (morphing into a fuller rhythm) and then a carnival-like synth as it chugs its way into the nether-regions. When the rhythmic impetus disappears, you'll find yourself adrift in quantum spacetime, where all sorts of particle variables come into play. These are difficult to describe without going into the minutia of the sonics, best experienced on your own. Suffice to say the listener will be drifting through sound elements familiar and unfamiliar, like a psychedelic experience. As you pass through that, you step through the radiance to "the other side," back to a physical industrialized soundscape that's almost comical in its mechanization. "Phlebneutrics pt. 1" is the most strictly ambient piece so far, containing events but with the major element of drone. "Phlebneutrics pt. 2" is a richer, more developed sort of ambient with far more layers and elements to it than part 1, and a different feel. Towards the end there is even a chaotic sort of breakbeat rhythm. "Stoichiometry" begins with a rhythm reminiscent of Cluster & Eno and high open-filter synth sequenced along with it giving it a very musical feel. Various modulations along the way change and transform the piece until it consolidates into a singular drone, then mutates into a rainy city evening. There is a tinnitular background ambience that fills the space between the raindrops. There you have it.

"TO" is probably best listened to without focus as it's best appreciated without dissecting the sonics and just letting the feeling wash over you. For those who don't care much about physical product (if there are even any left) you can buy the digital album from the Aubjects Bandcamp site for only 4 bucks which is pretty cheap for this much creativity.