Ambient / Electronica / Ethereal / Dub / Soundscapes / Abstract
Edit (10261)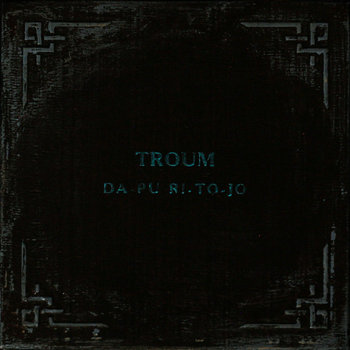 Artist:
Troum
(@)
Title:
Da-Pu-Ri-To-Jo
Format:
CD
Label:
Black Mara
(@)
Rated:
This new release by Troum is a a collection of 7" vinyl release, from 2004 to 2016, and it's introduced by a short script by the band where the overall concept is that this release could work as a description of the project. Their music could be roughly described as dark ambient but this release shows how they are able to wander across all variations of the genre.
While "Aerugo" is an open space ambient track, "Aetas Vetus" closes the listener into a noisy and oppressive territory. As "Agnus Dei" has certain level of solemnity, "Betonwolke" rework this musical elements towards almost post-industrial shores. The heavy and atmospheric basses of "Das Air" are balanced by the uncomfortable drones of "Gruoen". The long and filtered musical lines of "Nargis" and "Saiws" are as dark in the first one as bright in the second. As
"Segeler" is a crescendo of quiet drones, "Un / Mahts" is an almost monolithic mass of noises but with a movement. The last two track are from a digital only release and are the newest tracks: "Victoria" and "Unreleased Theme For River Endscene" reveals an idea of dark ambient where the drone is just a background for certain musical element to emerge.
As a release from a band classified as dark ambient, or post-industrial, this release reveals a band who search a musical way to express their ideas rather than repeat a formula on every track. Recommended.
Ambient / Electronica / Ethereal / Dub / Soundscapes / Abstract
Edit (10259)
Artist:
MCVX
(@)
Title:
Voyagers
Format:
Download Only (MP3 + Lossless)
Label:
KrysaliSound
(@)
Rated:
It's pretty weird the first language for a set of human sentences included in the messages to the universe in one of the two golden phonographs, that are supposedly wandering in the universe through Voyager 1 and Voyager 2 like a bottle in the ocean by the inhabitants of this planet, was Sumerian. Believers of the theory of Ancient Astronauts could think it was a pretty ironic choice and maybe some of them could argue that this mission is a possible NASA hoax. Whether these space missions are real or not (this is not the space to discuss this thread), the simple idea that there's something surfing the deep space to testify that something's happening down here on "the third planet of the star Sun" (a quote of the sentence in Oriya language of these human greetings, attached to a set of images and music, selected by a commission led by Carl Sagan in the late 70ies) is a romantic source of inspiration for many earthlings, including the one of Carlo Monti - another Carl like Sagan...-, a young Italian guitarist, who moved into the territories of experimental and ambient music after years in the ones of prog-rock. Given that it's just his debut, this student of Music Information Science at the University of Milan explores a theme on the nose of many musicians, but he made it in a somehow original way. He also included some samples taken from the NASA Voyager Golden Record (no need to sign a waiver, as it's a Creative Common), but the most interesting aspect is the emotional framework that he evoked over this stream of clues and traces of human civilization. The graceful elongations of piano chords in the initial "Faded", the seemingly chaotic radio signals of "Perpetual Angels", the hyper-effected synth brasses and the vitreous consonances of "Oceanless", the meditative halo of "A Prayer" and the distant fluctuation in the infinite evoked by the boundless digressions by the final "On The Share" match the atavistic feeling in between astonishment and anxiety of those inhabitants of this planet, who didn't forget to be part of something bigger than the deceptive fences of private property yet. Available in digital format as free download according to NASA samples copyright.
Ambient / Electronica / Ethereal / Dub / Soundscapes / Abstract
Edit (10254)
Artist:
Colin Stetson
Title:
All This I Do For Glory
Format:
CD
Label:
52Hz / Factor / Kartel Music Group
Rated:
BUY from
Colin Stetson is a force of nature. There are no two ways about it. This Canadian alto/tenor/bass saxophone and contrabass clarinet player has been making records from his studio in the woods of Vermont and when he's not playing on somebody else's record, or doing his metal projext Ex-Eye, or guesting with Arcade Fire or playing in duo with his partner Sarah Neufeld (Arcade Fire's violinist), he's either playing solo shows or recording this incredible music made uniquely with his instrument and his body, which are technically the same, or an extension of each other.
After his incredible trilogy of solo records and his beautiful Gorecki "Sorrow" symphony album, Colin is back with another masterpiece of physicality. But before we get into WHAT he does and HOW he does it, let's talk about what it sounds like. The music is beautiful. It's like the soundtrack for a Siberian landscape where something, or a whole herd of somethings, is inexorably advancing towards you and you don't know what it is. It can be scary, haunting and tense but once you embrace it it's also deeply calming and mesmerizing. There is rhythm and there is sound, there is tone and, yes there are melody lines that appear in the distance, like through the fog...
If you don't know what he's doing you'll assume there are overdubs of percussions, vocals and different types/sizes of saxophones, but in reality everything you hear is recorded live, without any overdubs or loops, and with a deep commandeering of his respiratory apparatus, which he puts through the wringer with seemingly endless circular breathing excercises that allow him to play a 13 minute song without ever breathing in once! He gets all these sounds by putting different mics on different parts of the saxophone and of his neck and his chest so that he can play the sax, while hitting the keys to achieve percussive sounds, while singing muffled melodies with his throat. It's truly special and unique.
Colin is one of my favorite musicians and I urge you to see him live to REALLY fully understand how amazing he is. His live performances are even more deeply transforming, transporting and transfigurating than his beautiful records and when you see him do his thing live, when you see his face get all red, his lungs contract and expand, his carotid artery bulge out like it's about to burst and his sweat drip, and all this while NOT using any loop pedals, NOT using any pre-recorded music, NOT using any band, and while NOT breathing, THEN and ONLY THEN you will truly understand!
Masterful!
image not
available
anymore
Artist:
Wordclock
Title:
Heralds
Format:
CD
Label:
Cryo Chamber
(@)
Rated:
As I already have a reasonable number of releases by Cryo Chamber already reviewed, and this is one of the last labels completely committed to a genre, I approached this release with a certain confidence about what to expect. As usual, this release is presented with few words and a generic inspiration about journey hunting for myths of forgotten sacred sites; so this is supposed to be dark ambient.
So, as the first notes of "Bell Ringing I" begins, there's a surprise in the acknowledgement of a framework closer to modern classical and without the pseudo-romantic cliche related to the genre: strings and piano draw quiet lines of sound with a production giving a feel to be recorded some time ago as there's a sort of blurring applied. "Bell Ringing II" is, instead, immersed in a background close to the form of the label but, as soon as there's a melody emerging, this is a canvas and not the drawing. "Bell Ringing III" close this track introducing the listener towards a proper song with a perceptible rhythmic structure. As "Beatrice's Euphoria" evolves there's a sense of writing as, instead of the drone emerging, there are melodic lines. While at first sight "St. George" seem static, it's only because the loops are almost imperceptible in a noisy environment. While "Where Mercy Lives" is almost danceable in his catchy elements, "Thames Does Flow" is more dreamy in his gentle musical tones. "Heralds" closes this release blending all the elements of the previous tracks leaving the listener with the feeling that something is missing.
Almost impressive in his détournement of the elements of the genre, which are present but relegated in the background of a form deeply rooted in the pivotal use of the tune, so that it could be even appreciated by the casual listener. It's able to escape both the trap of dark ambient (boredom) than the ones of modern classical (triviality). Applauses.
Ambient / Electronica / Ethereal / Dub / Soundscapes / Abstract
Edit (10251)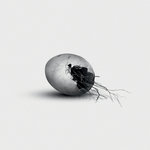 Artist:
Hesychia
Title:
Metanoia
Format:
CD
Label:
Cyclic Law
(@)
Rated:
Hesychia is the the new project by Austrian Arthur Rosar and this is its debut release. This is presented as inspired by the concept of apatheia i.e., the freedom from all passion, but, apart from the quietness of certain moments, there isn't a true link in the music to this concept. The overall framework of Metanoia is a dark ambient mostly based on the atmospheric quietness of classic ambient and sustained notes of synth than to hyper details soundscape of actual trend of the genre. So the result could sound a little bit outdated but it's more enjoyable by listeners which are not fans of the genre.
A bell resonances opens "Apatheia" and this sound is repeated in a loop becoming the structure upon which a crescendo obtained using drones and noises create a sonic wall of great atmosphere. "Metanoia" is, instead, a short dark ambient track which overwhelms the listener and acts as an introduction to "Nepsis" where sharp and sustained tones are immersed in a dark and detailed soundscape. "Maranatha" is a long musical journey from a noisy drone to a solar ending marked with spacey tones while "Revelation 21;5" closes this release with a menacing drone oscillation between noisy moments and deep but clear ones.
While undoubtedly in the canon of the genre and without any truly personal moments, this project shows a good work on writing as there's not any moment of boredom or trivial continuation of drones and a careful development of the atmosphere. Perhaps it could be only for collectors but they'll be satisfied.