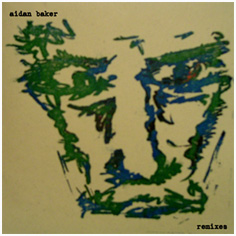 Artist:
AIDAN BAKER
(@)
Title:
remix
Format:
CD
Label:
Aidan Baker
(@)
Rated:
When Nomeansno were singing "oh no Bruno... too much is not enough!" they didn't know Aidan Baker yet, if action speaks louder than words: his discography speaks really loud!. This time differently from the project in which he's directly involved this canadian musician has put together an incredibly well assorted bunch of remixers to reinvent some of his songs. I really mean "well assorted", generally I happen to hear good remix-records with some good tracks, but hardly it happens I'm satisfied by the whole cd, this' one of this few excerptions to that. Baker's drony, dark and melodic music is a good substance to be moulded by the talented hands of any good musician, but while giving new shape to the sculpture many of the remixers have kept its original spirit untouched. Funny, every once in a while I've had the impression some of Aidan's original influences (Swans, Godflesh to name a couple of em) resurfaced from the bottom of the pool. From Andrea Marutti's ambiental loops of the opening track to Building Castles out of matchsticks' opus (definitely post-broaderickian), from the danceable new tissue of Naw to the desolation of Wilt's version of "breaking points" a-la-Codeine, the listening is really relaxing. Absolutely good.
Ambient / Electronica / Ethereal / Dub / Soundscapes / Abstract
Edit (2819)
Artist:
PAWEL GRABOWSKI
Title:
Arh
Format:
CD
Label:
Mystery Sea
Rated:
Polish artist Pawel Grabowski may still be defined a newcomer in the drone niche if we judge him by the number and dates of his realeases, but he's surely one of the best in terms of quality. This limited-to-100-copies cdr on Mystery Sea, featuring four untitled movements, is much in the same mood of his excellent vinyl on Drone Records; I haven't been able to check it out, but possibly there are some recurring sounds as well. As usual, Grabowski weaves some solemn, at times sombre soundscapes; though we surely couldn't call this dark ambient, I'm positive there are some restless nights behind his works. "Arh" is an excellent realease from start to end, with incredibly pure and mesmerizing drones, at times punctuated by field recordings, as the creaking door in track 3. Nothing new in terms of components, but just listen andyou'll see how Grabowski stands out from the rest.
Ambient / Electronica / Ethereal / Dub / Soundscapes / Abstract
Edit (2818)
image not
available
anymore
Artist:
CHAS SMITH
Title:
Descent
Format:
CD
Label:
Cold Blue
Rated:
Chas Smith has been responsible for some of the most acclaimed albums in the Cold Blue catalogue, using a variety of self-built steel sculptures which you can partially see portrayed in the layout of this latest album of his, recorded between 2003 and 2005. Here he bows stainless steel sheets and a variety of bizarre creatures named Guitarzilla or Pez Eater, but he also plays more traditional instruments like steel guitar, flutes and zither. There's also a hint of voice (courtesy of Oja Fin) in the third and shortest track, "False Clarity", but you surely won't be able to detect that. Indeed, Smith heavily processes all the recordings obtaining an ethereal, suspended form of ambient drone music with a monochromatic tinge, not unlike Organum's recent "Sanctus". Despite its title, we always stay in the celestial regions while listening: this is drone music with a skyward gaze. The bass-heavy noise of jet planes, skilfully blent in the lengthy "Endless Mardi Grass", is just about the only sound disturbing the otherwordly peace of these compositions.
Ambient / Electronica / Ethereal / Dub / Soundscapes / Abstract
Edit (2807)
Artist:
TIED AND TICKLED TRIO
Title:
A.r.c.
Format:
CD + DVD
Label:
Morr
(@)
Distributor:
Wide
Rated:
BUY from
This Bavarian ensemble (not a trio at all!) is by now an established presence in Europe, and this is the latest multimedia offering, on Morr Records. On the CD there is one long track, "a.r.c. - studio version" (nearly 20 minutes), while the DVD is the main reason to consider buying the package, as it presents one full live concert of the band (8 tracks, among which "a.r.c" itself) recorded in 2004 in Munich, plus 3 videos spanning 1997 to 2003, and three other bonus live tracks, with variable video quality. All in all, therefore, an excellent chance to get to know Tied and Tickled Trio, who have fused contemporary jazz with rock elements and electronics since 1994. Samplers and specially-built instruments vie with tenor sax, upright bass and trumpet in an effort to bring jazz into the digital age. Listening to the CD track might leave one thinking that jazz is a hard beast to tame, but the live concert at the Registratur in Munich shows a far less traditional approach, as well as the groovy dub rhythms and club feel that the Trio manages to inject. The video recording is especially worthwhile for the excellent sound quality, making it a really nice listening experience. Don't expect the club roof to fall down or the crowd to tear down the place, by all means. In Munich they behave themselves, apparently. The video footage tries its best to bring movement by switching cameras, showing the musicians playing while being recorded on LCD screens, or cutting to the bar and the crowd. A certain rough edge is preserved and the video is definitely subservient to the music. This means you can put your DVD on, turn the volume up and enjoy the music without being glued to the video all the time. You can relax, find your own inner groove and be enticed by this "non-purist" jazz, as they define it on their website. Two videoclips, "Tusovska Dub" and "Revolution", are worth mentioning, too. The first video track is an odd space adventure where two bands of men fight over the possession of two Earth females; the home-recording feel is actually well suited to this strange, eery fable. "Revolution" is an animation film, in which a miniature busload of blue blob-like creatures is shown round the supermarket alleys to find that every revolutionary hero has given his or her name to a brand product. Cute ideas for an ensemble who obviously stays away from jazz clichés and embraces pop irony and postmodernity...
Ambient / Electronica / Ethereal / Dub / Soundscapes / Abstract
Edit (2806)
image not
available
anymore
At the time of "Meguro", his first album, Wada was a 21-year-old student of jazz guitar and classical piano who elegantly mingled electronics and acoustic instruments to create pastoral landscapes with an ambient feel.Nothing much seems to have changed in "Araki", unfortunately. This is an easy-listening so smooth that fails to stir any emotion other than placidness, and boredom. Sure, it is dreamlike, but in a way that is too cool, glossy and ultimately defeating. In "Lost land" we even are treated to the sound of lapping water and singing birds. Averaging longer than 6 minutes each, the 11 tracks are recommended only for the die-hard fans of assuaging muzak and clichéd, feel-good ambient.