Ambient / Electronica / Ethereal / Dub / Soundscapes / Abstract
Edit (3388)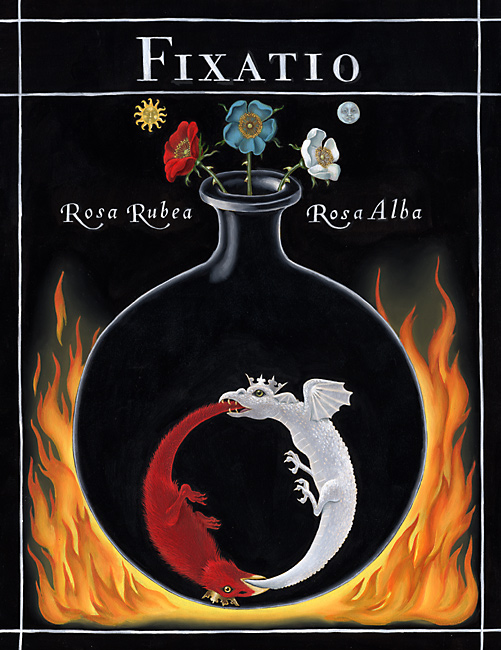 Artist:
OSSASERPIA
Title:
Music For Solve et Coagula
Format:
CD
Label:
HORUS CyclicDaemon
(@)
Rated:
The artwork for this album must be one of the most ambitious ones I ever seen.
It's not a booklet, it's a book (printed on Gmund Kaschmir cream 170g)! Hard-bound in A5 designed by Madeline von Foerster, known for her artwork she made to The Red King and Mirabilis.
Special limited edition consists of 500 hand-numbered copies
in hand-made box covered with rustish top-notch embossed Quilt 120g paper.

The album is composed by Vladimir Igoshin (Ossaserpia) and it is dark industrial, dark ambient with traces of classical music. The classical music influences are not obvious but very strong and strange. The music is often drone-like but not ever boring (like so many other bad ambient acts).

The inspirations for the album are theories by Robert Fludd (Robertus Fluctibus)
and Rosicrucian theories of the monochord.

I'm under the impression that "Music for Solve et Coagula" is one of the finest albums to date in the industrial ambient genre!
By the first track, Ossaserpia have not shown all their cards. The CD grows on you and when the 12th and last song plays you things have evolved. In the last song the classical influences are stronger than before and it really works!

I have to be honest and say that it's not an easy task to follow two wonderful masterpieces in Musterion "The Black Lodge" and K.Meizter´s "Traveling Light". During the first song I thought Ossaserpia failed but the more I heard of the CD the more I realized how wrong my first impression was!
The album could maybe be an alternative soundtrack for the great film "Stalker" (Andrei Tarkovsky, 1979). It would work well in horror, sci-fi films. So, if you like the feelings of space, magic and horror you should check out this release.

Horus is starting to stand out as they release experimental dark music. I think that Horus still need maybe 3-4 great releases more before be counted as one the leading labels but hell this is a great period for Horus right now!

Upcoming releases on Horus are: Silence & Strength, 4TH Sign of the apocalypse and Musterion!
2006 and 2007 seem to be the years of Horus CyclicDaemon of Czech Republic!

image not
available
anymore
Artist:
Marvin Ayers
Title:
Scape
Format:
CD
Label:
burning shed
Rated:
Festooned in pixel-art packaging from the film "Scape", this is the second score by Ayers for Peter Gomes' movies. The record features roughly two cycles, the first half is rhytmic and more melodic but still deliciously minimal with hermetic titles left to describe some of the variations between the tracks. Particularly worthy of note is the second part of the record which is a mesmerizing journey in modern minimal ambient. As with Cycle, I wasn't that impressed with Ayers' work, but I'm sure that that both records would be much better if listened along with their filmic counterparts.
image not
available
anymore
Artist:
Marvin Ayers
Title:
Cycle
Format:
CD
Label:
burning shed
Rated:
Marvin Ayers, once famous for his "Cellosphere" on the Mille Plateaux sublabel Ritornell, returns with two cds. "Cycle" is the score of an experimental movie by Peter Gomes and deals with treated harmonics by two differnt pianos recorded in different places (a grand piano recorded in a studio and a slightly out of tune baby grand piano recorded in an empty room) to fashion a highly emotive brand of acoustic electronica. Ayers work fits into the latest currents of the avantgarde flora and fauna. Cycle won't be a classic as it does not add anything to this slightly overcrowded genre but it's well executed and worth hearing.

image not
available
anymore
Artist:
JAPANESE GUM
(@)
Title:
talking silently ep
Format:
MCD (Mini CD)
Label:
Marsiglia
(@)
Rated:
I imagine many of you never heard the name Marsiglia records but while producing mainly debut cdr for new bands, the label should have developed a sort of magic touch since it looks like most of the bands they put out sooner or later make it on bigger labels. Just to prove these guys can smell it when it's good: here we have a promising electronic combo coming out of nowhere. Hailing from Genova, Japanese Gum are totally into the IDM/electronic-pop scene and you can hear it strongly underlined in the five tracks of this ep. This debut release is still a bit rough like it was the pre-mastered version of a cd and also still to be focussed (above all for the sound of some loops or for some vocal solutions) but they definitely know how to write that king of songs/tracks. It's true, they write songs much more than tracks, that's why they end to be really poppy sometimes, above all if compared to the glorious IDM hey-days or even to the average electronic release, but it doesn't depend exclusively form the vocals. "Melodic, melancholic and british"...no, that's not the next definition for Radiohead (another good name to enclose in the list of influences together with Sigur Ros and Mum), it's just a short definition that fits really well with this mcd. Port Royal made it on Resonant after a cdr like this... will they have the same luck? Keep your eyes and ears open.

Ambient / Electronica / Ethereal / Dub / Soundscapes / Abstract
Edit (3357)
Artist:
GESCOM
Title:
MiniDisc. only 3cd
Format:
CD
Label:
Or
Rated:
Still haven't understood if it's a real repress or a fake old-school-cun'n paste electronic thing, anyhow this realease as you che easily understand from the title is mainly based on minidisc. I'm sorry to say I ddn't know anything about Gescom but now in someway it remind some old electronic production mainly generated from cut up and samples. Enough said to paint the picture of a quite varied salad and infact this sort of epectation are not gonna be disappointed, but sure there's a good point of contnuity that links thse chaotic heap of tracks. From a glitchy track you can happen to loose into a serial ambiental loop a la Steve Reich, later on a devasted 4/4 hip hop rhythm to confuse again the cats. Hi frequencies, low frequencies barely structured tracks near to framework assembled in a apprarently random collage. The global effect is bizzare of course but some of the loops are more interesting than others (I mean basicly the serial/minimal tracks), and despite the supposed limitation given by the minidisc sound definition that give this "yestterday" taste to all, the soundquality is good. I can't say it's a bad release, it's good for nostalgicof some early electronic music but I've caught myself thinking if relases like that aren't a bit too anal.