Ambient / Electronica / Ethereal / Dub / Soundscapes / Abstract
Edit (3233)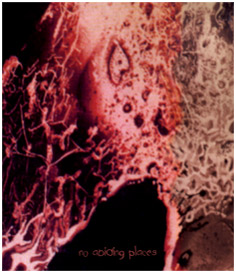 Artist:
VV. AA.
Title:
No Abiding Places
Format:
CD
Label:
AFE Records
Rated:
After a long working, the "No Abiding Places" sampler finally sees the light, which could easily give way to a mediocre pun, since this is pure, unadulterated dark ambient. The disc features Non Ethos, Moan, True Colour of Blood, Ornament, Bestia Centauri, Amon, Etere-o, Canaan, Subterrean Source, Bad Sector, AAL and Subinterior. Most of them have one or more releases in the AFE catalogue, and are featured here with unreleased or rare recordings. Far from being the usual sample, this collection has a HUGE work behind, both in terms of selection (even usually "brighter" artists like AAL or True Colour of Blood are particularly obscure) and mastering - Andrea "Afeman" Marutti has skilfully blent each full track with selected fragment from all featured artists, so that the cd sounds like one enormous monolith. This could serve both as a deepening of the AFE roster, and an introduction to dark ambient - fans of dark drones will surely rejoice in their catacombs.
Artist:
SAMHAIN
(@)
Title:
Violent Identity
Format:
CD
Label:
Aliens Production
(@)
Distributor:
DSBP
Rated:
Already well-known in the Czech/Slovakian scene thanks to some hard-to-get recordings and thanks to some live performances and compilation appearances, this Slovakian trio brings finally out their official debut. While some of the band members have done through the years some remarkable collaborations with some better known Electro/EBM acts of the scene, like KIFOTH or LAST INFLUENCE OF BRAIN, they now joined together their forces and provide us here a full-length CD with more than 72 minutes playing time. Who already thought, that there can't be anything darker or more experimental-oriented out of Slovakia than their countrymen of DISHARMONY or the Czech solo artist ANHEDONIA, well – here comes a new fine proof. Walls of sounds, hard-to-realize worked out rhythm patterns, a dark, at times scary cinematic mood – this all fits with SAMHAIN. Who already has thought that MENTALLO & THE FIXER have provided in their early days ("Revelations 23" – era) a hard-to-grip complexity, has stopped to learn – SAMHAIN is here to teach you better! Mix to that M&TF reference some Powernoise/Ambient-infiltrated tunes, like offered from the French act REMAIN SILENT and you have a possible comparison, which almost fits. Although vocals – and when integrated, they're mostly dark, rough experimental-minded - are sparse filled in here, and besides the fact that several voice samples are included, there's enough music here which makes this "human factor" forgettable. It's hard to pick out favorites, the opener "Undefinable" follows pretty much the already mentioned M&TF style, while "Apparition" turns with some rotten layers and heavily distorted rhythms near to the Powernoise genre. It's one of this extremely valuable albums, which content is impossible to realize and to pick up only after 3 – 4 rotations. Give it more spins and make sure, that you can offer some time and attention, you will be rewarded with an album which never starts to bore. Doubleplusgood!
Artist:
DISHARMONY
(@)
Title:
Frames
Format:
CD
Label:
Aliens Production
(@)
Distributor:
DSBP
Rated:
This well-known Slovakian duo returns with their already 4th full-length release, and finally they officially release this new album under their very own Aliens Production label. This isn't a new studio album, it moreover contains previously unreleased and never-heard-before stuff back to their early "Moonflower" era. It is a kind of collection to close the very first chapter in the evolution of this band through the years. But don't call these tracks "b-sides" or such other negative word, that wouldn't be fair and it wouldn't reflect the offered quality here, which still is able to satisfy the highest expectations. DISHARMONY of course go on here with their fine worked out, slowly, creepy, with Ambient-textures infiltrated subtle kind of Dark Electro/Industrial music. They're near – very near – to that sound and style which acts like MORTAL CONSTRAINT and/or the earlier KLINIK (Ivens/Verhaegen) have provided us – and which is nowadays sorely missed! But some tracks here really should surprise you, because here are some examples that this duo is also able to produce danceable tunes, just check "Blind" or "Masonic" here. Some remix works of tracks being originally available on their last full-length CD "Collapse" (out on Monopolrecords, www.monopolrecords.cz) are provided here as well, done by the Aliens label comrades GAPING CHASM, ANHEDONIA, as well as the French act FLINT GLASS. They all offer good worked out remix works – but can never hit the well done original version, which still is one of the finest pieces of DISHARMONY at all! Still unsolved is the secret, why there are especially in Slovakia and in the Czech Republic so many acts providing this special kind of Dark Electro/Industrial/Ambient-influenced kind of music. DISHARMONY, ANHEDONIA, or the also now released SAMHAIN – they all are more less dedicated to this special sound. Still so dark, still rich layered and arranged – and luckily without using any cliches, this release is again a must-have, if you like to check out a quality alternative to your usual Electro/Industrial listening. Note: like all releases out on this fine Slovakian label, also this piece here is limited to 550 exemplars and comes packaged in a DVD box. Get it!
Ambient / Electronica / Ethereal / Dub / Soundscapes / Abstract
Edit (3225)
Artist:
VV.AA.
Title:
Fabriksampler 1
Format:
CD
Label:
pharmafabrik
(@)
Rated:
This is the cdr sampler of this new mysterious Pharmafabrik label. The music captured here ranges from Seed's Steinklang inspired industrial to Glaxprism's IDM pastiche with some weird highlights like Richard Dunlap's quirky sonic extravaganza. From the first look at the artwork the drug factor is always evident and maybe the only point in common of the artists in this way too eclectic sampler (sorry but I don't appreciate bands, labels or in this case compilations covering so many different styles). Anyway some of those artits have a lot of potential and I'm looking forward to hear further progressions.
Ambient / Electronica / Ethereal / Dub / Soundscapes / Abstract
Edit (3223)
image not
available
anymore
Artist:
Delicate Noise
Title:
Diversion
Format:
CD
Label:
Lens records
(@)
Rated:
Chicago-based painter and actor Mark Andrushko, a.k.a. Delicate Noise, surprised everybody with a debut full length album that shows exceptional talent and maturity, for somebody that has never made any music before. Although he won't call himself a musician, the liberty to express thoughts and feelings within the comfort zone of a controlled environment such as music creation, seems to propel and instigate just the right nerves and instincts in the mind of this self-proclaimed private man. If it was foreseeable that his music would be intimate and a tad obscure, it wasn't easy to predict that it would sound this good. Blurring the line between the reverberated and dubbed out Massive Attack inspired alienated trip-hop electronica and the melancholy and melody of Depeche Mode's synth-pop, Delicate Noise wobbles from track to track with the pace of an artist who can (make you) appreciate space and subtlety. Less is more, and Mark understood that about sounds and layers. Maybe more so than about track count. I do think that if contained (read: "EP") these efforts would have been even more distinctive and remarkable, but since it is more about relaxing and enjoying the atmospheric anxiety and the enigmatic urban flavor of these tracks, I guess you can just roll with the flow, as ethereal as the flow is...