image not
available
anymore
Artist:
FRANCISCO LÓPEZ
Title:
Untitled # 164
Format:
CD
Label:
Unsounds
Rated:
This nth untitled release by López originates in a series of environmental recordings taken in Brussels by the author himself and various contributors within the project "Brussels Sonic Matter". As usual with Lopez's works, this raw sound material was then altered beyond recognition and mixed with his portable studio. Despite the specific recording site, this splendid work (a single 73-minute track) is often similar to other abstract "ambient" records of his, such as the silophone ones, and is also not that far from what I heard in his Milan live performance. Beginning with low end thumps, which then disappear and re-surface after some 35 minutes, it features all the strongest characteristics of his more droning releases, with these heavy metallic clouds of reverberating sounds, together with more recognizable sources (dripping water, mechanical loops resembling skipping vinyls, etc.), which make this both a mesmerizing and a structurally complex release. This is surely López at his best: few soundmakers are able to take environmental sounds and create a world of their own with them like he does.
image not
available
anymore
According the biography of Robbie Martin, we read he started playing/composing with electronic music a while ago and you can bet the cut/technical skill of this northern californian musician is not a mystery. You'll find a wild bunch of superimposed influences where it's hard to recognize this or that artist. First off, we're talking about a rhythmic release, therefore if you were expecting some pre-confectioned, ambiental, easy listening cd, perhaps that's not your cup of tea (at last one of his label mates is Venetian Snares). While working on rhythm and tempo changes Fluorescent Gray had the good idea of working on melodies (something that many electronic musicians think it's irrelevant... but it's not) and the result is positively fine but at the same time strange. At last Martin writes he has been drawing inspiration from artists such as Farmer's Manual, Zoviet France, Coil, Art of Noise and Bartok so please don't blame me/him if "melody" doesn't imply "easy listening". Every song hides a zillion of small particulars but still Fluorescent Gray keeps his eyes on the global image of his work which probably means he has a clear perception where his sound is headed. Seventy-three minutes of personal and somehow melodic electronic music, the release is a bit too long but the result is rather interesting.
Ambient / Electronica / Ethereal / Dub / Soundscapes / Abstract
Edit (2831)
Artist:
Tor Lundvall
(@)
Title:
Empty City
Format:
CD
Label:
Strange Fortune
(@)
Distributor:
Strange Fortune
Rated:
BUY from
Ex-World Serpent musician and painter Tor Lundvall releases "Empty City" as the successor to 2005's critically-acclaimed "Last Light", and in doing so unleashes what promises to be and sounds like yet another great ambient music record that is both easy to approach and enjoyable. While "Emtpy City" does not feature Lundvall on vocals like "Last Light" did, it does continue the tradition of slow-paced (as opposed to completely lacking of any rhythmical structure, like many other releases of this kind) and subtly haunted (hence the "file under: ghost ambient" suggestion) atmospheric and ethereal soundscapes. Although Lundvall has composed and recorded this stuff in the comforts and peace of the East Hamptons in April (when you can still drive around and rich people are still hiding n the Upper East Side; when you can fully enjoy the beauty of the sea and the grandness of the hovering sun downs and sunrises), it would be interesting to find out whether a NY-based musician like himself was thinking of the emptiness of bodies in the Hamptons in April or of the emptiness of souls in the actual city of New York... but we'll probably be left wondering about that at least until he unveils his next album, and probably beyond...For a complete experience, visit the artist's aesthetic collection of ghostly visuals at torlundvall.com, where you'll find paintings (he of course also was in charge of the artwork of this CD) and more info about his music.
Artist:
ZX81
Title:
ZX81
Format:
CD
Label:
Rustblade
(@)
Distributor:
Masterpiece Distribution
Rated:
A quite gloomy travel among spare sounds and strange rhythmic tapestries. This music builds squared mind structures and circular loops, it helps your mind to enter a moody and quiet realm and sometimes it suggests disease and nightmares. However it is somehow much too difficult to listen to this record in a single breath, it is too minimal and flattening. Sounds are surely cinematic enough to please your mind but you must be in the right mood to appreciate the whole work in a single listening. It seem like Autechre meets some Cold Meat Industry atmospheres... For weirdos.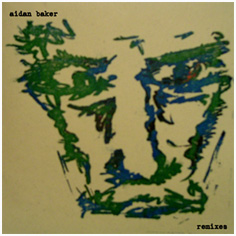 Artist:
AIDAN BAKER
(@)
Title:
remix
Format:
CD
Label:
Aidan Baker
(@)
Rated:
When Nomeansno were singing "oh no Bruno... too much is not enough!" they didn't know Aidan Baker yet, if action speaks louder than words: his discography speaks really loud!. This time differently from the project in which he's directly involved this canadian musician has put together an incredibly well assorted bunch of remixers to reinvent some of his songs. I really mean "well assorted", generally I happen to hear good remix-records with some good tracks, but hardly it happens I'm satisfied by the whole cd, this' one of this few excerptions to that. Baker's drony, dark and melodic music is a good substance to be moulded by the talented hands of any good musician, but while giving new shape to the sculpture many of the remixers have kept its original spirit untouched. Funny, every once in a while I've had the impression some of Aidan's original influences (Swans, Godflesh to name a couple of em) resurfaced from the bottom of the pool. From Andrea Marutti's ambiental loops of the opening track to Building Castles out of matchsticks' opus (definitely post-broaderickian), from the danceable new tissue of Naw to the desolation of Wilt's version of "breaking points" a-la-Codeine, the listening is really relaxing. Absolutely good.