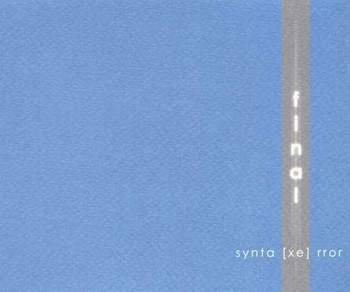 Artist:
SYNTA[XE]RROR
(@)
Title:
Final
Format:
CD
Label:
Ars Benevola Mater
(@)
Distributor:
Masterpiece Distribution
Rated:
Always in balance between disturbing dark ambient suites and i.d.m. influences, the Poland musical project Synta[xe]rror presents on its newest release eleven tracks that will please the lovers of electro industrial cross over. If the opening track "Murderer" someway recalled me the atmosphere of the Clock DVA of the latest period, "Breslau 1st step", "Breslau 2nd step" or "We have create" are, instead, linked to the sound proposed by labels like Ant Zen because of the blend of industrial distorted solutions based on rhythm patterns and ambient textures. The tracks create a good tension and even if for my tastes sometimes they are too long ("...Europe is not the same" has a length of 9 minutes) I never skipped one of them because of the sensation that there was something going on: like some dark creature that's growing while you are listening.
Ambient / Electronica / Ethereal / Dub / Soundscapes / Abstract
Edit (3481)
Artist:
Saemskin
Title:
A Simile For Murder
Format:
CD
The artist is called Saemskin so is the label/recording studio that produced this and put this out. I guess there aren't that many names left in the world. But don't get confused. According to this album, this is a one-man band of some sort of industrial music, as many are in this genre. The music is somewhat repetitive and slightly dancy beats are incorporated to the atmospheric keys. The vocals are spoken for the most part, none are actually sung. The whole CD presentation is sufficient enough but the music simply sounds cheap. Perhaps Saemskin used cheap music softwares to create this brand of music? This isn't my cup of tea.
Artist:
ARDITI
(@)
Title:
Standards Of Triumph
Format:
CD
Label:
Equilibrium Music
(@)
Distributor:
Augioglobe
Rated:
I know that this one has been released a while ago, but I had the opportunity to have a copy only now and I didn't want to skip the review. Anyway... As you may already know Arditi take their name from a branch of Italian army that were active during the first decades of the twentieth century famous for their efficiency and also appreciated by the Italian Futurist Movement. Nowadays, Arditi, is a duo formed by H. Möller and M. Björkman (active also with Puissance and Algaion). STANDARDS OF TRIUMPH is their fifth release (counting also the split with Thoroid) and it contains nine new epic militaristic suites. The Arditi's sound has the taste of rust and dust and is really evocative. Recorded with a low-fi approach, the album is really hypnotic and when the orchestration duet with distant choirs of unknown provenience you are like charmed. The few sung tracks increase the bitter taste created by the music by declaiming the death of the West. Read the lyrics of "The Sinking Ship". It says: "The world is a sinking ship / Sunk by the weight of six billion people / We were sentenced to this fate / By those who preached that they all / Are as good as you and I / That they all should decide our destination / Though none of them has found a meaningful / Direction for themselves / Now everything we loved will die / Unless we get another go at steering / So here we stand, / On the summit of the aft, / Hurling defiance / at those who are our misfortune". I know that it could sound like the same old Militaristic Neo-Classical soup, but try it and tell me how it tastes...
Dark ambient is a difficult genre. This could sound a stupid sentence because everyone with a computer and a decent sound card is able to growl into a mic and to sample some CDs, but in the same sentence you can find the naked truth, because if everyone could be good at making industrial or ambient music the difficult part is represented by giving a good ambience to the recording itself. Vestigial, fortunately for my ears, is really good at making sound his music involving and disturbing thanks to the good mixture of pads, reverbered vocals and treated noises. The four tracks of his first MCD remembered me something of Lustmord of the "Paradise disowned" period. The grinding sub-tones and the cyclic synth sounds form suites where the concept of the "sun that never sets" take form. Check Vestigial myspace page to check his sound at http://www.myspace.com/sunthatneversets.
Moriarty is the collective project of John Cult, JeFF Boss, Bertand Barbier and Stan Adry, all involved in electronica / dark electro projects in France and Belgium. After their first CD "Synthetic feelings" they prepared their second full length by sharing ideas and recordings through the web. EQUATION OF MADNESS is the newest release of the combo and at a first listening I have to say that it is a real dark one. Most of the tracks are based on a dark ambient/experimental approach. At the end of the album I can't tell that I remember something of it, I feel almost disturbed and this is a good result anyway. Of the twelve tracks I preferred the dark suites based on synth sounds (like "Staring at yourself" or "Dark light") to the ones based on pure sound manipulation, because they were sounding more personal. For sure this is an album that needs more than a listening to be full appreciated and for sure along with that disturbing sensation you'll find something more.