image not
available
anymore
Artist:
PRETTY BOY CROSOVER + JULIO SOTO
Title:
We Are All Drifting
Format:
CD + DVD
Label:
Cocosolidciti
(@)
Rated:
Cocosolidciti has put out another top notch release and even if you're not in the style of melodic electronic music they manufacture, there's no doubt the way they connect music and visuals is always top notch. Pretty Boy Crossover style is exquisitely british, I mean, this band marries the best shoe-gaze harmonies with a delightful electronic touch with a resulting relaxing effect. According to what I've just said this band somehow brings forward the work of forefathers like Seefeel even if under a more poppy and "modern" prospective (above if compared with the last period of the ensemble featuring Mark Clifford), but there are moments in which the "softly sinking" sensation is quite similar. The most of the songs are really evocative but at the same time I'm so glad they've been able to stay away from that cheesy melodic structure many bands create under the nefastus desire to sound like Mogway (I love Mogway but I think together with Karate they've indirectly created too many bad clichés). This could already be an interesting release but after having seen the dvd disc I've been completely blow away by the whole project. Pretty Boy Crossover music and Julio Soto's video are amazing, these long clip are always somewhere in-between video art and short movies. When writing about invisible cities it's hard to omit the subject of every single clip is developed incredibly well and above all it's incredible how the result is so good but at the same time it looks so simple. Mr. Soto ability in digitally reworking images and the development of the whole narrative plot without words is great and yes the music fits incredibly well that the first idea is they have been created simultaneously (even if I doubt it and I dunno it). Bravo!!.
Cronica is back with a couple of releases, a better exposure and the usual good quality of their outputs just to say that if you haven't noticed that, Portugal like Spain is an epicentre for what concerns electronic music nowadays. As you can see from their back catalogue Cronica is not one of those label into "easy electronic" at every coast, but more 360° oriented and this cd is the proof of it all. Vitor Joaquim pushes on the pedal of experimental/abstract electronic music and the result is probably closer to sound art than to ordinary electronic recording. Cold inexpressive music right from the first intentions, Joaquim put every single layer trying to define gradually every chapter. A profusion of resonators, high frequencies and glitchy beats and synthesized vocals (be it a vocoder or a laptop) but the record is really tight and compact sound wise. "Flow" comes out from that experimental electronic music that floats nowhere in the middle of contemporary electronic research post Stockhausen and isolationism a-la late eighties early nineties. Probably it's just me but the closest reference that came to my mind was Main above all when the band post-Loop was completely lost in abstraction. This cd feature an interesting clip with which the music of Joaquim gets along really well, it's a soft and simple computer work but it has a strange manga atmosphere while the global watching is stoning.
Ambient / Electronica / Ethereal / Dub / Soundscapes / Abstract
Edit (2992)
Artist:
Theme
Title:
Our Angels Dislocated
Format:
CD
Label:
Lumberton Trading Company
Rated:
Theme is a trio hailing from Brighton, UK. They have been around since the split-up of their previous band Splintered in 1996, but this is only their second work to date. They create a dark & hypnotic blend of ambient whose glitchy and ethnic detailing mixed together give birth to a quite unique sound.
The second track "Repeat to Fade" starts with a simple but effective guitar part, then gradually turns into a sinus-nightmare in the vein of COH or other fellow Raster Noton artists. In "A Few Words Failed' we have a repetitive droney sitar topped with frequencies, resulting in a hybrid mutant of minimal electronics and some weird post-industrial ethnic perversion. The fourth track is called "East of Now" and has some cool Indian chants in it. A mention must be made at the flawless production and at the artwork/packaging. Highly recommended if you're into post-industrial acts as Zoviet France, O Yuki Conjugate or even Coil's later ambient works - just sit back on your opium couch and enjoy this record.
Ambient / Electronica / Ethereal / Dub / Soundscapes / Abstract
Edit (2986)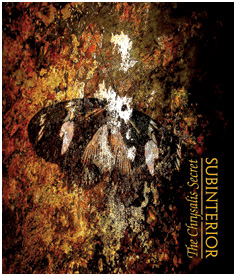 Artist:
SUBINTERIOR
Title:
The Chrysalis Secret
Format:
CD
Label:
AFE Records
Rated:
I have always liked Andrea Freschi's thoroughly obscure, but increasingly elegant approach to dark ambient, and it was obvious that his skills were improving more and more. While his first two self-released cdrs ("Outfall" and "Insomnie", recently re-released on a single disc by Silentes) were, in perspective, still a bit rough, "Obstacles", released by Japanese Deserted Factory, was already a major step forward, but the improvement shown in "The Chrysalis Secret" is no less dramatic. Freschi is now dealing with consistingly longer pieces (14:02, 11:33 and 18:30), but most of all there's an even stronger sense of flow (i.e. while having different nuances, the tracks perfectly work as a continuum) and really improved recording and mastering. As always, Subinterior's soundscapes are based on slowly expanding drones, heavily altered (and mostly factory-originated) field recordings, and shades of melancholic music (possibly coming from a guitar or a piano). Freschi's recent collaborative cd with New Risen Throne, released under the Konau monicker by Eibon, was a very good dark ambient work, but I admit I prefer his new solo release for its hypnotic flow, a perfect sonic equivalent of a pitch-black, starless night. Wonderful packaging as well.
Ambient / Electronica / Ethereal / Dub / Soundscapes / Abstract
Edit (2982)
Artist:
The Melody Kings (@)
Title:
Lucid Dreams
Format:
CD
Label:
Amen-ta Production
Distributor:
Amazon
Rated:
Chicago based producers The Melody Kings is the first to score an all electronica music to an all black film that was shot in Birmingham, Alabama. It's about time someone is doing that. The Lucid Dreams original motion picture soundtrack description is on the brink edge of British groups like Massiv Attack, Portishead, Morcheeba, Tricky and ex-Depeche Mode member Alan Wilder project Recoil. The atmospheric mood is set on the scenes that is happening in the film. The soundtrack is a laidback free-flowing album of tones and textures. Brilliantly produced which inspires one being in self subconscious and lost in a dream. Can't even tell is it real or reality. Alot of dreamy feel tracks will take you away like "After The Storm", "Saul's Theme (Mellow Mix)", "Is That You", "94 Boom Bap", which have a beautiful piano accompaniment melody, and "Let's Live" have a 70's jazzy hip feel. Also feature a remix version of "Man Of Essence" by Kibibi Jones, a remix version of "Dream Reality" by MC Complet, and two remixes of "Seeing Red" by hip-hop trio EMC3ee; The Redrum Remix, and Voodoo Blue Remix. A smooth groovy film original soundtrack that have an ambient, dub, trip-hop, hip-hop soundscape dreamy appeal that will take you to another world..