image not
available
anymore
Artist:
VECTOR MUSIK
Title:
Interfoliere EP
Format:
12"
Label:
Rump Recordings
(@)
Rated:
Lately Rump Recordings is focusing its releases on music influenced by jazz, lounge and i.d.m. and this E.P. by Vektor Musik follows the same path. The six tracks of the E.P. are built like loops which are enriched by new sounds/improvisations: try to imagine a slow and soft drum line followed by a delicate piano sound which starts to duet with a clarinet while some i.d.m. rhythmical noises play on the background. The tracks have also a certain ambient touch thanks to the drones that you can find here and there which are used to "thick" the sound. Sometimes the sound seems to turn into a sort of dub jazz just to turn into something different. Check the samples at the label's website a be sure to check "Carux".
Ambient / Electronica / Ethereal / Dub / Soundscapes / Abstract
Edit (3692)
Artist:
ORIGAMBIRO
Title:
cracked mirrors and stopped clocks
Format:
CD
Label:
Expanding
(@)
Rated:
With such a weird name I was expecting something ethnical or at least experimental and I was wrong, if you will have the chance to give a listen to this nice cd you'll find it yourself. Tom Hill is the man behind the moniker and "behind the machines", he plays a simple acoustic guitar in the majority of the tracks on this release. Ok I imagine somebody out there is complaining you've probably heard a million releases with acoustic guitar plus electronic but even if may sound boring I think beyond individual taste, and beside the originality issue you always have good and bad releases. "Cracked mirrors..." belongs to the first of the two aforementioned categories, Hill writes simple melancholic songs cast on simple non intrusive rhythmic. This acoustic guitar driven electronic-pop is enriched by an all english taste for melodies, and thought it may sound "weird" believe me Nick Drake would have been proud to see how his countrymen have evolved his "language". Can we say there's a spruce of ambient music to make the listening even more conformable? I think so, at last it's such an obvious (and joyful) marriage. This is the typical cd I can relax myself with without my girlfriend complaining in the back, it probably won't add anything to the good quality of this work but this' a good thing, alas: "approved by my girlfriend".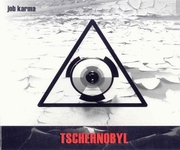 Artist:
JOB KARMA
(@)
Title:
Tschernobyl
Format:
CD
Label:
Ars Benevola Mater
(@)
Distributor:
Masterpiece Distribution
Rated:
Chernobyl disaster has been one of the sad moments of our modern times. Many people died and it is unknown how many have been intoxicated or how many have contracted cancer years after that "accident". After a visit to the city of Prypec and to the places near the nuclear power plant of Chernobyl, Andrej Jozwik wrote the notes you can find in the booklet of JOB KARMA's TSCHERNOBYL. Words heavy like stones which paired to the photos taken into those locations give a different meaning to the sounds produced by the duo. Musically the CD succeeds into creating the right ambience which is in balance from industrial to ambient. The synth pad layers, along with industrial percussions, create eight particular movements where the vocal samples are able to paint a disturbing sensation of despair thank also to the melancholic melodies produced or to the experimental patchwork, where synth waves are coupled to noises and samples coming from the tv news. A really good release...
image not
available
anymore
Artist:
ZIBIR
Title:
Electrodes
Format:
CD EP
Label:
Haunted House Records
(@)
Rated:
A new CD-EP release for the UK-based Haunted House Recordings label, with ZIBIR a debut of a new solo effort of Mat Howlett. We lately have discovered Mat's other project HAPPY WELLY, a kind of fun and light-hearted Electronica project. But ZIBIR differs musically by offering a kind of instrumental arranged lo-fi dark electronic music and likes to call the works of KRAFTWERK, DAFT PUNK and DEEE-LITE as possible influences. Not very conventionally produced, the provided music here offers rhythmically tunes with a lighter attitude, but also stuff to sink in and chill-out ("Electrodes (Matulator Mix)"). Quite interesting arranged, this 6-track EP offers at all three different tracks, plus three remix works on the title track, one of them created by the label colleague of CREATURE. The "Maximix" of the title track gets my vote for the best piece here, maybe asides the darker sounding remix work by CREATURE. "Electrodes" works well as a convincing background sound design, but offers also several interesting structures and ideas to get checked out under a pair of headphones.


Ambient / Electronica / Ethereal / Dub / Soundscapes / Abstract
Edit (3685)
image not
available
anymore
Artist:
Abnocto
Title:
Simon Magus
Format:
CD
Label:
Waerloga Records
(@)
Rated:
Abnocto and the debut "Simon Magus" is something I can listen to over and over again.
To say I was looking forward to hearing "Simon Magus" is somewhat of an understatement - amongst the numerous other groups that inhabit the more spiritual side of the dark ambient genre, Abnocto are probably the best of them all!

Simon Heath (Za Frûmi, Atrium Carceri) and Simon Kölle (Za Frûmi, Musterion) have with Abnocto managed to seemingly effortlessly produce yet another stunningly unique and voyeuristic glimpse in their own domain of ultra dark music, which is as you'd expect as perfect as it is haunting.
All ambient/industrial/experimental fans should add "Simon Magus" to their collections.

Abnocto recorded the album 60 meters underground Stockholm. That is something insane but I am sure it gave something to the music. The underground and the solitude bring the recording to very unique level.

The only negative and sad thing with this CD is that it should have been released years ago (as it was recorded some years back). The music is beyond time for sure but I can only dream of what the duo could do with Abnocto today!?

I would consider this disc good accompaniment for reading your favorite horror, sci-fi or fantasy novel.

Ivan Racheck