Ambient / Electronica / Ethereal / Dub / Soundscapes / Abstract
Edit (3904)
Artist:
Rena Jones
Title:
Driftwood
Format:
CD
Label:
Native State Records
(@)
Distributor:
Massive Music
Rated:
BUY from
San Francisco Bay Area-based violinist/cellist and audio engineer/composer Rena Jones has turned in an ambitious blend of gentle, lilting Ambient Electronica and New Age/Ethnic chamber music instrumentals that remain in search of their own definition. Given these musical parameters, a project such as Driftwood should be a walk in the park in the minds of most people, but here the accomplished and obviously talented Jones is caught in a typically thorny conundrum -- how to be experimental AND conventional at the same time. For example, second track "Photosynthesis" has some neat chord expressions, but they really deserve a better, much less sedate framework with which to set them off. The suggestively-titled "Open Me Slowly" has a muted violin melody line that recalls Chris Isaak's "Wicked Games," but instead of expanding on its erotic theme, the song feels close and claustrophobic.

Jones deserves points for her discriminating selection of sounds and textures, which she juxtaposes artfully and exquisitely. The programmed percussion contains the most "listenable" elements of the tracks, with varied kick-and-snare shots backwards-looped in places. All well and good, but in such mellow, regular song and chord structures, it's a bit like hanging Warhol prints inside the Notre Dame cathedral. Only track 12, the Slidecamp remix of "Photosynthesis," shows enough promise to transcend the album's general stasis. Unless taken in as strictly make-out music, Driftwood doesn't quite have what it takes to make it onto shore.
image not
available
anymore
Artist:
KRATARKNATHRAK
(@)
Title:
Solstice
Format:
CD
Label:
New Darkness Records
(@)
Rated:
Formed in 1997 by Pieter Winkelaar (one of the guys who later formed The People Republic Of Europe), Kratarknathrak has already at their active fifteen releases (Cds, vinyl and tapes) where Pieter explores the lands of electronic ambient/techno/idm sounds. His latest album, SOLSTICE, has been recorded during the 2004/2007 period. Containing twelve tracks, the album is an interesting voyage through sidereal scenarios (see the sibilant "Parsec" or the rarefied atmospheres of the following "Cruising with Dr Pholx"). Personally I really loved the tracks with a more intensified rhythmical structure, where the long pad sounds duet with bass lines and drums. "Dark matter" for example is a track which sticks into your ear and has the mentioned elements balanced in a good way, elements that create a sort of dark ambient techno tune. On other ones the isolationist side of the sound take an hold and the rarefied ambience is used a little too much. SOLSTICE is an album worth your attention and if you love techno ambient sounds you'd be happy to know that it is sold for only 6 euros plus p+p.
Ambient / Electronica / Ethereal / Dub / Soundscapes / Abstract
Edit (3897)
Selectone's "Unearthed" is the first release by Ressonus, a Czech label focused on ambient and experimental electronics. The album kicks off with "Lavra", with droning synths pleasantly incomplete through an accurate panning work creating warm and throbbing ambiences. "Mess Age", opposedly, is a totally obsessive track with a drilling piano over a gloomy background and makes you realize that this isn't an ambient cd to zone out with. "Two Rivers" and the following "*Ceský sen*" show a surreal atmosphere and speeches in a Slavic language - when I first heard them on my headphones I suddenly thought about the scary section of Lynch's "Inland Empire" shot in Eastern Europe. The cdr is a ltd. edition of 150 and comes in a beatifully designed cardboard packaging.

Ambient / Electronica / Ethereal / Dub / Soundscapes / Abstract
Edit (3890)
Artist:
EXIT IN GREY
Title:
Nameless Droplet
Format:
CD
Label:
Mystery Sea
Rated:
We owe kudos to Mystery Sea's Daniel Crokaert (as well as to Stefan Knappe/Drone) for exposing to a wider public a series of remarkable Russian projects which would have remained less known otherwise; after Hum, comes this duo called Exit in Grey, and just recently MS has also released a cdr by Five Elements Music, a solo project of EiG's Sergey. "Nameless Droplet" is a 48'32" album divided into two lengthy parts, showing a similar structure/modus operandi. Not unlike other MS artists like Troum or Moljebka Pvlse, EiG's main characteristic is the use of melancholic (guitar-generated?) drones, blent with environmental recordings. Yes, as simple as that, and something which a million other projects do. So why checking this out? Well, EiG show a great taste precisely for the melodic parts, which is not that common after all. They hit the right sound, know how long it can last before getting boring, and also know how to patch a fragment with the next one without making it sound like a bad cut & paste - not an easy task, mind it. So the two parts are not only good in terms of the choice of sounds, but also for their compositive grace. My only quibble is the final mix, which is a bit muffled, too saturated in the low ends and a bit poor in the high frequencies - a clearer mix would have done wonders to the final result, which is remarkable anyway. Definitely a project to look out for.
Ambient / Electronica / Ethereal / Dub / Soundscapes / Abstract
Edit (3889)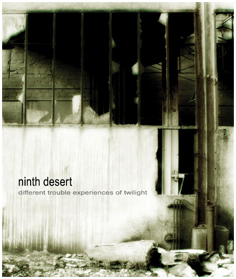 Artist:
NINTH DESERT
Title:
Different Trouble Experiences of Twilight
Format:
CD
Label:
AFE Records
Rated:
Recorded between 2005 and 2006, "Different Trouble Experiences of Twilight" sums up all of the best characteristics of Ninth Desert's sound. Most of what I've just written regarding the "Collision H" ep could be repeated about his first full-length, but this is also, predictably, more varied (with its 5 tracks clocking in at 54 minutes). And possibly darker, with more than a few blood chilling moments, though staying away from most dark ambient projects. The most diverse piece is surely "Somewhere Close to the Skin", with its mind-altering metal rattles, pounding percussion and pink-noise billowing. The rest of the disc offers more of Herry's fine layering of drones and circular frequencies, and the album title is perfect to describe its atmosphere. Take the sinister hum and slow metallic rumbling of the final track, "Red Mute": I wouldn't compare it with anything Lustmord- or CMI-related, but it is no light-hearted wallpaper ambience either. Think of Lull or BJ Nilsen's dark-edged minimalism and maybe you'll get the picture. Awesome stuff. The sound quality is also top-notch, thanks to Andrea Marutti's careful mastering: listen at medium-high volume and you'll notice the details...