image not
available
anymore
Artist:
MOLJEBKA PVLSE
Title:
Sadalsuud
Format:
CD
Label:
Some Place Else
(@)
Rated:
Personal project of Mathias Josefson, Moljebka Pvulse released a good amount of CDs (nineteen) for labels which are specialized into dark ambient/industrial music: Cold Meat industry, Eibon, Some Place Else are only few of them. The new CD SADALSUUD sees the participation of different people at the gathering of sounds. I don't know the process that brought to the realization of the album, but by reading the list of instruments and sound sources and by listening to the final result, I image Mathias at the mixer in a sort of state of trance, blending the different sounds by following his instincts. The 70 minutes long suite has compared to the sound of a haunted house and by listening how the vocals have been treated (distant hums, meows, etc), how the noises slowly increase and how, generally, the tension grows (as the sound turns more dark and less rhythmical), I could think about the same thing. To tell the truth there's another image that comes to my mind by listening to this track: I picture a sort of earth ritual performed by a tribal community, where objects are beaten, words are whispered and nature seems to speak. A thing is for sure, this CD needs time to be appreciated and assimilated but it sounds mysterious and inspired since the first listening.
Cinematic electronica with a postrock-ish feel from Dan Hopkins aka HL, hailing from Somerset UK. This release consists in a 3" cd + a 3" dvd. The cd is called "Takuma" and blends one part of Dan Abrahms' (aka Shuttle 358) gentle structured glitch obsessions with one part of Hapna-like use of analogue sounds, nothing new under the sun but who cares when the sound-design is so good and carefully held together? The 3" dvd is even better than the audio one, the soundtrack is a beautiful long ambient piece and it shows different static shots of a landscape where the artist grew up. Heartfelt and well executed. Thumbs up for Dan. (
image not
available
anymore
Artist:
BISCLAVERET
(@)
Title:
Psyche nomine
Format:
CD
Label:
The Eastern Front
(@)
Rated:
First album for the Poland duo Biscaveret released after their debut MCDr "In hortis..." for the Israeli label The Eastern Front. The beautiful package (a three panel booklet and a postcard) contains all the lyrics which along tracks' titles like "Strange way to paradise (Ritual II)" or "Akeldama XIV" show the band's interest into magick. Musically this interest is translated into humming or distant vocals, long synth pads, reverbered percussions and creepy samples. If a track like the opening "Ritual of all embracing madness" and the following "Strange way to paradise (Ritual II)" remember me the early Endura, the 15 minutes long "Voices from another state of... mind, heart, body", slowly grows from a semi acoustic track based on piano and strings just to turn into a semi industrial dark ambient track a la In Slaughter Natives. Also the following "Akeldama XIV" is based on chaotic echoes, distant explosions and humming vocals but there's a thin melodic line that lead the listener through the sound magma created. The closing "The insane in God" seems to be a reprise of another track as I already heard that melody but it develops itself into a dark ambient track driven by obscure string sounds and a piano but this time the vocals are intelligible. This work will be of interest for the lovers of obscure suites even if sometimes the sound tend to create the same effect for the whole album length due to the massive use of reverb.
Ambient / Electronica / Ethereal / Dub / Soundscapes / Abstract
Edit (3490)
Artist:
Pieter Nooten
Title:
Ourspace
Format:
CD
Label:
I-Rain
(@)
Rated:
Every Goth should know Pieter Nooten from the band Clan of Xymox. He was one of the original members who played synthesizers. He left the band in the early 90's because of music differences. Pieter Nooten is now signed to a new indie label and back in the music scene making music. Beautiful music that is. His debut release is classified as electronic, ambient, and experimental. "Ourspace" is enchanting with heart, beauty and essence. Not only this ex-Xymox keyboardist can make mind relaxing and driving music, he can also sing. This is a magnificent electronic album that will take you on a peaceful journey. Rich synth textures and electronic soundscapes. Excellent production & mellow abstract complex compositions that is challenging. A superb album for abysmal thoughts and when you're alone when you want to close your eyes and go away to another world. Hypnotic, dreamy with tranquility and diverse mood setting that's appealing. The album is co-produced by Anka Wolbert, another ex-Xymox member. A brilliant unique collaboration between the two ex-Xymox members who still have that gifted talent.


Tracklistings

1. So Much Easier
2. Lo Down Valley
3. Rain Down
4. Head Circles About The Body
5. Stop Time
6. Sight Return
7. Ship Leaving
8. Surface
9. Red Glint
10. Sanctuary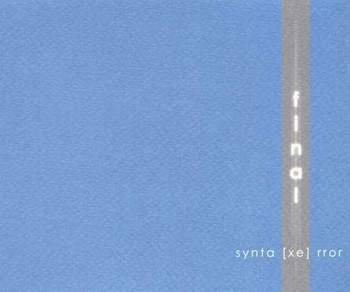 Artist:
SYNTA[XE]RROR
(@)
Title:
Final
Format:
CD
Label:
Ars Benevola Mater
(@)
Distributor:
Masterpiece Distribution
Rated:
Always in balance between disturbing dark ambient suites and i.d.m. influences, the Poland musical project Synta[xe]rror presents on its newest release eleven tracks that will please the lovers of electro industrial cross over. If the opening track "Murderer" someway recalled me the atmosphere of the Clock DVA of the latest period, "Breslau 1st step", "Breslau 2nd step" or "We have create" are, instead, linked to the sound proposed by labels like Ant Zen because of the blend of industrial distorted solutions based on rhythm patterns and ambient textures. The tracks create a good tension and even if for my tastes sometimes they are too long ("...Europe is not the same" has a length of 9 minutes) I never skipped one of them because of the sensation that there was something going on: like some dark creature that's growing while you are listening.