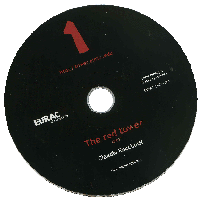 Artist:
CLAUDIO ROCCHETTI
(@)
Title:
red tower
Format:
CD
Label:
Eur.ac
Rated:
Rocchetti is more active than ever, therefore drony/electracustical/experimental junkies out there stay tuned since there's a whole bunch of releases involving this italian musician residing in Berlin. While lately he's been around basically with 3/4 Had Been Eliminated (Hapna) and by himself I've heard some new Pocket Progressive (formerly on Creative Sources) release is on the way sooner or later and at the same time he's to going to be out together with the mighty Maurizio Bianchi on a split release... "how long can this punk get?". Lately he's striking in the north of Italy and is selling this new (?) somehow enigmatic release on Eur.ac research, I've written enigmatic since there's no layout coming with the cd but a couple of infos on the cd and it comes in a trasparent plastic box (by the way Eur.ac should be a gallery/ artistic cafè). Differently from his former recordings on Bar La Muerte and Wallace this new output is much more ambientally-electro-acoustically oriented, so what's the difference beside the diluted and constant drone pulsing underneath?...the electro-acoustical side of this work is probably softer then ever before and Rocchetti concentrates this long track much more on resistance and on time-length than he's ever done in his previous materials. This interesting and well developed piece reminds a lot of some Asmus Tietchens, John Waterman, Francisco Lopez above all when they contemplate "stillness". This long track grows slowly building tension in a subtle way and after twenty minutes it disappears in the same way as it came, leaving thus space to silence and to emptiness where some noises are barely perceptible from far away. Some "strong" electro-acoustic noises break the calm right when you don't expect it to happen, but they don't revolutionize the heavy ambiental scenario of this work. You may think that's the ordinary release by someone playing this genre, but I think Rocchetti is slowly developing his own language and since I've recently seen him live I can say it without shame.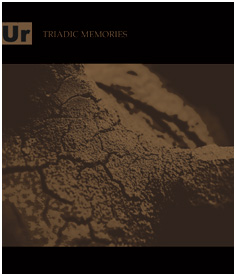 Artist:
UR
Title:
Triadic Memories
Format:
CD
Label:
Afe Records
Rated:
Named after the Italian esoteric group attended by Julius Evola, Ur are the best newcomers in the Italian industrial underground, as already promised by their self-released cdr (see archive). Formed by three performers with a HC- punk background (former and current members of Heartside, Permanent Scar, Burning Defeat, Onefineday, Downright and Kafka), they prefer live performances, so these recordings should reflect quite well what you can expect from a concert of theirs. The strong "played in real time" feel is surely one of the most interesting qualities of their recordings. "Triadic Memories" (a homage to Morton Feldman?) features three tracks ranging from 7' 28" to 20' 51", and opens with "Movement # 1", already featured - with a rougher mix - in their DIY cdr. The track is the most noisy and heavy of the lot, with theremin squeals, heavily delayed bass, metallic percussion and looped vocal samples, possibly the most refined characteristic of their sound. "Movement # 2" opts for more ambient, but surely not serene atmospheres: the disquieting spoken samples, drones and loops, and a bleak accordeon, all convey a sense of uneasiness and depression. The two main currents of Ur's sound (the noisy and the droning one) are well fused in the mammoth "Movement # 3", a psychedelic tour de force of theremin loops, pedal galore, accordeon, bells, and vocal mantras. Ur use their tool well, and know how to dose aggressive bursts and more expanded fragments; their sound could appeal to a wide range of industrial-ambient lovers (especially those into IRM, Non and Throbbing Gristle's soundtracks).
Artist:
TEXTURED BIRD TRANSMISSION
Title:
Purple Weighted Pellets of Despair
Format:
CD
Label:
Dead Sea Liner
Rated:
I don't know much about Textured Bird Transmission, except that he/she/they is/are probably from the UK and that this cdr marks the debut of the Dead Sea Liner label. "Purple Weighted Pellets of Despair" is a one-track, 29-minute cdr starting as a serene drone thing and gradually billowing to a powerful crescendo of distortion and feedback. Minimal means (it's probably a synth + pedals set), known formula, but nice results; a positive debut from both the project and the label.
Artist:
Jack Or Jive
(@)
Title:
Issin 1988 - 2006
Format:
3 x CD (triple CD)
Label:
Ultra-Mail Prod.
(@)
Rated:
Already active since a long time, JACK OR JIVE have decided to celebrate their 20th anniversary with the release of this limited CD set, available in 900 normal editions and 100 special box sets. The rare special packaged and very nice designed 3-CD box set featuring besides three conceptual CD's an artistic impressive created booklet providing several drawings by the female lead singer and main artist Chako, several background info, bio and discography of this Asiatic act. You got introduced into the diverse and mysterious sound worlds of this act, also a brief description about the compositional process is included. Edited and published by the Honk-Kong based label Ultra-Mail Prod. (which still needs to bring up a website...;-)), this package is one of the most outstanding works I've discovered so far! The band JACK OR JIVE featuring the imaginary female fronted Chako presents here unreleased recordings created over all the years of their long-time existence, but mostly completely new arranged and re-assembled. The music is as always the acoustic manifestation of Chako's compositional efforts, stylistically based on Goth/Wave, Neo-Folk, Ambient and Ritual Industrial tunes – while all these genre-friendly monikers are still too limited to catch the whole musically horizon of this act. Their wide-spread cultural background they can integrate in almost all works, maybe this explains the fascination and mysticism behind this international renowned act. The CD's are strictly separated under the monikers "Dark", "Light", and "Outside" – and somehow in the same vein the music is arranged. While the "Dark" CD features among others creepy and ominous sounding Ambient and Ritualistic drones and the whole mood is rather experimental and dark, the "Light" CD somehow clears up and brings up some more easier accessible works. "Outside" against to this looks and sounds a bit like the "live" side of the bands and can also integrate some improvised works – only possible and recorded for the moment. Chako's voice and vocal cords have indeed a hard job to do to provide and fit with the required mood. Overall a must-have edition of a historically meaningful release for the fans and followers this act could gain world-wide.

DARK

1. Leave a temple
2. Wisdom from above
3. Chinese dragon
4. Solitary
5. Person of vision
6. The letter from the heaven
7. Nation which sank
to the sea
8. Four seasons
9. Lie in the palm of your own hands
10. Invulnerably
11. Riddance
12. Say goodbye
13. Lily dyed red

LIGHT

1. Star
2. Blue train
3. Floweret
4. Over
5. Rompish girl
6. Cross your hands
7. I will wait
8. Seashell ornament
9. Snow line
10. Brought to a head
11. Friends in Asia
12. And then
13. Autumnal leaves
14. His favorite book
15. Snow line 2
16. Advance together
17. Thank you

OUTSIDE

1. Next life / Flag stones
2. Show windows
3. Procession of mourners
4. Stare into the darkness
5. Sequent
6. A man in the moon
7. Reach across
8. Depletion of sensitivity
9. Capability for crisis management
10. So what?
11. Aberrations of youth
12. Row courage
13. Fragments of me 2
14. Zen riddle
15. The window
16. Spiritual echoes


Ambient / Electronica / Ethereal / Dub / Soundscapes / Abstract
Edit (3393)
Artist:
Erdenstern
(@)
Title:
Into the Red
Format:
CDS (CD Single)
Rated:
Part two in the Erdenstern epos "Into the red" deal with music that's inspired by fighting monsters, ambushes and wistfully think of your loved ones back home.
The idea breath role playing games such as Dungeons and Dragons but also fantasy literature and films.

The music is fantasy music, if such a genre exists? Music that would fit a fantasy film one could say. Erdenstern mix classical and medieval-folkloristic elements on the level of contemporary soundtracks. The music is not done by a real orchestra but sometimes sounds like it.
Their musical approach is in the narrative tradition of many classical composers atmospheres and images are created and the listener is taken onto a fantastic and adventurous journey.

Erdenstern do their thing very convincing and it's not strange a band like this emerge.

The band releases the CDs on their own and that's not a bad thing but I would love seeing them on a label. Erdenstern release way to fast and the CDs are so filled with songs that one easily gets lost among the them. Maybe (probably) the idea behind the music is to play it in the background.

More of bands like Erdenstern on labels and less of Mortis rip offs would be a good thing for the fantasy inspired dark ambient scene!