image not
available
anymore
Artist:
Von Liebenfels
(@)
Title:
Všter Unser Im Walhall
Format:
CD
Label:
SkullLine
(@)
Distributor:
SkullLine
Rated:
Another new addition to the musically very diverse roster of the German SkullLine mail order, your underground specialist when it comes to get serviced with all styles between Industrial, Powernoise, Martial, Neo-Classic, Military or Experimental music. With VON LIEBENFELLS the SkullLine label turns for the first time into the Neo-Classic style, here and there accomplished with some Ambient elements. Torsten von Liebenfells – yes, that's also his civil name – hails from New Zealand, but can for sure look on German ancestors. He calls classical compositions of Wagner, but also related artists like VON THRONSTAHL and ZHARK to be quells of inspiration. His dedication to ZHARK went that far, that he has decided to create a special tribute-track entitled "Neu-Schwabenland". Musically his form of Neo-Classic consists of orchestral-like layer sounds richly present over this whole album. Some classic tom-tom-like percussion elements and here and there some real piano tunes ("Vril I", which features also some spoken-word samples, "Night Of The Long Knifes") are complimented his musically outfit, which differs by far compared to the rather noisy and experimental-minded stuff released by SkullLine. This is musically a fine and sedating procedure and the artistically concept behind this release is enormous. Thumbs up for this release, which brings back to once recognized impression, that music can mean something more than the too often overrated "terror-noise-distort"-formula. Well done!
Ambient / Electronica / Ethereal / Dub / Soundscapes / Abstract
Edit (4051)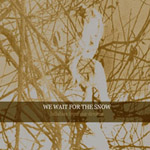 Artist:
WE WAIT FOR THE SNOW
Title:
Lullabies from Our Dreams
Format:
CD
Label:
Final Muzik
Rated:
We Wait For The Snow features Italian musician Andrea Penso, known for his solo project Selaxon Lutberg and his label Cold Current. Here he plays guitars, tambourine, accordion, synth and keyboard, flute and other less recognizable sources, aided by Simone Zuccolin (acoustic guitars and "non-musical objects"). WWftS play folkish, mostly instrumental tunes, but it's hard to pigeonhole them in any real neo-folk/wyrd-folk niche, as they rarely attempt at writing songs ("Forgotten Lovers" being the only true ballad here). Sure, there's recognizable guitar strumming everywhere (think of Current 93 circa "Earth Covers Earth"), but the result is closer to ambient drones than to folk minstrels - you put the cd on and it gives you a nice, drowsy, unobtrusive background sound for 48 minutes, but you'd hardly think of humming or singing along. However, the melancholic atmosphere they create with truly minimal elements (a chord, a drone, some concrete sound) prevents this from becoming some tedious wallpaper soundscape. I've listened to it in the last few days when it's rained cats and dogs, and I find it appropriate that the disc has been released in autumn. Those into Troum will rejoice when hearing the most ambient tracks (the two parts of "From Our Dreams"), but I'd also recommend this to fans of Lycia (despite the different instrumentation and tecnique, the feel is not that far).
image not
available
anymore
Artist:
TALVEKOIDIK
Title:
Silent Reflections
Format:
CD
Label:
Brume Records
(@)
Distributor:
Audioglobe
Rated:
Talvekoidik is the side-project of Kai, who is a founding member of S.K.E.T. SILENT REFLECTIONS is his first release as Talvekoidik (which is an Estonian word meaning a foggy, winter like atmosphere) and there Kai offerers to the lovers of the Ant Zen / Hands Productions sound a new mixture made of industrial, orchestral and break-beat intuitions. Influenced by Gridlock and Beefcake as well as Scandinavian, Baltic, Arabic and African musical traditions, Talvekoidik is capable of creating a convincing blend of industrial cinematic music. If we want to analyze his musical compositions, we can focus on three main elements: the rhythmic complex structure which is based on percussive sounds (not only drums) , the orchestrations (strings or piano are present on each track and they are the main thing that help raising the phatos) and the overall dark, almost melancholic, atmosphere. I really liked the first five tracks ("Eismeer" has great moments where industrial break-beat is well integrated with epic orchestral sounds) and generally all the tracks which have a good mixture of these elements. "Goodbye of the certainty" is one of the few ones that didn't convince me, because it was too melancholic and relaxed and paragoned to the epic mayhem of the following one (the main title) it sounds a little weak. With the ten original titles you can also find three remixes ("Eismeer" by Heimstatt Yipotash and 16pad Noiseterrorist and "Atlas" by Fragment King) which are nice but don't succeed into creating the same effect but if I have to tell which one I appreciated most, I'd go for the "Synthetic coldness" mix of "Eismeer" by 16pad Noiseterrorist. I pick up this one because it is true to the original version but it sounds like an analog lysergic version.
image not
available
anymore
Artist:
STEVE MOORE
Title:
The henge
Format:
CD
Label:
Relapse Records
(@)
Distributor:
Masterpiece Distribution
Rated:
BUY from
As a half of the duo named Zombi, Steve Moore already had a certain background talking about movie soundtracks (he did the scores to "Simulations", "Home Sick" and "Murder-Set-Pieces" with Zombi and "Horror Business" and "The Redsin Tower" as solo) or tracks written with a certain cinematic atmosphere/approach. THE HEDGE is his first release as a solo project and here you can find five tracks ("Introduction", "Infinite resignation", "The henge/Ascension", "Dead tide" and "Cepheid") where Steve mixes the atmospheres of Italian and American sci-fi and horror B-movies (see movies of directors such like Lucio Fulci, Umberto Lenzi, Larry Cohen, etc) of the 70's and 80's. He took as reference John Carpenter (the director and the score writer of "Halloween"), Goblin (the Italian band who scored "Profondo rosso", "La via della droga", "Suspiria", etc). I enjoyed his style which takes also classic atmospheres a la Vangelis, Tangerine Dream and Popul Vuh and mix them with ambient/drone solutions, dub (see the drums on "Infinite resignation") and a little bit of doom (see the guitars and the drums on the final part of "The henge/Acension"). Steve switches atmospheres passing from ambient moments where keyboards and guitars create a thrilling ambience to soaring ones where synths drones are shaken by guitar thunders. Your movie for the ears is ready!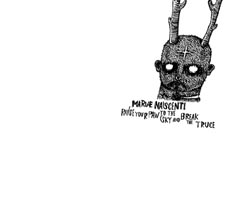 Artist:
MARIAE NASCENTI
Title:
Raise Your Paw to the Sky and Break the Truce
Format:
CD
Label:
Final Muzik
Rated:
After some spins of Mariae Nascenti's second full length cd, I must say I'm a bit disappointed. I've always found his live sets truly engaging, and the "Morituri Te Salutant" debut was promising, though probably not fully mature. The same thing could be told about "Raise Your Paw...", but as a whole, the album is much less energic and captivating to my ears. Coming with a lavish booklet and lengthy titles (Constellation/Mt. Zion-style), it is fairly varied in a very short time (10 tracks, less than 33 minutes), which is a double-edged sword, since it sounds too eclectic while many potentially strong ideas are not developed. The original industrial-ambient element is reduced to a minimum, and when the ninth track, "Amavo addormentarmi...", opened with a bass-heavy drone, I was hoping that it could lead to some darker territory - but it was only a fragment. The Coil influence is still strong in some spoken passages, like the opening "Blood Runs through My Veins...", or in the obsessive, beat-driven "These Giddy Memories..." (alas, with some over the top opera vocals), but then you find a piano sonata, a sort of drunken ballad ("Everything is Fine..."), an anaemic pop-rock instrumental ("Remember to Forget..."), and a good final melodic piece with more flat spoken vocals I could do without ("The Story of the Sad Bear..."). My favourite track is the cover of Slowdive's "Dagger" sung by a massive church-like chorus, but the song is so beautiful that you can hardly go wrong with it. I have nothing against even wildly varied works, but here one feels the lack of a strong binding theme, or atmosphere, and half of the tracks are just nothing special.