Ambient / Electronica / Ethereal / Dub / Soundscapes / Abstract
Edit (3889)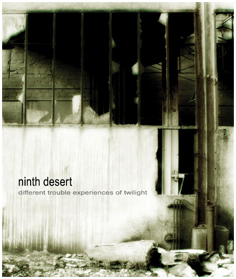 Artist:
NINTH DESERT
Title:
Different Trouble Experiences of Twilight
Format:
CD
Label:
AFE Records
Rated:
Recorded between 2005 and 2006, "Different Trouble Experiences of Twilight" sums up all of the best characteristics of Ninth Desert's sound. Most of what I've just written regarding the "Collision H" ep could be repeated about his first full-length, but this is also, predictably, more varied (with its 5 tracks clocking in at 54 minutes). And possibly darker, with more than a few blood chilling moments, though staying away from most dark ambient projects. The most diverse piece is surely "Somewhere Close to the Skin", with its mind-altering metal rattles, pounding percussion and pink-noise billowing. The rest of the disc offers more of Herry's fine layering of drones and circular frequencies, and the album title is perfect to describe its atmosphere. Take the sinister hum and slow metallic rumbling of the final track, "Red Mute": I wouldn't compare it with anything Lustmord- or CMI-related, but it is no light-hearted wallpaper ambience either. Think of Lull or BJ Nilsen's dark-edged minimalism and maybe you'll get the picture. Awesome stuff. The sound quality is also top-notch, thanks to Andrea Marutti's careful mastering: listen at medium-high volume and you'll notice the details...
Ambient / Electronica / Ethereal / Dub / Soundscapes / Abstract
Edit (3888)
image not
available
anymore
Artist:
NINTH DESERT
Title:
Collision H
Format:
3" MiniCD
Label:
Verato Project
Rated:
Ninth Desert is the current alias of Cyril Herry, who has worked in the past as Exotoendo (with a couple of excellent cds on Old Europa Café and Athanor), Lecanora and Sechres Mound (with Cédric Peyronnet/Toy Bizarre), and has been designing the layout for Ta'lem and Kokeshidisk releases for some time. This 3" cdr was released by Verato Project several months ago (in a ltd. run of 60, so act fast), but I get to write about it only now; meanwhile, new works of his are available on Ta'lem, Mystery Sea and AFE Records (Andrea Marutti is also mastering this one), which I'll try and review as soon as possible. Ninth Desert is both a kind of departure from his previous work (more acoustic/ritual, like Exotoendo, or rhythmic, like Lecanora), and a logical continuation of the same in terms of depth and inspiration. Herry now mostly relies on pure drones, weaving ambient textures that I wouldn't define "dark", but are surely deep and shady. His music seems to be designed to accompany meditative states, a kind of inward falling to a state of suspension. It is surely trance-inducing music, with few concessions to surface ornaments, and a solemn beauty of its own.
image not
available
anymore
Artist:
INNER VISION LABORATORY
Title:
Insane Reality
Format:
CD
Label:
Rage In Eden Records
(@)
Rated:
After releasing two albums and a mini for Far From Showbiz and Kaos Ex Machina net-labels, I.V.Lab has produced his first CD album for Rage In Eden Records and it is a good one. Containing nine tracks INSANE REALITY it's a good sonic exploration of the themes described into the band's presentation: "It's a cynical story about man, ideals, egoism, sick competition and destroying power of society. Reflection about passing by, daily routine and lost beauty". The music created could be filed under industrial ambient soundtrack because it is amazing to notice how deep is the sensation of space and time you have while you listen to these tracks. The only vocals used are coming mainly from samples (movies, I think) and this increase that effect furthermore. At the beginning of this review I named the term "industrial", well, if you notice how rhythms are created, with that alternation of distorted or saturated drum sounds and samples, industrial is the best way to describe the rhythmic section used. I must also underline how well the sounds and rhythms have been chosen as the production sounds really crisp and it is able to make the listener experience I.V.Lab's vision at the best.
Ambient / Electronica / Ethereal / Dub / Soundscapes / Abstract
Edit (3875)
Artist:
Natural Frequencies
Title:
Ornamental Journey
Format:
CD
Label:
Ozella Music
(@)
Rated:
BUY from
or BUY from
A single listening to Ornamental Journey gives the initial impression of yet one more tedious Nature/Space/Synth CD (at first seeing "New Age" pop up in the Genres category for this release in iTunes almost made me throw up a little inside my mouth), but in truth there is a lot more than meets the ear -- way more.

This masterwork, by Germany-based composer/producer and DJ Andreas Leifeld, is the mellowest of mellow listens, yet it somehow counters that with deft composition, nicely recorded acoustic textures, and appropriate, subtle programming. Leifeld manages to strike such a nearly impossible balance between minimal repetition and complex depth that it takes many listenings to pick up all the clues. Most of the pieces' titles take on an exotic, vaguely third-world "nature" theme, which unfortunately gives the tracks a false impression of innocuousness. Track two, the eight-minute-long "Snake," has the first hint of profound stillness that can settle over you and open up all your senses and personal remembrances, if you let it. On track four, "Hurikea," there is a recitation in Japanese by a low, droning female voice, which, because there is no accompanying translation, gives one a strong whiff of ethnic tourism. (This is entirely forgivable, however, since this is not musical colonialism on the egregious level of, say, a Paul Simon or a David Byrne.) In a similar sense, "Desert" blends chimy percussion, saxophone and synth artfully with only a hint of stereotype. "Mouse & Elephant" aims at weaving a beast fable through surreal accoustic guitar strums, and "Muted City" paints a sad urban landscape with some Chick Corea-esque piano for taste.

On the whole Ornamental Journey is a very "composerish" work, and a lot of mid-twentieth-century Classical Minimalism has gone into the chord changes and song structures, so this is by no means mere knob-twaddling fluff, easy as it is to listen to. That said, it pretty much skirts the soundtrack realm, but what a damn fine movie this would be to watch.
image not
available
anymore
Artist:
Ashtech
(@)
Title:
Walking Target
Format:
CD
Label:
Interchill
(@)
Rated:
"Walking Target" is the new album by artist Ashtech and producer Gaudi, two UK transplants originally from Italy who have made the UK their home and their sound. The Ashtech sound is a fluid electro-dub melange of deep bass lines, long reverbs, funk guitars, reggae beats and Jamaican MCing that screams London all throughout. 13 tracks of trance-inducing, upper-body-swinging, chill-party-going deep dub where occasional MC's lines will wake your ass up from your hazy dream of strobe lights and dark dancefloors to keep it bouncy and keep up the motion. You can hear influences of Nick Manasseh, Jeremy The Equalizer, Prodigy, Bill Laswell, Surya, Almamegretta (whom he collaborates with steadily). Labels such as On-U Sound, Asphodel, Different Drummer, Select Cuts, Echo Beach would have been perfect for this release, but Interchill was quick at securing Ashtech to their roster. This album is the real deal. It certainly doesn't sound like two Italians making music (at first I didn't even know they were from Italy and I would have put my money on London for sure). If they are on a quest to evolve into an authentic London imprint, then they are certainly there.