Artist:
NEKYIA
(@)
Title:
Slowmotion Downhells
Format:
CD
Label:
Beast Of Prey
(@)
Rated:
Nekyia are a kind of neo-folk / dark wave crossover act with black ambient leanings. The band comes from Lubawa and was formed in 1999. They use the electronics sparingly acting as a device for the music and voices to bloom and flow. What we get is dark ambient with industrial and folk bits. The fourth album from Nekyia finds them producing ritualistic dark ambient in the vein of Coph Nia, Atrium Carceri and Ain Soph, starting from dark ambient, whic dominates, up to neofolk and industrial, skilfully combining numbers of styles in their music. The material is well recorded and produced; it's clear that the band is purposive as far as their sound is concerned. What distinguishes Nekyia from these bands is that the music of SLOWMOTION DOWNHELLS features actual lyrics (in English) and singing, mostly in a world-weary monotone, such as a purely instrumental dark ambient suite. The music is strongly keyboard-based, although "Waters Of The Elysian Fields Are Strongly Caustic" features muted drums and acoustic guitar. The clear, spacious production creates an effective soundstage on which the deep sonic rumblings of the album are presented. Slowmotion Downhells comes done up in a parchment envelope with various inserts. The 100-copy deluxe limited edition of the album (maybe yet available) also come with two reproduction ancient Greek obulus coins. Who do they sound like? Let the music speak for itself!
Artist:
Dronĉment
(@)
Title:
ezoterick muzick
Format:
CD
Label:
AFE records
(@)
Rated:
As we first notice with the nice artwork and some titles of the songs, the new album by Dronaement is inspired by Indian culture and more precisely by Indian meditation music. The pace and repetition of the minimal rhythm section with ethnic instruments is added to the layering of sampled field recordings which is a constant in many of Obst's works. "Ezoterick Muzick" is similar to Storey's experiments with ethnic sounds and loops (late Zoviet France/early Rapoon) and the mind expanding synthlines have a deep connection with Tangerine Dream's and Popol Vuh's first works and maybe this album is even a tribute to some Kosmische masterpieces inspired by South-Asian culture (or hippy heritage...) like "Lord Krishna Von Goloka" by Cosmic Courriers feat. Sergius Golowin or the even more obscure "Crawling to Lhasa" by Kalacakra. For the cosmic travellers all over the world.
Artist:
Feu Follet
(@)
Title:
Souvenir D'Ermitage
Format:
CD EP
Label:
silence-is-not-empty
Rated:
Feu Follet is the musical creature of Tobias Fischer ( one of the members of Aalfang mit Pfederkopf ). Souvenir d'ermitage is a 3 track ep ( fully downloadable here : http://www.silence-is-not-empty.com/souvenir.html )following the acclaimed debuto 'toi et le sons'. It's Experimental Ambient and there are lots of field recs and weird effects but remains wholly understandable and approachable.
A nice quote about the album by Mr. Fischer : 'it is thanks to pain that we'll find the things we have always been searching for'. i'm lookin forward to hear new progressions from this one.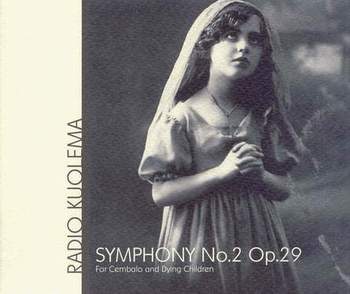 Artist:
RADIO KUOLEMA
(@)
Title:
Symphony No.2 Op.29 For Cembalo And Dying Children
Format:
CD
Label:
Ars Benevola Mater
(@)
Distributor:
Masterpiece Distribution
Rated:
SYMPNONY No.2 Op.29 is the third Radio Kuolema release. The CD openes with a couple of minimal ambient tracks ("Overture" and "Allegro") which alternate their ambience from melancholic orchestral movements to more dark industrial moments where subtle drones are coupled with harpsichord or violins. On these ones I must say that the melancholy was overwhelming but the musical score was a little simple (it was based on a couple of sounds only). On "Adagio" the industrial part starts to take a hold and the magmatic noises start to paint the picture you have finally with the fourth movement "A gothic romance". On this track we have a good dark ambient tension where different kind of drones (hisses, treated synth pads, etc) are layered to form a good moment. This scheme is followed also for "La muse venale" where there's alternation of dark industrial moments and calm orchestral spots just to end with the sum of the two. On "Nocturnal" Mauro worked on industrial ambient sounds composing an isolationist track which is able to create a good effect. The last one "Der wille zur macht" is the only track with a rhythmic section (even if distorted and treated) but, just like the other tracks, it turns into something different when the rhythm stops and a treated guitar sounding like a distorted wind blow take its place. The track changes again when the orchestral sounds starts its calmly melody just to turn into an industrial minuetto when the orchestra is joined by the guitar. The track ends with a chaotic suited performed by guitar and distorted/treated drums. I appreciated the dark industrial moments and some moments of tension where Marco was able to create the most effective ambience but there were also some other moments when I feel he lost the point and the melancholy or the nihilist approach took his hand.
image not
available
anymore
Artist:
VV.AA.
Title:
Document A
Format:
CD
Label:
SkullLine Mailorder
(@)
Distributor:
SkullLine
Rated:
Another new output of the German SkullLine Mailorder, this time a compilation which features all current label artists providing new, unreleased or hard-to-find tracks. For all of you who still have resisted to buy one or another of the amazing and extremely limited label releases, this compilation offers the welcome doze to get some deeper entrance and introduction to the roster. Both projects, TT and TRITON 83 are heavily dedicated to the rhythmically Powernoise genre and can service here the full range between Minimal, Noise and Experimental styles. "Tanzteufel" by TRITON 83 can be named as possible favorite for some Pogo movements on the dancefloors, while the track "Kindstod" with its tragic voice samples rather makes you think on the subject. Another favorite out of the label roster is SHIFT 69 offering a refreshing mixture of Electro/EBM and 80ies-inspired Pop/Wave attitudes. "Alles dreht sich im Kreis", well, it's fantastic to see and hear how many different ideas especially regarding the used effects on the vocals the track "Im Kreis" has to offer – what a fine old-school inspired work! BLEIBURG – partly amazing if drifting into Experimental/Ambient/Noise drones, partly ridiculous if falling into minimal pre-80ies Kraut-Electronica, can convince here too, simply because Stefan Rukavina's tracks here are returning to paths of Experimental/Ambient and Ritual-Industrial music – definitively his better side. So we have at least MANMACHINE, a German solo project which still can't look on an own release for SkullLine, this project has only co-produced the BLEIBURG DCD "History In Flames". So it's a bit to describe the provided music style – Minimal/Experimental/80ies/Electronica maybe? I guess there's more to come. Ah, and wanna hear a really sick piece? Check out TT's "Leichenliebe", which concludes this compilation... As usual for SkullLine release, also this compilation comes out extremely limited to 100 pieces and with an extravagant package. If this compilation draws a real dedication to the world-wide renowned art exhibition Documenta, which takes place all 5 years in Kassel/Germany, and in this year again, is rather questionable. Nevertheless label/mail order chief Harald Jarosch has picked up some quality recordings out his stable and this comp is a perfect invitation to grow deeper in the often harder to discover music stuff of the SkullLine label. More than 77 minutes of some fine and not to underestimating music rather based in experimental genres, get it!

track list:

01.Bleiburg - Guilty by association
02.Trition 83 - Tanzteufel
03.TT - Täuschung
04.Shift69 - Im Kreis
05.Manmaschine - Covered in Blood
06.Bleiburg - Lament of Irish Immigrant
07.Triton 83 - Kindstod
08.TT - Start - Sequence
09.Shift69 - I love it
10.Manmaschine - A peace of life
11.Bleiburg - Cthulu rising
12.TT - Biggi
13.TT - Leichenliebe (slow)