image not
available
anymore
Artist:
HÆRETICI 7074
(@)
Title:
Heard Flayings
Format:
CD EP
Label:
Some Place Else
(@)
Rated:
Recorded live at Club Depo in Riga, Latvia, HEARD FLAYINGS is the second release by Hæretici 7074, project formed by Niko Skorpio and Ovro. The 23 minutes concert develops into six different movements that will please the lovers of early Current 93 as the sound and the themes treated by the duo are really similar to releases like the LaShtal 12". The opening track "Israel and the broken bell" contains samples of Israel Regardie voice (he was one of the members of the Hermetic Order of the Golden Dawn and he also wrote some books containing order's documents). Also the closing "Vive oncle AL" basically contains the recordings of Aleister Crowley singing "Vive la France". The track originally was recorded (along different Enochian Calls) on a wax cylinder and a decade ago it has been releasing on vinyl and CD on various bootlegs. Anyway... The six tracks create a good ritualistic ambience with echoed sounds, manipulated sources and if you loved bands like early Current 93, Anti Group and Lustmord you'll want to check this one!
Artist:
BLEIBURG feat. MANMACHINE
(@)
Title:
History In Flames
Format:
2 x CD (double CD)
Label:
SkullLine
(@)
Distributor:
SkullLine
Rated:
This is a new DCD release set out and produced by the German underground mail order service SkullLine. It provides a mutual team work by both German projects musically based into dark and minimal Ritual Electronica, which takes here some influences out of different music styles. BLEIBURG is leaded by Stefan R. who's very active not only with his various music projects, under the "Dark Transmission" website he publishes also a small online zine. MANMACHINE is A. Schwarz, an experienced musician since 23 years based in various styles. So you don't have to wonder also to hear some classic Electro tunes ("Deep Down In My Heart" – provided with a "classic" inspired vocal performance) besides further styles like Powernoise ("99 Percent Noise", "About The Nights" or the very chaotic "Hekate Song"), slowly Ambient tunes and - oh wonder – an acoustic Neo-Folk tune ("Fall Apart", a cover version originally done by DEATH IN JUNE) only arranged with a guitar! Some vocals are included as well, but mostly they rather act here like a dramatic news reporter rambling down some lines. This can't be called a real singing. In all you got a DCD set focusing on dark, minimal programmings and sounds, where it at times wouldn't be wrong to fill in some more maturity. To lengthen this stuff on two CD's is also a bit too much, a limitation and concentration of the best tracks placed on one full-length would do better. Designed for genre fans only. Of course, also this item is a special limited and numbered release of about 45 pieces, packed in a carton box with a pin and a t-shirt.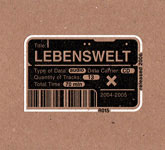 Artist:
LEBENSWELT
Title:
Lebenswelt
Format:
CD
Label:
R.A.I.G.
(@)
Rated:
Formed back in 1999 Lebenswelt is a Russian trio that released five cd-r and one tape since then but they distributed them only to their circle of acquaintance. Produced by R.A.I.G (Russian Association of Independent Genres) LEBENSWELT CD is their first official release and here Andrei Blokhin, Igor Mukhin, and Mamikon Vartapetyan decided to collect their 2004-2005 recordings. Inspired by the ambiguous works of German prophet poet and translator Stefan George (1868-1933) the CD contains 13 tracks that span from the dark ambient to the industrial/experimental genres. Most of the tracks have a back ground humming sound where the band built up their sound sculptures. Sometimes they beat some metal stuff and other times the track keep its ambient structure but alternating hisses to percussive sounds or synthetic bleeps. The ambience created by Lebenswelt has a good effect even on the occasional listener that is immediately absorbed by the magmatic sound.
Ambient / Electronica / Ethereal / Dub / Soundscapes / Abstract
Edit (3102)
image not
available
anymore
The Euphoria Of Disobedience" is the fifth OYC album after ten years from the previous "Equator" which was an unquestionable milestone in 90s ambient.TEOD features some radical changes in OYC sound - tablas and other ethnic sounds are replaced here by a post-glitch sound processing with the same overall dark and organic feel that is a trademark in all OYC releases. Dense dust clouds coat the second track called "In dreams, perhaphs" (featured in the soundtrack of Paul McGuigan's "Lucky Number Slevin" in which Andrew Hulme is also credited as editor / second unit director) where we hear treated guitar tones over a droney background. Things start to get darker in the third track called "Slither" with a stunning and sad synth melody. "Out Through The Skin" is one of the album's highlights and takes us into deeper emotional territories and harks back to that estatic stillness in Hulme's A Small Good Thing side-project. "Where she goes at night" is a spaghetti-western ambient nightmare and reminded me of the odd recurring tune in Arrabal's surrealistic masterpiece "Viva La Muerte". An amazing record that unfolds and grows in time, surely one of the best releases of the year. A follow-up is scheduled for release in late 2006 so stay tuned...
Artist:
ERIK FRIEDLANDER AND TEHO TEARDO
(@)
Title:
Giorni rubati
Format:
CD
Label:
Bip Hop
(@)
Rated:
Dear readers, did I ever told you I'm completely fond of Pier Paolo Pasolini? (who cares!)...well I'm saying that just for the fact that this' one of the best tribute to the lover/fighter/movie-maker/poet from Casarsa (together with an old work composed by Andrea Centazzo) The odd pair consisting of well known cellist Erik Friedlander and Teho Teardo (Modern Institute, Here, Matera, Meathead, etc..) plays a mix of chamber-classical music mixed with a soft electronics processing. A while ago we've reviewed Teardo's effort with Modern Institute on Expanding and it was again cello based if my mind doesn't fail me (I think he's obsessed with bowed music), but this time the context is different. While the only possible "trait d'union" that ties the knot between the two cds could be the soundtrack/filmic mood, "Giorni rubati" is much more contemporary classic, experimental contemporary oriented. It's funny, but while listening to the sad and beautiful litanies created by Friedlander's cello it was like listening to some old David Darling, Kronos quartet performances processed with a light and classy use of electronic music. The most of the songs have that perfect length that makes you feel like everything comes in and out right when it has to. The music is sometimes severe, sometimes gentle, somewhere else aggressive and onirical and that's what really symbolizing Pasolini's personality. Here and there they've the guest appearance of Scott Macloud from Girls vs Boys that enriches what I consider a little jewel. 44 minutes of intense music that hits you right there where "something is beating". If you think classical music hybridized with electronics can create an incredible atmosphere this record is highly recommended.