image not
available
anymore
Artist:
HEAL
Title:
Starting Back
Format:
CD
Label:
Sound On Probation
(@)
Rated:
Laurent Perrier don't know rest, he's always working to something new. It is amazing that he's running a label where every project of its roster is headed by Laurent himself. This time after seven years from the previous album "Extension" we have a new CD by Heal. STARTING BACK is the most melodic work to date made by Laurent and if the first Heal album was approaching to dub and ambient just like the Scorn of the first period did, the new album changes everything by introducing elements of jazz, 70s progressive rock (check "Chute d'oreiller" and its approach a la Goblin) and hip hop. Blending everything just to compose an ideal soundtrack for a futuristic noir movie, Heal did something new where the dub element is still present and you can hear it by listening to the bass lines but the new influences enrich the sound creating a new and fresh mixture. The fifteen instrumental tracks sound mysterious and if you check "Mainmise" you'll be seduced by its oriental melodies. Good one!
Ambient / Electronica / Ethereal / Dub / Soundscapes / Abstract
Edit (3407)
There's not one black woman in the world who can sing like Sade. Not ever! Sade (born Helen Folasade Adu) and her band (aka Sweetback) made their way in the music scene in 1984. Sade has sold over millions of records internationally worldwide. She is all about being herself and once said in an interview that she doesn't consider herself a role model. Her songs talks about love, life, sadness, pain, and everything in general. These promo video collections match-up to the songs to provide the audience a storytelling sequence. The directors of Sade videos have put alot of energy to shoot and polish the films with sophistication, the beautiful background tapestry, scenery, and images. Sade and her band look marvelous on film. They may not have played a part of being in the new wave/new romantic scene in the 80's, but their good looks and fashionable clothes definitely is suitable to fit their personality and music. Sade and her band's music is indeed for multi-racial, multi-culture. Not pop, r&b, jazz, and so on. There are 14 retro 80's and early 90's classy videos by this silky smooth angelic Nigerian and British female singer. Video includes "Your Love Is King", "Hang On To Your Love", "Never As Good As The First Time", "Paradise", "Turn My Back", which was shot in sin city Las Vegas, "No Ordinary Love" and "Cherish The Day" ended up in video rotation on VH1, "Sweetest Taboo" and "Is It A Crime" both are sequels. And who can ever forget that catchy jazzy tune "Smooth Operator" that is directed by Julian Temple who also directed Depeche Mode "See You" and David Bowie "Day In-Day Out". "Smooth Operator" ended up in video rotation on MTV back in the 80's. The video on dvd is an extended version that was never shown. The extended version is violent that shows a scene Sade's manager tries to choke her by the neck on the fire escape stairway. The police and detectives arrives on the scene and the manager leaves Sade to make his escape and by leaping on top to another building. The manager and the police detectives start having shootouts. The manager does get shot in the chest. As he clench on to his chest, he falls off the building as Sade watch in horror.

The dvd also includes a bonus video "By Your Side" from Sade's 2000 cd release "Lovers Rock", a discography, biography, and lyrics to all the songs. Sade and her band videos are enjoyable to watch. And each of them have a seriousness feel.

Video Tracklistings In Order:

1. Your Love Is King
2. Smooth Operator
3. Hang On To Your Love
4. Never As Good As The First Time
5. Sweetest Taboo
6. Is It A Crime
7. Paradise
8. Nothing Can Come Between Us
9. Turn My Back
10. Love Is Stronger Than Pride
11. No Ordinary Love
12. Cherish The Day
13. Kiss Of Life
14. Feel No Pain
Bonus Video: By Your Side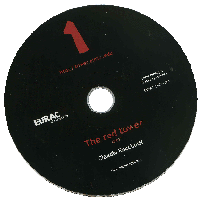 Artist:
CLAUDIO ROCCHETTI
(@)
Title:
red tower
Format:
CD
Label:
Eur.ac
Rated:
Rocchetti is more active than ever, therefore drony/electracustical/experimental junkies out there stay tuned since there's a whole bunch of releases involving this italian musician residing in Berlin. While lately he's been around basically with 3/4 Had Been Eliminated (Hapna) and by himself I've heard some new Pocket Progressive (formerly on Creative Sources) release is on the way sooner or later and at the same time he's to going to be out together with the mighty Maurizio Bianchi on a split release... "how long can this punk get?". Lately he's striking in the north of Italy and is selling this new (?) somehow enigmatic release on Eur.ac research, I've written enigmatic since there's no layout coming with the cd but a couple of infos on the cd and it comes in a trasparent plastic box (by the way Eur.ac should be a gallery/ artistic cafè). Differently from his former recordings on Bar La Muerte and Wallace this new output is much more ambientally-electro-acoustically oriented, so what's the difference beside the diluted and constant drone pulsing underneath?...the electro-acoustical side of this work is probably softer then ever before and Rocchetti concentrates this long track much more on resistance and on time-length than he's ever done in his previous materials. This interesting and well developed piece reminds a lot of some Asmus Tietchens, John Waterman, Francisco Lopez above all when they contemplate "stillness". This long track grows slowly building tension in a subtle way and after twenty minutes it disappears in the same way as it came, leaving thus space to silence and to emptiness where some noises are barely perceptible from far away. Some "strong" electro-acoustic noises break the calm right when you don't expect it to happen, but they don't revolutionize the heavy ambiental scenario of this work. You may think that's the ordinary release by someone playing this genre, but I think Rocchetti is slowly developing his own language and since I've recently seen him live I can say it without shame.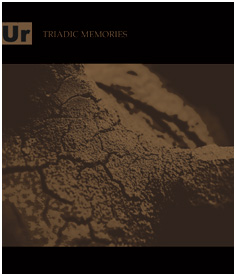 Artist:
UR
Title:
Triadic Memories
Format:
CD
Label:
Afe Records
Rated:
Named after the Italian esoteric group attended by Julius Evola, Ur are the best newcomers in the Italian industrial underground, as already promised by their self-released cdr (see archive). Formed by three performers with a HC- punk background (former and current members of Heartside, Permanent Scar, Burning Defeat, Onefineday, Downright and Kafka), they prefer live performances, so these recordings should reflect quite well what you can expect from a concert of theirs. The strong "played in real time" feel is surely one of the most interesting qualities of their recordings. "Triadic Memories" (a homage to Morton Feldman?) features three tracks ranging from 7' 28" to 20' 51", and opens with "Movement # 1", already featured - with a rougher mix - in their DIY cdr. The track is the most noisy and heavy of the lot, with theremin squeals, heavily delayed bass, metallic percussion and looped vocal samples, possibly the most refined characteristic of their sound. "Movement # 2" opts for more ambient, but surely not serene atmospheres: the disquieting spoken samples, drones and loops, and a bleak accordeon, all convey a sense of uneasiness and depression. The two main currents of Ur's sound (the noisy and the droning one) are well fused in the mammoth "Movement # 3", a psychedelic tour de force of theremin loops, pedal galore, accordeon, bells, and vocal mantras. Ur use their tool well, and know how to dose aggressive bursts and more expanded fragments; their sound could appeal to a wide range of industrial-ambient lovers (especially those into IRM, Non and Throbbing Gristle's soundtracks).
Artist:
TEXTURED BIRD TRANSMISSION
Title:
Purple Weighted Pellets of Despair
Format:
CD
Label:
Dead Sea Liner
Rated:
I don't know much about Textured Bird Transmission, except that he/she/they is/are probably from the UK and that this cdr marks the debut of the Dead Sea Liner label. "Purple Weighted Pellets of Despair" is a one-track, 29-minute cdr starting as a serene drone thing and gradually billowing to a powerful crescendo of distortion and feedback. Minimal means (it's probably a synth + pedals set), known formula, but nice results; a positive debut from both the project and the label.