Ambient / Electronica / Ethereal / Dub / Soundscapes / Abstract
Edit (10271)
Andy Backhouse offers up a very personal half-hour soundscape sampling natural sounds from the Scottish seaside town of Dornoch, where his grandmother lives. Indeed, you can hear his granny and a variety of other passing conversations alongside the crashing waves, the birdsong, car sounds, and other slightly less obvious sounds seemingly of cafés or very light industry.

The result is essentially a sonic seaside postcard, and to be honest a rather prosaic one, not really imbued with a distinctive character that would allow the listener to place Dornoch in particular unless you're an absolute master at recognising accents. Only the anachronistic and thankfully short-lived sampled bagpipe sound that appears out of nowhere 15 minutes in (a recording of some piece of tourist tat, maybe?) places this even in Scotland.

But, thanks to the inclusion of calm lapping waves that come and go, it is very naturally a relaxing and calming thing to listen to- a fleeting bit of audio tourism that allows you to imagine that you are meandering carefree along the beachside, without having to worry about the bitter cold you might really get in the Northerly Scottish town.

Andy Backhouse has generated this work as a cathartic experience, which he describes as being related to his perception disorder, which I'm sure is true although the end result could simply be seen as indulgent nostalgia. That being said, as a sound postcard it is picturesque and endearing.
Ambient / Electronica / Ethereal / Dub / Soundscapes / Abstract
Edit (10270)
Artist:
Ripperton
Title:
Sight Seeing
Format:
LP
Label:
ESP Institute
Swiss Raphaël Ripperton, known for his deep house and techno work (producing DJ'ing and mixing), has switched to the ESP Institute for this much more ambient and introvert double LP.

Cold atmospheres, sparse melodic tones and slow wafting hollow or bell-like synth patterns are the order of the day here. Some tracks, like "Eloigné", add more textured soundscaping, sometimes reminiscent of distant iceberg cracks or heavily processed industrial noise, but always with a soft edge.

It's firmly not for the dancefloor, but some tracks have distant echoes of an IDM production aesthetic. "Puente De Los Enamorados" has a pulsing yet calm low bass that feels like a natural product of what might happen if you took deep house to its logical conclusion, then stripped any remaining percussion out, whereas track C1 (named after a Chinese symbol I can't reproduce here) has a steady clap rhythm that's been smuggled in from clubbier genres. "Atomatic" is reminiscent of some of Sasha's recent scene pieces.

Other tracks, like the sparse synth-string melancholy of "Uroboros" and the spaced-out "Miroir d'eau", are much further detached from what appreciators of Ripperton's previous work will have been used to. "Hlios" is an oddity, blending the cold atmospheres with a sort of off-step glitchy trip-hop guitar in a way that's more intriguing than it is successful, though it redeems itself in the way it devolves at the end.

There's a slight sense that this isn't a particularly curated collection. Tracks like "Ignition" feel like unfinished or experimental ideas, and several tracks have curt beginnings and endings that seem unnecessarily abrupt for the genre. While it would be slightly too much of a stretch to say that a bit of a judicious attitude might have brought this down to one CD's-worth of material, it is perhaps just a little bit flabby and lacking in the variety that really ought to be present to warrant the 107 minutes that this release runs for.

Nevertheless despite a couple of arguable imperfections it still makes an excellent post-club chill out album, if you've taken so many stimulants that you're going to be awake for another two hours once you get home...
Ambient / Electronica / Ethereal / Dub / Soundscapes / Abstract
Edit (10264)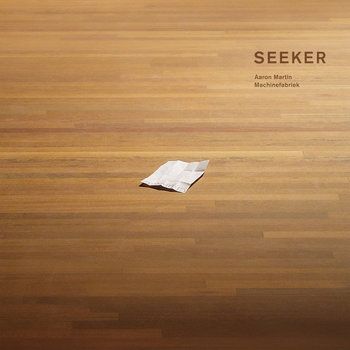 Artist:
Aaron Martin & Machinefabriek
(@)
Title:
Seeker
Format:
CD
Label:
Dronarivm
(@)
Rated:
To celebrate his fiftieth release, Dronarivm releases a work conceived in 2013 for a dance piece by Iván Pérez called "Hide And Seek". As I believe that there's no need to introduce neither Aaron Martin nor Machinefabriek, I will go straight to the musical point: the interaction between the instruments, mostly cello, played by Martin and the electronics played by Zuydervelt. The music could be roughly classified as glitch or modern classical in respect to what is considered to be real center of interest or writing.
The canonical glitchy opening of "Wake" introduces the listener in a framework which is immediately reversed by "Wings in the Grass" rounding around a romantic cello melody. As "Arms Turn Slowly" develops there's a movement from abstraction to the song introducing a quiet piece as "Leaves Are Swimming" reminding the quietest moments of Machinefabriek's discography. "Hidden" is a minimal ambient interlude to the second part of this release. "Seeker" is an hook to the tradition of dance music with his evocative cello melodies while "A Small Crowd Points" and "Close to Dark" evolves around drones, focusing on sound details. The voice of Aaron Martin closes this release in "Buried Cloth" creating something similar to a sense of peace.
While it doesn't sound as a simple accompaniment for a ballet, it has a sense of completeness that doesn't need a visual counterpart. Perhaps this couldn't be exactly a virtue for a music conceived with a precise objective but it's surely best for the listener. Another example of clear talent.
Ambient / Electronica / Ethereal / Dub / Soundscapes / Abstract
Edit (10261)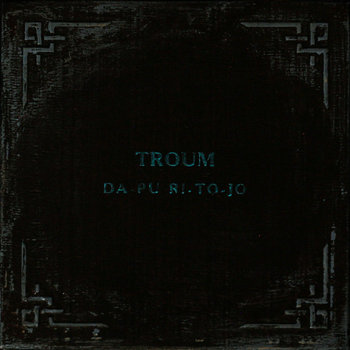 Artist:
Troum
(@)
Title:
Da-Pu-Ri-To-Jo
Format:
CD
Label:
Black Mara
(@)
Rated:
This new release by Troum is a a collection of 7" vinyl release, from 2004 to 2016, and it's introduced by a short script by the band where the overall concept is that this release could work as a description of the project. Their music could be roughly described as dark ambient but this release shows how they are able to wander across all variations of the genre.
While "Aerugo" is an open space ambient track, "Aetas Vetus" closes the listener into a noisy and oppressive territory. As "Agnus Dei" has certain level of solemnity, "Betonwolke" rework this musical elements towards almost post-industrial shores. The heavy and atmospheric basses of "Das Air" are balanced by the uncomfortable drones of "Gruoen". The long and filtered musical lines of "Nargis" and "Saiws" are as dark in the first one as bright in the second. As
"Segeler" is a crescendo of quiet drones, "Un / Mahts" is an almost monolithic mass of noises but with a movement. The last two track are from a digital only release and are the newest tracks: "Victoria" and "Unreleased Theme For River Endscene" reveals an idea of dark ambient where the drone is just a background for certain musical element to emerge.
As a release from a band classified as dark ambient, or post-industrial, this release reveals a band who search a musical way to express their ideas rather than repeat a formula on every track. Recommended.
Ambient / Electronica / Ethereal / Dub / Soundscapes / Abstract
Edit (10259)
Artist:
MCVX
(@)
Title:
Voyagers
Format:
Download Only (MP3 + Lossless)
Label:
KrysaliSound
(@)
Rated:
It's pretty weird the first language for a set of human sentences included in the messages to the universe in one of the two golden phonographs, that are supposedly wandering in the universe through Voyager 1 and Voyager 2 like a bottle in the ocean by the inhabitants of this planet, was Sumerian. Believers of the theory of Ancient Astronauts could think it was a pretty ironic choice and maybe some of them could argue that this mission is a possible NASA hoax. Whether these space missions are real or not (this is not the space to discuss this thread), the simple idea that there's something surfing the deep space to testify that something's happening down here on "the third planet of the star Sun" (a quote of the sentence in Oriya language of these human greetings, attached to a set of images and music, selected by a commission led by Carl Sagan in the late 70ies) is a romantic source of inspiration for many earthlings, including the one of Carlo Monti - another Carl like Sagan...-, a young Italian guitarist, who moved into the territories of experimental and ambient music after years in the ones of prog-rock. Given that it's just his debut, this student of Music Information Science at the University of Milan explores a theme on the nose of many musicians, but he made it in a somehow original way. He also included some samples taken from the NASA Voyager Golden Record (no need to sign a waiver, as it's a Creative Common), but the most interesting aspect is the emotional framework that he evoked over this stream of clues and traces of human civilization. The graceful elongations of piano chords in the initial "Faded", the seemingly chaotic radio signals of "Perpetual Angels", the hyper-effected synth brasses and the vitreous consonances of "Oceanless", the meditative halo of "A Prayer" and the distant fluctuation in the infinite evoked by the boundless digressions by the final "On The Share" match the atavistic feeling in between astonishment and anxiety of those inhabitants of this planet, who didn't forget to be part of something bigger than the deceptive fences of private property yet. Available in digital format as free download according to NASA samples copyright.