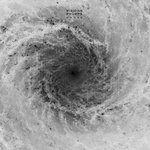 Artist:
Visions & Phurpa
Title:
Monad
Format:
CD
Label:
Cyclic Law
(@)
Rated:
This release is a collaboration between Visions, the experimental project of Frederic Arbour, and Phurpa which is one of the most radical and arduous project of these days. The result is an expanded musical spectrum where time has the property to let all musical resonances express their potential to be a sort of trigger for meditation.
The well known low frequencies which characterize the music of Phurpa opens "Ascendance" but the contribution of Vison is audible after a few seconds as their rather minimalistic approach is evidently filtered and juxtaposed as applying color to a black and white musical picture. The dark ambient form of Visions is more prominent in "Fohat" as only Purpha's percussion are clearly audible in the final part adding a sort of religious mood to an overall meditative atmosphere. "Monad" is based on a frequency separation between the two project: Vision has the higher frequencies while Phurpa has the higher one but instead of be a trivial juxtaposition there's a real dialectic between the two musical streams and this is further enhanced in "Reminiscense" which closes this release with an impressive audio spectrum of rare evocativeness.
This release could be seen as an introduction to Phurpa's music as it's a lot easier listening to their music or as the addition of a spiritual element to the processual framework of Visions. However, it's one of the releases of the year for the genre.
Artist:
Distant Animals
Title:
Lines
Format:
12" vinyl + Download
Label:
Hallow Ground
Daniel Alexander Hignell, as Distant Animals, has created a 34-minute work that's conceptually quite complex, involving a 130 page text-score, the social function of art-making, a land-art intervention enacted in parallel with the composition process, and citing La Monte Young as an influence.

Sonically however it is somewhat less complex, though I wouldn't go as far as calling it simple. Generated mostly from modular synthesis, it's a bit of dramatic drone work (which prior to this listen might have sounded like a contradiction in terms), at the core of which is relentless deep alienating rumbling sounds and thick, distorting textures. Over the top of this are layered some organic percussion noises, higher-pitched synth pads giving off choral-style sounds, noise washes and a variety of clicks and glitches.

In two parts, first part "A Pure Drone" is (as the name implies) the simpler of the two, deep and rich and purposefully uneventful, before "Line Made By Walking" uses the listener's acclimatisation to the drone base as an opportunity to pull in expected directions, systematically becoming louder, more dramatic and dynamic, and with tubular-bell-esque percussive hits and pitch-shifting analogue synth calls that almost border on melody. A couple of well-timed sonic drops have a strong impact that provide real culture shock for those who thought they were still listening to pure drone.

It's interesting to hear how this work morphs itself over time without losing its sonic identity, and while the conceptual origin of it frankly flies well over my head, as a short LP of powerful experimental synthesis, it's absolutely worthy of a listen, contextually or otherwise.
Artist:
Kali Malone
Title:
Cast Of Mind
Format:
12" vinyl + Download
Label:
Hallow Ground
"Cast Of Mind" is pitched as an electronic experimental album to which acoustic woodwind and brass are an added detail, but in fact the emphasis is somewhat different, especially to begin. It's the brass in particular, the woodwind close behind it, that really drives this collection of four long dominantly-acoustic drone pieces and glacially slow chord works, and the electronics- all sourced from a Buchla 200 synthesizer- are sometimes reduced to just providing the atmospherics and the decorative sprinkles on top.

After the slightly harsh-edged sparseness of "Cast Of Mind", it's in the somewhat mellower "Bondage To Formula" that the synergy between brass and synthesis begins to solidify in mesmeric and pleasant ways. The harmony is broken from the first gutpunching opening moment of "Arched In Hysteria" with its pulsing bass synthesis, still droning but with decidedly more abrasive attitude, before final piece "Empty The Belief" feels like a culmination of all the above, playing both smooth brass drone and harsher synth drone simultaneously into a fairly brash wall of sound.

It's bold, stark and immersive material with a very clear vision, and a very pleasant way to mentally transplant yourself for 36 minutes.
Ambient / Electronica / Ethereal / Dub / Soundscapes / Abstract
Edit (10454)
image not
available
anymore
Artist:
Dronny Darko
(@)
Title:
Black Hive
Format:
CD
Label:
Cryo Chamber
(@)
Rated:
Even if "Black Hive" is presented as the final release of trilogy with "Outer Tehom" and "Spira Igneus", it sounds more as the next evolution from last year's "Abduction". The movement of quiet moments and large masses of drones is further expanded using a sort of field recordings which takes the drone in a real world environment.
The strings that open "Lurkers" create immediately a sense of tension which asks only a visual counterpart that appears in the listener's subconscious. The crescendo of a high frequency drone upon a bass soundscape in "Numinous" is abrupty ended for a resonant ending that introduces "Devourer" based on noises which borders field recordings while "Pale Shadows" is a return to a dark ambient form based on carefully crafted drones, even in his fast movements, after all there deviations from the canon. Initial bells of "The Knot of Time" are partially masked by noises introducing a second part based on drones and "Olympus" mirrors these form as his first part is based on sparse noises while the second is developed by the progressive juxtaposition of drones. "Rivers of Glass" is a framed by an introduction based on field recordings of water and an ending based on bells. "Distorted Reflections" closes this release with a juxtaposition of drones noisy and clear which create a sense of movement difficult to realize with a so static form.
Another progress from this project that it's raising the bar with each release with a development from a canonical form of dark ambient to a truly personal one. Among the best releases of the genre. Truly recommended.
Ambient / Electronica / Ethereal / Dub / Soundscapes / Abstract
Edit (10450)
Artist:
James A.McDermid
Title:
Tonal Glints
Format:
CD
Label:
KrysaliSound
(@)
Rated:
The second heart moving chapter of the trilogy - being the first one "Ghost Folk" released by polar Seas Recordings last year - that Bristol-based sound artist James Alexander McDermid dedicated to her sister Harriet, who died in August 2016 after two years of illness, comes out on KrysaliSound. The emotional framework of the plenty of tracks that this producer poured out during this painful experience before and after Harriett's death was exhaustively explained by the author's own words: "once the original shock dissipated, a wall of grief fell on me and, as a result, I found it an almost impossible task seeing my world in quite the same way as I once had. The wear and tear of life became suffocating, so I continued with the idea of channeling what I was feeling, into music; however, coming to terms with Harriett's death, rather than her illness, started to cloud and confuse what I was doing. In the end, it was Sophie Calle's book Exquisite Pain - a book arguably about grief in its various forms - that provided me with the clarity I needed. Calle's writing - in particular, the people in it trying to come to terms with their own similar tragedies - helped shape and direct my own thoughts; Exquisite Pain acted as a conduit for what I was both feeling and trying to convey. Tonal Glints is the end result". The stream of sound that James forged for this stage of enlightenment is riddled with many pearls. The main resounding element on the opening "The Vagabond", - a sort of squeaking music box - seems to open the gate of the memories, which get unrolled on the almost scenic elements filling the crescendo of the following "All the shutters are closed", whose waves crash against a wall of a distant choir of female voices. The thin overlapping of amplified tones of "I put the letter in my pocket" sound like the ruffled surface of a pond where some sweet images of the past could get vivid and precedes one of the best moment of the whole album "I'll take one who loves me", when James picks his acoustic guitar up to weave a delicately intimate folk. Other fragments of memories (or maybe ghost sighting) could have inspired the weird cameo of "Bunny" and the ambient expansions of the following "Within reach", where a sort of regular breath, that becomes more and more audible, makes me argue that this track is somehow related to some dreams or nightmares (rendered by the dark tones of "Worse than the last look") experienced during the sleep. The whispered litany of "If you concede" (another peak of this album), the tinkling standstill of "Eastern Bloc" and the gloomy minute of "Last Year" prepare the ground for the triggering aphony of "I saw red, and through the red, nothing" and the cathartic release in the incomprehensible murmur, the evanescent sonic cloak and the rift in the darkness opened by a thin piano-driven melody in the tail of the final track "Faraway too close".