Ambient / Electronica / Ethereal / Dub / Soundscapes / Abstract
Edit (10572)
Artist:
Chris Parmenidis
Title:
8B5C3B++
Format:
CD + Download
Label:
Focused Silence
Conceived as "the movement between different entities guided by the construction of continuity conditions", this single 42-minute work is primarily conceived as an eight-channel installation that will be performed in a London church in October 2018. This is a studio-built stereo re-work, unusually released prior to performance perhaps to act as a ticket sales incentive.

In more practical terms what it is is a series of expansive breathy atmospherics, hums and drone washes over which flit small numbers of mild glitches and bleeps, processed high-pitched sound effects, synthetic bubbles and lazy semi-melodic tones. Occasionally, denser clusters of clicks and glitches conglomerate into harsher packets of noise but these are fairly quickly washed away into the reverb and emptiness, while at other points, glass-like tones give proceedings a more fragile feel. Plaintive radio-like signals in the second half sound like interpretations of interstellar waves transposed into emotive audible pitches, in a manner that scientists might pore over searching for patterns.

Listeners who like their electronic atmospheres to sound sparse, disquieting and sci-fi will enjoy bathing in this, but the bold press-release claims that "there is the whole history of modern digital culture wrapped in this singularity" are heights never properly scaled in a sonic work that's polished and engagingly broody without really feeling like it's pushing any boundaries.
Ambient / Electronica / Ethereal / Dub / Soundscapes / Abstract
Edit (10565)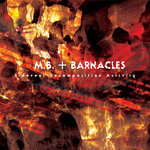 Artist:
M.B. + Barnacles
(@)
Title:
Sidereal Decomposition Activity
Format:
CD
Label:
Artoffact
(@)
Rated:
It's almost a decade that Maurizio Bianchi, which needs no presentation for readers of this zine, and Matteo Uggeri, mostly known as a member of Sparkle in Gray, collaborates in some form. As their previous collaboration this are based on relatively quiet framework where the ambient textures of the late M.B. are introduced in a more constructed sound building.
While many could expect an harsh noise wall, "Infinity Cosmic Eruption" introduces the listener into a release where ambient music is bound in a rhythmic cage that is at the crossroad between hip hop and dub, so it's impressively dilated in time and takes in the background the noisy element which is used to create a subtle sense of movement in an apparently static rhythmic development; its quiet ending introduces "Sidereal Decomposition Activity" whose catchy noisy and almost psychedelic melody is underlined by the rolling beat interrupted when it's time for a break prior to the final dreaming end. The metronomic beat of "Astral Fall Dynamism" is the set for the dialectic between noise and folk guitar melody of the first part of the track while the second one tries to bury the melody with synthetic layer only to close the track with menacing oscillators. The crescendo of "Unearthly Armagheddon Energy" is as linear as it's ended leaving only the element that creates tension without the elements that has rhythm or mass.
Moving towards a more developed music style rather than a impressive mass of sound or quiet ambient, this release shows two artist that are willing to evolve rather than simply publish another record. Recommended.
Ambient / Electronica / Ethereal / Dub / Soundscapes / Abstract
Edit (10564)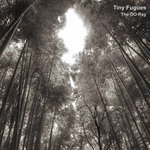 Artist:
The OO-Ray
(@)
Title:
Tiny Fugues
Format:
Download Only (MP3 + Lossless)
Label:
Audiobulb
(@)
Rated:
The OO-Ray is the alias of Ted Laderas, an improvisatory and experimental cellist, whose playing style is self defined as "chamber drone". This really means that his music is based on the electronic treatment of the instrument so the melody, rooted in a traditional instrument, is transformed in a sort of texture which evolves in a much more clear way than canonical drone. He also use a custom-built software which creates a rhythmic layer vaguely reminiscent of glitch music.
The framework of "Liminal" introduces the listener into a sound field based on dilated tones, or long loops, and ephemeral resonances while "Stuttertest" returns to the destructured lines of glitch and "Fiftytwo" use pseudo romantic notes of piano. An interlude for reverse tape, "Hoh", is followed by "Reveal", a static and ethereal track, and "Semifinal" where a sort of catchy melody emerges and is closed by "Worden" which sounds as the second part of "Hoh". "Largesse" seems to dilate chamber music and "Downwards" folk music. "Circular" with its use of strings borders modern classical territories while "First Frost" returns to more canonical ambient territories and "Adaptation" evolves in a static way. The crystal clear melodies of "The Drowned World" and the resonances of "Afterimage" close this release with a sort of glitch classical.
The lack of a path which ties the track togheter, instead of creating confusion, generates a pleasant sense of variety which escapes boredom. Nothing ground-breaking but a good musique d'ameublement. Recommended for fans of ambient and modern classical.
Ambient / Electronica / Ethereal / Dub / Soundscapes / Abstract
Edit (10563)
As the artwork and the title associatively suggest, this work evokes thoughts of the build-up of tension in sci-fi clouds before a thunderstorm. There's windy drones, distant atmospheric hums, and electrical crackling and bubbling interspersed with gentler more melodic pads and beds that arrive with some fanfare to provide lush interludes. On some rare occasions, more pulsing electronics step very modestly towards a sort of incidental techno, but this is always short-lived. Built from synthesis and from abstracted field recordings, it's a gently unsettling bit of soundscaping that feels calm on the surface, but harbours more chaotic elements for which you have to listen more closely.

The 51-minute work is divided into three parts that are both numbered and named, but the differences between them are subtle and evolutionary rather than distinct. Third part "The Sound Of The Universe Spinning" is perhaps the warmest and most relaxing section, working as a fitting conclusion when listening to this for its soporific superficial level.

It's a rich and detailed texture of sonic work, handled with a deftness and confidence that makes it certainly worthy of attention.
Ambient / Electronica / Ethereal / Dub / Soundscapes / Abstract
Edit (10560)
Artist:
Aperus
(@)
Title:
Lie Symmetry
Format:
CD + Download
Label:
Geophonic Records
(@)
Rated:
Aperus is the ambient project of Brian McWilliams of Santa Fe, New Mexico, and 'Lie Symmetry' is his fourth album under this name. He also works in another ambient project called Remanence with John Phipps. He is a photographer as well, and took the abstract photos used for the cover and inserts of this CD. I'm unfamiliar with any of his previous work so I can't compare this album to anything Aperus has done before. The album's title, 'Lie Symmetry was inspired by a radio interview with physicist Alan Tennant that McWilliams heard where Tennant was explaining his study of transitions in the quantum states of deeply cooled ions, with the exact quantum transitional point being known as lie symmetry. (The math and physics of the equation(s) are beyond me so I can offer no further insight.) Later, McWilliams took some accidental pictures with his phone/camera in his pocket which turned out to be abstract landscapes. This was his own "lie symmetry" which solidified the concept for the album. The music here leans toward dark ambient, but like the photos is not devoid of light. This is an electro-acoustic work employing both electronics and field recordings gathered from different locations in New Mexico, Arizona and Michigan. Those sounds include bells, chimes, telescope, kiln, water, waves, insects, cranes, utility pipes, and spring drum loop. Besides an array of synthesizers, McWilliams also employs shortwave radio, ebow guitar, drum loops, wind chimes, thunder drums, rattles and sample manipulation. The opening track, "VLA 1" consists of an intriguing march-like little rhythm, drones, birds, and shortwave radio, sounding less dark ambient but more mysterious. "Frozen, Broken" is predominantly comprises of bellish tones with an undercurrent of dark ambient drones and some lapping water. Nice but 7+ minutes of that was a bit much and I didn't sense it going anywhere. "When the Mountains Wear Black Hats" sort of sounds like the title of a David Lynch Twin Peaks episode, but the music is much less jarring or malevolent than Lynch's take on dark ambient, and has a near shoegaze quality to it. Really liked that one. "Himalaya" puts some rhythm back into the mix and is gamelanesque. Another rhythm track on "VLA 2," this one slow and caterpillar-like accompanied by a multi-timbral drone, sounding once again processional. I am noticing now how little the pieces evolve over time, staying mostly in a groove through the majority of the composition and changes coming at the beginning or end being usually additive or subtractive. "Marsh Lake, October" can't be characterized by those parameters even though it has a certain aquatic theme, there are many sonic aspects employed in its composition in a number of ways. So far, this is the richest piece on the album. "Ephemeral River" has a gently pulsing sort of looped rhythm that is quite hypnotic. This rhythm continues throughout the track, occasionally accompanied by a sub-rhythm and with other dark ambient elements is quite engaging. Last track, "Unfozen, Unbroken" brings back the bells underpinned with tranquil synth drones. What I like about "Lie Symmetry" is that the tone leans toward the dark side without actually getting heavy or oppressive. One could almost call it Dark Ambient Light, or even Grey Ambient. Some tracks could have evolved more, and perhaps a few less bells, but overall, a nice work.