Ambient / Electronica / Ethereal / Dub / Soundscapes / Abstract
Edit (4488)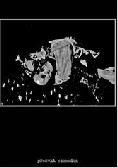 Artist:
.Prodvkt.
Title:
Obsession
Format:
CD
Label:
Smell the Stench
(@)
Rated:
Obsession is a CD-r release from Smell the Stench Records, packaged in a DVD case with a black and white insert. The insert discloses nothing about the band or this album, except for a web address and a picture of Death. The album, Obsession, includes six tracks ranging from four to fifteen minutes.

.Prodvkt.'s Obsession is an incredibly visual album. It is built of extreme minimalism; deep, droning sounds float through a comforting chasm searching for some outlet or home. Electricity flows and whirrs throughout the thick astral layers of this release, echoing into the void that consumes every moment. Obsession is a very good release for meditation; even the most abrupt sounds are quickly and fluidly assimilated into the droning depths of emptiness.

I honestly know nothing at all about this band, .Prodvkt., and I did not realize how much that lack of knowledge upset me until I listened to Obsession. Obsession is the epitome of good dark ambient: Powerful, yet subdued. This release is just as unsettling as it is soothing; if Obsession could manifest itself as a physical location, I would like to go there to die. Alone.


image not
available
anymore
Artist:
VESTIGIAL
(@)
Title:
Translucent Communion
Format:
CD
Label:
Cold Meat Industry
(@)
Distributor:
Audioglobe
Rated:
After releasing a self produced mini CD-r and a split EP with Penjaga Insaf the Italian dark ambient project, Vestigial is releasing through Cold Meat Industry its first full length album titled TRANSLUCENT COMMUNION. Thanks to the beautiful six panels digipack package (designed by Vestigial himself), you'll be able to start to experience Vestigial inner world. Evoking different kind of cultures and painting shades of a decaying world, the images are a perfect visual counterpart to the six tracks contained into the album. Based on light subtle melodies, few percussion parts, humming sounds, hisses, organ sounds, sampled vocals and synth pads the album creates an oneiric effect where titles like "Anthropic Uncreation", "The Coming", "The Geometry", "The Void", "Primordial Communication" and "Anthropic Resonance" make you think of a plan or of a presence of a re-creation process after the fall of the modern society. We'll try to discover something more into the upcoming CHAIN D.L.K. interview to Vestigial.
Artist:
VV.AA
Title:
Fairy World 4
Format:
CD
Label:
Prikosnovenie
(@)
Rated:
Gathering 17 bands of its roster and having 13 unreleased tracks, FAIRY WORLD 4 is the new Prikosnovenie compilation. Contained into a deluxe 20 pages color A5 booklet (containing artistic drawings and bands presentations) the CD offers a good view of what the label has to offer and also an indication of where it's heading. By reading the booklet there's a news about the label, they created four different divisions, each one dedicated to a kind of sound. Solaris is for the lovers of female heavenly voices and world music. Lunae gathers dark, melancholic, and romantic bands. Supernove is for the ones who like electro, pop, ethno and rock. Mandalia is for the relaxation and zen sounds. If you know only few of their bands of if you want to have a deeper view of what Prikosnovenie offer is, this budget compilation (it costs only 6.90 p+p included) is a good starting point.
First Milanese and then iTAL tEK, hard to say if up there at Planet Mu they've an explicit obsession for Pasta-Land or cause, in someway these moniker may sound exotic, I find it funny since while Anglosaxons look for exotic names the rest of the world choose anglophone monikers for their projects. As I've already said several times, Planet Mu at the moment is one of the best beat-driven electronic label, and Alan Myson won't disappoint the diehard fans of the genre. Elegant dubstep music with some soft-techno reminiscences and yes, an all british accent that generally makes the difference beside making it also more interesting. Some will probably find some interesting connections with Burial, melodic-wise it also reminded me of some early Black Dog but don't ask me why, since I don't think Myson has nothing to share with them. This cd has been in heavy rotation for a while right when I wanted to listen to some nice rhythmic electronic music, its structure are quite simple in a smart sense (equals not "poor"), the production is damn good and the global atmosphere is shady but not depressive. iTAL tEK's "Cyclical" is designed a real killer for classy clubs playing this style, but believe it or not I've been playing it during several night drives and the feeling was great. "Still shores" deserves the nomination as of of the best themes for night trips ever: bravissimo!.
Athana is a project coming from Stavanger/Norway where Alf Terje Hana and Arne Hovda freed their musical ideas and intuitions. Both of them have a background as musicians as Alf Terje Hanas has recorded and played with dozens of big Norwegian artists. Arne Hovda, has worked with artists like, Getaway People/Robbie Williams/Tim McGraw/Chris Barron plus many more. Their music is influenced by jazz as well as from pop but on REMIXED 05-08 something different happens. From an idea of Helge Olav Øskendal (a.k.a. HOH) Athana tracks have been remixed giving to the remixers the freedom to do whatever they wanted to. So, if the album opens with the dancey rock of "A-AA" remixed by Sternklang, it follows with the house/jazz reworks of Ost&Kejex. Mungolian Jetset's Cruusin' With The Henleys make sound "Ocean 0306" like a good Sting song. Uko Jürgen Nussbaum remix of "Luskesangen", instead, sound like a slow funk wave song sung by Chris Cornell. The approach change with Nes, thanks to a noisy break beat attitude which make turn a rock jazz track into something more interesting. Thing that Cüret brought to its limit by accelerating and looping little song parts and adding broken toys noises, etc. Also Vasøk preferred experimenting a little with noise and dub but the real challenge is to follow the hypnotic rhythmic loops that Qrt used for "Porten". Lingout, instead, light the bomb by providing a gabba distorted edit of "Alien elephants". The lovers of experimentation will appreciate the freedom the remixers had but I find that the album lacks of homogeneity for the one that didn't know the original versions.