Ambient / Electronica / Ethereal / Dub / Soundscapes / Abstract
Edit (4515)
A Danish band formed by A.REX and Niels Ladefoged at guitars & effects, and Peter Kyed at electronics and programming, plus a theory of guest musicians, Svartbag is presented by the Rump press-sheet as a spacerock/kraut/drone thing, and I don't know why my skin initially started to itch, expecting some gaudy, watered-down retro-freak rock. Luckily, Svartbag are really good at what they do, and know how to stop just a few inches before the kitsch border line. "Black Capricorn" opens the disc with ominous loops and sullen guitar lines, held together by a steady drumming - almost Neurosis-like, without the metal. The rest of the disc cheers up quite a bit, which could be a pity, but it's ecstatic in a demented kraut mode, so it's fine with me. "The Flutist", drenched in bleeps and guitar loops, evolves to some freaky '70's rock à la Neu!/LA Düsseldorf, while "Cairo" offers a nice angelic crescendo of drones and feedback and more loops. Svartbag's skills at constructing solid tracks become apparent in "Loop#9" (clean guitar strumming, an organ-sounding drone, subdued rhythms), which in this aspect reminds me of Tortoise when they were still good. "Billy Name" starts with a robotic rhythm and a guitar sounding like a jew harp, but then opens in a more traditional rock twang. A nice solid album throughout.
Ambient / Electronica / Ethereal / Dub / Soundscapes / Abstract
Edit (4512)
THE BRIDGESHADOWS IS A 3 PIECE BAND THAT HAILS FROM CHICAGO AND PENNSYLVANIA. IT IS A E PIECE BAND THAT IS TRUELY GOING TO MAKE IT ON THE DANSE FLOOR CHARTS. WE OPEN WITH TRACK ONE ~ FEEDBACK, A GOTHIC ELECTRONIC MELODY THAT MOVES LIKE WAVES ON THE WATER SETTING THE SCENERY FOR WHAT IS TO COME. BETHANY IS THE LEAD VOCALIST AND JONATHAN AND KL PROVIDE THE GUITAR. JONATHAN AND BETHANY SING, " GIVE ME SOME FEEDBACK " AS ELECTORNIC BEATS PROVIDE THE BACKGROUND TO THIS DARK ANTHEM SYNTHPHONY. THIS SONG WAS A PERSONAL FAVOURITE ON THE WHOLE ALBUM. WE MOVE ON TO TRACK THREE ~ COLD DAY IN HELL WHICH REMINDED ME OF A NICE EXAMPLE OF GOOD ETHEREAL MEETS PURE ENERGY. BETHANY SINGS, " IT'S A COLD DAY IN HELL ." A TRUE ANTHEM OF THE DAMNED AND A FEAR OF IT ALL." THIS SONG ROCKS HARD AND GOT ME MOVING IN MY SEAT AND LIVE WHEN I SAW THEM AT THE NITE LIGHT CAFE. MOVING STEADILY WE GO TO TRACK FIVE ~ WATERS RUN DEEP, A VERY TYPO-NEGATIVY TRACK THAT FLOWS LIKE THE WATER THEY SING OF. BETHANY AND JONATHAN SING, " LET THE RAIN FALL" IN THE GREAT PASSION AND EMOTION. TRACK SIX~ PRAY FOR RAIN IS ANOTHER TRACK THAT WAS BEAUTIFUL AND INSPIRING TO ME. A VERY METAPHORICAL WITTY TRACK THAT POSSIBLY WILL BE A DANSE FLOOR HIT, IF IT GETS THE RECOGNITION IT DULLY DESERVES. BETHANY SINGS, " ' DAY TO DAY I TRY IN VAIN, NOTHING DNE CAN CURE THIS PAIN, EXHAUSTED BY THE SAME REFRAIN, IN TH IS DROUGHT I PRAY, II PRAY FOR RAIN. JONATHAN SINGS DARKLY IN THE BACKGROUND, I PRAY FOR RAIN, LIKE A DARK ANGEL IN ACCOMPAINMENT. THE REST OF THE ALBUM HAS PROMISING TRACKS AND ALL IN ALL I TRUELY LIKED THIS BAND ESPECIALLY LIVE, CHECK OUT http://www.myspace.com/bridge_shadows, YOU WILL NEVER BE DRY BUT SATURATED WITIH HOPE FOR THIS NEW DARK FUTURE. ~ 4 STARS ~ MICHELLE TUSSO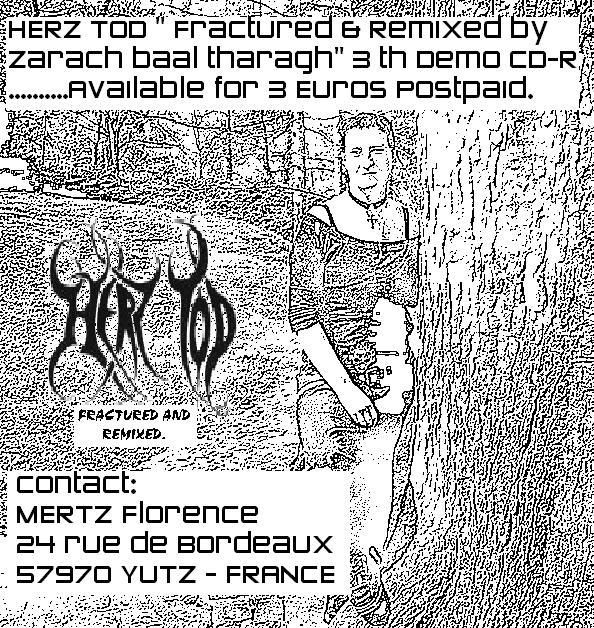 Artist:
Herz Tod
Title:
Fractured and Remixed
Format:
CD
Label:
Smell the Stench
(@)
Rated:
This is a review of Herz Tod's Demo III, which was Fractured and Remixed by Zarach Baal Tharagh (ZBT). ZBT is also known for his project, Stigma Diabolicum. This is Herz Tod's third release under Smell the Stench Records, and ZBT's eleventh--this is also ZBT's second Fractured and Remixed release. Both of these artists hail from Lorraine, France. There are seventeen tracks on this release, most of which are a minute long.

The sounds of Fractured and Remixed are both warped and crispa difficult polarity to establish. There is just enough ambience, and just enough activity, to cause the listener queasiness--much like floating down a calm river and having a nightmare of drowning at the same time. I originally chose this release for review because it was listed as "ambient." This is ambient, but it is ambient that demands attention.

ZBT's Fractured and Remixed version of Herz Tod's Demo III is ambient music for people with Attention Deficit Hyperactive Disorder (ADHD). As often seen in people with ADHD, the content is always interesting and keeps the listeners on their toes, but the tracks also end abruptlywith the listener still on their toes. These tracks are definitely fractured, but not enough to detract from the quality or dynamic of the sound.
Artist:
Za Frūmi
Title:
Legends act 4 - Orders
Format:
CD
Label:
Waerloga Records
(@)
Rated:
It took almost four years between "Legends act 2 - Vampires" and "Legends act 3 - Cults". "Legends act 4 - Orders" is released on the same day as act 3 and it gives you even more in depth and varied music. Both albums are creating a smorgasbord of a total (11 on each) 22 delicious songs and the ones on this album impress me even more than on act 3 and that says a lot as I loved that album.

This release is a revelation. Za Frûmi is of the highest artistry. Fully in control of this difficult material, Za Frûmi has the technical equipment to let the music speak without impediment.

It is obvious how passionately the duo are with their music and how much of perfectionist´s they are. With this amazing album, Za Frûmi fully takes the plunge into the heady mix of musical traditions. Calling it"haunting" and "atmospheric" barely scratches even the initial surface of the album's power.

Za Frûmi evokes emotional esoteric and mystical life from nothingness. Deeply rooted in several historical traditions raging from (as far as I guess) Western European middle age, Eastern European folk and even Middle eastern intonations and incantations, Simon Kölle's voice draws the music up from a somber state, giving birth to an almost emotional drama.

The song titles are names of secret Orders in the world of Za Frûmi, a world the band seem to build up more and more which in itself is kind of unique, references to Latin, choirs, and other touches that make the album sound like it was recorded in an immense ancient cathedral. Or maybe in great mystical halls of the orders themselves.

While the elements being drawn on are certainly of an older range, the results owe as much to the technologies of arrangement, mixing, sound effects and production and a consciously cinematic feeling as much as they do antique pasts. Similarly, the feeling is not simply European but worldwide, with Kölle´s glossolalia intentionally reaching beyond easy understanding.

The overall feeling is of an great dark ancient religious service come to life with all kinds of dark soundscapes, strange instruments and some electronic , has stunning results.

If you already know Za Frûmi you must buy this CD. If you don´t know its music, try to imagine the best among fantasy film soundtracks such as LOTR with a varied instrumentation and with even more depth than the soundtracks. With the help of this magnificent album you create the"film" with your imagination.

I go so far to say "Legends act 4 - Orders" is the album of the year 2008 (so far).

This recording gives new hope to the continuance of Za Frûmi´s rich legacy.



Artist:
Za Frūmi
Title:
Legends act 3 - Cults
Format:
CD
Label:
Waerloga Records
(@)
Rated:
The first thing that strikes one when hearing this album is how at home Za Frûmi is with the music. There is a palpable affinity with the rhythmic complexities, an ease with the difficult shifts of mood and tempo. The Vocals are very intimidating and sometimes (such as on "The Cult of Helzichor") beautiful. The music is harsh but not all the tracks. Some are complex and filled with extraordinary sound effects and intriguing music techniques.

The mood is constant and the always present dark fantasy feel is as good as it gets at times. I really enjoy the tracks that break off from the obvious apocalyptic sound like for an example with "The Cult of Mortalis". That´s when you hear the depth of Za Frûmi!

"Legends act 2 - Vampires" was all about the vampire and all what those stand for. The music this time out is much more aggressive...and more engaging. In comparison to the former albums in the series the music on "Cults" features a darker, more intense, and more fully developed "personality"... as well a greater number of action/suspense pieces. Apocalyptic moods, murderous sects of blood are what this album is all about!

"Legends act 3 - Cults" descends sometimes from the duo's usual nether atmospheres into a realm of tribal percussion and chant, casting a comprehensive net over various world music traditions. The tribal drums and the various interesting world music instruments used (as it seems it´s most of all not electronic instruments) are great.

One of the best surprises of the albums is the previous mentioned song "The cult of Helzichor" as it completely changes the style but yet feels true and not at all wrong. Very good.

Low male choir, deep percussion erupting with rambunctious brass and horns are present in many tracks. The album is more than action and tension as some of the tracks are creating "worlds" with the help of sounds, moods, chanting and invocations which Za Frûmi is so incredibly good at doing.

This is a must for all of you into dark ambient and all you who like world music bands such as Dead Can Dance.