image not
available
anymore
A new signing and addition to the SkullLine roster hailing out of the United States. And as usual for SkullLine also CHAOTICUM can't be thrown simply into one specific style, because they play a sort of Experimental music, which integrates excerpts out of different music styles between Ambient, Psychedelic, Classic and mid-80ies Electronica. Not that usual form of a static Ambient droning sound outfit, here's action through additional drum programmings placed over the improvisational sound sculptures. Some fragmented vocals are joining the scenario here and there, too ("Caress", or even more ominous on "From Now Unto Eternity"). The spooky "Occultique", which can be also be heard on the SkullLine compilation "Bewein Dein Mädel" is featured as well and seems to be one of the favorites on here. Quite diverse interpreted, although it is favorable that the above mentioned different styles are in your vein, so that someone can be impressed with this musically excursion. Strictly limited release to only 69 exemplars, you've got to hurry up to pick it up directly from SkullLine.


image not
available
anymore
There seems to be some intellectual background behind this project, since the term "Tzolk'in" shall describe the mesoamerican 260-days calendar of the Maya civilization. However, what counts is the music, and the project TZOLK'IN can refer the band members of the Belgian EMPUSAE and the French FLINT GLASS to its roster. So this new and second TZOLK'IN full-length album after a debut signed to Dive Comedy, isn't that sort of your usual Ant-Zen release. It comes out lesser distorted and it rather concentrates to perform with several percussion layers and a decent Ambient/Electronica mood – somehow a release which would fit with the latest efforts of the rising Tympanik Audio label. Even if this music and the existence of this mutual project draws its inspiration out the doomed and gone Maya civilization, the result is a rather brooding and Sci-Fi-related outfit, but with an amazing doze of creativity included. And even if the melodic content is easy-listening minded ("Muwan"), the music of these talented artists is sort of an epic outfit. Some really fine tunes asides the usual noise therapy, and another safe 4-stars rating for Ant-Zen.
image not
available
anymore
A new DCD compilation set by the German SkullLine mail order service, which is pretty much dedicated to present you a wide-ranging overview through different rather underground-based music styles. Even if this compilation and ist participants follow pretty much a mutual main and Military-based theme (dedicated to document the loss of women during the world wars), the music remains diverse. Be it Military, Neo-Folk, Minimal, Electronica or Dark Ambient – you'll get it all and complete. And almost all of the signed label artists of SkullLine are featured on here, too. One of them, GRABSTEIN opens this comp with a Dark Ambient-tune, which follows after a sampled classic introduction. IN SCHERBEN stands for clear Neo-Folk music, while PARA-DIOXIN offer harsh and minimal Electro-Powernoise music. CHAOTICUM, a newcomer to SkullLine offer an extra-ordinary mix between Ambient, Experimental and Psychedelic elements and that rather on DIVE-related tune of BLEIBURG featuring Russian voice samples is one of the best tracks this act has produced so far! AYWASSCREAMING convinces with a staccato-like rhythm work wide driven in the stereo field and voice samples related on a battle at WWII at Sewastopol. The productive duo of TRITON 83 is still one of my personal favorites of the SkullLine roster, this new track "Alptraum" reminds strong on some classic recordings by PIERREPOINT for example. GENOCIDE LOLITA, well behind the cool band name hides a US-based project offering an Ambient/Experimental tune featuring a harsh and overdriven vocal performance. CD 2 starts with the Italian ZR.19.84 project with a new tune, and that harsh Japan-Noise-like tune of KADAVER – "Heart-Shaped Torture" doesn't take prisoners. Dark and ominous growling Dark Ambient pieces you'll get offered by both MANIFESTO and ZYANKALI, while the international known act FORTHCOMING FIRE offers a smooth and danceable Electronica tune. More and more Ambient tunes are following, some with Noise infiltrated (NOCTURNE, B-MACHINA, but all of them with that thematically fittig Military thing. Last but not least also KREPULEC, an act we had presented on here with an interview is featured as well und closes this satisfying DCD set. Nearly 150 minutes of exclusive music out of this wide field of different styles – this compilation reminds a lot on the last years "New World Order" compilation by the German collegues of Thonar Records. As usual it comes out strictly limited and only available at SkullLine directly, be it a normal 200 exemplar-edition, or the strictly limited release to 100 exemplars (including a special bag).

Track list:

CD1:

01. Grabstein - Kraft durch Freude
02. In Scherben - Ein letztes mal
03. Para-Dioxin - 1942
04. Kenji Siratori - Nietzsche Girl
05. Chaoticum - Occultique
06. Bleiburg - Mirogojske Svijece
07. Aywasscreaming - Sewastopol Bunkerlinie
08. Riccardo Z. - Einsamkeit
09. Triton 83 - Alptraum
10. Melek-tha - Le triumphe de la volontée
11. Waffenruhe - Todgeweihte (BDM Version)
12. Hybryds - White Snow (excerpt)
13. Heiliges Licht - Crime Against Humanity
14. Stormfagel - Mitt Hat (Fritz version)
15. Genocide Lolita - Bilderberg Silent Order
16. SnowWwhite - Der Fruehling

CD2:

01. Zr19.84 - Non Un Passo Indietro! (CCCP)
02. Kadaver - Heart shaped torture
03. Kammer Sieben - Altes Lied (piano) Musik: Butow Maler. Text: Heinrich Heine.
04. Rose Rovine E Amanti - False Priests and Homo Nazi
05. Manifesto - Discipline
06. Zyankali - Evakuierte Zone
07. Forthcoming Fire - Achtung Achtung (wir kommen wieder)
08. I Hatt einen Kameraden - Feilds of Honor
09. Der Feuerkreiner - Sie gehen daher wie ein Schemen
10. Nocturne - Winifred Wagner
11. B-Machina - Willkommen zur Gewalt
12. Lifes Decay - Orguanium
13. B.L.O. feat. The 120 Days - End Of The Game (Baader-Meinhof_Mix)
14. Exemtum - Infestus
15. The Pride of Wolves - Will you?
16. Fourniersches Gangraen - Steyrermühlener Klangdruck
17. Krepulec - Warschauer 1944


Ambient / Electronica / Ethereal / Dub / Soundscapes / Abstract
Edit (4488)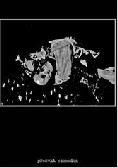 Artist:
.Prodvkt.
Title:
Obsession
Format:
CD
Label:
Smell the Stench
(@)
Rated:
Obsession is a CD-r release from Smell the Stench Records, packaged in a DVD case with a black and white insert. The insert discloses nothing about the band or this album, except for a web address and a picture of Death. The album, Obsession, includes six tracks ranging from four to fifteen minutes.

.Prodvkt.'s Obsession is an incredibly visual album. It is built of extreme minimalism; deep, droning sounds float through a comforting chasm searching for some outlet or home. Electricity flows and whirrs throughout the thick astral layers of this release, echoing into the void that consumes every moment. Obsession is a very good release for meditation; even the most abrupt sounds are quickly and fluidly assimilated into the droning depths of emptiness.

I honestly know nothing at all about this band, .Prodvkt., and I did not realize how much that lack of knowledge upset me until I listened to Obsession. Obsession is the epitome of good dark ambient: Powerful, yet subdued. This release is just as unsettling as it is soothing; if Obsession could manifest itself as a physical location, I would like to go there to die. Alone.


image not
available
anymore
Artist:
VESTIGIAL
(@)
Title:
Translucent Communion
Format:
CD
Label:
Cold Meat Industry
(@)
Distributor:
Audioglobe
Rated:
After releasing a self produced mini CD-r and a split EP with Penjaga Insaf the Italian dark ambient project, Vestigial is releasing through Cold Meat Industry its first full length album titled TRANSLUCENT COMMUNION. Thanks to the beautiful six panels digipack package (designed by Vestigial himself), you'll be able to start to experience Vestigial inner world. Evoking different kind of cultures and painting shades of a decaying world, the images are a perfect visual counterpart to the six tracks contained into the album. Based on light subtle melodies, few percussion parts, humming sounds, hisses, organ sounds, sampled vocals and synth pads the album creates an oneiric effect where titles like "Anthropic Uncreation", "The Coming", "The Geometry", "The Void", "Primordial Communication" and "Anthropic Resonance" make you think of a plan or of a presence of a re-creation process after the fall of the modern society. We'll try to discover something more into the upcoming CHAIN D.L.K. interview to Vestigial.