image not
available
anymore
Tympanik Audio's "Emerging Organisms: Hidden Forms Compilation Series Volume One" is a very interesting two disc compilation that beats Nine Inch Nails's "Ghosts" to the punch with its brand of ambient/industrial soundscapes from artists such as Rekt, Flint Glass, Lucidstatic, and Nebulo. The compilation offers a mixture of traditional ambient compositions, clanking industrialized rhythmic tracks, and instrumental EBM and IDM pieces. The nice thing about this compilation is that while it is comprised of contributions from different artists, the collection as a whole has the cohesiveness and flow of an album put together by a single artist. What is most impressive about this compilation, aside from its nice packaging, is the fact that it sounds surprisingly fresh and new, which is a major accomplishment given that so much of the "new" EBM and IDM being put out are bland and uninspired throwbacks to :Wumpscut: and Leaether Strip circa 1998. Instead, the contributions on this compilation infuse these two dying genres with hints of classical, musique concrete, and electro jazz, which is why the young Tympanik Audio has been able to build a reputation as a leader of innovative electronic music. In sum, if you are looking for some good instrumental EBM and IDM that thinks outside of the box, then Tympanik Audio's "Emerging Organisms" compilation is the record for you.
Ambient / Electronica / Ethereal / Dub / Soundscapes / Abstract
Edit (4233)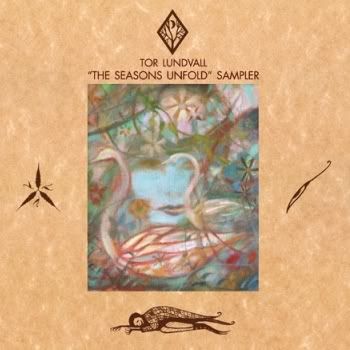 Artist:
Tor Lundvall
(@)
Title:
"The Seasons Unfold" Sampler
Format:
CD EP
Label:
Strange Fortune
(@)
Distributor:
Strange Fortune
Rated:
This four-track teaser presents alternate versions of songs from the upcoming 4-CD box set entitled "The Seasons Unfold." The selections on this sample are rich, contemplative pieces that offer a glimpse into Lundvall's benevolently haunted world. His "ghost ambient" style is only slightly somber and not the least bit frightening. On the contrary, these songs are very mellow and comforting. Whir (Mix #2)' is a short, lovely instrumental featuring gentle piano riffs dancing within a slowly swirling thicket of fuzzy, cascading tones. The second track is an alternate version of "29," with softly intoned vocals and tolling bells that beautifully augment the slowly unfolding melody. "The Backyard" is slightly more upbeat than the others, with a dirge-like verses sharing time with a repeated musical refrain. Another instrumental, "November's Fields," closes out this track with a delicately isolationist touch. This sampler is remarkably gripping, considering its brevity (just over 15 minutes), and yet Strange Fortune is literally giving it away – while supplies last, you can request a free copy with any order you place on their website! I'll be anxiously awaiting the release of the box set.
Ambient / Electronica / Ethereal / Dub / Soundscapes / Abstract
Edit (4229)
image not
available
anymore
Artist:
Everest
Title:
Velocell
Format:
CD
Label:
Everest records
(@)
Rated:
This small label from Bern, Switzerland, keeps putting out interesting electronic music CDs that almost sound more British than Swiss, in a way. It's not that I was expecting an alp horn or something like that, however, this record could be a Warp release and nobody would blink.
Everest (the band; not sure whether these are the same two guys that run the label or if is just a coincidence) do sculpt their own minimalistic mellow glitch-electronica sound climbing to the peak of their sonic vision via gentle low pitched pads and chords and sputtering intermitting hi pitched bits of sounds. These seemingly incongruent and disjointed elements are glued together by lush and expansive layers of sounds and ambiance noises. In its humble and isolationist way, Everest is pretty solar and zen-like to say the least. The occasional low volume jackhammer or more vitalizing slowed breakcore drum pattern might interrupt this peaceful vision of harmony, but overall the record manages to be exciting without ever fully abandoning is burgeoning and hovering state.
Ambient / Electronica / Ethereal / Dub / Soundscapes / Abstract
Edit (4228)
image not
available
anymore
Artist:
Qebo
(@)
Title:
Wroln
Format:
CDS (CD Single)
Label:
Low Impedence
(@)
Rated:
Qebo's second outing "Wroln" offers the traditional glitch bill of fare of erratic beats and digital noise that drops in and out of time in random intervals. "Wroln" can best be described as a combination of Alec Empire's Gameboy pieces and Aphex Twin's faster paced tracks from "Drukgs, which is very interesting concept in and of itself. However, the problem with "Wroln" is that is has no variation in that every piece sounds the same; having the same out of time rhythmic pace, digital effects, and buildups. It would have been nice for this album to have some ebbs like an ambient piece or digital noise collage or even a mixture of tempos. Instead, what you have is album that sounds fresh, innovative, and cool right out of the gate, but quickly becomes tiresome and dull to the point where it is difficult give the album a complete listen.

Artist:
ERIK LEVANDER
(@)
Title:
Kodens
Format:
CD
Label:
Rumraket
(@)
Rated:
Active since late nineties with different projects and at the second solo full length album, Erik Levander is a Danish guy who is presenting to the lovers of minimal sounds his newest album titled KODENS. The new album took almost four years in the making and different compared to its first version (the hard disk of Erik's pc crashed and he lost almost everything), KODENS is a mix of melancholic atmospheres, glitch mayhem and ambient intuitions where also acoustic instruments are used (see the main clarinet part on "Manen viskar" or the piano track "Tribut"). Creating a thick web of sounds where light noises and bleeps crashes and die just to find a new form/life, Eric gave form to a complex structure which sometimes is difficult to enjoy at a first listening and it's difficult that it would be enjoyed by people who don't love i.d.m. or experimental stuff. Anyway there are tracks like "Kvad" that immediately are able to catch your attention thanks to the little melodic lines which give more power to the intricate sound structure while others like the opening "Sekund" sound too intimate.