image not
available
anymore
Artist:
FREDERIK KLINGWALL
Title:
The Resilience
Format:
CD
Label:
Last Entertainment
(@)
Distributor:
Code 7 Distribution
Rated:
The first time I listened to the second Fredrik Klingwall album titled THE RESILIENCE, I though: "wow, people should file this one under chamber music for the killed ones". I know that this could be reductive for a record but it fits really well the atmospheres of the album. Fredrik is really good at creating orchestral neo-classical suites that could be perfect for movies (he's for sure inspired by Danny Elfman's style of creating decaying/melancholy/horror suites). Active with many Swedish projects (Anima Morte, Desultor, Flagellation, Loch Vostok, Machinery and Rising Shadows) during the last twelve years, Fredrik worked a lot on his style and improved his skills into the writing of piano/orchestral dissonant and dramatic pieces. THE RESILIENCE collects thirteen tracks wrote during the 2002÷2004 period and tracks like "Opening" or the following "The uninvited" recalled me Elli Riehl but without the vocals (have you tried their album released two years ago by Punch Productions?). If you love tense and dark atmospheres good for old German movies try this one. You could also check it by downloading it for free at the label's website but then if you like it, purchase a copy!
Ambient / Electronica / Ethereal / Dub / Soundscapes / Abstract
Edit (4653)
Artist:
Integral
(@)
Title:
Rise
Format:
CD
Label:
Tympanik Audio
(@)
Rated:
On "Rise" the German duo Integral develop a very balanced mixture of ambient and IDM that is both touching and unsettling at the same time. What is really great about the album is that Integral are not afraid to let the ambience drive the tracks, as opposed to a lot of IDM that goes to a bit too overboard with the complex multi time signature beats. And indeed the strength of Integral is its tasteful use IDM beats and effects, as opposed to artists like Otto von Schirach whose music sounds like a rhythmic mess of break beats and bodily noises. For me the standout track on "Rise" is "Doors" which utilizes screeching sounds to create a beautifully evocative effect that I must admit lifted me from the doldrums. All I can say is that it is one of those rare tracks that makes the hair on your arms stand straight up. Similarly, "Back Here Alone" is another beautifully done track that shifts from violent bursts of power to simplistic moments of silence. These two tracks are only a few of the highlights of what is an extremely solid album from start to finish. When listen to "Rise" you get the feeling that this is going to be one of those albums that ages very well and will probably sound as fresh in five or ten years as it does now. Additionally, it's probably one of the best uses of crustacean on a album cover that we will probably see for a while.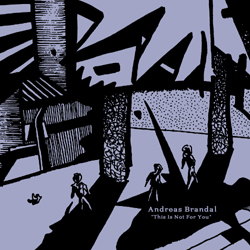 Artist:
ANDREAS BRANDAL
(@)
Title:
this is not for you
Format:
CD
Label:
Eh?
(@)
Rated:
This one gets my vote as one of the best works I've heard on Eh?/Publiceyesore records so far, and I see this artist has done many other releases beside having took care of the drawing of the front cover that reminded me so much some layout from mighty Ebullition records during its heydays. Differently from Downcast or Amber Inn, Andreas Brandal has probably nothing to share with hard core and his music even less, being on Eh? you may have guessed it's an experimental work, but though the whole catalogue of this cdr label is quite varied, this one is quite particular. We're talking about a deep drony-ambient work but don't expect all of the songs sound in the same way, as I've said beside the stylistical "trait d'union" linking all of the tracks sometimes becomes really personal like in the fourth track where you've this weird "bell/vibraphonic" sound that goes on slowly like a slug for the most of the song while you have some melodic-cathartic melody depicting a scenario on the background. Some strange dissonance colored thanks to some drones create an odd atmosphere which links most of the tracks. Be it I've been listening to it several times at the end of the day, but I think that's the proper time of the day in which you can appreciate the most such a release. Andreas Brandal is really minimal but the music he composed is really intense and sometimes desolated, I can even image it could help a movie reaching the climax right when the protagonist is lost in the depth of a forest. A nocturne release which doesn't mean dark but just nocturne.
image not
available
anymore
Artist:
FOR GREATER GOOD
(@)
Title:
For Greater Good
Format:
CD
Rated:
Mixing elements of neo-classical, post industrial, dark ambient and neo-folk music For Greater Good are presenting their first full length album which contains ten tracks. Created as a sort of soundtrack for nowadays life the album succeeds into spanning through different kind of feelings using for each track a different approach. If "Distress" has an electro industrial rhythmic section combined with neo-classical strings, "Rush hour" is a melancholic piano ballad with vocals, orchestral inserts and traffic noises. "Le judgement de roi en jaune" has dark melodies and neo-classical elements while the following "De to fabula narratur"is based on ambient synth sounds, light choirs and electro-industrial rhythms. The closing "The mechanist", instead, changes everything by presenting a piano/orchestral suite that recalled me the Wim Mertens tracks. If you want to try a different approach to the aforementioned musical genres try For Greater Good.
Ambient / Electronica / Ethereal / Dub / Soundscapes / Abstract
Edit (4636)
image not
available
anymore
Artist:
Paul Bradley & Cría Cuervos
(@)
Title:
Moraines II
Format:
CD
Label:
SmallVoices
(@)
Distributor:
Twenty Hertz
Rated:
"Moraines II" features a re-work of "Moraines" (2006 - Twenty Hertz/Sileat) and a remix by Andrew Liles. "Moraines" sounds went to a major re-process here. Cria Cuervos recordings' are more distinct and fit better with the drifting drone layers made by Paul Bradley. The whole track gains also in brightness, they made me think of getting lost in mysterious organic planets like the one in Herzog's "Great Blue Yonder". The previous "Moraines" was rougher and you couldn't distinguish the sounds. A good setting to tickle your brainmeats with this one, would be a slightly illuminated room and headphones (not necessary, though). Liles' contribution is absolutely brilliant - it is a plodding re-mix ending with a spectral piano in an appropriate dark avantgarde Organum-like sound. A quiet droney journey to "sooth away the pain"...