image not
available
anymore
Artist:
HPC
Title:
Halfbreed
Format:
CD
Label:
Hymen Records
(@)
Distributor:
Ant-Zen
Rated:
This is another fine proof of the talent scouts behind the Hymen Records label – they listen behind the current styles and trends and come up here and there with some unexpected new signings. HPC is a Norwegian one-man project, which integrates some fine extracts out of Dark Ambient, Powernoise and danceable Electronica music to a musically culmination banished on this first debut album. With the additional sense to integrate some soundtrack-like movie samples, this one comes out as a moody rival to the currently best acts available on a label like Tympanik Audio – band projects like ZENTRIERT INS ANTLITZ, STENDECK or BROKEN FABIOLA are allowed to name for comparisons. Besides the rhythmic-oriented tunes like "Dissociate", "Machine" or "Run", this album too offers rather weird tunes drifting far away of your usual listening experience. Just check out the interrupted "Fond Memories", which sounds like a defective vinyl record repeating a phrase over and over again. An act not to underestimate, let's look forward for any further quality releases of this fine band project.

Artist:
FRACTIONAL
(@)
Title:
Still Life
Format:
10"
Label:
The Centrifuge
(@)
Rated:
Released one year after their latest album titled "Come mierda", Fractional are back with a new 10" E.P. (which is also downloadable as free mp3s from the label's website) titled STILL LIFE? The release contains four new tracks titled "Acomba", "Tasw", "Lula" and "Aeu". These tracks present a slight different side of Fractional sound as they are less industrial and "neurotic" compared to the album ones but nonetheless dub and breakbeat are always two important influences (only "Aeu" is the one that remember the album's tracks because of the fast breakbeat rhythms). On the new tracks it's like if Pierre Remy succeeded into balancing the different elements without being too aggressive and the result is a great blend of cinematic sounds/atmospheres with more melodies (see the opening "Acomba" where vocal samples duet with keyboards while bouncing rhythms create a multi layered web) and ideas. Sounding also more tribal than before Fractional new tunes will convince you immediately at the first listening!
Ambient / Electronica / Ethereal / Dub / Soundscapes / Abstract
Edit (5176)
image not
available
anymore
Artist:
VIOLET
Title:
Violet Ray Gas and the Playback Singers
Format:
CD
Label:
Sentient Recognition Archive/Zeromoon
Rated:
If you're remotely familiar with the US post-industrial underground spawning from cassette culture and later cdr labels, the name of Jeff Surak (Watergate Tapes, New Carrollton, V., Zeromoon label) will certainly not sound new. After years of low-run editions, this looks like a major release for his solo project Violet, and comes in a nice 6-panel digipack, with a layout that incidentally reminded me of Pere Ubu, or some obscure tape release. B/w pictures, stark xerox contrast, a depressing urban landscape, get it? The deep underwater drones of "Marionetki", swept away in the very last minutes by roaring distorted tones, surely bear traces of Surak's background, the seminal - if not always acknowledged - (non-)style of US post-industrial (Illusion of Safety, early O'Rourke, the Sound of Pig imprint etc.). But "Violet Ray Gas..." is generally a brighter, if moody and thoughtful, experience, where the dusty loops of old vinyls half-bury distant melodies ("Plague Numbers", "Snakehead Lapping"). Not far from Stars of the Lid, the last - and stronger - tracks are variations on string-based slit wrist melancholia: the bowing in "Violet Ray Gas", still recognizable and just streaked with electronic treatments, is transfigured in a lush droning mass in "Interior Ghosts".
Ambient / Electronica / Ethereal / Dub / Soundscapes / Abstract
Edit (5175)
Artist:
GENERIC
Title:
Torture
Format:
CD
Label:
Fractured Spaces Records
Rated:
You must admit that choosing "Generic" as a monicker and titling your debut cd "Torture" is a bit risky, but UK artist Adam Sykes is no absolute beginner either, given he ran the Iris Light label from 19967 to 2007. The six untiled parts forming the album are a sort of time warp to '90's Cold Meat-influenced industrial ambient. "Torture" is entirely loop-based, generally mixing some repeated metal clanking or scraping with a bass-end drone, and not much else (some Gregorian chant here and there, yep). It's like Aube at its most minimal jamming with the aesthetics of, say, Archon Satani or Stratvm Terror. The sound quality is quite muddy and lo-fi, as if this was recorded in some dank cell, and considering the cd was mastered by Osman Arabi I assume it is a deliberate choice. While surely being no masterpiece, "Torture" has a droning quality I like and shows a faithful devotion to a totally untrendy style (unlike much revamped "old school industrial") which oddly makes this sound like a relic.
Ambient / Electronica / Ethereal / Dub / Soundscapes / Abstract
Edit (5172)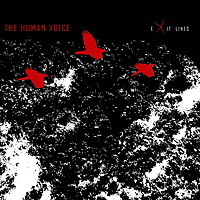 Artist:
THE HUMAN VOICE
Title:
Exit Lines
Format:
CD
Label:
Eibon
Rated:
The Human Voice is Haerleif Langas from Norway, best known for his activity as Northaunt. The laconic liner notes state that this is "a document of days and nights of inner turmoil". If you manage to ignore the jarring filtered vocals that are used on a number of tracks, "Exit Lines" is a solid album of sober piano/keyboards-driven ambient music in the vein of Yellow6, late Pan American or good old Eno ("Mausoleum", "The Ghost of Our Love"). Melancholy is the key word - a quietly blue feel which only occasionally becomes despondent ("Det Skjer, Ditt Ansikt Vendes Mot Morket").