image not
available
anymore
Artist:
Access To Arasaka
Title:
Oppidan
Format:
CD
Label:
Tympanik Audio / Spectraliquid
(@)
Distributor:
Ant-Zen
Rated:
This is an US-based newcomer-act, which has lately caused a lot of euphoric reactions through some breathtaking remix contributions for acts like ZENTRIERT INS ANTLITZ, TOTAKEKE or APHORISM. The long awaited official debut release for ACCESS TO ARASAKA is out now, and it features all good ingredients, an interested listener of modern IDM/Ambient/Electronica would like to expect. At first it does good to see, that intercontinental collaborations between two labels are possible – especially in this kind of music. "Oppidan" will be released as a mutual project by both, Tympanik Audio and the Greek Spectraliquid label and let's hope the best, that this initiative will pay off for all involved. Musically, "Oppidan" is a high complex IDM/Electronica-album, which draws possible comparisons under the formula "GRIDLOCK meets HEQC". What sounds so simple with this courageous comparison, is by far lesser easy than expected. It is the sci-fi related mood pressed into the music, the pad- and sweep-sounds are cold as ice and fragile to the same time. This moody scenario gets crispy penetrated by the broken rhythm structures, which includes several clicks n' cuts, breaks and interrupted beats. It's hard to figure out the highlights of this fantastic soundtrip into a possible next future, I therefore recommend to check this album completely under a good pair of headphones. ACCESS TO ARASAKA are reaching a target, which only seldom can be reached by comparable acts out of this genre – this project sounds authentic. Congrats to both labels for this mutual release, but also to the artist for offering such a demanding, but highly attractive album.
Ambient / Electronica / Ethereal / Dub / Soundscapes / Abstract
Edit (5461)
Artist:
Voice of Eye
(@)
Title:
Seven Directions Divergent
Format:
CD
Label:
Conundrum Unlimited
(@)
Distributor:
Conundrum Unlimited
Rated:
Voice of Eye is the duo of Bonnie McNaim and Jim Wilson that stated in Houston, Texas in 1989 and later removed to Talos, New Mexico. You wouldn't expect music like this coming out of either of those locations, but then again there is nothing normal' about Voice of Eye. I am familiar with project from their excellent Vespers' CD from 1994, and did not realize they have at least 16 or 17 other releases on CD, CDR, cassette and vinyl. Most of them are limited and difficult (maybe impossible in some cases) to find now. I was really happy to receive their latest effort to review.

As Vespers' is my only real basis of comparison for the work of Voice of Eye, I will have to use that as a reference point. On that CD Voice of Eye's music was mostly dark ambient soundscape with a tribal undercurrent. Very atmospheric, somewhat along the lines of Steve Roach and Vidna Obmana, and most of it too dark to be mis-classified as New Age. It is an excellent work, one of the best dark ambient albums of the 1990's and well worth owning if you can find it. I honestly don't know how they achieved some of the sonics they came up with on Vespers', it is that mind-bending at times. You not only get the impression of vast amounts of space, but it also conjures images of alien landscapes and primeval entities. Very cool.

Seven Directions Divergent' is different though. And not in a bad way either. In fact, what Voice of Eye has done on this new album sets them well apart from so many other artists. The album opens with a strong dubby track ("Gates of Mysterious Fire") that recalls elements of krautrock, Frippertronics, Gong (the band, not the instrument), Pink Floyd, space-rock, psychedelia, and related. Bonnie's vocals (I assume it is Bonnie singing) are wispy, ethereal tendrils of enchanted mystery, beckoning the listener ever onward and inward. What amazes me is the statement on the CD: "All sounds are acoustic in origin. No synthesizers were used." It wouldn't matter to me if they did use synthesizers, but achieving this without them is simply incredible!

The track that follows, "Where are You?" keeps the music in the spacey realm while employing processed acoustic guitar, again with vocals by Bonnie. Although it could be considered a song, you get more of a certain "feeling" rather than anything traditionally resembling a song. "Fish Radio" is immersed in a swirl of psychedelic ambience and space-burbling. It seemed kind of transitional to me; perhaps the least engaging track on the album. That was immediately transcended by "Golden Space Funk Transmission". We're really getting into space-rock territory here. Imagine the spacier elements of Hawkwind, Amon Duul, Ash Ra Temple, Ozric Tentacles, etc., and you get the drift. It could almost be called progressive in a way; there are certainly some progressive touches incorporated in the changes but it never strays into jazz or classical territory the way so many progressive rock bands did. Drums are there pumping the rhythm along but subdued; with all the cosmic elements at the forefront. How the hell was this done without synthesizers? It boggles the mind.

Eastern-themed overtones appropriately set the mood on "Om Shanti," with spiritually soothing vocals blended into the mix. If you listen to a lot of ambient chillout music, especially from the post-new age halcyon days when it seemed like there were so many compilations being put out you couldn't keep up with them, then this should be familiar terrain. But this track is a cut above most of what passed for Eastern-Ambient back then.

"Remember" is a track that is much more a traditional song. Male lead vocals and acoustic guitar with psych ambience. Pink Floyd meets Pink Dots. It might make you think of Mercury Rev or Flaming Lips, but really better than either in capturing the essence of the psychedelic song form, in my estimation. Final track "Transformational Birth" heads off into deep ambient space for a little over eighteen minutes of cozmic bliss. When you return back to planet earth, you may not remember it all, but you WILL remember it was good. Very good. I recommend this as a strong buy. Even though I listed their main website in this review, go to the Voice of Eye MySpace site and listen to some of the tracks from this CD. If you're not blown away, I'd be very surprised.

Ambient / Electronica / Ethereal / Dub / Soundscapes / Abstract
Edit (5453)
image not
available
anymore
The most spontaneous analogy you'll be tempted to establish after listening Robo Ghost, the second full-length album by the Scottish band Keser, could be the one with the most recent issues by Boards Of Canada (maybe �cause they come from the same country and especially if you notice the ethereal flow marking their sound) or if you'll linger over their post-rock nervations, you could easily try a comparison with Mogwai or Bark Psychosis. There're surely both of them among the recipes of the delicious musical dish cooked by the bassist and keyboardist Gavin Clark and the guitarist and keyboardist as well Kevan Whitley (for instance if you have a listen to the drum programming of Diablo Canyon 1 '" as well as its drilling guitars... -, you could easily recognize the syncopated pattern and even the airy reverb on claps BOC widely used in many tracks of The Campfire Headphase), but the way Keser interweave guitar with crystalline and peaceful electronic sounds reminds to us some solo experiments by Robin Guthrie '" the famous composer behind some of the most known Cocteau Twins melodies - and the mesmerizing brightness of Ulrich Schnauss' sonorities and ambient chilling suites as well as some interesting new proposals coming mainly from UK labels combining pacific soundscapes with complex and geometric rhythmical patterns (Bauri, Benge, Monoceros, Cathode, Metamatics to name just some of them mainly spread by labels such as Expanding, Mego or Hydrogen Dukebox), whose patterns have been partially reflected by German ~scape some years ago (introducing an interesting way of treating sounds, formerly photographed on some interesting releases such Staedtizism series) as well.


By the way Robo_Ghost (available both on cd and digital download) is mainly an instrumental workout indeed, including a plenty of remarkable highlights, whose emotionality will whisper something to your soul throughout the seemingly muted language, that tickling lovely melancholy springing from the flowing pleated blanket of this Robo_Ghost will move your mind towards a likeable reverie or re-activate some forgotten circuits of your soul and we don't exclude the possibility that some listeners' mind sight could swim into an ocean of tender memories and feelings such an adolescent pure love or a sweet reverie on the seaside of an happy-go-lucky undefined time... . The album could ideally be divided into two parts, being the first one more eclectic and full of electronic textures while the second one is more poppy even if equally emotional with some interesting tracks such as the moody 3 Point Play (Set Piece), a sort of Hindemith-like skinny symphony traced by a glimmering string section ending in a poignant piano melody, which is going to let some forgotten emotions re-emerge from the store-room of oblivion... You'll easily enjoy the imaginative(and customizable) glide Keser's music will easily cause!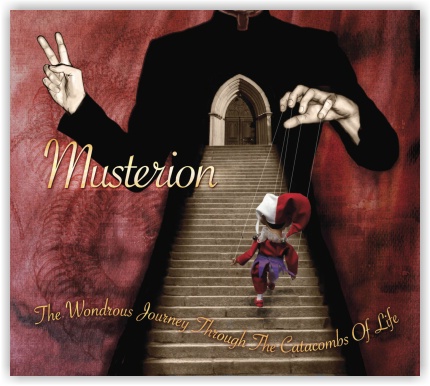 Artist:
Musterion
(@)
Title:
The Wondrous Journey Through the Catacombs of Life
Format:
CD
Label:
Horus CyclicDaemon
Rated:
Swedish-born composer Simon Kölle has been touted as one of the most significant Scandinavian musicians of his generation and genre. Mostly known for his work with Za Frûmi but he also did a fantastic solo album under the name Musterion. That was 2005 and the album titled "The Black Lodge". Now Simon is back with his second album with Musterion.

The first thing to praise with this album is the outstanding artwork laid out as great work of art on a multi panel Digipack. The artwork is truly clever and honestly I cannot think about any artist in the genre of dark ambient that released an album as beautiful as this.

The story, which is laid out in a deep and impressive booklet, is wonderful and reminds me of masters such as Devil Doll, Pink Floyd, David Lynch and Lovecraft. The music is so unique and cinematic I nominate it to be the best dark ambient album this year for sure. From the opening moments of the first piece "Elevator Down" it becomes evident that Musterion possesses a special demeanor via his ferocious line of attack, spiced with verve and a robust tone. Coupled with fluent lines and a few technical nods to the psychedelic years of the 60s, the artist snags your
attention, and sails through these largely, original pieces with equal doses of fire and grace!
Only great poetry can describe the music on "The Wondrous Journey through the Catacombs of Life" and Horus CyclicDaemon, the Czech label, has outdone themselves with this diamond release.

There is a slight Eastern European accent to the underlying rhythms and their instrumentation but also hints and pieces of the puzzle that breath art music as much as dark ambient.

The most remarkable aspect of the album is its ability to tell the story with the help of the music, text and art. The album takes you on the wondrous journey with masterful precision, embodying the heart-wrenching emotions and memories of the man we inhabit while listening. He makes a discovery and finally a downfall with strange circus themes and marvelous sound elements never restrained. In terms of the actual music, not much is different from Musterion's previous album, though a significant role is given to the violin and to the very fact that specific keys offers dual representation of both the innocence of the main character and the dark setting of the catacombs, lending a music-box style to the album that accentuates the bedtime storytelling ambience. The Piano is important but not as much as with the "The Black Lodge".

When I listen to a song like "The Dollmaker" I get so into the music I get back from a trip when it ends. I cannot even describe half of everything what is happening but I feel a lot. First I thought that maybe some songs would be overly stuffed with great ideas but not really creating a red thread. Oh, I was so wrong. The thread is there and the songs are not stuffed with other than greatness.

I love this album.


image not
available
anymore
Artist:
INNFALLEN
Title:
Three Days of Darkness
Format:
CD
Label:
First Fallen Star
(@)
Rated:
Presented into a deluxe A5 digipack THREE DAYS OF DARKNESS is the debut album of Innfallen. The eight tracks of the CD are linked and form a story: God, sick of the depravity and decay of humanity sent to earth every demon and the sun and all of the stars have been extinguished. With total darkness, starts the first of the three days where a sort of purging will start. Few will found themselves alive after the third day when the sun and the star will come back and having tested pure fear they will be the witnesses of God's anger, being an example for future generations. Doyle Finley (of Invercauld) and talented newcomer Kevin Scala have built a convincing soundtrack to the Catholic prophecy of "Three Days of Darkness" and if you are ready to enjoy a good dark ambient album with thick atmospheres with multi layered synth soundscapes and reverbered industrial sounds, you can try this one. Check some sound excerpts at the label's releases page.