Ambient / Electronica / Ethereal / Dub / Soundscapes / Abstract
Edit (5225)
image not
available
anymore
Artist:
VV.AA.
Title:
Fairy World V
Format:
CD
Label:
Prikosnovenie
(@)
Distributor:
Anticraft
Rated:
We like to imagine that the Italian composer '" recently re-emerged from the deeps of the infinite musical abyss by Gus Van Sant who choosed some pieces of him for the soundtrack of Paranoid Park '" Nino Rota has awaken all the fairies with the help of the eccentric notes of "Il Giardino delle Fate" and subsequently the guys behind the French label Prikosnovenie temporarily compelled them to record their tunes in a studio in order to enhance human lives some times ago, revealing their spells and their enchanting choirs drop by drop as this magical series of compilations entitled Fairy World (..if you're lucky enough, you should find a special limited edition including a dvd, containing some live recordings from last year edition of La Nuit Des Fées and ten nice clips of musicians enriching the label roster... ) has already reached the fifth volume. And a warm welcome is given to listeners absorbed by Tolkien-like reverie as well as Celtic and Breton fables by the Russian symphonic 7-piece orchestra Caprice, able to immediately set the distinctive atmospheric aura of this collection with trembling, tinkles and dreamlike sounds in Sage: the sample of a laughing baby seems to evoke a narrative set as well as the notorious myth according to which fairies love to show themselves to little babies. The fairies' attitude to operate similarly as suffragettes is partially confirmed by the lovely Me and Rose by the lovely pop-folk English singer Mel Garside (formerly of the Medieval Babies), taken from the third album of her solo project Maple Bee; the title (and the song of course) could have some references to her personal biography, referring to Rosie, the small yacht on which she spent her childhood travelling across the oceans. A touch of Nordic taste has been thrown in the cauldron by the enchanting voice of Valvran (... have a look to the curious legend about this ravens according to Danish folklore... ), reminding to our minds other great Nordic female voices such as Mari Boine. More or less on the same frequencies, the "Nostalgica Avanguardia" by Italian Riccardo Prencipe's project Corde Oblique mixing folk Mediterranean elements and minimal classical music (reminding to us pianists such as Ludovico Einaudi or Max Richter) on melancholic lyrics drawing a desolate world and wishing the advent of a "new humanity" mediated from "synthetic fables and mechanical diseases" -!-. Back-reversed recordings, new age essences and fascinating fawnings marks the collaborative projects Lys, founded by the Czech violinist Ivo Sedlacek (signing also the 11th track entitled Sun, which reminds to us those session of music therapist intended for people with mental diseases) and Frédéric Chaplain. The fact that national boundaries faded away in this selection is clear from the astonishingly wide range of folk influences: flavorings from Japan (Crista Galli's Yama-Ho), Irish-Celtic (the ethno-meditative mixture proposed by Poussieres d'Etolies, Sava's nice mixture of medieval artifacts '" an highlight of this sampler directly from Faun's leaders! '" and the musical box-like harp textures by the interesting Moldavian harpist Alizbar), Balkans (Aman Doktor -Stellamara's reprise of a traditional old Turkish theme with the hypnotic vocals by Sonja Drakulich - and Star of the winds '" an impressive nocturne partially mediated by Balkan choirs and sacred music from the repertoire by Bulgarian combo Irfan '" guide listeners' minds towards Eastern musical landscapes... ). But there're also strange mosaics of sounds from different contexts: have a listen for instance to Platoun by Omasphere combining tribal chants, middle-eastern chimes, medieval and electronic music '" a stand-out! -. The consuming pianistic reverie (Einaudi's anthems resurface to our musical memories yet... ) and the touching lyrical session of Last Dance taken from Luigi Rubino's "A Theme For The Moon" stands as a powerful ending for this emotional sonic chipboard!
image not
available
anymore
With their previous release "Remixed 0508" it was difficult for me to catch the essence of Athana and to fully appreciate the guitar extravaganza of Alf Terje Hana. This new album L.E.D. LIGHT GALAXIES contains five new tracks and two remixes which present to the people who listened only to the remix album a total new band. Mixing dub bass lines, experimental sounds, field recordings and ambient solutions this album sounds like an experimental version of a Fripp record. Passing from the ambient dub of "Kalimba symphony (Tanganyika fly-by)" to the rhythmical obsessions of "The secret brain waves" Athana aren't afraid to dare by mixing genres and sounds. The guitar sounds of Alf Terje Hana seduce the listener and lead him through the rich soundscapes created by Øyvind Grong, Torgeir Nes and Helge Olav Øksendal. The two remixes are a Dennis DeSantis i.d.m./dub version of the opening track "Grim reaper leaves the planet" and a nice electro funk version of "The witch is spinning" (a track that isn't on this album). Check some tunes at www.myspace.com/dandylines.
Ambient / Electronica / Ethereal / Dub / Soundscapes / Abstract
Edit (5215)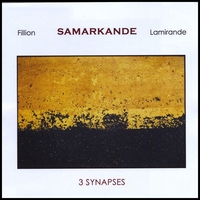 Artist:
Samarkande
(@)
Title:
3 Synapses
Format:
CDS (CD Single)
Distributor:
CDBaby
Rated:
Samarkande is Eric Fillion and Sylvain Lamirande, two musicians with a fair amount of academic cred, which may work for or against them depending on your perspective of the academic world. But when it is all said and done, it's really about the music anyway. Who gives a crap how it's made or how much education it took to get there. Either you like it or you don't. They present us with two long tracks and one shorter track painting sometimes twisted nightmare pictures of sonic voyages taking in not a few different landscapes to grab our attention. At times sounding like a screwed up Tangerine Dream knock off and then a Genesis Mellotron monster, at other times an imaginative mix of drum machine, vocal samples, random radio samples, free acoustic, free jazz, Minimalistic repetition and modern chaotic noise. Everything but the kitchen sink here, but that seems to be the way things are going nowadays. Genres are all melting together, the cross breeding sometimes giving us offsprings of great beauty and sometimes a monster or two. The important thing is they don't get stuck on any one sound but keep the surprises coming throughout the entire release.
Ambient / Electronica / Ethereal / Dub / Soundscapes / Abstract
Edit (5214)
Artist:
Expo '70
(@)
Title:
Black Ohms
Format:
CDS (CD Single)
Label:
Beta-lactam Ring Records
(@)
Rated:
Expo '70 is Justin Wright operating since 2003, and now stationed in Los Angeles, CA. Justin plays guitar, building ambient layers of sonic expectation/dronage taping into the vibe of the psychedelic 60's. This style of music has been, and still is being, done by probably hundreds of musicians all over the world to some extent. Layers, loops, pulsing tones, echoes, squeaks, buzzes. It's all here in spades. This is all a dreamer's world, the music not presenting us with any nasty surprises volume- or timbre-wise. Just the harmonically consonant atmosphere of tranquility. There is nothing new under the sun but the real point is whether it's any good or not, whether it accomplishes its purpose, which I surmise, is the opening of the doors of perception. I think it does, although I would suggest that quiet surroundings with a minimum of distractions, darkness, and a relaxed position would aid in the effect. The acoustic isolation of headphones may also help. Space music for the inner and outer mind. If you like this kind of spaced out drone music go for it. He gets some help from Matt Hill on the last track, also on guitar.
Ambient / Electronica / Ethereal / Dub / Soundscapes / Abstract
Edit (5213)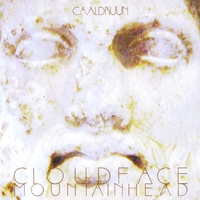 Artist:
Caaldruun
Title:
Cloudface Mountainhead
Format:
CD
Label:
Fox Den Recordings
(@)
Distributor:
CDBaby
Rated:
Seven tracks of buzzy, droney, broken sounds, tones, sonic mayhem and subtle beats by one Eric Kessel using "burnt-wire synthesizer, circuit-bent voice, black box, last-man-on-earth guitar & minidisc sound recovery." According to the artist web site "Drawing from a background in Cultural Anthropology, works for caaldruun are concerned with constructing compositions which are based on reconstructed memories from travels to and within other zones of experience. The unstable nature of memories is exploited for its creative potential in creating original "auditory myths"." The artist makes his claim to South American inspiration here and one can see it; or perhaps hear it, is more accurate. It's as if he were trying to tap into something "primitive" if that word may be used without pejorative connotation. He succeeds. Regardless of all the anthropological verbiage this is still an enjoyable journey into the heart and soul of the electron, of which we are all made, after all.