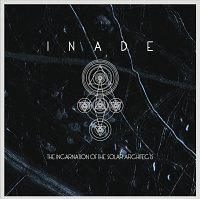 Artist:
INADE
Title:
The Incarnation Of The Solar Architects
Format:
CD
Label:
Loki Foundation
(@)
Rated:
Slow lava lapilluses, worlds collide, falling stars light the night of an unknown age. These are the images that arise while listening to the latest Inade album THE INCARNATION OF THE SOLAR ARCHITECTS. The ten tracks of the new album (released also as a double CD + dvd deluxe edition which is already sold out from the label) give some new elements to the mythology created by the band. As usual the darkest corners of sound have been explored and their sound sculptures (which can't be described only like dark ambient suites) find new ways of expression thanks to a great mix of melodies, noises, effects and vocals. "A lefthanded sign" shows us a new Inade sound by mixing their great sound to vocals and melodies. It's a good effect having blasts, deep vocals and ambient sounds all mixed like it was a pop song for angry deities. With a cover design that recalls a little the tree of life I was expecting some kind of link to it and I think we have it with "From the angle of aleph": a ritual track with sounds that recall the Tibetan human thighbones. Passing from different grades of tension the album closes with "Aion teleos", a track of the apparent calmness which is the perfect soundtrack for a post apocalyptic scenario.
Ambient / Electronica / Ethereal / Dub / Soundscapes / Abstract
Edit (5136)
Artist:
15 Degrees Below Zero
(@)
Title:
Resting on A
Format:
CD
Label:
Edgetone Records
(@)
Distributor:
Edgetone Records
Rated:
15 Degrees Below Zero are Daniel Blomquist, Michael Addison Mersereau and Mark Wilson, their instrumentation comprising everything but the kitchen sink (laptop, samplers, keyboards, effects, mixing, processing, guitars, vocals, harmonica, pedals, contact microphones, etc.). Their latest album, "Resting on A" was mastered by Thomas Dimuzio, a fringe music artist/producer with a Bill Laswell-sized discography and a name well-known to those "in the know" about ambient-industrial noise. If you like experimental ambient music, 15 Degrees Below Zero is a project well worth checking out.

"Resting on A" takes a very minimal approach, even with the track titles. ("4.1", "4.4", "5", "12.2", "25", etc.) I'm guessing there might be some mathematical significance to that, but I flunk high school algebra, so how would I really know? The soundscapes on this work are somewhat more spacey and subdued than what I've heard on previous 15 Degrees releases, nearly Enoesque in some places. Multilayered, but still very minimal, where events blend and morph with each other in an often placid pastiche, a dichotomy of calm and tension, stillness and motion. This is best illustrated on the lengthy track "5", which runs about 24 ½ minutes. This is not drone music, but atmosphere music. In your mind you may hear ghostly voices emerge, or you may get the impression of arctic isolation. The canvas on which 15 Degrees Below Zero paints is open to interpretation, often seemingly amorphous, yet with structure and balance. Even subdued melody can be extracted from certain passages.

The track following "5" has more experimental noise in the form of recurring looped pitched noise and static distortion that culminates seamlessly in wavering bellish bass tones on the next track. I'm guessing there is some heavy use of ring modulation here. There is much emphasis on the lower frequencies throughout the album, so you should prepare your listening system for that. Not to say that higher timbres have been neglected, they do appear transiently for affect now and then. I wonder how much of the music has been improvised, and how much has been structured, as it seems to have a rather precise framework.

Track 6 ("12.1") features some spoken word over repeated electronic tones and noise rumblings. I'm not much of fan of spoken word samples in music except for short, appropriate interjections (that's the old school industrial in me) but it's a short track and not really obtrusive. Track 7 ("19.2") features old school electronics along the lines of Varèse, Stockhausen, etc., a sort of nod to musique concrete. On the final track, "12.4", heavy processed guitar takes over. All-in-all, "Resting on A" is a really good album with a high replayability factor. But there is more... a bonus video of "December December" a track from their previous "New Travel" CD. It would not play without glitches for me no matter what program I used to play it on, but the surreal visuals were rather interesting.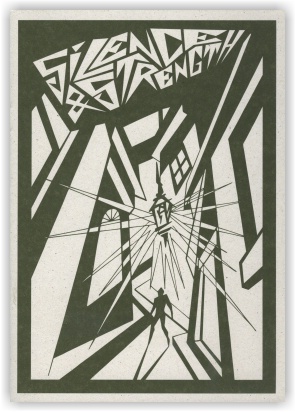 Artist:
SILENCE & STRENGTH
(@)
Title:
Das Haus Zur Letzten Latern
Format:
CD
Label:
Horus Cyclic Daemon
(@)
Rated:
Released on All Fool's Day, DAS HAUS ZUR LETZEN is the newest album by Israeli musical project Silence & Strength. Released on Horus Cyclic Daemon three years after the previous "Opus Paracelsum" issued by The Eastern Front, DAS HAUS ZUR LETZEN is a particular album where music and design are parts of a whole. With graphics inspired by German expressionist movies of the twenties created by John Coulthart and beautifully printed on quality art-paper (green Alezan CRO 300g and recycled grey Eko 200g) the album is inspired by the life and works of writer Gustav Meyrink. [Cfr. from Wikipedia: Illegitimate son of Baron Karl von Varnbüler von und zu Hemmingen and actress Maria Wilhelmina Adelheyd Meier, Gustav started to study occultism at age 24. Having studied theosophy, Kabbala, christian Sophiology and Eastern mysticism, he also tried to practice and he was successful... Until his death Meyrink practiced yoga and other occult exercises with remarkable success. Results of these studies and practices are clearly seen in Meyrink's works, which almost always deal with various occult traditions. Gershom Sholem, an expert in Jewish mysticism, has stated that Meyrink's works are based on superficial sources and have no ties with any authentic tradition]. The thirteen tracks of the album explore different atmospheres starting from dark ambient with few classical influences to industrial tribalism (check immediately the powerful "Das grune gesicht") passing through opera and folk music. The sound is great and it is composed by hundreds of different layers that keep the listener's attention always awake. With a crisp production this album is a great "movie for your ears"...
Ambient / Electronica / Ethereal / Dub / Soundscapes / Abstract
Edit (5122)
Artist:
Wolfskin
Title:
O Ajuntar das Sombras
Format:
CDS (CD Single)
Label:
Malignant Records
(@)
Distributor:
CD Baby
Rated:
When it comes to Dark Ambient music, I'm really old school and picky. Sure, I love Lustmord, Robert Rich, Caul, Megaptera, Raison d'être and a slew of other artists in the genre, but I don't like everything they've done. They all seem to have their defining moments. It's all what goes into making dark ambient great- it has to set a very dark mood, and only deviate in certain respects from its core aspects. Too much noise, and it's crap. Too much percussion detracts. Too many sonic elements and it is not dark ambient anymore. Yet, there has to be more than just dark droning.

I am happy to say that Wolfskin's "O Ajuntar das Sombras" has few of these flaws. I can't I'm familiar with Wolfskin, even though they've been releasing music (initially independently) since the mid 90's. Wolfskin is the project of Johan Aernus from Portugal, and he is as much of a force to be reckoned with in the dark ambient world as Sweden's Peter Andersson. Not knowing anything else from Wolfskin, I only have this album to go by, and it is certainly destined to be a classic and worthy of being on the Malignant label. (Cold Meat Industry, eat yer heart out.)

The album begins auspiciously, yet ominously, with the bleak "Body of Chaos". A barren wasteland. Stranded in desolation without hope. "The Wild Hunt" is a particularly enthralling bit of oppressiveness that will keep you pinned to the wall until nearly the end. Wolfskin gives a nod to Nordic nihilism in "Cart Of Light" as a whispered voice can be heard talking about the sun turning to blood, and a chilling chorus of chilling voices echo the skald's doomful tale. All the while sparse tribal percussion gives a sense of primitive ritual. Awesome stuff.

"The Yew Colum" cranks up the ritual factor with more ominous spoken word over mournful bagpipes deep drum beats and heavy sonics. "Rex Sacrorum" builds into a dense, intense storm of sound that subsides leaving you to survey a changed world from the precipice. "A World Of Veils" ushers in an alien industrial dark ambient atmosphere. Title track "O Ajuntar das Sombras" ( I thing it translates to "The Gather Of The Shadows") starts out a bit more subtly, but soon the skald and bagpipers are back and the atmosphere once again becomes thick. At times I am reminded of Nordvargr/Drakh or The Protagonist. "Iron Unfolded" sounds like a dirgeful death march with a recitation by a priest of some blasphemous cult. Bagpipes are still in attendance. "Throne of Stillness" may be the most placid track on the album, a well-needed respite. "Head Of Clarividence" finishes off the CD with occasional verbal mutterings over another bleak soundscape. Man, this is good stuff. No, it's GREAT stuff! Somewhere I heard that this is the last album for this project. What a shame. Well, get it while you can, and I most highly recommend it. It is probably available at your local goth-industrial indie record store, and online at CD Baby, which is a boon to U.SA. buyers who have trouble tracking down a lot of this kind of product that originates overseas.

image not
available
anymore
Artist:
FrontierGuards
(@)
Title:
Predestination
Format:
CD
Label:
Aliens Productions
(@)
Distributor:
DSBP
Rated:
The Slovakian label Aliens can be seen as a kind of last bastion, which defends itself successfully against any hypes and up-to-date kinds to produce Electronica music. Rather following the classic style to produce authentic Dark Electro music, also the Czech project FRONTIERGUARDS fits well with the labels' manifesto and releases with "Predestination" its debut. FG is a side-project of the rather EBM-related outfit BEAMSHIP, which we had on here with their debut a few years before. Martin "Atreid" Pavlik, who is responsible for all audio results of FG, presents a different musically environment compared to BEAMSHIP, which allows a constant Ambient-related influence to take part. "Predestination" is for the most part a pure instrumental album, only on two of the 9 own compositions Martin has picked up the microphone to provide some vocals. It is definitely the dark and complex layered mood, which attracts on this album. A track like "Betrayed By Light" is a marvelous example by integrating a rough and rather experimental drum pattern programming, some good samples and a menacing but remarkable synth programming. Some of the classic yelworC-recordings come to mind by listening to this tune. And no, "Predestination" avoids to satisfy the needs of a dancefloor-junkie, mostly all of the tracks are based into mid-tempo, if not into slowness – with the one exception entitled "Transcendental Experiment", which disturbs with its faster structure a bit the float of this fine Dark-Electro/Ambient-Electronica-album. Additional remix contributions by musically relative related acts like the DISHARMONY-side-project OXYD, the Greek SUBHEIM or the label colleague of ANHEDONIA offer their best abilities, to produce some fine alternative versions to the original compositions. "Predestination" is also the return of multi-talented graphic artist Tom Galle, who could himself make a quite good name thanks to his collaboration with their side-project HEEL – extremely well documented through a special bonus video track. Demanding, but attractive Electronica music not to underestimate.