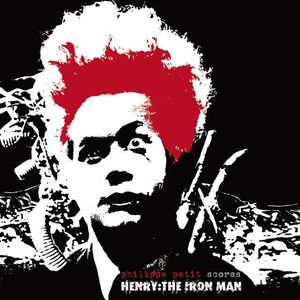 Artist:
PHILIPPE PETIT
Title:
Philippe Petit Scores Henry: The Iron Man
Format:
CD & Vinyl
Label:
Aagoo / Beta Lacta Ring
Rated:
This the repress of what I think is the unavoidable recording of Petit on Beta Lactam Ring is a sort of rework/reinterpretation of the Eraserhead soundtrack which I'm sure you know it's a cult movie but above all a real must a real must for my "alternative generation". The basic idea is not that far from many works Petit has done later therefore if you're fans of the French artist I'm sure you know what I'm speaking about and above all you know some of his early materials you also know they were basically drone based. I prefer it way more if compared to other works by this French dj/label owner/musician has put out, this' considerably different from his releases with String of Consciousness this cd/ (now)lp has that same dark feel you can hear in his collaboration with Pietro Riparbelli and with some of his other darkest recordings. Sure, we're dealing mostly with dark sounds, but to define it a drone-based release wouldn't be correct since it features some rhythmic quasi-industrial beats, some electronic sounds and the average atmosphere of this work is oniric and somehow melancholic. With these last words I just wanted to say if you're looking for the average dark ambient recording you're probably out of place but if drone based music with a high evocative feel and with a electronic feel it's your cup of tea, this will probably kill you for good. This cd features several long tracks that flow like a stream of consciousness (ah,ah...c'mon what an obvious joke!!!..;-), they pass from long and dense parts to quasi-ambient movements where you hear a piano, maybe horns and some feedbacks well melted in a nocturnal but yet gloomy magma. This repress is worth the price of the ticket, one of the best Petit's releases from his early days.
Artist:
CHAPTER 24 & PHILIPPE PETIT
Title:
the red giant meets the white dwarf
Format:
CD
Label:
Boring Machines
(@)
Rated:
An old American commercial said "another fine product brought to you by" and in this review we can go on writing: "'¦by Philippe Petit!", that in this recording is joining the Greek post-rock psychedelic trio Chapter 24. If you happened to read an old interview to String of Consciousness we did for Chaindlk you probably remember the French musician was already talking about this recording and and now It's finally out on Boring Machine. Differently from other collaborative efforts in which Petit collaborates with some friends, here he becomes a sort of fourth member of the band, this thing brings forth the obvious conclusion Chapter 24 have a big importance in the final result of this work. Should we talk about psychedelia or kraut music?...who cares anyway, the only important thing according to my humble opinion is that this cd is oniric, sometimes almost dreamy, nightly but it's not one of those third rate answers to GY!BE, Mogway or Mono. By some means we can dare to say it has some post rock reminiscences this could be close to Tarentel when after the first (wonderful) records they started getting more and more drone-driven and experimental. The comparison can draw us close to Pink Floyd and believe it or not that's not completely wrong, let's say Faust when working similarly to their inspirators. If the album title suggests a story plot we can also imagine this' an ideal soundtrack and that's also another proper definition. While the first songs of this cd have an introductive role this work grows track after track, I've been listening several times to this "the red giant meets the white dwarf " while relaxing on my sofa and the impulse to lay down and close my eyes was always there. Vintage and really "set the controls for the heart of the sun" if you get what I mean: have a nice trip.
image not
available
anymore
Artist:
QUARTERSIZED
Title:
Questions
Format:
Download Only (MP3 + Lossless)
Label:
What A Carve Up!
(@)
Rated:
QUESTIONS is the newest EP by Quartersized and it is the first for What A Carve Up!, label set up to release in digital download format all the music produced by Ian Proudfoot with whatever moniker he'd like to use at that moment. The EP is opened by the main title, a track which include electro dub and ambient influences under the shape of a mid tempo horror cinematic tune. Also "Scare anyone" is based on the same atmospheres but with the use of syncopated tabla percussion as rhythmic instrument. "Desire" sounds like a slowed down blues with industrial dub influences, while "I had to laugh" is pure ambient dub with upfront bass guitar and synth distortions but it is the one that I preferred less because it didn't create the mysterious atmosphere the other three were capable to. Vocal samples and loops enrich the formula as usual. You can preview the whole EP at the bandcamp website and purchasing it for only 1 pound.
Ambient / Electronica / Ethereal / Dub / Soundscapes / Abstract
Edit (6230)
image not
available
anymore
Artist:
Laurent Pernice vs. Laurent Perrier
Title:
play piano and sounds
Format:
CD
Label:
sound on probation
(@)
Rated:
Despite the fact that there's a certain amount of recordings based on piano and electronics, there's some work that sort out of banality. According to the press sheet, this album was done in two clearly defined phases: half of this is made out of tracks recorded by Laurent Pernice, the other half is recorded by Laurent Perrier after the listening of Pernice's works mixing piano and ambient music. So, this is not the classic album made by the encounter of an electronic musician and a piano player, it hasn't that sort of neo-romantic mood that permeate those records but has a kind of industrial influence and an harshness giving substance to the whole compositional plot.
Laurent Pernice is more concerned with piano lines and sounds more classical, as in "solar", where a glitch beats gives movements to an almost static and slow melody. This approach is methodically applied to all tunes with truly enjoyable results as in "you take my heart forever" where beats, field recordings and piano collides creating an evocative mood without any obvious melancholy.
Laurent Perrier works more with electronic soundscapes and rhythms, so "situation" has less piano but a more subtle work with (probably) field recording and noises, "frolements" develops is a sort of ambient-dub piano piece constructed on a bassline and a piano melody that match his mate "Equation part.6".
In some track this is an amazing album, also because it doesn't sound like a split album, as it is, but as a complete record, and, probably, it will be in my playlist for a while. Recommended.
Ambient / Electronica / Ethereal / Dub / Soundscapes / Abstract
Edit (6228)
Artist:
Brasil & the Gallowbrothers Band
(@)
Title:
In the Rain, In the Noise
Format:
CD
Label:
Cat Sun
(@)
Rated:
Now this is one strange and enigmatic CD. My first listening experience with it was late at night while I was working with attention not really focused on the music, which might be the best way to experience it. Brasil & the Gallowbrothers Band seems an unlikely name for this collective of improvisational experimental musicians; more like a samba or bossa nova outfit, and there is no Brasil, and no Gallow Brothers in the group! There music seems to be the furthest thing from that moniker. The group consists of Tomek Mirt ' Guitar, Mbira & Samplers; Rafael Michalowski ' Voice, Duduk, Flute, Wavedrum, Harmonica; and T.E.R. - Yahama CS5 and Kaossilator. They're from Poland and have about four other releases under this name, some of which I checked out, but none of which I cared much for. But this- 'In the Rain, In the Noise,' is different; an absolutely astonishing CD of electro-acoustic ambient music that is sublime alchemical magic akin to In Gowan Ring's earlier, more out-there stuff.

I don't know what the group mindset was for this performance (and it was recorded live April and May 2010 at Antonin and Poznan) but it turned out to be pure genius! First track 'Do You Remember Our Holiday Camp,' is a 20 minute trip into the psychedelic woods of your mind. The gentle sounds of nature, low duduk and/or flute, mellow synth drone and mysterious melody, occasional echoed plucking of a stringed instrument; a sporadic hand drum rhythm; a barely discernable vocal all combine to form an incredibly mystical sylvan experience. It is as loose as you could possibly get but works incredibly well together.

'Voice of the City and the Rhythm of the Dunes' has a repetitive but hypnotic rhythm and melody with a spoke-sung vocal that is absolutely haunting. Exotic sitar-sounding improvisation, a ghostly synth background and other noises fill out the rest. Wow! This is really unusual and marvelous stuff! 'Another Night in Cottage 21' is just too difficult to describe; drone ambience with the plinks of echoed mbira, but that hardly does it justice. In fact, trying to describe any of the rest of it is becoming a futile task. Words are inadequate for music that is more about mood and feeling than any structural analysis or description. Let's just say that there is something about 'In the Rain, In the Noise' that is transcendental, enthralling, even mesmerizing, and I'd strongly recommend that if you're into psychedelic ambient, you get yourself a copy before it disappears. (I also quite like Tomek's cover art for the CD.)

This is a limited release of 350 (plus 30 of the 'Special Version,' whatever that is) and it might be a difficult acquisition for those in the U.S. The only place I can find it is directly from Cat Sun (Poland). There may be other sources, but I can't account for their reliability. In any case, it would be a worth quest, as I've never heard anything quite like this.