Ambient / Electronica / Ethereal / Dub / Soundscapes / Abstract
Edit (6308)
Artist:
Matt Shoemaker (@)
Title:
Soundtrack for Dislocation
Format:
CD
Label:
Elevator Bath
(@)
Rated:
Great, great, great isolationist dark ambient. Three tracks that suck you in and hold you tight. Dark, menacing and ultimately enjoyable. The sonic equivalent of walking in the woods just after dusk and catching something large moving in the corner of your eye. Adrenalin pumping, heart pounding, and blood thumping in your ears. Did I say this was great stuff!
Artist:
Jean-Luc Cappozzo & Edward Perraud
(@)
Title:
Suspension
Format:
CD
Label:
Creative Sources
(@)
Rated:
Suspension has undoubtedly been one of the listening I hugely appreciated in recent times. Recorded in the end of april 2009 during a live session at La Chapelle St.Anne, lasting almost one very intense hour, by the skilled trumpet player Jean-luc Cappozzo and the "magnifique" (fitted definition of his value according to the words of Monsieur Cappozzo during a short break of this performance) drummer Edward Perraud - one of the most impressive talent of the free jazz and improvisational jazz scene I had the pleasure of listening on the occasion of a concert with Michel Portal -, it's a breathtaking collage of musical sketches oscillating between stylistical bluffness, touching blues-veined moments, fuzzy experiments with vocal blows and length alterations into this legendary brass, enclosed tonal games with crammed valves, funny conversations between the brass and the drums and spotted quotations, the venomous fitting of trumpet tones in the intricate drumming web by Edward looking like the stinging invisible tentacles of suspended jellyfish! The final ovation after a sort of pointillist version of Summertime, the notorious standard by Gershwin, is the most trustful and varacious feedback for such an emotional recording. Brilliant!
Ambient / Electronica / Ethereal / Dub / Soundscapes / Abstract
Edit (6292)
image not
available
anymore
Artist:
Artefactum
Title:
Foxgloves & bluebells
Format:
CD
Label:
ur muzik
(@)
Rated:
This album from Artefactum deals programmatically with poetry because almost all of the lyrics is based on poems by various author and mostly from the romantic age.
"Fairly Lanterns" is constructed above the voice of Merissa d'Erlette above a sounscape made out of a drones and various bells giving a sort of romantic nightmare. Noises and a cavernous drone introduce the listener into "Of Subterranean Inhabitants" where spoken word gives a poetic mood to the whole track. "Primrose chant" is a sort of abstract tune for infants. "Oraisons mauvaises" is a repetitive ambient loop that ornes the voices of David Sabre reading the words of Remy de Gourmont. "Where Saffron and Daises Grow" uses the words of Emily Bronte whispered on a lovely and dark soundscape full of evocative images ending with a piano line. "La belle dame sans merci" is based on the lyrics of John Keats and is the softer track of this album with the bells to create the almost ethereal mood of the track with also the nature samples and ending, using traditional flutes and beats, with a smile.
This is a sophisticated album that lies between dark and ethereal with almost ethnic influence. It's an uneasy listening but, with a careful curiosity, will reveal a poetic depth. Quite nice.
Ambient / Electronica / Ethereal / Dub / Soundscapes / Abstract
Edit (6289)
Artist:
Marsen Jules Trio
(@)
Title:
Les Fleurs Variations
Format:
Download Only (MP3 only)
Label:
Oktaf
(@)
Distributor:
Finetunes
Rated:
By means of his Oktaf imprint, Martin Juhls aka Marsen Jules gives the opportunity to admire the finest specimens of his blooming musical greenhouse, carefully irrigated by his delicate poetics, after it leapt out in many listener's hearts through his appreciated issues on City Centre Offices and previous stuff on the renowned net-label Autoplate. Among Oktaf's most scented bulb, I'd like to mention the remastered version of Yara and the album Lazy Sunday Funerals, but for this issue, which contains four re-rranged tracks of his acclaimed album Les Fleurs, an intensively emotional album intended to resemble the whole span-life of a flower from its blossom to its decay resulted in a wonderful idyll strictly related to the ineluctability of the decay of natural beauty in its perpetual cycles, Martin makes official a new collaborative path together with his long time friends and twin brothers helping him in his gardening activity Anwar Alam (violin) and Jan-Phillip Alam (piano). These new musical presences don't alterate, but just highlights, the spell Martin's able to cast on the listener based on the gradual dissolving of a looped phrase on repeated airy symphony till they merges each other in order to flow together listener's emotional universe. Marsen Jules Trio is able to build that kind of music which has the magical power to marbleize the listener by simultaneously unleashing emotional winds in its inner world. This is just an appetizer of a possible forthcoming album signed by this trio - I particularly got enchanted by De La Morte D'un Cygne and Coeur Saignant of the 4 tracks included in this release -, but it's enough to test the exstatic property of Marsen Jules' musical poetics. Peeping at his wonderful blossoms could arise your curiosity in its rich musical garden as well as in gardening!
Ambient / Electronica / Ethereal / Dub / Soundscapes / Abstract
Edit (6273)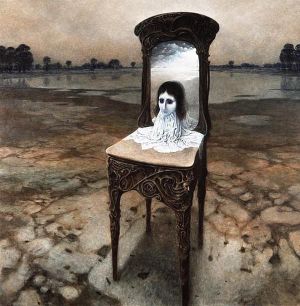 Artist:
VANESSA VAN BASTEN
Title:
Closer To The Small / Dark / Door
Format:
CD
Label:
Robotic Empire
(@)
Rated:
It's been a long wait until this new Vanessa Van Basten release and here it is on Robotic Empire, that means it's out for good!. For those who have never heard the band I can just say they play a blend of power shoegaze a la Jesu mixed with some dream-pop, post-rock influences. Like their previous materials also this cd is deeply influenced by the style of Justin Broadrick but the result is brilliant and more than once I've caught myself thinking their writing skill has become even better than that of dear ol' Justin. Said that there're a couple of elements the brought Bellini and friends one step ahead from the past, they've added a real drummer to their original line up and the song structure did benefit from this solid power trio formula. The other interesting element is the fact the combo has put more and more emphasis on what some music expert would label as "dream pop", that means sometimes they barely resemble bands like Cocteau Twins, materials from 4AD records or some of the production signed by Robin Guthrie. Don't worry you little hardcore kid / post metalhead, this' no "fruity" version of avant metal trying to make it in the heart of indie fans, they still have heavy parts, colossal riffs and loud explosions, they just pass from those that kind of sound to quasi acoustic guitars with keyboards and a those soft long delays or reverbs that give a lot of deepness to the ambience. This' exactly one of those rare records that can put together many different listeners into melancholic music of different kinds but at the same time it hasn't lost an ounce of credibility. Thumbs up for me.