Ambient / Electronica / Ethereal / Dub / Soundscapes / Abstract
Edit (5973)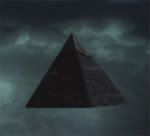 Artist:
AUN
(@)
Title:
Black Pyramid
Format:
CD
Label:
Cyclic Law
(@)
Rated:
The new album from this duo is loosely inspired by the works of Enki Bilal and, so, it feature an enigmatic black pyramid in the cover. This canadian duo made a guitar driven drone music that stay between Sunn O))) (in their heaviest moments) and Vidna Obmana (in their quietest).
"Phoenix" starts with a guitar drone that slowly prepares the entering of cosmic synths, "Taurus Ten" instead is pure guitar with atmospherics as support. Black pyramid is pure cinema soundscape that took the listener into "Ursa Major" and "2095". "Ursa minor" is a quiet intro to "Shining" and this album ends with beats as a soundtrack for an escape from something, or an end to a dream.
Although they are not particularly inventive in their writing, Martin Dumais and Julie Leblanc comes with a solid work where sounds are well crafted and evocative. So, even if it's not a masterpiece, it's a nice album for all drone lovers.
Ambient / Electronica / Ethereal / Dub / Soundscapes / Abstract
Edit (5963)
image not
available
anymore
Artist:
System
Title:
B
Format:
CD
Label:
Rump Recordings
(@)
Distributor:
VME
Rated:
Always busy with their personal projects (Opiate, Dub Tractor and Acustic) and after a new release under the Future 3 moniker, Anders Remmer, Thomas Knak and Jesper Skaaning are back with their first full length release as System: its title is B. The nine tracks of the album, as for the previous EP, find their roots into dub and electronic music but if on "Tempo EP" there was also a sort of jazz vein you could find between the melodic lines, B, is a mix of rich ambient sounds (do anyone named Brian Eno?), dub warm atmospheres and dubstep mid tempo rhythms with a bit of i.d.m. influences. So, while tiny melodic progressions paint a sort of melancholic canvas, complex rhythmic textures made of noises and bleeps strengthen the drum sounds. The whole result sounds like a two step record in slow motion which gives the right idea of the warm Jamaican weather transposed to Denmark...
Artist:
In A Mindset
Title:
Compartments
Format:
Download Only (MP3 + Lossless)
Label:
Abstrakt Reflections
(@)
Rated:
And another promising newcomer act, which installs cinematic Ambient-like synth arrangement combined with experimental and part-wise abrasive percussion elements. What surprises the most is surely the musically background of the German fellow Steven S., mastermind behind IN A MINDSET. I.A.M. has been started in 2009 and is therefore a relatively new project, but Steven has played previously in various Metal-bands (FTE, MORTHEIM) and he is still active in this genre with the project SERAPEUM. For hailing out of a relatively different music genre, he provides a really cleverly and matured kind of music work, which can be described as an Electronica/IDM-onslaught consisting of elements out of Dark Ambient and Neo-Classical influences combined with Industrial, Noise and Abstract rhythms. I tend to pick out again the often named US cult act GRIDLOCK as being a quell of inspiration, while I would too agree to name Steven's Neo-Classical influence with its bombastic tendencies ('Devastation P. 2' ' did I hear a real cello riff here???) as being the most remarkable difference. A quite good 5-track EP to hopefully soon more to be discovered stuff from this talented artist ' which fits quite well to the Abstrakt Reflection label-roster.


Artist:
Andreas Gross
(@)
Title:
Stone Thrower
Format:
CD EP
Label:
Echozone
(@)
Distributor:
Masterpiece
Rated:
Since the very first notes of the new EP by Anders Gross and his ensemble ' both the masked and the unmasked! -, you'll maybe perceive a nostalgic and dreamy atmosphere: the sparkling sound pearls surrounding the ghostly and childish voice by Tabitha Anders, which looks like a crossbreed between the most depressed tones by Meriel Barham (the voice of the English alternative band Lush, launched by the glorious 4AD) and the entranced and tenuous ones by Slowdive's Rachel Goswell and the melodic steadiness of Anders' musical whirls in the introduction of this good example of 'oneiric shoegazing', giving the name to the whole EP. The preface of the following track, 1847, maybe is what could be considered closer to the unconvincing and partially improper classification of gothic trip-hop, used by someone to describe Anders Gross' music, even if the light distortion on the bass, reminding to me some treatments on the basslines Massive Attack used to spread, is soon replaced by a cradling folk-tinged movement. The only track with no voice, At The Edge, seems to be nothing but a puzzle of some sounds which deeply marked 80s ' I even recognized a reference to U2's With Or Without You'¦ -, but it's really well crafted! Tabitha's soft and feeble tone of voice stands out again in the hesitating False Prophets, a track whose programming is not exactly that kind of food sating the hardest-to-please listeners and even the techno-trance remix of this track by Phantoms of Paradise is nothing special, even if I've found quite funny to hear Tabitha's voice under disguise turning into a robotic creature, while I definitively don't understand the Avoid-a-void remix of Stone Thrower, maybe because the original track is good enough to be treated. The final track, Relief, could let you think someone has seated on the remote controller of your hi-fi system or you could even argue your neighbor is joking with you after buying a powerful universal remote controller'¦no prankster or heedless sitters indeed! Just a sweet pop ballad written by Tabitha, you'll appreciate anyway! There're maybe some slight flaws in this EP, but I couldn't say that I've not been positively impressed by the well balanced sound exhibited by Anders Gross on this occasion. Measured rhythms, lovely melodies, peaceful sound, intimate lyrics'¦ I feel that nemesis should sound out of place!
Ambient / Electronica / Ethereal / Dub / Soundscapes / Abstract
Edit (5955)
Artist:
MikTek
Title:
Speculations
Format:
CD EP
Label:
Abstrakt Reflections
(@)
Rated:
Not completely a newcomer project, the Greek Electronica musician Mihalis A. can already refer on a digital-only release available on 33Recordings, a Greece-based Electronica/Experimental netlabel, which also brought POORDREAM in collaboration with the too early gone Spectraliquid label to our attention. Mihalis hails from Mytilene (Lesvos Island, Greece) and he has been in touch with music since his young days as being working at a radio station in the age of 16 by mixing his favorite tracks. Also several experiences as a DJ and organizer are slated in his bio. In 2002 he started producing his own sounds under several monikers and under the influence of diverse music styles. With his project MikTek he mixes experimental and deep electronic sounds to provide a Downtempo- and often Ambient-like Electronica-/IDM-sound environment. That fits relatively will with Abstrakt Reflection's ideology, but differs a bit compared to the enthusiastic celebrated APPARENT SYMMETRY ' MikTek moreover created deep drowning Synth layers, quite often with a monotonous and hypnotic impact. Mihalis uses lesser distorted drum/percussion elements, as he seemingly totally trusts in the role of his well worked out synthesized lead sounds. This works at best on 'Dreamlayer' and the collaborative effort 'A Walk In A Cloud 3.0 (with IN A MINDSET)'. MikTek understands it well to entertain the listener with his cinematic sound outfit, even if his kind is rather servicing a more chill-out-like mood. 5 well arranged tracks, the best consumed under a good pair of headphones.