No, this isn't the long-awaited first full-length album of Australia's Dark Electro duo EMPTY – "only" a new CDEP, but a release with some remarkable content. "Never Get To You" at least seems to be a kind of a fresh breeze, because with the title track, the band has integrated a quite different and unexpected musically course. As being lately for the most part inspired through IDM/Electronica music, Aaron Potter and Daniel Brunet show and prove easily, that they fit well also with the elements extracted out of this style. Take on one side the latest audible results of DISMANTLED and try to mix it with the last lighter DISHARMONY recordings, and you'll get a glimpse, how smooth and almost "sweet" this duo can sound. Still multiple layered, but the often pronounced comparison to FLA and aliases often presented through that typically sci-fi-related sampling work and the newly discovered lighter synths sounds turn a bit into the background. This can be also recognized through the clearer sounding male vocals, the huge fx manipulation got reduced especially for the main track. Besides "Never Get To You" and its four remix contributions by DISMANTLED, PASK, IAMMYNEWT, and ANGEL THEORY, you'll get one additional new track entitled "Forgotten Dreams", which rather focuses to present an IDM/Break-Beat performance combined with the typical vocoderized male vocals, which we've often heard from EMPTY. This one stands pretty much in the shadow of the title track, since it lacks of a clearer catchy attitude. "King of Kings" is finally a cover version originally composed and recorded by The Models – do I hear on it tendencies to a calmer and more melodic outfit? However, I see the need to release this teaser EP, especially to "warn" the harder Electro-minded purists, that EMPTY can sound diverse. Check our newest interview with both protagonists on here, to pick up the newest info about this Australian duo.
image not
available
anymore
Artist:
PIMMON
Title:
Smudge Another
Format:
CD
Label:
+Preservation
(@)
Rated:
I can't even remember which one exactly was last Pimmon release I've heard and it's sad since I remember the good impression I got from the very early listenings of his materials, I guess that's another side-effect of the hyper-saturation of the market/music-scene and it has to do with the fact we're all living too fast. Paul Gough has quite often been filed under clicks/glitch and probably this definition fits really well with the majority of his works, above all those early releases (while writing I'm thinking specifically to a couple of remixes) but if you think the definition is a bit reductive, here comes a record that proves you and I were right. This cd could be easily filed under ambient-experimental music much more than glitch-click and if on the front cover the label defines it lava-flow ambient there's a good reason and it's hard not to agree with them. I know referring to Lava may lead you to think this could be a dark ambient-heavy-soup a la Lustmord, Andrea Marutti, Alio Die, Tribes of Neurot or in the likes, but nothing could be more wrong, Paul Gogh managed to work on these misty-crepuscular atmospheres maintaining that soft edge he had while dealing with different styles, just take the sweet melancholic organ sound of "Hidden". I think if you're friendly with ambient music and with dark moods in general, you'll easily perceive the different touch of this Australian artist. Furthermore I think this delicate touch when dealing with melancholic and obscure scenarios makes the difference and puts forth the fact Pimmon has been around for a while now, I mean he has his own style. I'm also aware of the fact all of this talking about ambient music may have put too much focus on this aspect of the release while as I've said its experimental factor is really significant, take "Dervieux" for example in which Gough introduced some kind of simple rhythms and a soft melody that's pulsing underneath, this' probably one of the things you can strictly connect to some of his previous works. Considering a record has its visual side, I can't but mention the fact the layout is beautiful, the idea is simple but holy shit, I love it! It made me think to a sort of origami thing, it looks like a small "map", I'm sure the record collectors out there will love it. "Smudge another" has a lot to do with self-control, above all during the early tracks, I think it's really interesting the fact that I've found it was growing while reaching the middle of the tracklist. Interesting release and if you're into Pimmon you won't be disappointed.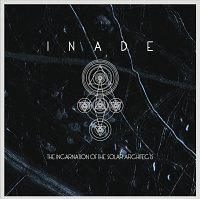 Artist:
INADE
Title:
The Incarnation Of The Solar Architects
Format:
CD
Label:
Loki Foundation
(@)
Rated:
Slow lava lapilluses, worlds collide, falling stars light the night of an unknown age. These are the images that arise while listening to the latest Inade album THE INCARNATION OF THE SOLAR ARCHITECTS. The ten tracks of the new album (released also as a double CD + dvd deluxe edition which is already sold out from the label) give some new elements to the mythology created by the band. As usual the darkest corners of sound have been explored and their sound sculptures (which can't be described only like dark ambient suites) find new ways of expression thanks to a great mix of melodies, noises, effects and vocals. "A lefthanded sign" shows us a new Inade sound by mixing their great sound to vocals and melodies. It's a good effect having blasts, deep vocals and ambient sounds all mixed like it was a pop song for angry deities. With a cover design that recalls a little the tree of life I was expecting some kind of link to it and I think we have it with "From the angle of aleph": a ritual track with sounds that recall the Tibetan human thighbones. Passing from different grades of tension the album closes with "Aion teleos", a track of the apparent calmness which is the perfect soundtrack for a post apocalyptic scenario.
Ambient / Electronica / Ethereal / Dub / Soundscapes / Abstract
Edit (5136)
Artist:
15 Degrees Below Zero
(@)
Title:
Resting on A
Format:
CD
Label:
Edgetone Records
(@)
Distributor:
Edgetone Records
Rated:
15 Degrees Below Zero are Daniel Blomquist, Michael Addison Mersereau and Mark Wilson, their instrumentation comprising everything but the kitchen sink (laptop, samplers, keyboards, effects, mixing, processing, guitars, vocals, harmonica, pedals, contact microphones, etc.). Their latest album, "Resting on A" was mastered by Thomas Dimuzio, a fringe music artist/producer with a Bill Laswell-sized discography and a name well-known to those "in the know" about ambient-industrial noise. If you like experimental ambient music, 15 Degrees Below Zero is a project well worth checking out.

"Resting on A" takes a very minimal approach, even with the track titles. ("4.1", "4.4", "5", "12.2", "25", etc.) I'm guessing there might be some mathematical significance to that, but I flunk high school algebra, so how would I really know? The soundscapes on this work are somewhat more spacey and subdued than what I've heard on previous 15 Degrees releases, nearly Enoesque in some places. Multilayered, but still very minimal, where events blend and morph with each other in an often placid pastiche, a dichotomy of calm and tension, stillness and motion. This is best illustrated on the lengthy track "5", which runs about 24 ½ minutes. This is not drone music, but atmosphere music. In your mind you may hear ghostly voices emerge, or you may get the impression of arctic isolation. The canvas on which 15 Degrees Below Zero paints is open to interpretation, often seemingly amorphous, yet with structure and balance. Even subdued melody can be extracted from certain passages.

The track following "5" has more experimental noise in the form of recurring looped pitched noise and static distortion that culminates seamlessly in wavering bellish bass tones on the next track. I'm guessing there is some heavy use of ring modulation here. There is much emphasis on the lower frequencies throughout the album, so you should prepare your listening system for that. Not to say that higher timbres have been neglected, they do appear transiently for affect now and then. I wonder how much of the music has been improvised, and how much has been structured, as it seems to have a rather precise framework.

Track 6 ("12.1") features some spoken word over repeated electronic tones and noise rumblings. I'm not much of fan of spoken word samples in music except for short, appropriate interjections (that's the old school industrial in me) but it's a short track and not really obtrusive. Track 7 ("19.2") features old school electronics along the lines of Varèse, Stockhausen, etc., a sort of nod to musique concrete. On the final track, "12.4", heavy processed guitar takes over. All-in-all, "Resting on A" is a really good album with a high replayability factor. But there is more... a bonus video of "December December" a track from their previous "New Travel" CD. It would not play without glitches for me no matter what program I used to play it on, but the surreal visuals were rather interesting.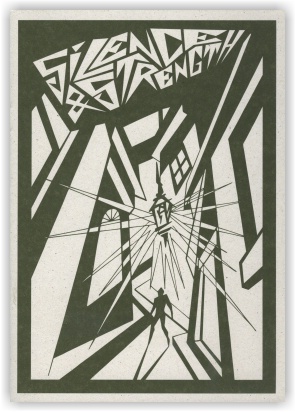 Artist:
SILENCE & STRENGTH
(@)
Title:
Das Haus Zur Letzten Latern
Format:
CD
Label:
Horus Cyclic Daemon
(@)
Rated:
Released on All Fool's Day, DAS HAUS ZUR LETZEN is the newest album by Israeli musical project Silence & Strength. Released on Horus Cyclic Daemon three years after the previous "Opus Paracelsum" issued by The Eastern Front, DAS HAUS ZUR LETZEN is a particular album where music and design are parts of a whole. With graphics inspired by German expressionist movies of the twenties created by John Coulthart and beautifully printed on quality art-paper (green Alezan CRO 300g and recycled grey Eko 200g) the album is inspired by the life and works of writer Gustav Meyrink. [Cfr. from Wikipedia: Illegitimate son of Baron Karl von Varnbüler von und zu Hemmingen and actress Maria Wilhelmina Adelheyd Meier, Gustav started to study occultism at age 24. Having studied theosophy, Kabbala, christian Sophiology and Eastern mysticism, he also tried to practice and he was successful... Until his death Meyrink practiced yoga and other occult exercises with remarkable success. Results of these studies and practices are clearly seen in Meyrink's works, which almost always deal with various occult traditions. Gershom Sholem, an expert in Jewish mysticism, has stated that Meyrink's works are based on superficial sources and have no ties with any authentic tradition]. The thirteen tracks of the album explore different atmospheres starting from dark ambient with few classical influences to industrial tribalism (check immediately the powerful "Das grune gesicht") passing through opera and folk music. The sound is great and it is composed by hundreds of different layers that keep the listener's attention always awake. With a crisp production this album is a great "movie for your ears"...